Jurgen Klopp praised his side's next opponents ahead of a tough game at Anfield as Liverpool host Tottenham looking for another vital three points.
The manager was back in the Melwood press room on Friday afternoon to preview the Reds' return to action after the March international break.
Two weeks on from a battling 2-1 win away to Fulham, Liverpool will look to retain their place at the top of the Premier League with victory over Spurs—as Man City themselves head to Craven Cottage on Saturday.
With his side back at Anfield, this can certainly perceived as a big advantage, but Klopp insisted their final four home games in the league are not guaranteed victories.
"Two of these opponents are Tottenham and Chelsea," he said.
"Of course home games are an advantage for us, but it's not an advantage that will let us win a game with 60 percent or so.
"We love playing at Anfield, it's a wonderful place and the boys are full of joy, we go out, everything is like we want, people are on their toes, brilliant atmosphere, so that's all good.
"But we still respect the opponents of course. It's Tottenham, Chelsea, Huddersfield and Wolves.
"They all have their own reasons to fight for points and results, and that's what we respect."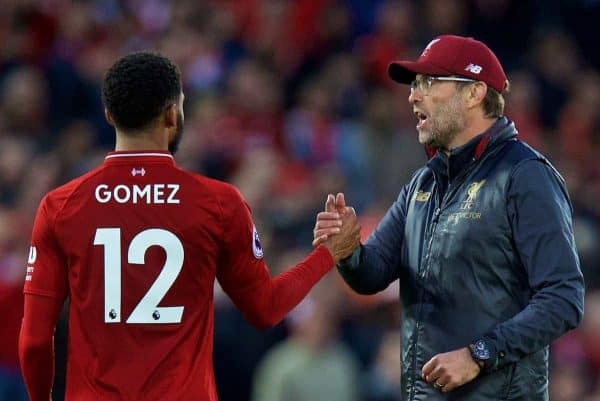 Joe Gomez returned to training after a long three-month spell on the sidelines this week, but won't be considered for a place in the side on Sunday.
But providing an injury update on the centre-back, along with Trent Alexander-Arnold and Xherdan Shaqiri, Klopp was very positive about their hopes after recovery.
"Yesterday they were all in training, all three pretty much the first full session," he said.
"We have to see how they react, it was no other alternative for Shaq and Trent, not being involved in the games in that period.
"Anything else would have been really crazy. They needed the treatment, rehab.
"Joe was back yesterday after 15 weeks—what a long time eh? But it looked really good.
"[These are] early stages. He's really now adapting again to proper football training, after having obviously thousands of rehab sessions.
"They should all be OK, I heard nothing different this morning, [they will] train again today and we will see."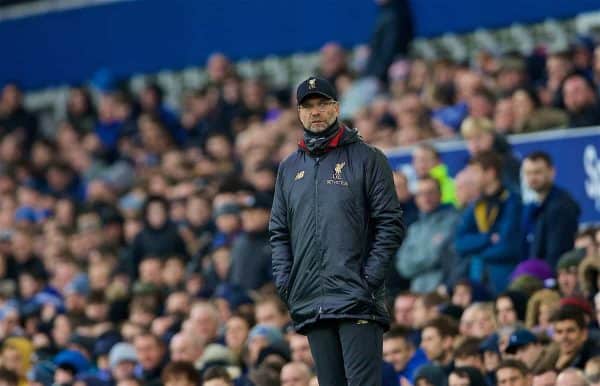 Klopp also discussed the Premier League's 'No Room for Racism' campaign following a series of high-profile instances of abuse at games, backing the initiative.
"I would take my players off, 100 percent, if it was a whole stand doing it," he explained.
"Otherwise it is too much power for a few idiots. It should not be about just the coaches' decision, the officials should stop the game. We have to stop games."