Pep Guardiola may have begun the mind games with Liverpool as the title race rolls on, insisting Man City "are going to drop points" due to their busy schedule.
City are still competing in the Premier League, Champions League and FA Cup, having already won the League Cup last month, ensuring a hectic run between now and May.
Their next league game isn't until March 30, when they visit Fulham, with an FA Cup quarter-final at Swansea (Mar 16) ensuring they miss a gameweek, while Liverpool play the Cottagers the following day (Mar 17).
This could see Jurgen Klopp's side return to the top of the table, two points clear having played a game more, which puts pressure back on the champions.
A healthy competition between the two stems from the undeniable quality of both sides, but Guardiola's comments after City's 3-1 win over Watford on Saturday may have been intended to shift the scales—by playing down his side's expectations.
"We started a competition with nine games—it's not a competition with 38, it was a competition with nine games and we played the first one," he said of the run-in.
"We won it and now we don't have time to think too much.
"It's nice to be there of course. When people asked if Liverpool feel the pressure on top of the league, I said I preferred to be on top than behind.
"It's always better to be there because it's in your hands.
"But my feeling is the same as a few games ago: we are going to drop points. With this calendar and schedule we are going to drop points—as few as possible.
"Keep the distance with Liverpool as much as possible and arrive in the last fixtures with the opportunity to win the title."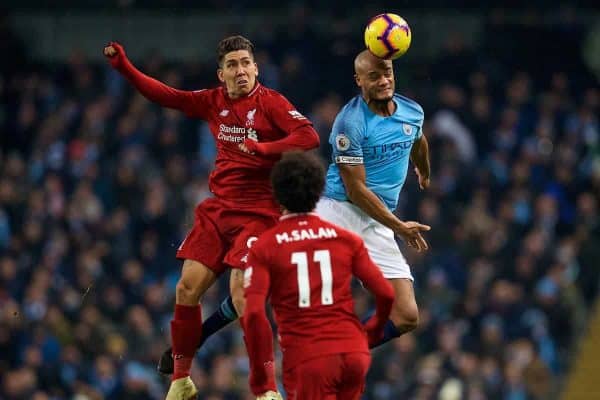 Vincent Kompany took a similar approach when he told reporters the City squad "are all convinced that Liverpool will win every single remaining game until the end of the season."
While this underlines the Reds' title credentials, it works to return the pressure to the chasers, but the hope is that Klopp's side are able to live up to these lofty expectations.
Next up is a trip to Bayern Munich in the Champions League, and progress to the quarter-finals is the aim, but regardless of their fate in Europe after that comes a home clash with Tottenham (Mar 31), then away at Southampton (Apr 5).
Then the fixture list opens up again with a potential last-eight tie, but Kompany is right to infer that Liverpool should be looking to take 24 points from their remaining eight games in the league.
Though we take on Spurs, Chelsea and Wolves among that final stretch, they are all at Anfield which serves as a major advantage.
And if Guardiola is right that City will drop points, a perfect end to the campaign is the target.