Though Mohamed Salah didn't find the back of the net against Watford, Liverpool supporters can be optimistic that his best form is just around the corner.
Heading into the midweek match at Anfield, the talk was that the attack needed to fire and rediscover their clinical edge.
Salah was, at the time, still the joint-top scorer in the Premier League—though an anonymous Old Trafford display and just one goal in five appearances once again had murmurings of discontent aimed his way.
After the 5-0 hammering, once the scattered remnants of Watford's team had been recovered from Fabinho's many pockets and their defence left alone in a dark room to calm down somewhat, Jurgen Klopp took to his press conference to praise Salah's non-scoring display.
"How Mo played, come on, that was unbelievable! He was pretty much unplayable tonight. In a game without scoring, I think this kind of performance is exceptional."
It's that all-round game which made Salah so feared, not just his predatory prowess, and a much higher involvement in the attacking third is a sign of how much more there is to come.
And, over the season run-in where the Reds have so much to play for, a return to form couldn't be better timed.
United, Watford and Worlds Apart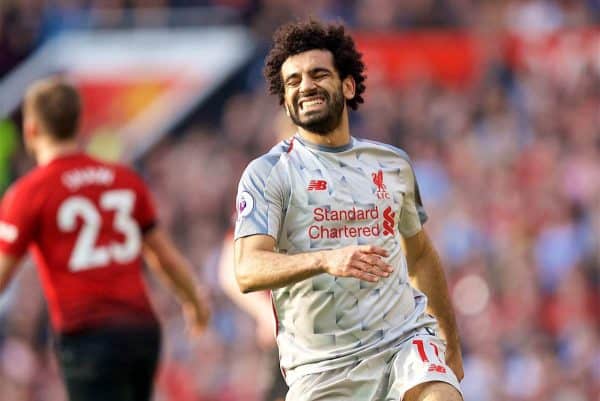 Right wing in a 4-3-3 was Salah's starting point in both recent Liverpool fixtures, but there the similarities end.
Against United, Salah's touch was poor, his movement almost non-existent and his impact in the final third was reduced to a wasted, lofted, aimless free-kick over the bar.
At Anfield, Watford were faced with a much more familiar version: constantly dribbling at his man, wanting to shoot but also looking to play quick one-twos in and around the penalty box.
Clearly, there are different factors to take into account—away or at home, standard of opposition team, the 'derby' nature of the United game—but 40 touches of the ball at Old Trafford and precisely double that at Anfield speaks volumes.
The vast majority of those touches were positive-thinking and forward-looking. Over and over, Salah saw space and exploited it.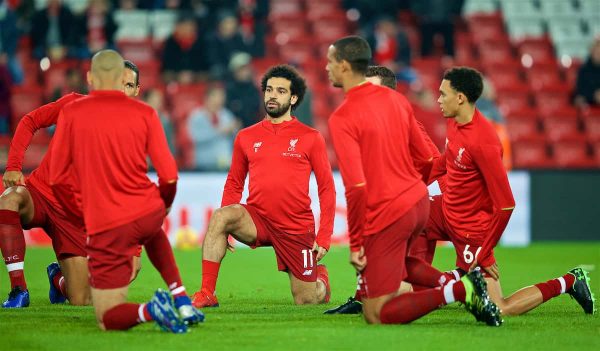 He managed seven successful dribbles, highlighting his proactive mood, and even when they didn't all have a pass or shot at the end, his worrying of the defence left spaces for others in turn.
Salah was on his game and it made a world of difference to Liverpool's threat and his own intent.
Follow-up Campaign

After his exploits of last season, 2018/19 was always going to be one of scrutiny and expectation, but it has also proved a learning curve.
For some, not seeing Salah be as regular a name on the scoresheet means he has dipped, simple as that. But there's more to it. Indeed, Salah's campaign has been split into three clear sections.
Early on, it quickly became clear that Klopp was switching matters up in attack, with Salah featuring more and more regularly as a No. 9.
That, in turn, meant a period of adaptation was needed, for the team, for Salah and for Roberto Firmino.
Fewer goals perhaps, but more touches in key areas and a better impact where it mattered most was the idea behind the switch—and in the second part of the season, the middle third of 2018/19, it was clear that Salah had found his groove.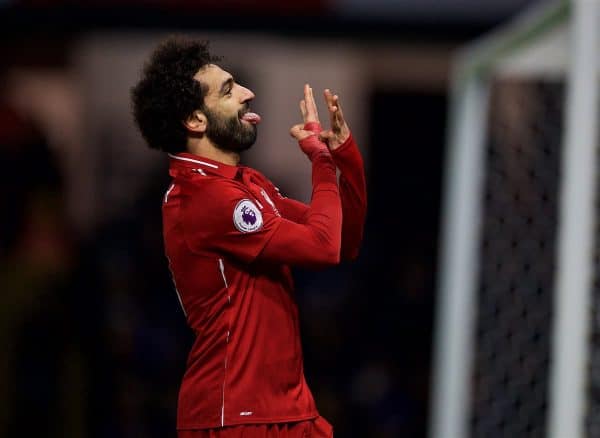 Between October 20 and the end of the year, the Egyptian scored 13 times in 16 games, with half a dozen assists thrown in for good measure.
But Liverpool can't play the 4-2-3-1 system every week without exception; they don't have the options up front to do so and some opponents require the Reds to play the extra man in midfield.
So now, the third part of the season, we're seeing Mo back out wide on the right.
There may be games he reverts to starting centrally, but as seen against Watford when Sadio Mane played there, Klopp clearly feels the right flank is where Salah can offer most danger at present.
Best for Reds, Best for Mo

The win over Watford didn't just show Salah back to something approaching his most dangerous, it also highlighted just what Liverpool have missed as an attacking unit at times of late: movement, intensity, tempo.
Mane taking up a position through the middle was far more akin to Firmino's style of centre-forward play: dropping deep, finding gaps between the centre-backs and being an impossible opponent to mark.
He's better in the dribble, more erratic with his touch, but barely difference can be seen between the two in terms of closing down defenders and instigating attacking moves.
Divock Origi's one-trick approach to the left-wing role—check back, run inside, shoot or pass across—was hilariously effective, given his power and the amount of covering the Watford back line had to do all night to other threats.
With a couple more games under his belt, Origi might even have had a couple more clear shots, but the first hour or so was littered with his heavy touches and overrunning the ball.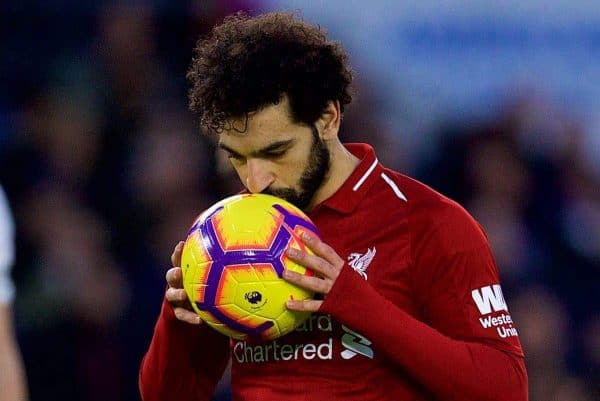 But key to it all, the theme prevalent throughout the mix-and-match attack and which made the biggest difference, was movement and pace.
Liverpool have played too slowly in possession of late.
Yes, teams are sitting back more against them, but that only heightens the need to play at speed, not to lessen it.
Salah running in behind, dribbling directly at his marker and looking to link with short, sharp passes on the edge of the area is a key component of that increased tempo.
It's one goal in six now for the Reds' No. 11, or one in 529 minutes.
Last time he went on such a run—one in seven, or in 514 minutes—in September and October, he ended the barren streak with the aforementioned 13 in 16, kick-starting with four in three.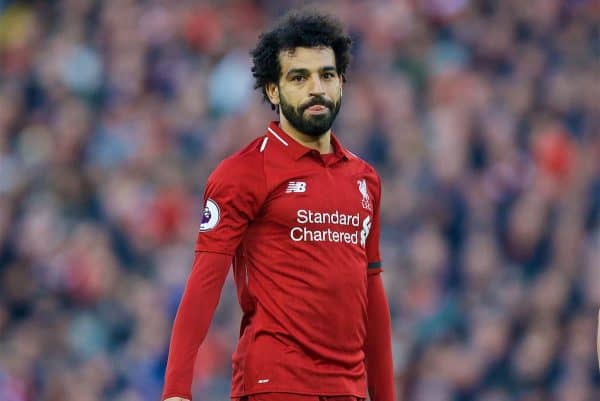 He's on the cusp of repeating the trick and just needs that first goal to no doubt witness another huge upsurge in confidence.
Perhaps pivotally, he's also a single league goal away from breaking another record: the fastest player to score 50 for a single team in the Premier League.
The weekend derby might just be the perfect place to start.