Jurgen Klopp has delivered a strong message on racism in football after a group of Chelsea fans were filmed chanting abusively about Mohamed Salah.
Three Chelsea fans were refused entry to their Europa League quarter-final first-leg clash with Slavia Praha on Thursday night for their involvement in an Islamophobic video.
Both clubs issued statements condemning the incident, with Liverpool describing the it as "dangerous and disturbing" and Chelsea vowing to "take the strongest possible action."
With Salah coming up against his former club on Sunday, this comes at a disappointing juncture, particularly in a season that has seen racism come to the fore on a number of high-profile occasions.
Speaking ahead of the Blues' visit to Anfield, Klopp spoke impressively about how to combat such problems, and the impact of wider society in this outlook.
"It's disgusting. Another example for something that should absolutely not happen," he told reporters.
Klopp, who has been vocal in his distaste for Brexit, alluded to racist incidents being on the rise due to events in wider society, saying:
"We should not see it as a Chelsea thing or a Liverpool thing, it's another sign for something going wrong a little bit outside there.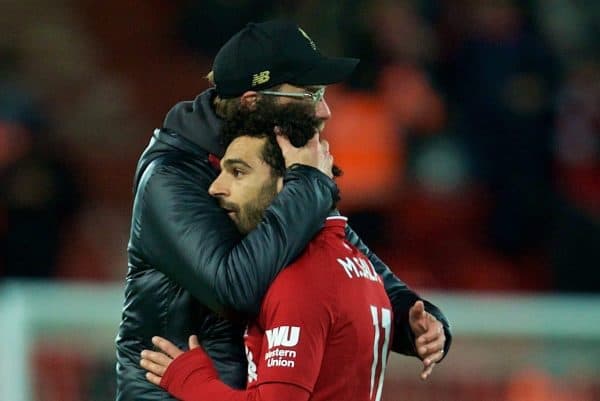 "It's still only a few people, but the stronger the reaction from all of us, the more it probably will help to avoid things like this in the future.
"These guys now, it's not always [in football but] in other parts of life as well, these guys are football fans.
"You should not be allowed to enter a stadium again in your life.
"It's a complete misunderstanding of how life should be. All kinds of racism are somebody thinking they are more worthy than others.
"I'm a football manager, it's difficult to talk about all the rest, but I can say these people should not be involved.
"Football is the best example of how different people, races, everything can work together brilliantly.
"Go in each dressing room out there in the world of football and you find them all sitting next to each other, nobody cares where you come from. It's not an issue.
"[Football is] not the most important thing in the world, they should at least not be allowed to be part of the football community again.
"Hopefully this will be avoided that somebody is doing something like this again.
"Football is very public, we have a strong voice in that and we have to use that and show all together we think the same.
"Things like this are not allowed to happen again."