Jurgen Klopp has addressed speculation over Rafa Camacho's future at Liverpool, uncertain over "where he wants to go or not" at the end of the season.
Camacho has been regularly linked with a return to Sporting CP this year, and a proposed loan move fell through in January after Klopp's intervention.
The suggestion was that the Reds could not afford to lose a young player of his versatility, and he duly made his first-team debut, and later his Premier League bow, later that month.
Both came at right-back, and taking to Instagram after he scored a hat-trick in the Liverpool U23s' 6-0 thrashing on Sunday he insisted he is "not a right defender" and that he would "prove that they are mistaken about my football."
Interpreted as an attack on the coaching staff, Camacho followed this up with another post on Wednesday night expressing his "gratitude" to Klopp, writing: "I believe in boss Jurgen, and I know he believes me, too."
https://www.instagram.com/p/BwXXqnSA_pZ/
"It makes no sense what the people of my faith are trying to insinuate after I have answered a friend who challenged me," he added, which clouds his initial statement with confusion.
Regardless, widespread reports claim he could leave Liverpool this summer, with Wolves, Benfica and RB Leipzig all joining Sporting in their interest in a possible £10 million deal.
Given the Reds gained passage to the semi-finals of the Champions League in Camacho's native Portugal, it came as less of a surprise to see Klopp questioned on his future in his post-match press conference at Porto.
But while the manager was expectedly reserved, it was perhaps more surprising that he admitted uncertainty over the 18-year-old's intentions.
"Wonderful player, really good player, both-footed, very well-educated in Portugal and we gave him the next level," he told reporters.
"So really good player, but what he will do and where he wants to go or not, that's nothing we speak about today."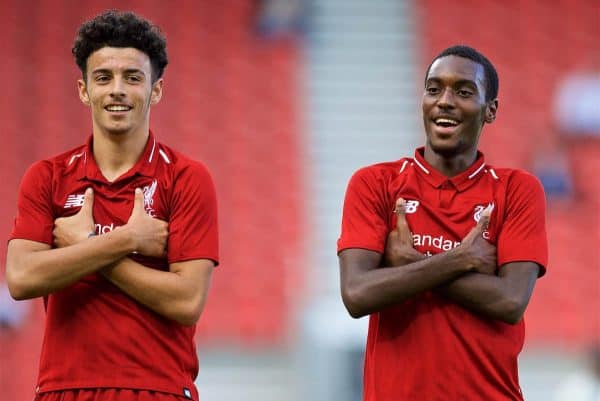 Klopp has arguably been backed into this position by Camacho's dwindling contract, with his current deal with the Reds set to expire in 2020.
If he does not agree to an extension, with talks reportedly underway since the turn of the year, Liverpool could be forced to sell and capitalise on his value.
The teenager has been in excellent form this season and has been named in Klopp's matchday squad nine times, but £10 million may prove a reasonable fee for Camacho.