Liverpool secured a vital if fortunate win against Spurs, in a game which was defined by a number of tactical changes.
When analysing Liverpool's tactics in this game, a lot of the focus will need to fall on Mauricio Pochettino's Spurs and how the Argentine boss changed the game in the second half.
Jurgen Klopp's second half changes were too slow, but the important thing is that they were eventually made and, thanks also to a slice of luck, kept Liverpool in the title race.
In the first period Liverpool were comfortable, if a little sloppy at times – which can often be the case with a midfield of Jordan Henderson, James Milner, and Georginio Wijnaldum.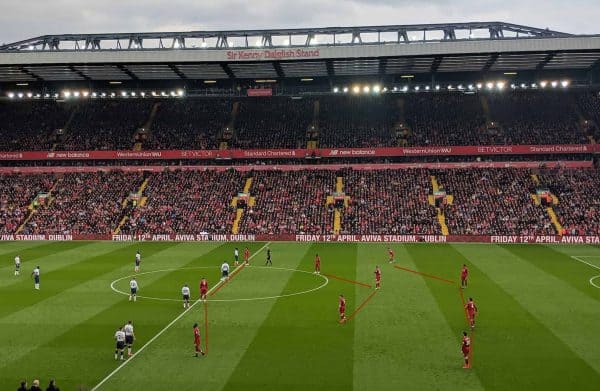 The Reds enjoyed 57 percent possession in the opening period and took a deserved lead when Roberto Firmino headed home Andy Robertson's pinpoint cross.
Spurs' back three/five was getting overrun by Liverpool's full-backs, and Robertson in particular, aided by Milner and Sadio Mane, was getting plenty of joy against Kieran Trippier and Toby Alderweireld down the left. Trent (92) and Robertson (88) had more touches than any other players on the pitch.
The back five wasn't working for the visitors, and this was evident from the early exchanges, not least from the opening goal, for which both Robertson and Firmino managed to find space despite Spurs playing a fairly narrow back five.
Waiting For Changes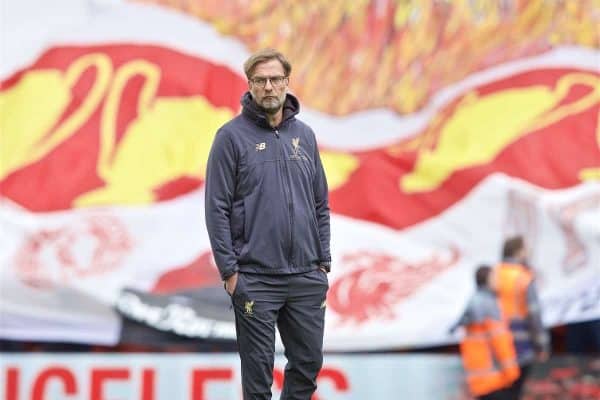 The number of defenders wasn't the problem for Spurs, it was their positioning in relation to each other.
But Pochettino, who was serving a touchline ban, still waited until half time to make the change despite having the ability to communicate with his assistants on the bench from his seat in the stands.
They emerged for the second half in a formation which resembled 4-4-1-1, with Jan Vertonghen moving to left-back, Danny Rose to left midfield, and Lucas Moura joining Harry Kane up top.
Pochettino spoke about his changes post-match and believes Liverpool didn't read them.
"In the second half we changed the positions, the shape, and we were better," he said.

"For Liverpool it was difficult to read the situation. We started to play from the back, we broke the pressure of them, their first defensive line.

"We found space to start to play forward and dominate the game and create chances. I think Liverpool never read [the changes]."
But Klopp did read them, as he mentioned in his own post-match press conference, but waited too long to react to them. Or perhaps he thought that the 4-3-3 could still cope with the Spurs 4-4-2.
"In the second half we were not as good as the first half. Tottenham changed a little bit, from five [at the back] to four, Rose a bit higher, all that stuff, not a big problem for us usually but it was today, we couldn't really get a grip."

"Harry [Kane] dropped a bit more, Son came on, all these things don't make life easier. First half we could have scored more goals, the second half was less the case. They scored a goal, a super goal, they were quicker in mind than we were.

"After that we got the game back, they had counter-attacks then and played a little bit with our situation."
In the period between the start of the second half and the Liverpool changes on the 77th minute, Spurs had 66 percent possession. A stark contrast to their 43 percent in the first half.
It was no surprise that they scored through the lively Lucas Moura in the 70th minute, but it was a surprise that Klopp hadn't changed things up before then, at least by the hour mark.
Spurs more than deserve that. Much the better side in the second half, and to be honest Liverpool don't really look like scoring. Careless and blunt since about 10 minutes before half time.

— Rory Smith (@RorySmith) March 31, 2019
The game was calling out for Fabinho, but even when Klopp moved to a 4-2-3-1 prior to the Spurs goal he didn't change his personnel, which may have even played a part in the concession of the free kick which led to the Spurs goal.
Wijnaldum moved to the right wing, Henderson and Milner formed the double pivot, and Mohamed Salah went up top. The change in shape was the right thing to do, but the lack of changes in personnel was confusing.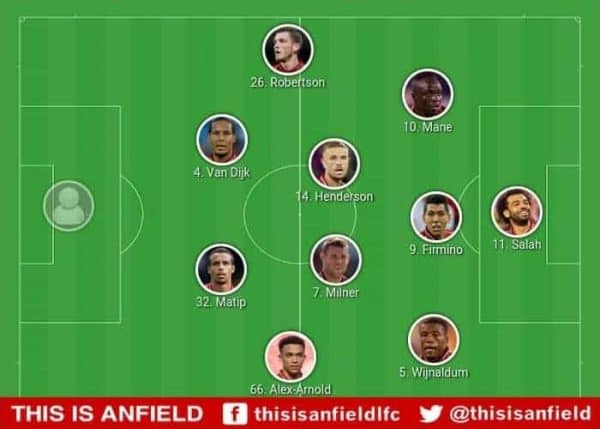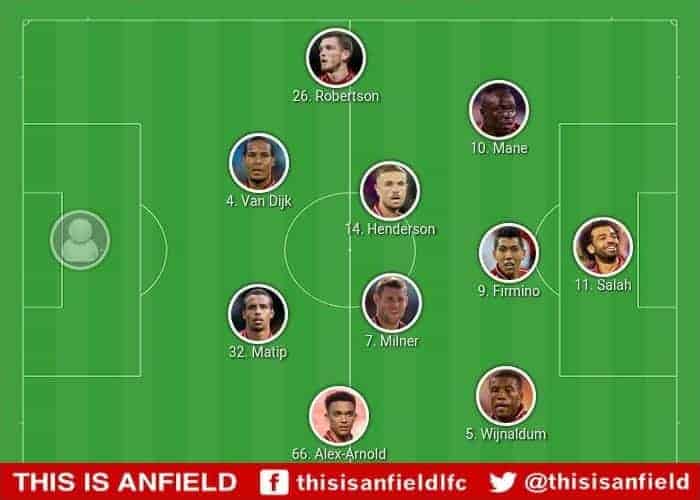 All three of the starting midfielders seem to play better alongside Fabinho, but rather than tweak his lineup by replacing one of these players, Klopp took the decision to substituting both his captain and vice-captain.
If he wanted to change to 4-2-3-1 and bring on Fabinho, he was always going to have to take off two of his starting midfielders. Perhaps this was part of the reason for the delay.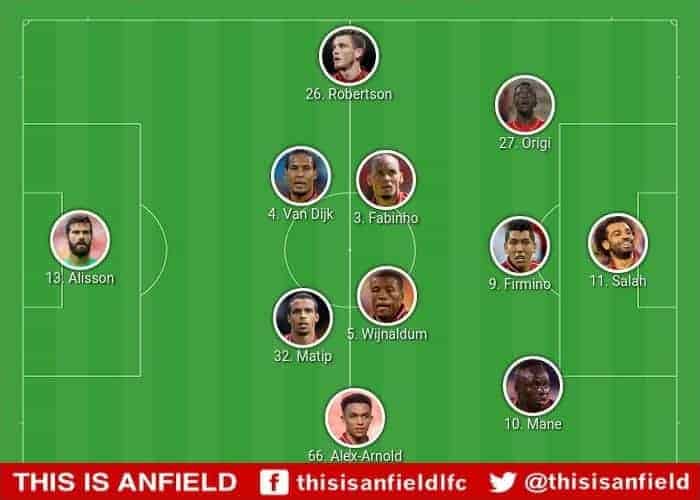 It almost backfired, allowing Spurs through on goal for what should have been a clear chance to win the game, but wasn't thanks to Virgil van Dijk's world-class defending.
But for all we can praise Pochettino, who appeared to get the better of the tactical battle in this game, without Klopp's bold change with 13 minutes to go Liverpool probably don't win this game, and as a result would now be out of the title race.
Klopp deserves credit for changing things in the way he did, even if these measures were required because he didn't make these changes early enough.
Van Dijk's Textbook Defending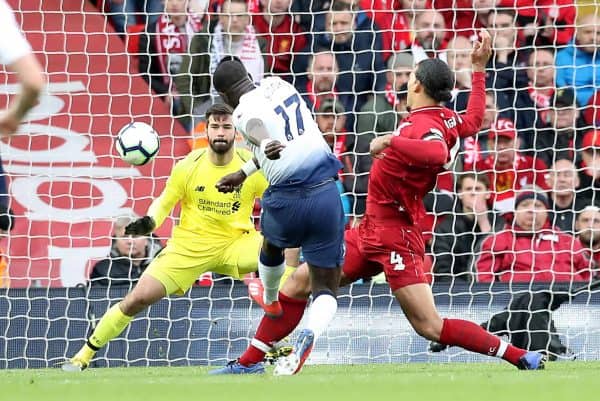 Van Dijk had already put in another impressive showing prior the second-half moment which kept Liverpool in the game in the title race.
Alisson's shaky afternoon was not making things any easier for the Liverpool back four, and Van Dijk, Robertson, and Trent-Alexander Arnold had all made vital interventions which prevented Spurs capitalising on their moments of good attacking play.
Trent's tackle on Lucas Moura, Robertson blocking Eriksen's shot, and Van Dijk thwarting Kane were all standout moments, but none attracted as much attention as the moment the Dutchman defended on his own against two Tottenham attackers.
By this time he was wearing the captain's armband, which was symbolic, and his defending was highly effective, straight out of a coaching textbook.
Most of this is a learned process — he will already know the strengths of both players he's coming up against and can make decisions accordingly based on performing similar actions in previous training sessions or games.
The best defenders and goalkeepers research their opponents with the help of their coaches and analysts before the game, and it paid off here.
Van Dijk knew Sissoko was weaker on his left, knew that Son Heung-min was the more dangerous of the two attackers and trusted his goalkeeper to save Sissoko's left-footed effort even if he couldn't manage to block it.
In the end the shot was skied over the bar and didn't even go down as a big chance according to Opta, who judge chances based on the shot in isolation.
Van Dijk had turned a big chance into one which had just a 14 percent chance of finding the net according to Infogoal's xG model.

If anyone out there thinks that Van Dijk is getting too much credit for this one moment in the game, it's worth remembering how difficult it is for defenders to get any praise in the modern game, which is so focused on attacking football and making things easier for attackers.
Attackers can get away with making multiple mistakes and still win individual awards at the end of the year, a defender can make one and be out of the running completely, as was suggested after Van Dijk's 'error' against Fulham.
But here the captain kept Liverpool in the game, prevented them from losing it and gave them a chance to win, which they eventually took, creating their own luck as they reasserted their control over the game in the final quarter of an hour.
Notes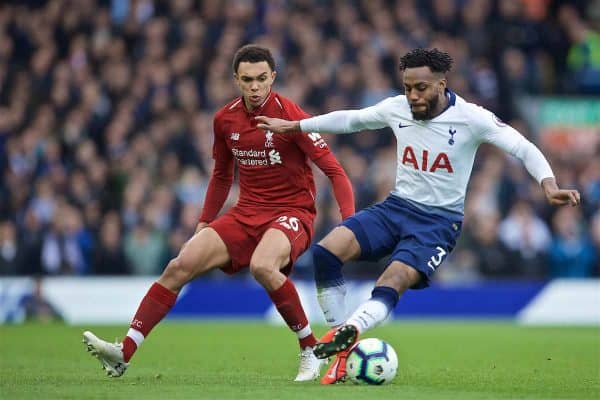 It looked like Trent was trying to score directly from corners, as Salah was doing earlier in the season.
Klopp: "Set pieces have been quite the tool for us this season."
Milner often covers at left-back when on the same side as Robertson, when the Scot bombs forward.
There were other moments of positional flexibility, and at one point Wijnaldum was up front as Firmino dropped deep to get the ball and Mane found himself in defence.
Klopp: "Of course it was a lucky punch, the ball rolls in off Alderweireld. I told the boys there are 500,000 ways to win a game, and today was rather ugly. No problem. We take that."