Liverpool Legends defeated Republic of Ireland XI 2-1 in the Sean Cox Tribute Game in Dublin on Friday night.
Liverpool Legends 2-1 Republic of Ireland XI
Aviva Stadium, Dublin
Sean Cox Tribute Game, 12 April 2019
Report by Jonathan Higgins at the Aviva Stadium
"Some people believe football is a matter of life and death, I am very disappointed with that attitude. I can assure you it is much, much more important than that" – The famous Bill Shankly quote that is often interpreted out of context was once again dispersed on the banks of the River Dodder where a crowd of 26,873 spectators watched Liverpool Legends defeat Republic of Ireland XI 2-1.
Football wasn't even close to the most important thing of the night never mind more important than life or death.
The biggest ovation of the night by was served in the 22nd minute of the opening half.
Sean Cox was in attendance at the game with his family and as he flashed up on the big screens all four corners of the ground rose in salute. It was a simply hair-raising moment. Phil Babb admitted afterwards that some of the players stopped from the game to clap.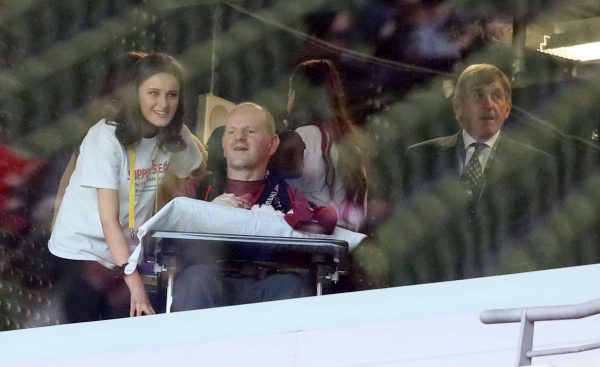 On April 24th 2018 Sean and his brother Martin travelled to the Champions League semi-final between Liverpool and Roma at Anfield. Just before kick-off, on his way to the stadium, Sean was the victim of a vicious and unprovoked attack which left him with life-changing injuries.
The Sean Cox Rehabilitation Trust, a charity set up in his honour, released a video earlier this week of Sean giving a thumbs up and thank you to everyone involved in helping him. A truly heart-wrenching moment that would melt even the coldest of hearts.
Jason McAteer admitted after it broke his heart going to visit him. Sean's story hit a nerve with football supporters all around the world and despite in a week where the dark ugly sides of football have unfortunately come to prevail again in isolated incidents, people of all football backgrounds came together in Dublin to show their support for such a worthy cause.
On the pitch, there was an abundance of stars on show on both sides on a cold crisp night. An enjoyable free-flowing game was provided as the large crowd got to see many of their heroes, albeit a little off their prime, strut their stuff.
A Vladimir Smicer strike on 69 minutes was the only goal of the second half and enough to secure a victory for the Liverpool legends after a classic John Aldridge shimmy penalty on 37 minutes cancelled out Keith Andrews' opener for the hosts.
This was an occasion more important than football, though. An opportunity to raise badly needed funds to help Sean on his recovery.
What's important right now…#SupportSean #YNWA pic.twitter.com/32Fob1ADJ4

— Peter Moore (@PeterMooreLFC) April 12, 2019
"We've seen the devastation the family have gone through," McAteer said afterwards. "The crowd didn't let us down; the Irish people didn't let us down.
"I got to see Sean before the game and it broke my heart. It could have happened to anyone, any one of us. It's like sliding doors, isn't it? A minute later, ten minutes before.
"It doesn't stop here though. It's ongoing. Sean's recovery is something we'll always watch closely."
A year ago, Sean left his home in Dunboyne in Co Meath Ireland to travel to Liverpool to watch his beloved team. That night his life was changed forever but his courage is an example to us all.
Ní shiúlfaidh tú i d'aonar go deo – He will never walk alone.
* To donate to the fund please visit supportsean.com
Ireland: Wayne Henderson, Steven Reid, Ian Harte, Kenny Cunningham, Ronnie Whelan, Stephen Hunt, Kevin Doyle, Robbie Keane, Kevin Foley, Lee Carsley, Keith Andrews, Shane Supple, Sean St Ledger, Ray Houghton, Liam Lawrence, Colin Healy, Alan Quinn. Kevin Kilbane, Keith Fahey, Stephen Elliott, Graham Kavanagh, Phib Babb, Jason McAteer, John Aldridge, Niall Quinn
Liverpool: Sander Westerveld, Bjorn Tore Kvarme, Jason McAteer, Sami Hyypia, Phil Babb, Steve McManaman, Robbie Fowler, Jermaine Pennant, Vladimir Smicer, Patrik Berger, Michael Thomas. Ronnie Whelan, Robbie Keane, John Aldridge, Ian Rush, Richie Partridge, Neil Mellor, Kevin Gillespie