Jurgen Klopp and Liverpool's life-and-death struggle with Pep Guardiola's Man City represents a rivalry of the new era elevating each other to new heights, writes Samuel J. Cox.
One of the more intriguing aspects of having a foreign manager is the teachings of a different footballing culture, which they employ.
For example, Guardiola has brought the Spanish influence of tika-taka, merged with his own learnings from across the world, to create Pep-ball for the Premier League.
In recent comments, City's manager offers perhaps the best insight into the foundation of his philosophy: "When the ball is in the air, its half-half. When the ball is at your feet, the ball is yours."
For Klopp, gegenpressing is his tactical baseline, ensuring a high-octane style which seeks to influence and control the game without the ball and open the opposition through intelligent counter-pressing.
Liverpool's manager himself has famously said: "No playmaker in the world can be as good as a good counter-pressing situation."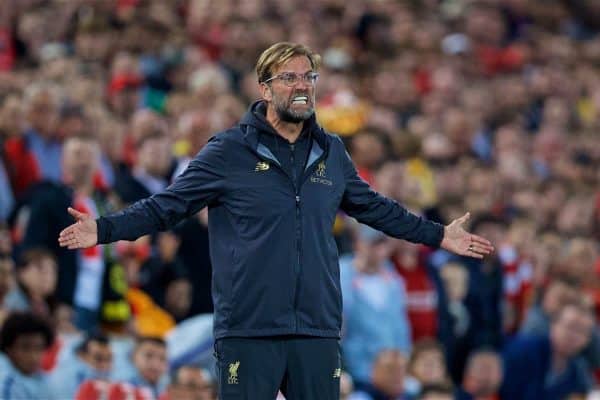 Counter-pressing is a not an invention of Klopp's, and since he emerged as a coach at Barcelona it has been a notable part of Guardiola's philosophy, yet Klopp refined it to his own instincts.
Gegenpressing is not just a case of counter-pressing to regain the ball, but to rapidly and ruthlessly exploit a team at its most vulnerable.
In such a situation the opposition is transitioning from a defensive formation to an attacking one and have expended energy to attack, thus leaving them fatally open in the event possession is lost.
However, what has perhaps been most interesting about the managerial tactical battle which has now raged across two countries, albeit beneath an umbrella of congenial civility, is that Klopp and Guardiola have changed each other.
Learning from his Dortmund experiences and influenced by the different players and expectations Liverpool offered, Klopp has embraced a possession game which utilises gegenpressing when possible.
In the arms race that is the Premier League few tactics remain unchallenged for long and as Klopp himself admitted at the end of last year: "A lot of teams saw that we were good at [gegenpressing] and realised they were overplaying."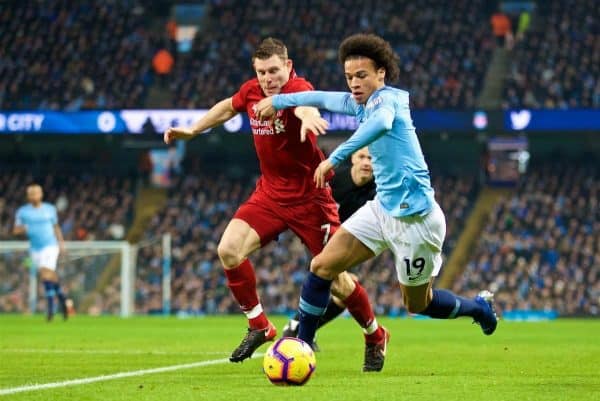 This season more than ever Liverpool have balanced controlled aggression with possession, highlighted best in our last fixture against City, which had a 50/50 possession split.
Liverpool no longer fully embody a pedal-to-the-metal mentality of attacking devastation, yet equally they are far more in control and no longer exposed to occasional self-destruction.
So, Klopp's Liverpool have assimilated some of Guardiola's teams' characteristics, yet it is not a one-way exchange.
Guardiola has notably changed his tactics in the two clashes with Klopp's team this year, breaking away from his 'play out from the back at every opportunity' mentality.
It was notable in both clashes that City were passing longer and, shock and awe, even hoofing the occasional ball long, when faced with the raging red gegenpress of Klopp's Redmen.
Clearly Guardiola had a few mental scars from defeats in both Premier League and Champions League, revealing in the All or Nothing documentary that: "[Salah, Mane and Firmino] scare me. They're dangerous, I mean it."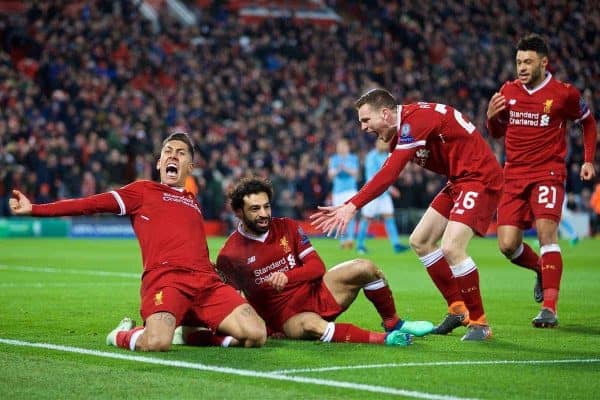 However, Liverpool's front three were in part only so dangerous due to the team's highly effective gegenpressing of Pep's ball-playing team.
The only obvious repetitive flaws from last season for Guardiola's team were three losses to Liverpool: development was required to fend off a new threat.
Indeed, in 2017/18, City set a record possession percentage (since that statistic has been recorded) of 71 percent across the season, whereas thus far this season they have averaged a lesser 64 percent.
That is still a phenomenal number, which compares favourably to Liverpool's 58 percent average this season, if we judge on possession alone.
Yet, an overall decrease in City's possession statistics of seven percent is significant and shows that in some key games they are less concerned with pure possession domination.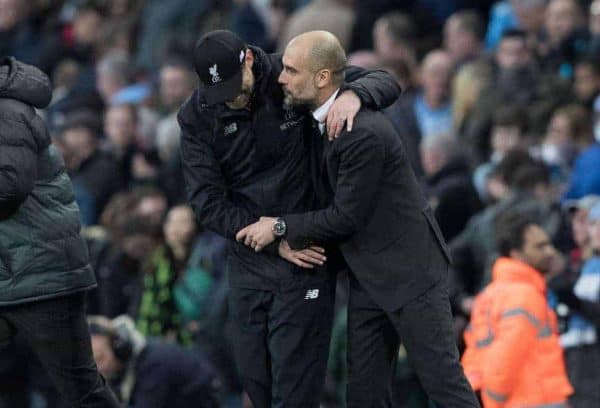 In a near-flawless season last year, Klopp discovered a few chinks in the armour of City and Guardiola has developed tactical alternatives which can be enabled, namely strategies for avoiding Klopp's heavy-metal press.
Yet, City have not just countered; like Liverpool they have assimilated.
Engaged in one of the most titanic title struggles ever, Liverpool and City are driving each other onto greater heights, forcing evolution and adaptation.
Greatness rarely emerges from the mundane, it is forged in the struggle, it emerges from the fire.
And I can't imagine Jurgen Klopp and his Liverpool team would want it any other way.