Liverpool could have slipped up at Cardiff, with their hosts conspiring to make it as difficult as possible, but their 2-0 victory in south Wales could be huge.
Three games to play. If Liverpool do win the Premier League title, then we'll look back on this game at Cardiff as being the one.
Of course, every game we now play is massive.
No three points are any less valuable as the three points that came before, while the next three points automatically become the biggest three points of the season.
Some hurdles however feel that little bit more significant, and in the wake of Man City beating Tottenham, Cardiff had brick wall written all over it.
If ever there was a game where we were going to loosen the leash on Pep Guardiola's team, in the terms of breathing space to sedately accumulate the points they require to retain the title, then this was going to be it.
Against a team battling against relegation, at a point in the season where superhuman feats are ripe for the picking, Cardiff was always going to be a more difficult hurdle than the Premier League table intimated.
Curmudgeon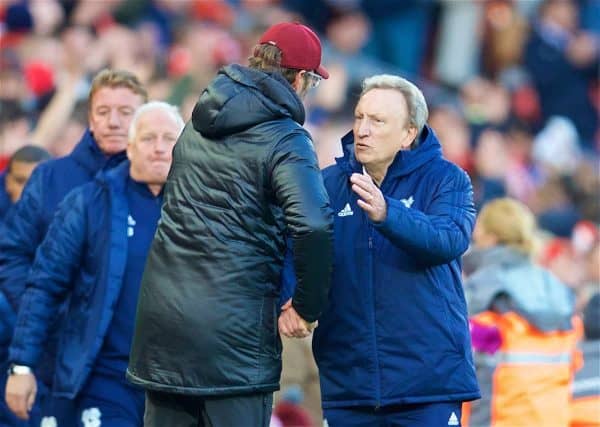 Stubborn and curmudgeonly, Cardiff's performance was wholly in the image of their manager.
While optimism abounded at half-time that a win was still likely, despite the scoreline being stalled at 0-0, it was tempered by a nagging suspicion that previous versions of Liverpool would fail this particular test.
Not this version though.
The velocity with which Georginio Wijnaldum planted the first goal home said everything about this Liverpool. It was powerful and insistent. It didn't ask for the lead, it just took it.
A week or so ago, there were rumblings amongst some Reds about the way Wijnaldum had fallen out of favour.
If you look at it though, all our midfielders have taken a bit of time out here and there.
A month ago, it was Jordan Henderson, at the start of the season it was Fabinho, at other times it has been Naby Keita, while James Milner has eased up upon occasion. Xherdan Shaqiri has hardly been seen since winter began to thaw.
Jurgen Klopp's management of his midfield has been phenomenal. We don't have a Steven Gerrard, we don't have a Xabi Alonso, but what we do have is a collection of talented and determined components that are interchangeable.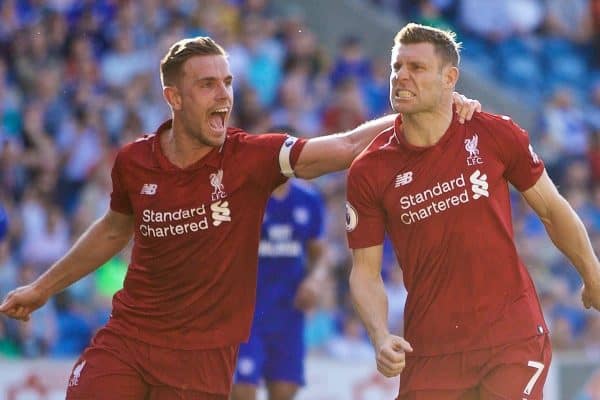 The goalkeeper, the back line and the forward three may remain relatively unaltered from game to game, but this continued re-energising of the midfield has been an understated success.
It felt apt, to me, that the goals against Cardiff came from Wijnaldum and Milner.
All talk of Mohamed Salah diving to obtain the penalty proved nothing more than the ludicrous ramblings of those who are becoming increasingly desperate for us to fade out of this title race.
Let's keep every single one of those detractors sweating until the very final whistle and crying all summer long.
Comfortably Uncomfortable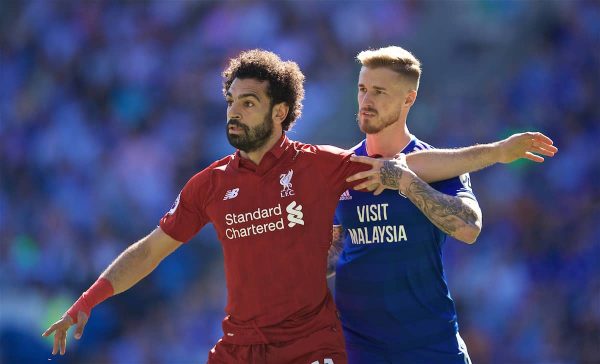 We could have been more comfortable in this one; we could have been more uncomfortable in this one. Roberto Firmino, Salah and Henderson all had very good opportunities to score.
That chance Sean Morrison contrived to dive under for Cardiff will haunt him for a very long time to come. It was an infinitely more dubious dive than anything Salah was meant to be guilty of.
Even Oumar Niasse was presented with a sight of goal during the first half.
We are doing everything we can. All we can do is keep winning our games and see where it takes us. This victory rolls the ball back to City, who now face a trip to a wounded Old Trafford on Wednesday night.
In turn, we must be professional and ruthless on Friday night when we face Huddersfield. Take nothing for granted and engender a European atmosphere. Win and win well.
Turn the heat up on Guardiola and his players when they go to Turf Moor on Sunday.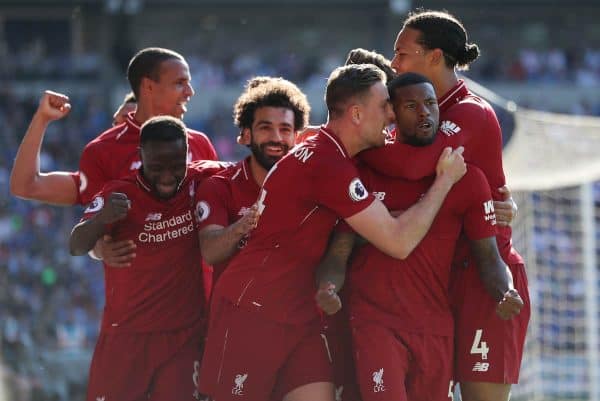 We've cleared ours at Cardiff, but this week will represent City's brick wall. They have been nervy and uncertain at times, they are still digesting their Champions League exit.
I mentioned a few weeks ago that something had to go ping for them during the run-in. It has, in Europe, but that doesn't mean there can't be another stumble.
Should City take wins against United and Burnley, then the title might well prove to be beyond us.
However, I don't believe that we will reach 97 points and miss out on the title. Win our last four games and we will win the title.
The Maddest Weekend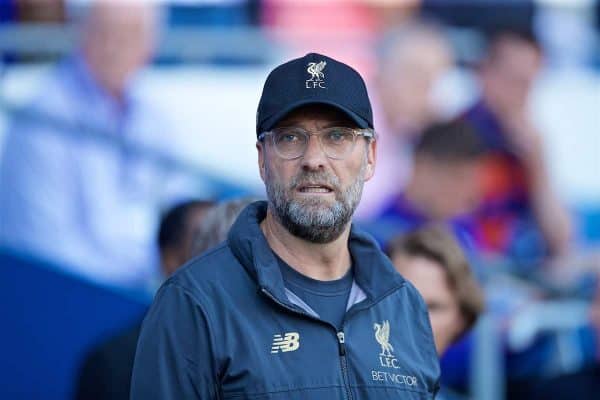 Some people think no points will be dropped by either Liverpool or City between now and the end of the season, but I don't see it that way.
One or the other, maybe even both, will crack.
We have three to play, two of those at home, while City have four to play, three of them away.
The first weekend in May will be the maddest in our recent league history. It will be the weekend of the former Liverpool managers.
While we will face Rafa Benitez and his in-form Newcastle United at St James' Park, 48 hours later City will be up against Brendan Rodgers and his unfathomable Leicester City, in their one and only remaining home game.
Whoever leads going into the final day will take the spoils, and I don't see Leicester winning that penultimate game. It's what makes this week so crucial.
Our win at Cardiff might well be the one we eventually look back on as being the pivotal one if the title does drift our way in just under three weeks' time.