Liverpool have made enormous strides over the past 18 months and the current team is good enough to win major honours – but there's still another level to reach.
Sometimes, the very best teams need to look not just within themselves to get better, but elsewhere.
Oftentimes, perhaps that means a team particularly good at attacking, as the Reds were last season, need to consider what needs to be added defensively. Most of the time that would mean looking at another great team and seeing how they close out spaces, or mark at set pieces, or allocate positional responsibility in possession.
But maybe the past two Premier League fixtures for a less-than-stellar team could provide an indication of Liverpool's next big challenge.
Either side of the international break, relegation-bound Fulham faced the unenviable task of facing the league's top two sides: Liverpool, then Man City.
Both games were at home, leaving hope springing eternal for an unlikely upset, but the outcomes were entirely predictable, if not the route to the result: defeat, defeat.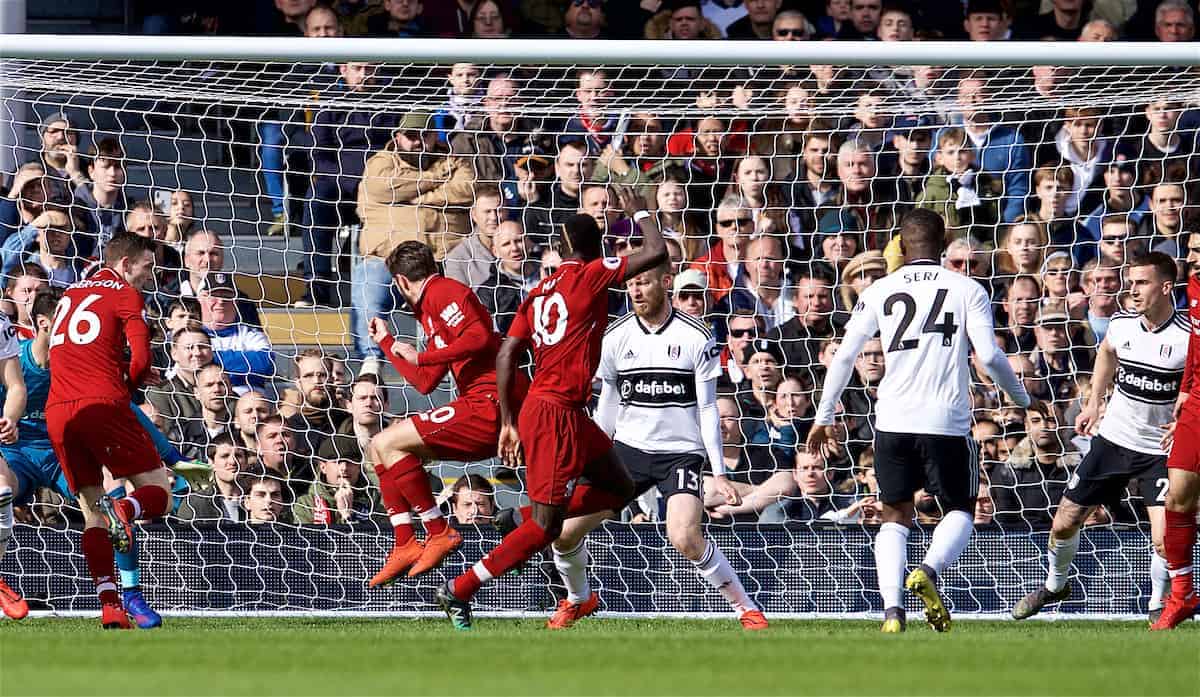 Fulham conceded just twice in each fixture, but the 90 minutes panned out very differently for the Reds and the Citizens—and here is where we can identify how this already superb side can get even better.
Earlier in the campaign, Jurgen Klopp spoke about the growing self-belief in the team, much of it borne of last season's march to the Champions League final. Regardless of the eventual result in Kyiv, beating other big teams en route forced a change in self-opinion from the Liverpool squad.
No longer were they a side capable of beating anyone on their day, but a team whose day came around on a regular basis: instead of competing with the best, they were among the best.
That change in mentality is a big factor in just how relentless the Reds have been in their title challenge this season, overcoming teams with ease at times and with a big, late push on other occasions—as was the case at Fulham.
The mentality the squad holds mean they still expect, even late in the match and drawing, that another chance will materialise.
It could be a penalty, a defensive mistake, a delivery from the wonder boys out wide or an individual piece of skill in attack; regardless of method, the one final opportunity to win the game will come—then it's just about finishing it, or not.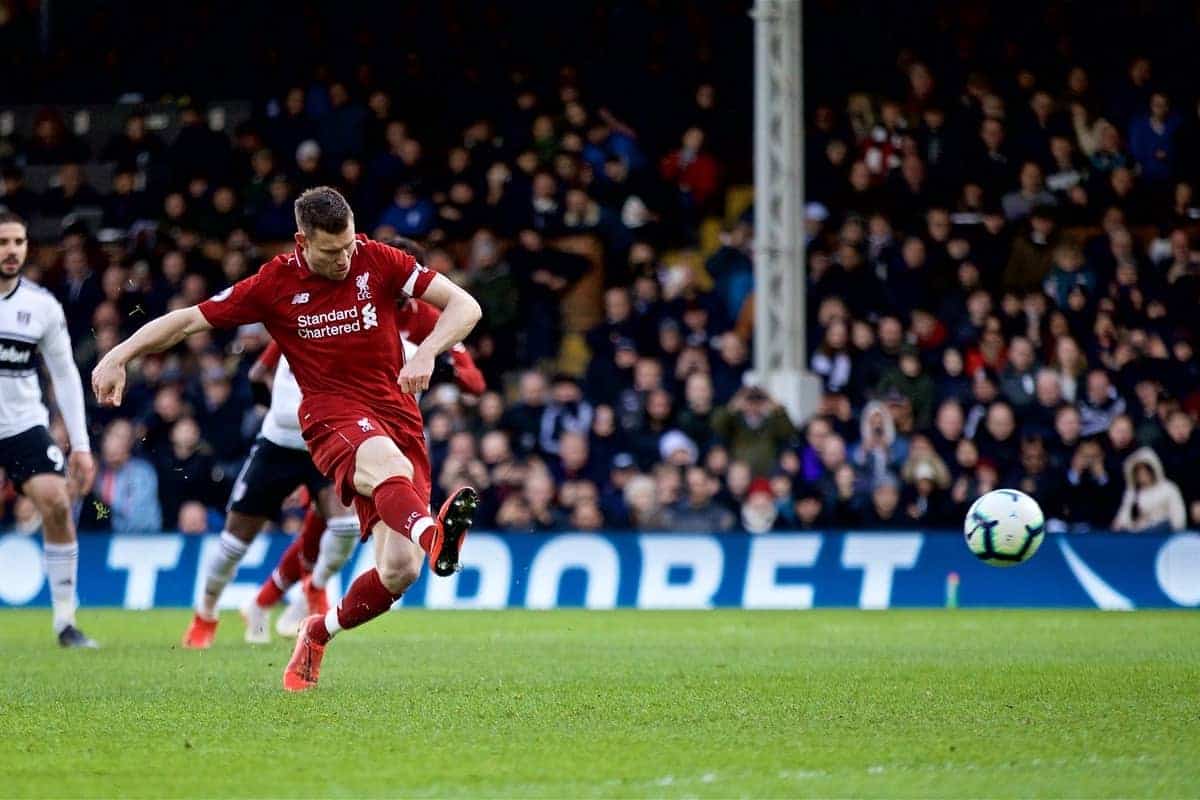 Against Fulham it was a mistake, leading to a penalty. Against Spurs it was a mistake, after the great delivery. Both times, the Reds won, and that's all that counts—but Man City's mirrored outcome, three points at Craven Cottage, showed a different approach.
Their win over Fulham, 2-0, wasn't just about self-belief.
It was, right from the first minute of action, about a self-defeatist attitude from the opposition.
This was a 90-minute training session for City, a walk in the park and a kickabout with mates, and it all stemmed from something as intangible and indefinable as an aura, an expectation, a presence.
From time to time this season, Liverpool have had the same.
Teams have set up in a way which show they expect to be beaten, but if the Reds don't happen to take that early lead, or make a one-goal lead the two or three they deserve, hope and confidence can gradually bloom in the hearts and minds of those opposition fans and players.
It's what happened, of course, with Fulham.
They created nothing, but hung in there and made the game more difficult than it should have been, hoping that something might drop for them a yard or two out. It did, on that occasion.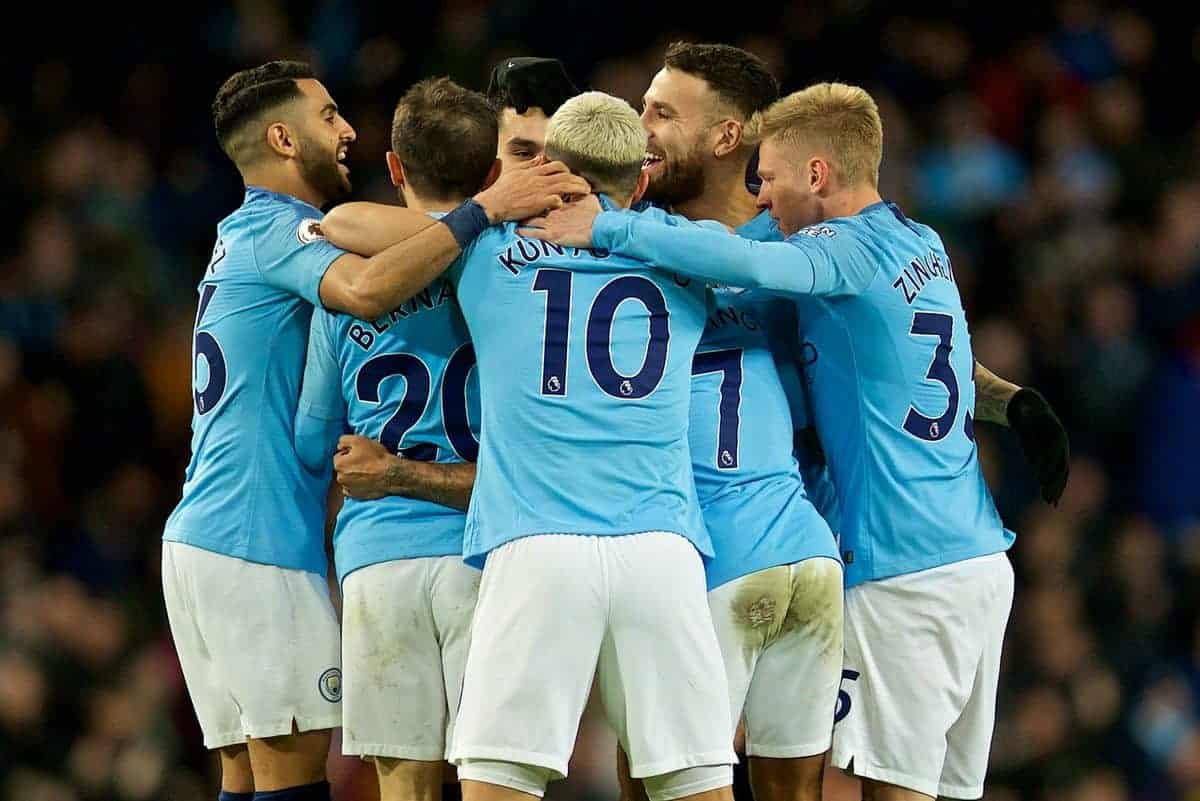 Against City, they had not even that hope, not even that gradual, forlorn daydream of an improbable way back into the game.
Fulham were beaten even as the match kicked off—they expected to lose and it was plain for all the world to see in the team's approach, the fans' lack of noise—positive or negative reactions—and the tempo of the game.
The aura of apparent invincibility that City wear in games such as this comes despite them having lost four times as many matches as Liverpool this season—but having won the league, by some distance, last year.
It's not just about City themselves, or Liverpool for that matter, having self-belief and absolute assurance over their own ability.
Its about the opposition having the same level of assurance of just how good the team is.
Liverpool don't need it to win the league. But the absence of it shows they still have a little extra to improve upon, a little further to go, to be as good as they can possibly be.
Win a major title this season and maybe the Reds will be wearing an extra layer of armour themselves next term, and a few less late rallies might be needed as a result.