Liverpool played out a near-perfect away performance in Europe and emerged with a 3-0 defeat from a game which could have ended 2-2 or 5-0. So no doubt everybody will agree on what went wrong, where and why, then.
It's all uphill from now for Jurgen Klopp's team to reach the final of the Champions League, but it's far from impossible to claw back three goals.
AS Roma, after all, did it last season (albeit with an away goal in a 4-1 loss)—then the Reds knocked out Roma. This season, Roma were knocked out by Porto…who were then dispatched by the Reds.
Encouragement remains, both from scorelines over the last two years and from the 90 minutes at the Camp Nou, despite the devastation of Lionel Messi's second-half finishes.
On the night, though, Liverpool's performance was a mix of the resolute, the well-thought-out, the uncharacteristically timid and above all else, a lack of clinical edge.
Early exchanges and key departure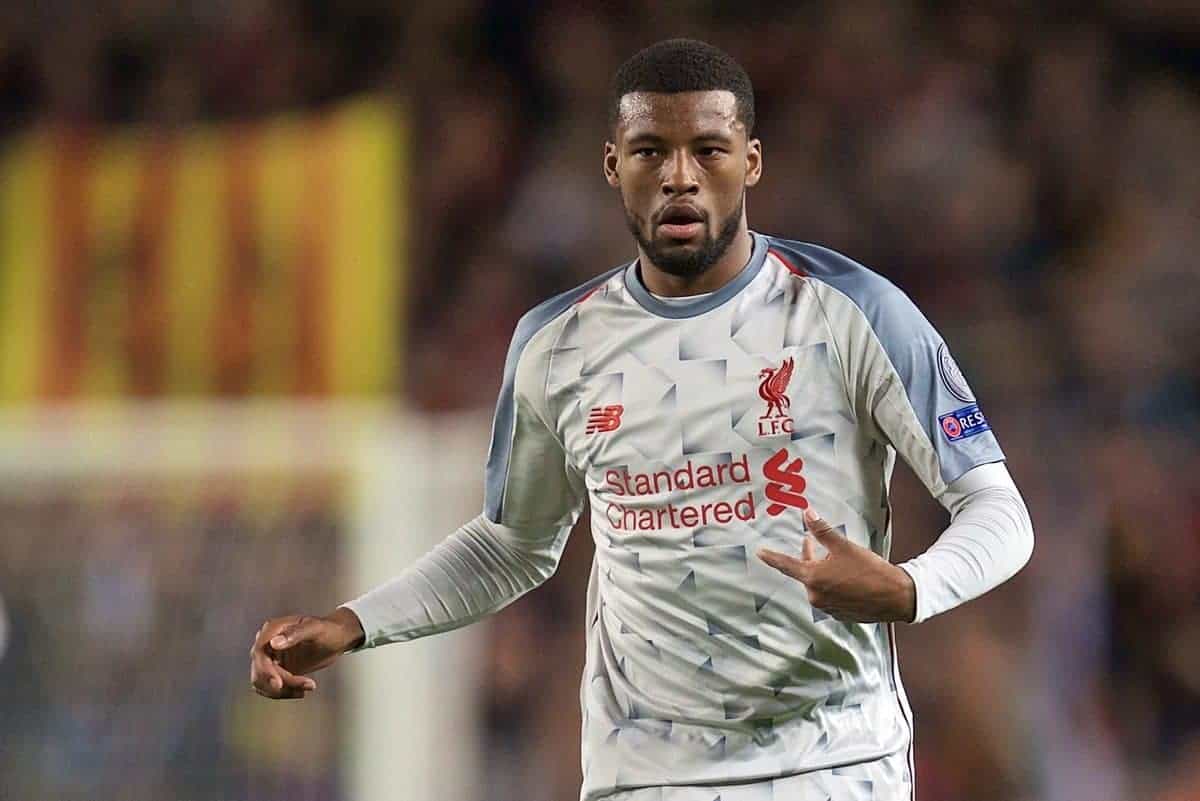 Liverpool's lineup raised eyebrows at right-back and centre-forward, with Joe Gomez in for Trent Alexander-Arnold and Gini Wijnaldum filling the vacancy forced by Roberto Firmino's lack of full fitness.
The theory was sound: a more solid full-back to stem Barcelona's wing threat, particularly from deep, while Wijnaldum has the stamina and flexibility to run, press and occupy a(nother) new role.
There was a suspicion of it being a diamond ahead of kick-off, with Gini at the tip, and the first few minutes hinted at that being the case, with the No. 5 alternately leading the press high up and looking to come short to receive the ball.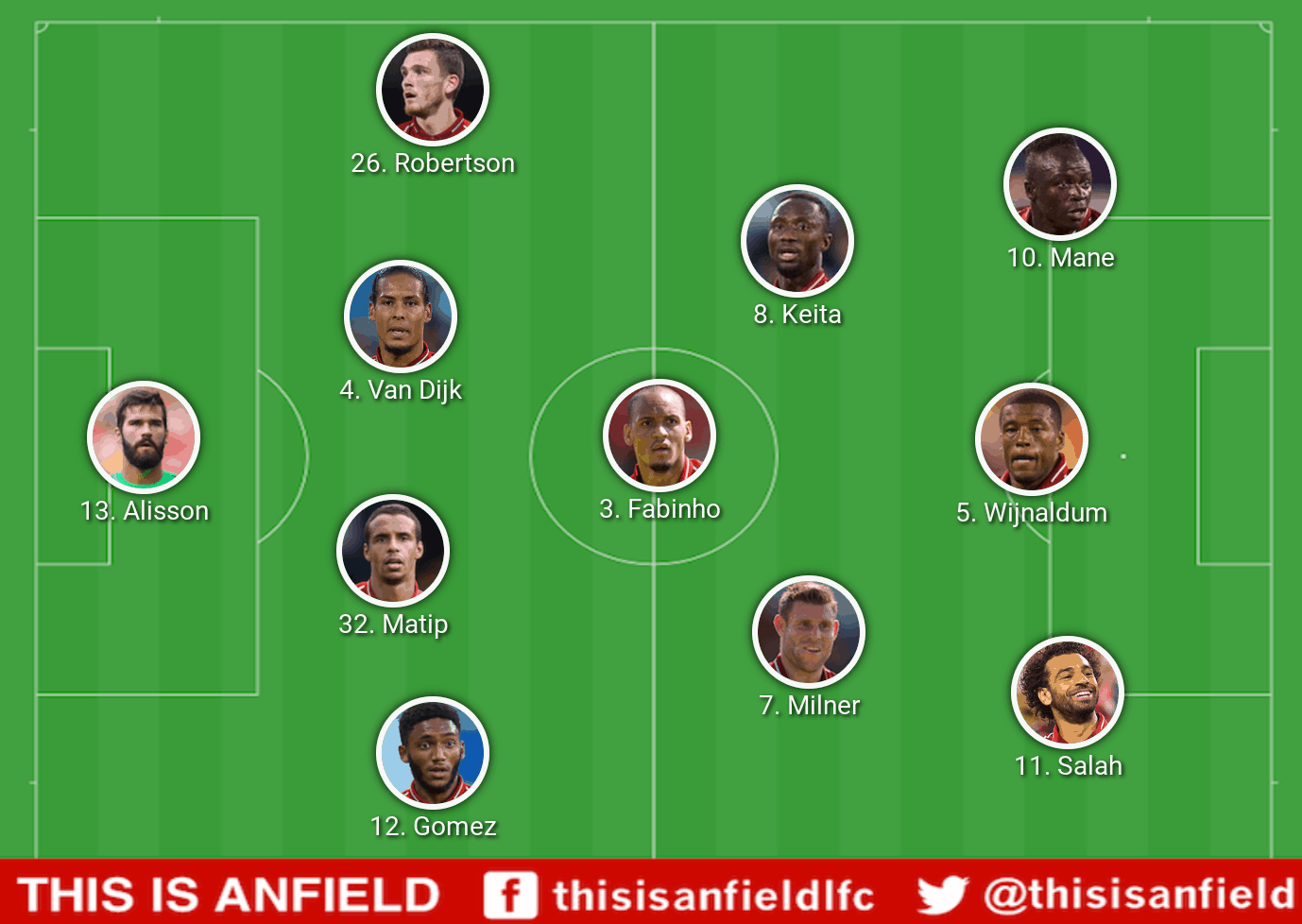 Liverpool weren't shy about pressing extremely high, including goal kicks, passes back to Marc-Andre ter Stegen and any attempts to go short to Sergio Busquets.
Again, this was all both expected and important, given how Barca can dominate the flow of a game and make it difficult for opponents to break out of their own half of the pitch when allowed to play at their own tempo, particularly at home.
In their five previous home fixtures in Europe this term, Barca had enjoyed possession to the extent of:
75% vs. PSV, group stage
67% vs. Inter, group stage
49% vs. Spurs, group stage
55% vs. Lyon, round of 16
66% vs. Man United, QF
Spurs was the only one they failed to win by at least two goals—it ended 1-1 that night—so Jurgen Klopp's set-up and the team's approach was sound in principle.
In those opening 10 to 15 minutes, there were occasions when the Reds looked to be playing a back three out of possession—making Gomez's selection less surprising—but this quickly ended and may have simply been the No. 12 tucking in and not bursting forward, conserving energy after the Reds re-captured the ball.
A big problem for Liverpool was the departure of Naby Keita.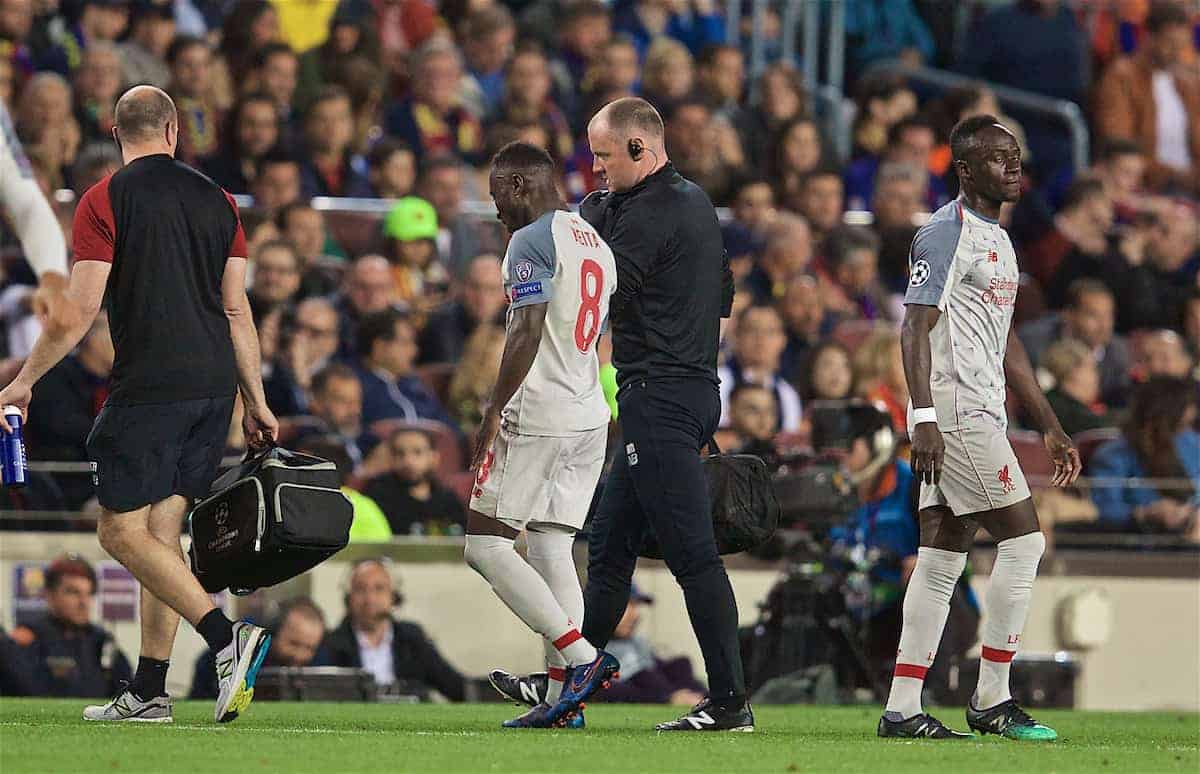 Up until his 24th-minute departure, the Reds were looking dangerous with one or two runners from midfield and, particularly Mohamed Salah's running at the defence.
The No. 11 completed six dribbles in that opening quarter of the game, and just one thereafter—why he stopped attempting to do so quite so much, especially after centre-back Clement Lenglet was booked, is a mystery.
In midfield, meanwhile, Liverpool's trio had completed 88 per cent (Keita) and 100 per cent (Fabinho and Milner) of their passes to that point.
Immediately after Jordan Henderson came on—probably not as ready, mentally and warmed up, as he would have liked in fairness—the Reds skipper lost the ball a number of times with poor touches and coordination.
Liverpool's in-game momentum was lost for a period, during which Luis Suarez opened the scoring.
Game-changing subs: made and needed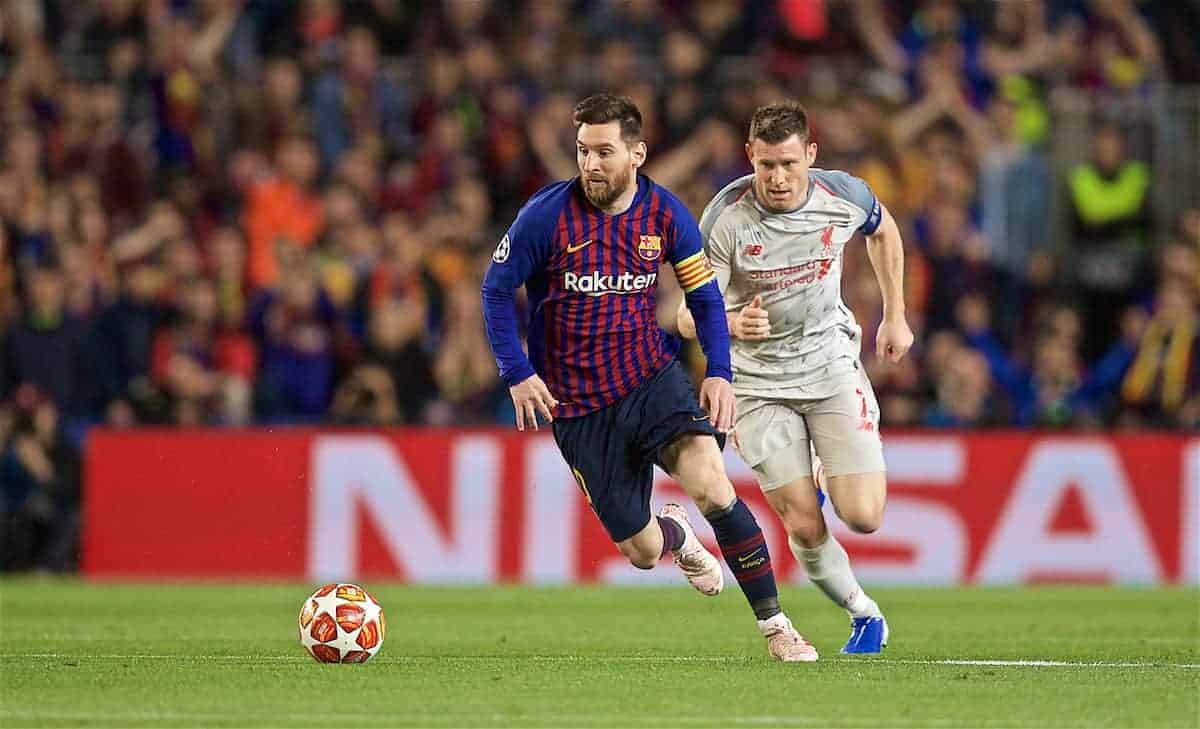 After the break Liverpool were energised, focused, clearly intent on getting back into the match.
A great spell of domination ensued, with Sadio Mane in particular continuing to rampage on the outside of Sergi Roberto and the left-channel triangle of Mane, Andy Robertson and James Milner often working overloads.
But Barcelona moved first and Ernesto Valverde fixed it, a proactive switch which very much earned his team a foothold in the balance of play in the second half.
Nelson Semedo's introduction at right-back on the hour mark, for the ineffective ex-Red Philippe Coutinho, sent Barca's midfield to a flatter quartet and a more structured 4-4-2, with Arturo Vidal switching flanks and Sergi Roberto pushing into the middle line.
In his post-game press conference, Valverde highlighted how he was forced into the switch and why it enabled his team more control of the play.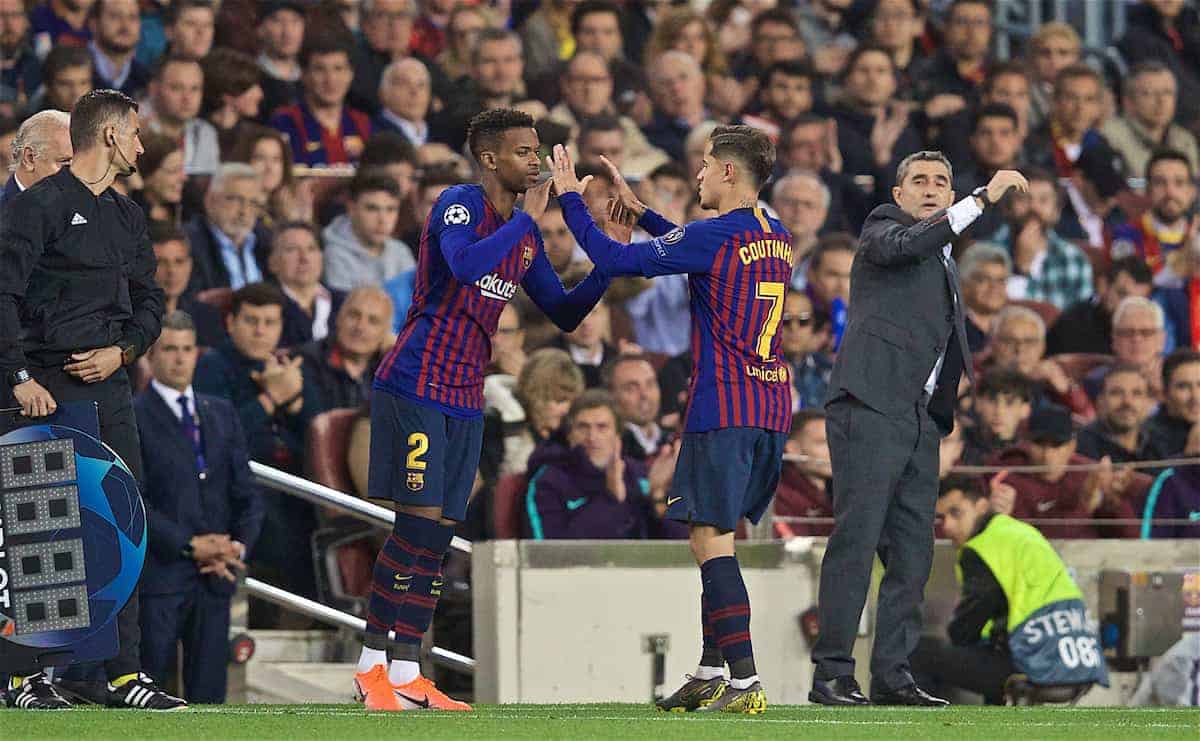 "On the left side of Liverpool, Robertson and Mane, it's very potent and was causing problems. Switching Arturo to the other flank, what we wanted was to be stronger centrally; it went well for us because at the start of the second half we suffered.
"After we were better, dominated more in the middle, then we could arrive [in the final third] and create danger further forward. We had more chances and they had fewer, other than the period of play where they hit the post."
Dan Kennett posted the impact on play of that Semedo sub, with Liverpool's totals first across these statistics (and a later-rectified 7-32 on first-60 minutes clearances and blocks).
46-60 was 63% possession
3-0 shots including Milner BC
0-8 on clearances+blocks
So I revise my original statement, it wasnt necessarily a case of not reacting, it was more that the Semedo sub stopped the bleeding for Barca

— Dan Kennett (@DanKennett) May 1, 2019
The Reds absolutely needed to score in that opening second-half period of dominance, before Barcelona made their changes.
Two matters need highlighting:
There's every chance Barcelona set up at Anfield the way they finished the second leg. They can simply counter at will with Ousmane Dembele's pace adding to the front two
Liverpool utterly struggled to pass through this line of four across midfield. No movement, no clever passing between the lines—just like against Tottenham recently, when they moved from 5-3-2 to 5-4-1. Klopp must find a way to aid his team's patterns of play through this block.
Notably, Valverde also praised Vidal's performances heading toward the end of the season. It was something of a surprise that he was chosen ahead of Arthur, but his power and physicality made a big difference.
The Chilean posted zero shots, zero key passes, zero through balls, zero dribbles and fewer touches than Ivan Rakitic or Busquets, but his influence was critical nonetheless.
He was aggressive against the Reds in wide areas, combatted the possibility of Liverpool's usual quick transitions and ran hard in both halves of the field.
Failure to respond and blunted attack
Even without scoring before the first 60, Liverpool should have departed Catalonia with an away goal.
Between the 60 and 75 minute markers in particular, the Reds allowed the game to drift: possession was more aimless, less incisive and Barcelona's counters looked all the more dangerous.
The intention to bring on Roberto Firmino was bizarrely delayed as the forward repeatedly went back to the bench, and a succession of frustrating, bad-luck bounces eventually saw Messi make it 2-0 in the meantime.
This was a critical period in the game and Klopp didn't really look to haul the game back in Liverpool's favour, the way Valverde had earlier.
It's hardly the first time the Reds boss has opted to wait and see, or trust in his players to wrest control back, but the truth is that games rarely 'sort themselves out' if changes are not made.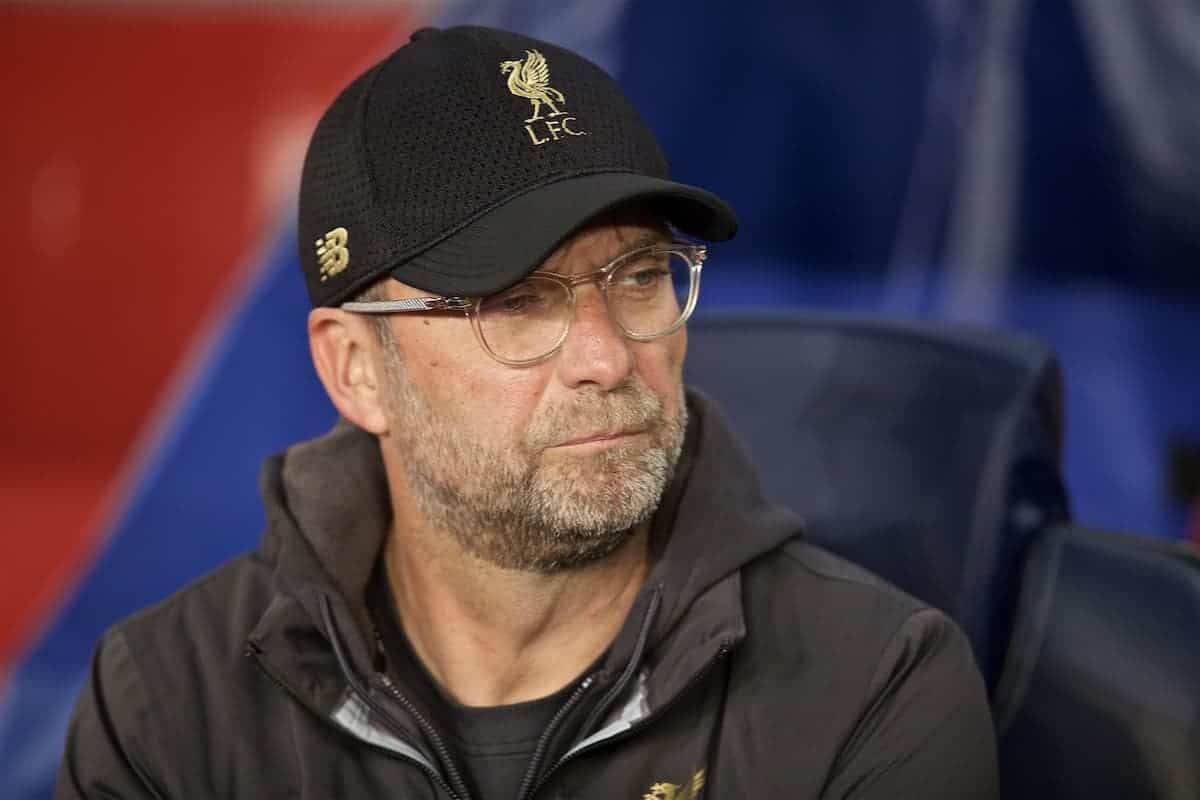 If Firmino couldn't play more than 10 or 15 minutes, a wiser switch might have been to tactically alter the players already on the field: match up Barca's 4-4-2 perhaps, drop Gini deeper, purposely go to a back three. Anything the boss thought reasonable, really, to actually change the pattern of the game which was running away from Liverpool.
Gomez, at that time, arguably could have been withdrawn, looking tired and leggy and making mistakes in possession.
Firmino's eventual introduction, and later Divock Origi, did finally switch Liverpool's shape and leave the game a little more open: partly due to better movement in the final third and partly because Liverpool entirely forgot how to defend with any shape whatsoever.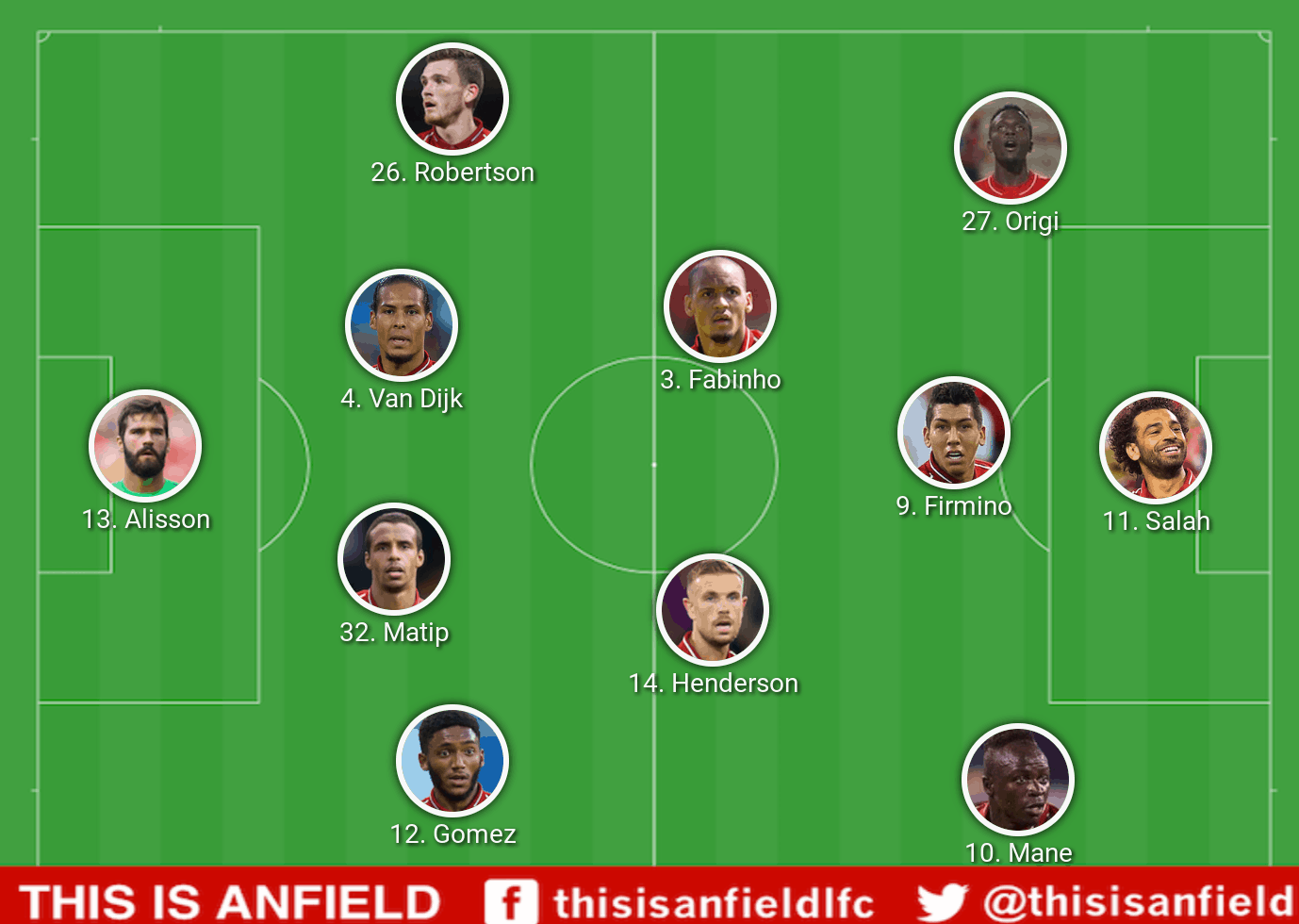 Valverde went on to speak of how closely matched the teams were, despite the scoreline:
"Not conceding and you win, it's a good result. Liverpool were stronger at the start of the second half and we had to suffer to stay at the same scoreline. But, over 90 minutes, anything can happen.

"They are a great team, they showed it today and for much of the game it was even. There were times when they were better, and times when we were. There are 90 minutes left and we know what awaits us."
He's right in that Liverpool proved Barca's equals in some respects, but the Reds caused their own big issue now facing them by being nowhere near Barca's level on the night in and around the penalty box.
Liverpool faced a crowded centre to play through and too often were sloppy with the final, or one-before-the-final, pass. Several simple balls into feet were under-hit, inaccurate or left no chance for the receiving player to return a first-time ball of their own.
In fairness, both Mane and Salah started their runs and received possession from wide areas all game, stretching play sensibly, but the Reds lacked intelligent runners from deep and, as above, the eventual pass was too often poor anyway.
By contrast, Liverpool at times had to herd Messi in numbers, denying space in one area but thus leaving other pockets of room for others to run into on the counter.
It was a little more refined in the home team's case, and a lot more clinical.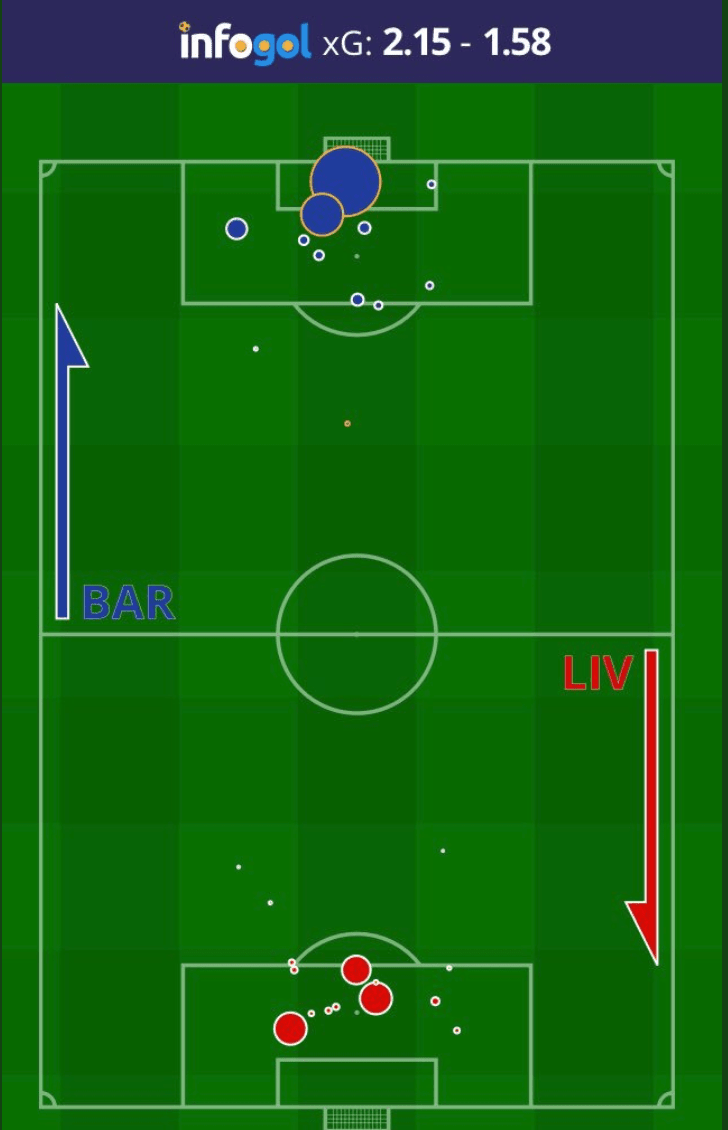 Liverpool should have scored, at least once. As the xG map from Infogol shows, this was close to a 2-2 game…despite not being anywhere near it, in the end.
Milner's big chance was tamely struck, too central and too careful, while there can be few excuses for Salah hitting the post late on. The shot being on his weaker foot is not a valid reason.
In that game, at that time, he simply has to score.
Notes
12 and nine clearances for centre-back pairing Lenglet and Gerard Pique highlights how much pressure Liverpool put Barca under at times
Andy Robertson was back to his best in a defensive sense and made four tackles, more than any other Red
The shot count ended 12-15, but it was 10-14 with 84 minutes on the clock. It could have been even worse for Liverpool with those late Barca breakaways
Wijnaldum didn't get a shot away as forward, but was involved when Milner should have scored with a neat dummy showing good awareness
Infogol gave Messi's free-kick just a 4 per cent chance of finding the back of the net. Some hit!