Liverpool face a "massive uphill climb" to overturn their 3-0 deficit against Barcelona, says Trent Alexander-Arnold, but Anfield can be the difference-maker.
There has been so much talk about needing Brendan Rodgers to do us a favour since Man City got through the Manc derby and trip t'Burnley unscathed that it was kind of ironic that an ex-Liverpool player did us absolutely no favours in Camp Nou on Wednesday night.
Luis Suarez did a Luis Suarez on us. He got under the skin of our players, wound up our entire fanbase and got in behind the defence to open the scoring before celebrating, just like he promised he would.
The only surprise was that there were Liverpool supporters shocked, angered and outraged by his behaviour.
Er, didn't you watch him in a red shirt? He's no different at Barcelona than he was at Liverpool and he won't think twice about behaving the same at Anfield—or if he plays another former club Ajax in the final—if it means winning.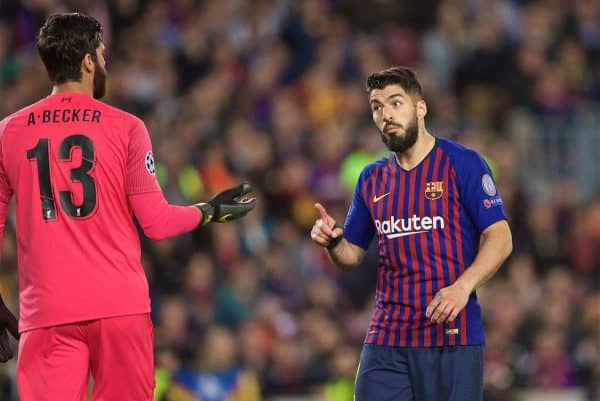 That's one of the biggest reasons why I loved Luis Suarez. When he wears your shirt he'll do anything to win in it, no matter who else it pisses off. He's got a Liverpool attitude.
It's well documented that Bill Shankly's grandmother's legs wouldn't have fared well if he'd needed to tackle her and anyone who romanticised about Suarez not playing at full tilt, or celebrating if he scored, because he was up against Liverpool was kidding themselves.
That said, when he was issuing verbals to Andy Robertson and trying to get James Milner sent off for shoulder-charging Lionel Messi—who was almost in Madrid when he finished rolling—I was half hoping that fella with the grey hair would run on and shove Suarez into a fountain.
There will, of course, be those of you who think Suarez should show more respect to Liverpool.
That, even if he played the only way he knows how to, he should have toned down his celebrations, like Mo Salah did against AS Roma (but not Chelsea!) given the support he received here despite some of his misdemeanours.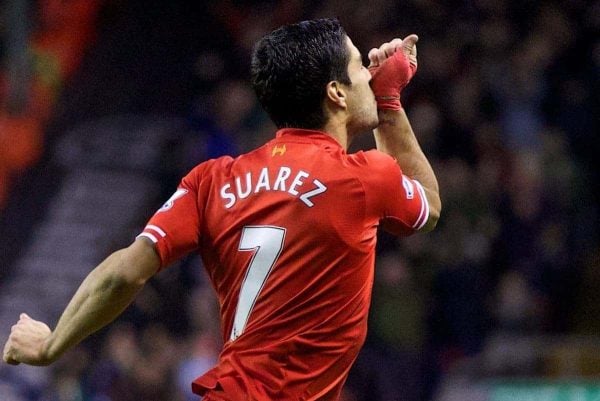 Personally, I think that argument holds more weight if an ex-player makes a point of celebrating in front of the fans that used to adore him, of rubbing a goal in like I seem to remember Stan Collymore doing at Villa Park in 1997.
If Suarez scores at Anfield (again) on Tuesday night and starts giving it loads then it's a different cup of yerba mate, but his wife and kids—who rarely go to away games—are going to be at the match so it's more likely he'll be doing his wrist-kissing point towards them if he does score.
I also know something that you don't. Luis has done an exclusive interview with us for the Liverpool vs. Barcelona official matchday programme. No spoilers, all I will say is DO NOT MISS IT. Seriously.
Whichever 11 individuals are playing for Barca, they're all the enemy on Tuesday.
Philippe Coutinho gets singled out for jeers by the Barcelona fans at Camp Nou so it'll feel like a home game to him if any stick comes his way at Anfield, but it's a night when all of them need to be whistled and jeered every time they touch the ball. We need to get after them.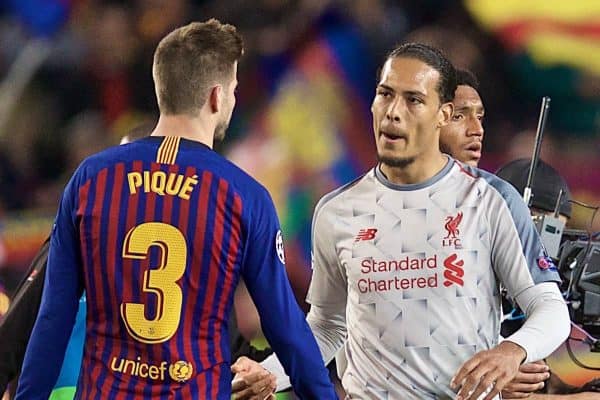 Let's not kid ourselves here, overturning a 3-0 first-leg deficit is going to be almost impossible.
Liverpool have never done so before in our entire European history (largely because we hardly ever lose 3-0) and we've also only won six out of 18 home games against Spanish sides so it will take something absolutely extraordinary to beat a Barcelona team—and their GOAT—by three or four goals without conceding.
But then look at the first half against Man City in the Champions League quarter-final at Anfield last season at look at how Barcelona capitulated in Rome in the same round.
These things can happen, but only if you put everything into it.
The atmosphere during that City game was the best since Chelsea 2005. As Jamie Webster put it, "Allez Allez Allez almost beat Man City by itself."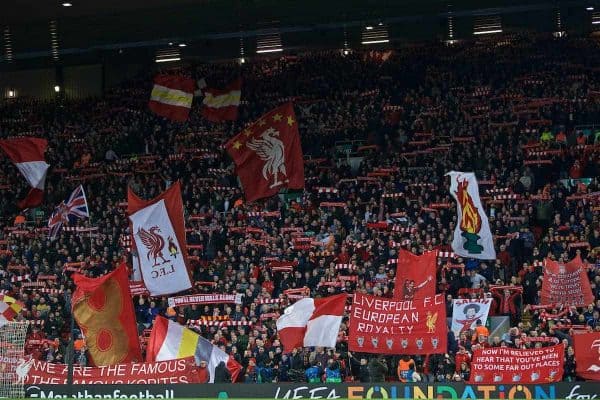 Anfield has always been at its best when Liverpool backs are against the wall and when you're 3-0 down to Barcelona your arse is most definitely touching brick.
If Anfield is the Anfield it can be and an early goal goes in then, with this Barcelona team being vulnerable at the back and having a number of players who throw their well-chewed dummies out of the pram, anything—absolutely anything—is possible for this Liverpool manager and his team.
But only if we help them…
---
Chris McLoughlin writes for This Is Anfield each week; he's also senior writer for the Official LFC Matchday Programme and LFC Magazine. You can buy the Barcelona programme here.