Bayer Leverkusen are claimed to be expecting Liverpool are one of the two "most likely contenders" to approach Julian Brandt for a £21.6 million move.
Brandt has enjoyed a hugely impressive season under Peter Bosz at Leverkusen, scoring nine and assisting 17 in 42 games as he thrives in a variety of roles.
Though previously considered a winger, the Germany international has proved the ability to shine in the middle of the park too, and has been central to his side's success.
Leverkusen are vying with Eintracht Frankfurt and Borussia Monchengladbach for fourth in the Bundesliga and a place in next season's Champions League, but it remains to be seen whether Brandt will stay beyond the summer.
Due to a release clause in the 23-year-old's contract, signed in April of last year, he can leave the BayArena for as little as £21.6 million.
And according to German journalist Rafael Honigstein, writing for ESPN, "sources close to the decision-makers at Leverkusen see Borussia Dortmund and Liverpool as the most likely contenders."
However, he adds that there is "genuine hope" Brandt will stay, which is likely fuelled by the player's own assertion that "as things stand, I'm staying put."
Though the midfielder did continue to explain that he "just wants to end the season as best we can" which could indicate that he is simply focusing on the matter at hand for now.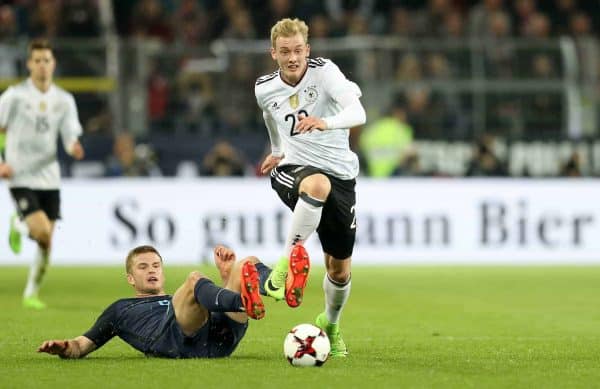 Brandt's release clause will put the decision purely down to him and his advisor, father Jurgen, allowing the likes of Liverpool and Dortmund to attempt to turn his head.
It would be no surprise if the Reds were to make the move, given Brandt was considered a priority target in the summer of 2017.
Ultimately, he opted to stay at Leverkusen to avoid disrupting his chances of making the Germany squad for the World Cup, and Liverpool signed Mohamed Salah instead.
That proved to be a very positive development, but with Brandt now having adapted his role and able to provide more versatility to Jurgen Klopp's squad, it will be interesting to see if the interest in revived.
A £21.6 million deal would be a bargain, but no movement is likely for Liverpool until after the Champions League final on June 1.