Tottenham manager Mauricio Pochettino says previous meetings with Liverpool will have no bearing in Madrid as he provides a fitness update on Harry Kane.
While Liverpool contend with concerns over the fitness of Roberto Firmino, their Champions League final opponents have been similarly sweating over the availability of a handful of players, including their leading man.
Kane has been side-lined since sustaining ankle ligament damage in the first leg of Tottenham's quarter-final tie with Manchester City in mid-April, missing a run of seven games which included just two wins.
Pochettino has previously been resistant to publicly declare how his star man may feature on Saturday- and despite saying he was "happy with [Kane's] progression"- he was similarly coy when speaking during the club's media day on Monday.
"I think Harry Kane is in the last week -Friday and Saturday- start to be involved with the group," he said.
"It's very positive the situation with him. We have one week ahead to evaluate and see how he is progressing.
"But it's so important that he feels well and he's very positive. We'll see what happens. I still cannot tell you if he'll be 100% fit or available to play from the beginning, or be on the bench or out.
"But we are so, so positive and happy with his progression – like Jan Vertonghen, Harry Winks, and Davinson Sanchez that are in the same process."
The Reds' recent record over Tottenham makes for good reading for those on Merseyside with nine wins from the last 14 meetings in all competitions, two of which came home and away in the league earlier this season.
But the Argentine insisted the previous clashes will have no bearing on the game in Madrid as the "circumstances are completely different."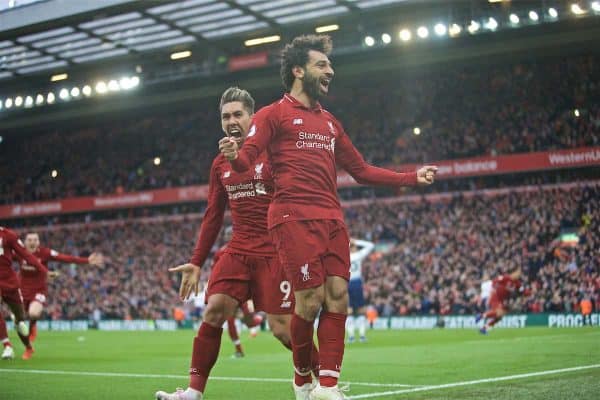 "We cannot prepare the game, the final of the Champions League, thinking about what happened in the Premier League," he said.
"The circumstances were completely different, now a different competition, it's not in England, in Anfield or Wembley.
"It's going to be a completely different game and of course we know each other well and the concepts. But we're not going to change because we've had three weeks to prepare and we are going to play in a different way, like Liverpool.
"We are going to keep our principle. The emotional area and how we manage it will be key to the game.
"Football is a context of emotion. The final is going to be decisive, not a battle of Klopp and Pochettino, or a tactical battle, it is going to be about emotion and that will be decisive.
"Whoever is going to manage better and deal with the emotional area is going to be close to winning."
Jurgen Klopp will have his turn to address the media at Melwood at 11am on Tuesday morning.