Virgil van Dijk is eager to use the experiences of last year's defeat in Kyiv to Liverpool's advantage in the Champions League final this time out.
While the Reds' last shot at continental glory ultimately led to a heartbreaking defeat at the hands of Real Madrid, the experiences and exposure to European football's grandest stage will only hold them in good stead.
Like many of his team-mates the night in Kyiv was Van Dijk's first outing in a Champions League final, and while it was one which was littered with mixed emotions, it taught the team some invaluable lessons.
Speaking during Liverpool's media day at Melwood, the Dutchman said: "Last year we experienced how big it is and how beautiful it is to actually to experience a final.
"The year before (Juventus vs Real Madrid) I was a spectator and it was outstanding; it was a proper show.
"But to actually be on that pitch and everyone's watching you around the world, it is just a fantastic feeling.
"You want to show yourself, you want to work out with your team and fight for every yard on the pitch.
"It was tough last year. In the dressing room everyone was obviously dejected and we came home and couldn't sleep, and then I had to report to the international team two days later as well.
"That was maybe a good thing because my head was in a different place again, but it was tough.
"We took so many experiences, positive points from the whole trip and the game that hopefully we can use on Saturday."
The road to Madrid was anything but smooth sailing for the Reds after a topsy-turvy group campaign and an all-consuming Premier League season to boot.
But Liverpool never faltered and it led Jurgen Klopp to call his players "mentality monsters" for the way in which they have conducted themselves.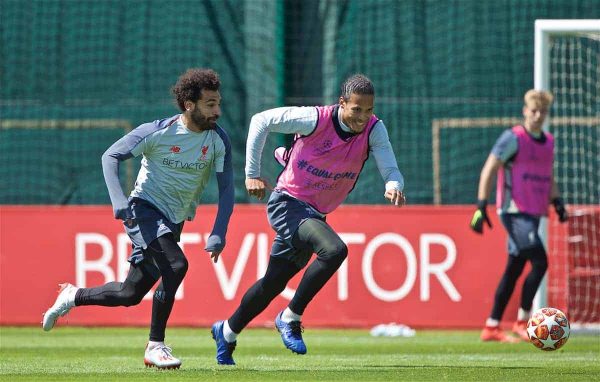 This is an ability made possible by the high standards set by the manager week in, week out, something which has remained ever-present in the weeks leading up to Madrid.
"[Klopp's message] was just to keep the standard as high as possible," Van Dijk added.
"Don't drop a level, don't go easy on yourself, just keep working and keep doing the same things. It's been going well.
"In our preparations so far we've been doing the same things as we have done throughout the season and we're not going to change loads of things.
"Last week in Marbella we trained really hard to make sure we were ready, for the heat as well as that is going to be a factor."
It's a sentiment echoed by James Milner as he credits Klopp's "intensity" and "high demands" for the team's desire to continually strive for more.
"I think the intensity he manages with [is one of his greatest strengths] and that obviously goes through to the players," he said.
"[Klopp] has high demands which is obviously very important and standards that you have to set as a manager, but then it also falls down to the players and we have to meet those standards."