In case you haven't heard, Liverpool are champions of Europe. For a sixth time. More people should know, so make sure you keep telling them. All summer.
I drove up to Anfield after work on Wednesday evening to stand in a queue.
I've queued outside our ground countless times before: to get in the Spion Kop, to buy tickets for away games and cup finals, to pay my respects to the 96. But this was something completely different.
Inside the Kop Bar, where the old Liver World (shudder) club store had been until the fancy new two-floor megastore was build as part of Paisley Square, the European Cup is on show in a glass case.
The European Cup we won in Madrid a fortnight ago. The European Cup Jordan Henderson lifted, after shuffling his feet and crouching down to build tension, before raising it towards the sky.
The European Cup that sat on the Estadio Metropolitano turf between a line of our players, manager and staff and the travelling Kop, as we all sung You'll Never Walk Alone together.
The European Cup that travelled on an open-top bus through the smoke-red streets of Liverpool as 750,000 turned out to welcome it home. I had to go and see it.
Time is relative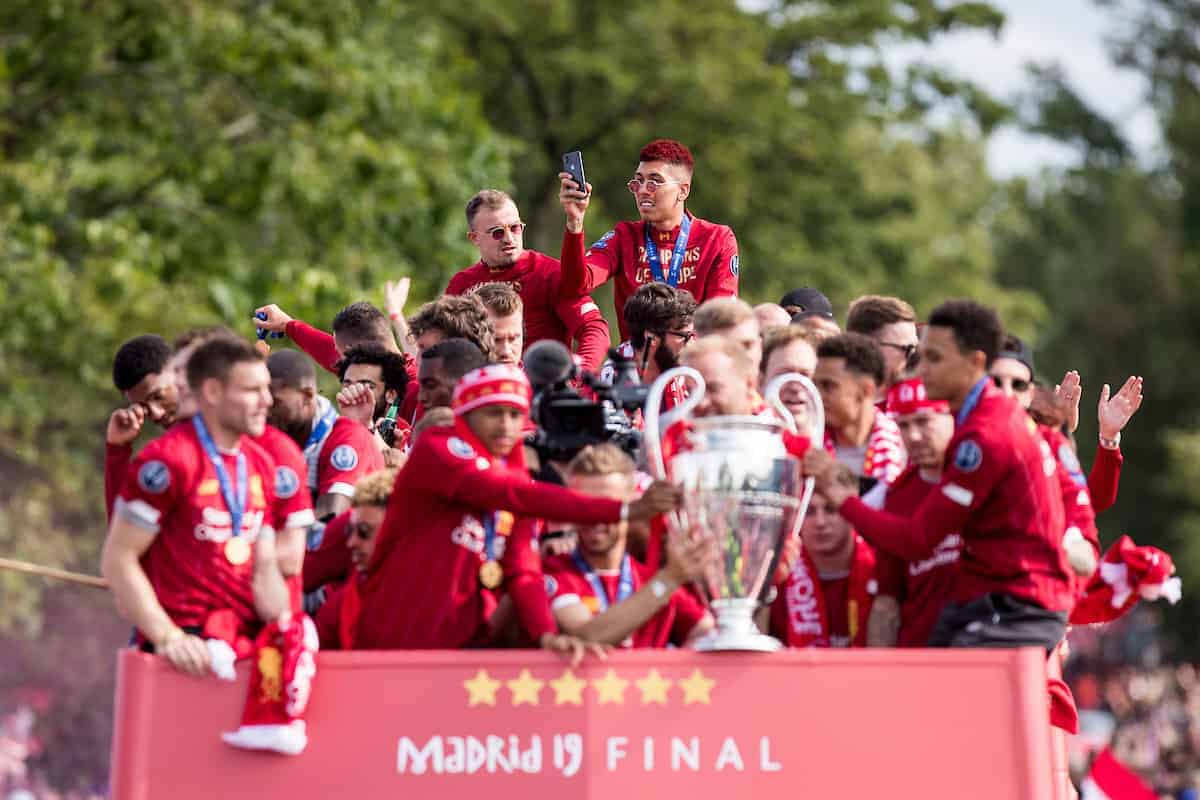 Outside the Kop Bar, as Bill Shankly looked on with his arms aloft, the queue was snaking through red crush barriers towards the Paisley Gates.
"It's an hour-and-a-half wait lad," said a steward with a grimace on his face. "You should've come on Monday, it was only 10 minutes."
On the face of it, queueing for 90 minutes to see a silver pot, complete with red ribbons and housed in a glass case, sounds like a weird thing to do. A couple of fellas in front of me abandoned the idea as the rain started to fall, but a thought struck me as I stood in that queue.
Ninety minutes is nothing…when you've waited 14 years to get a photo with the European Cup.
And the wait for the open-top bus was even longer. So I queued and queued and queued until it was my turn, just for a moment, to stand next to the most handsome of big-eared trophies and raise six fingers for the camera.
Was it worth it? Totally. You just can't help but feel proud at seeing the European Cup in the Kop. Our Kop.
Unbearable again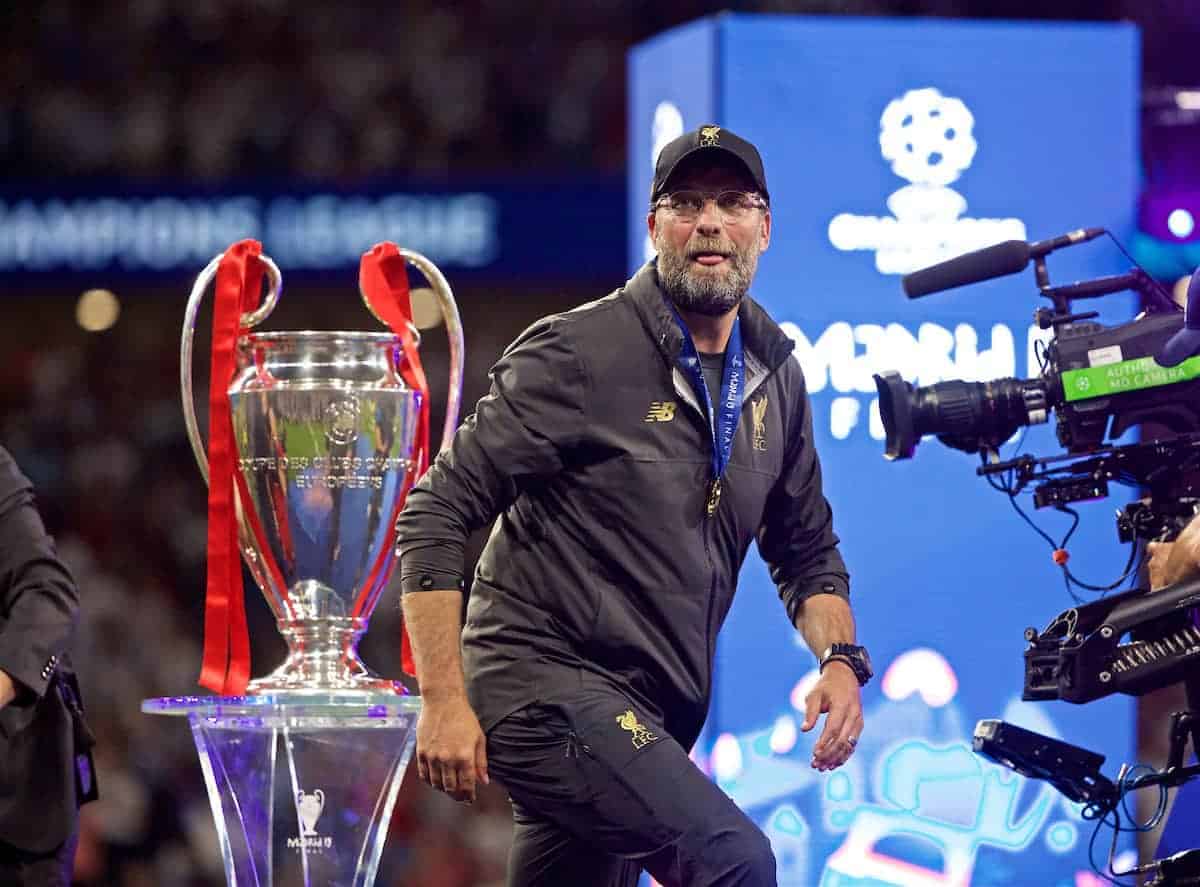 There are a lot of things that set Liverpool and Liverpool supporters apart from the rest, but the European Cup contextualises it.
Following this club is a way of life—we're here for the ride no matter what—but we also want to win. To have something to shout about. To be the best. And now we are. Again. So why the hell wouldn't we take every opportunity to celebrate it?
The whole 'we don't want Liverpool to win because they'll never shut up about it' spitefulness from rival fans makes me roar laughing. You don't have to look far on social media to see them whingeing about it every day, yet it's hypocritically hilarious that they do.
For example: the Mancs sing their '20 times' song every weekend (and will do for decades to come). Arsenal still sing about winning the league on Merseyside and at White Hart Lane.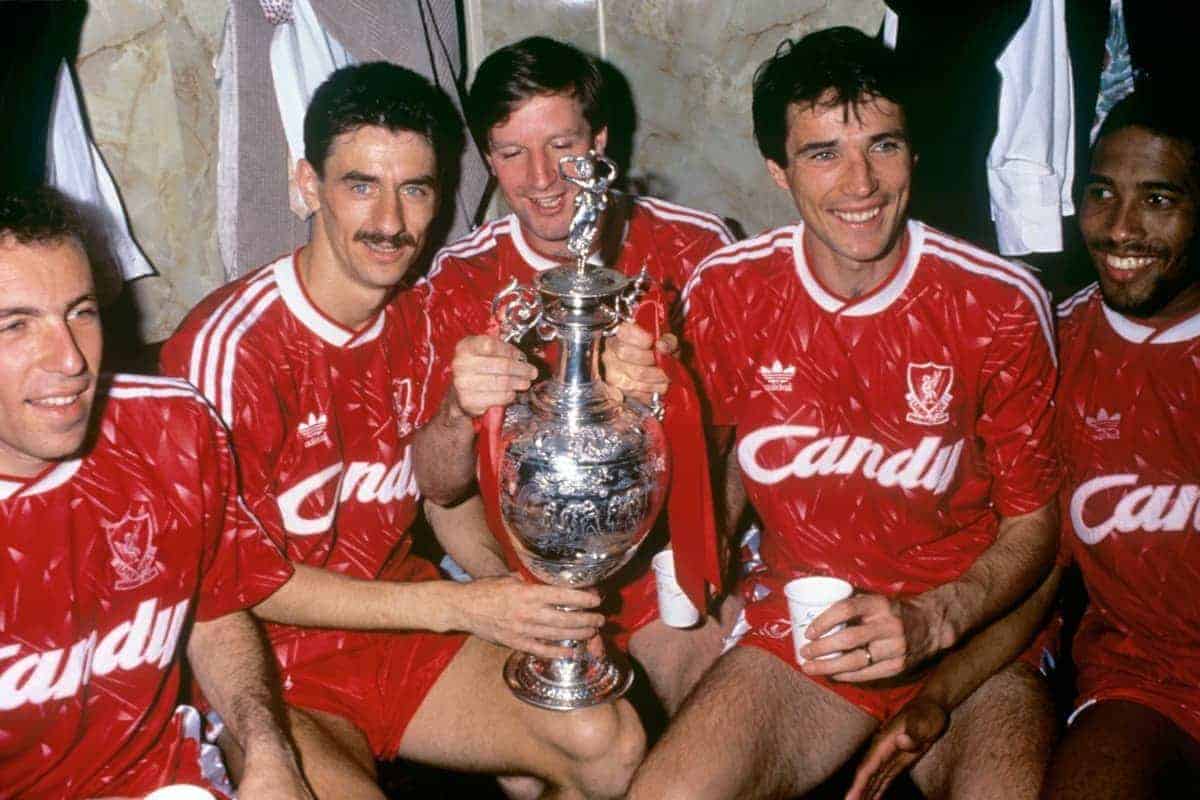 Leicester fans' 'Champions of England, you'll never sing that' jibe remains one of their main chants (bizarrely, they sing it against teams that have won more leagues than them).
Even Evertonians now have a famous 0-0 Merseyside derby draw to tell their grandchildren about, yet we're the ones who'll never shut up if we're successful?
It's just another element to the anti-Liverpool agenda, but one that doesn't half make you want to spend the summer winding our haters up by excessively mentioning that we've won six European Cups at every available opportunity.
Let's talk about six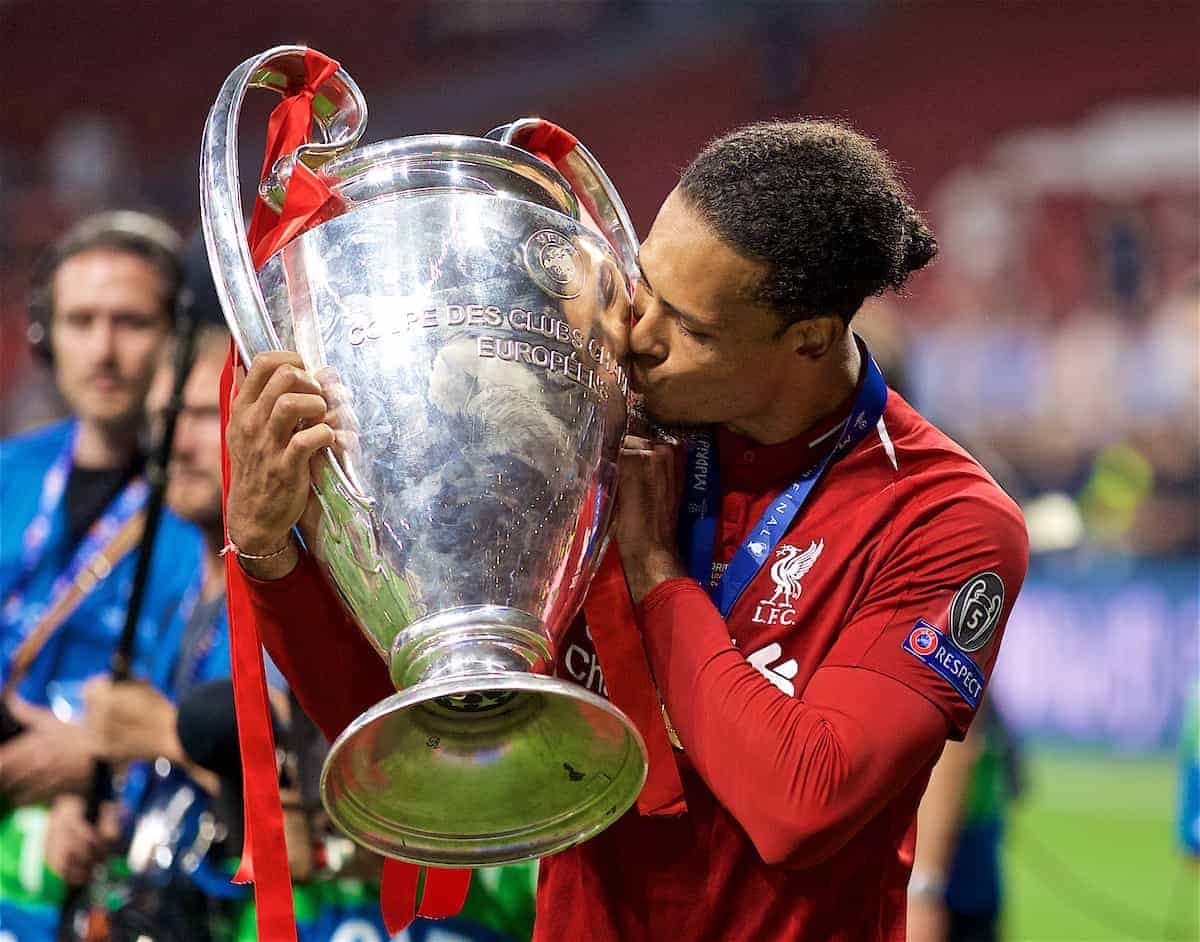 If you used to read The Kop Magazine you'll remember The Kop Challenge.
If you didn't, you've made some poor life decisions, but essentially readers would take a photo of themselves holding The Kop Magazine in one hand and giving a five-fingered salute with the other in honour of Liverpool's five European Cups.
We actually started the feature in 2003, when the Reds only had four European Cups, as a summer page-filler in the tricky period after a shit season, but it was so popular that the photos were still coming in 12 years later when the magazine ceased production.
Istanbul helped, obviously.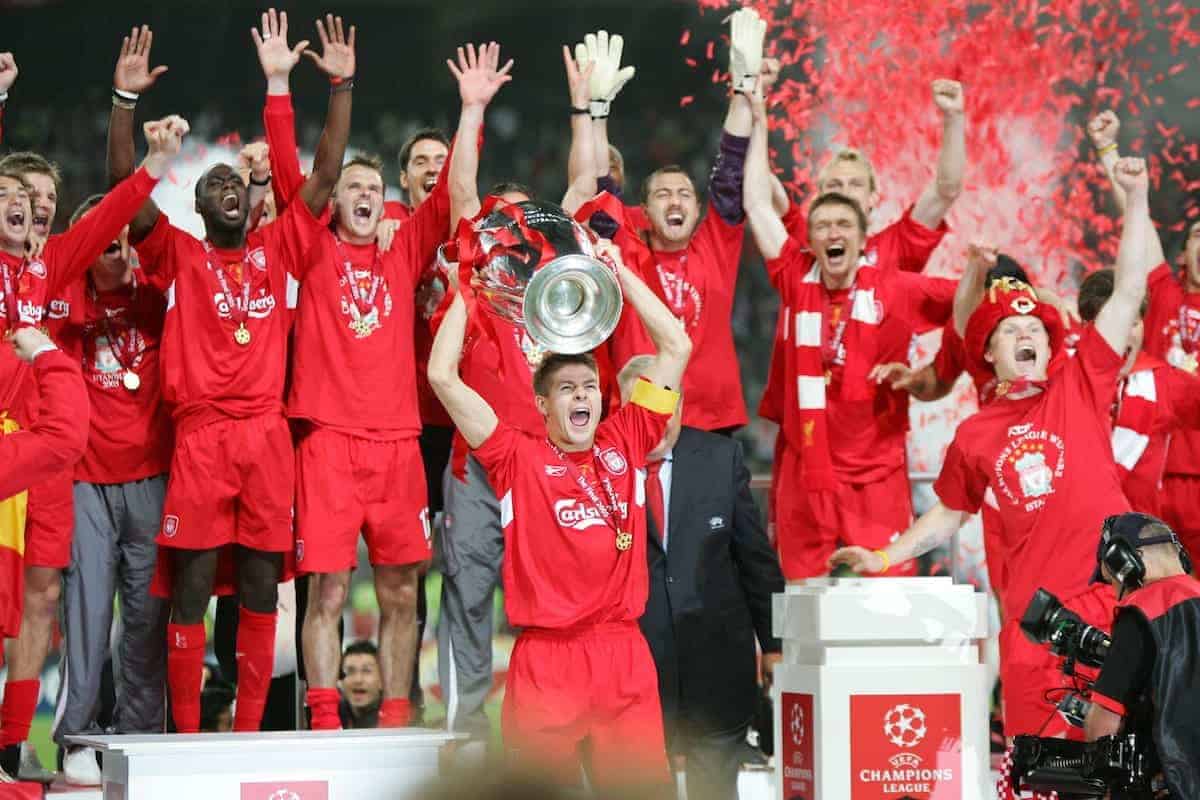 Incredibly we had 880 entries from 116 countries/sovereign states/territories (and whatever Antarctica is) during that time, my favourite being from a Northern Irish Red who tiled Gary Neville's swimming pool before burying a copy of The Kop underneath it with a Liverpool scarf.
You can read all about it here if you don't think it's legit.
There's no longer a Kop Magazine, but—wherever you go this summer—if you want to photograph yourself holding six fingers up and upload the image to Twitter with the hashtags #SixTimes and #KopChallenge then who am I to not encourage you?
Anyway, thanks for reading my This Is Anfield columns this season and, if you do, for buying the Official Matchday Programme and LFC Magazine. If you didn't, they wouldn't exist. Oh, and remember the following when you look back on 2018/19.
Winning the Premier League would have been great, but being champions of a whole continent for a sixth time is even better.
Liverpool FC are European champions. Enjoy every single minute of it, and don't be shy about telling everyone else.
---
• Chris McLoughlin writes for This Is Anfield each week during the season; he's also Senior Writer at Reach Sport, the team that have produced the Official Champions Of Europe Souvenir magazine – Let's Talk About Six Baby. Order it here.