Liverpool will celebrate their Champions League victory with a parade through the city at 4pm on Sunday; here's all you need to know.
Tens/hundreds of thousands of Liverpool supporters are set to descend on the city on Sunday to welcome home Jurgen Klopp's triumphant Reds after they secured the club's sixth European Cup.
The team will parade the trophy on an open-top bus starting at Allerton Maze at 4pm BST before travelling northbound towards the Fiveways roundabout and finishing up at Blundell Street.
Liverpool's route will see the team travel north along Queens Drive, Mill Bank, West Derby Road, Islington, Leeds Street and The Strand before coming to a close on the waterfront.
The parade is expected to last a couple of hours and Merseyside Police have encouraged supporters to arrive in plenty of time and "line the full length of the route" as "there will be no focal point."
That means there will be no repeat of the incredible scenes outside St. George's Hall in 2005 where the bus finally ended after a mammoth parade that took hours longer than expected due to the numbers of fans out celebrating.
With the city also staging two major events, the River Festival Liverpool and the Bordeaux Wine Festival, there will be a significant demand on public transport, and as such there will likely be disruptions to a number of services.
Rolling road closures will be put in place and motorists are encouraged to plan their journeys accordingly.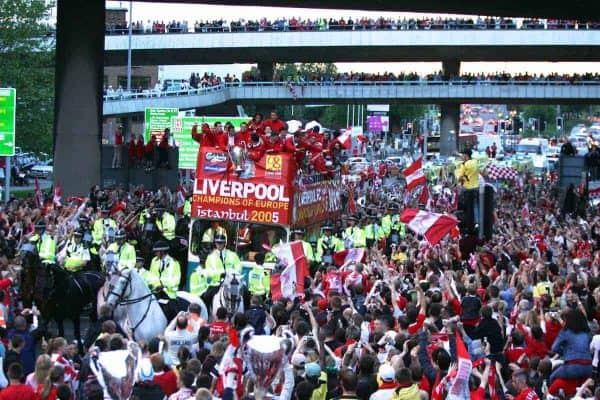 Superintendent Mark Wiggins said: "Officers will be on hand on Sunday afternoon to provide a reassuring presence and making sure the day is not only one to remember, but also an enjoyable and safe event for all those attending the parade."
The parade will be Liverpool's first since 2005, but similar scenes for a new set of heroes will no doubt await Klopp's men as they show off the club's sixth European Cup to the masses.
---
Be sure to stay tuned across This Is Anfield's website and social media platforms for coverage of the parade.