One team, one European Cup, but millions of stories to tell from around the world after a night to remember; here are some Reds re-living their experiences.
The Reds clinched their sixth European Cup and their first piece of silverware under the tutelage of Jurgen Klopp over the weekend and their success was met by euphoria from fans scattered around the world.
From central Madrid to various cities across the globe, every Red has a different story to tell and a new set of memories which will last a lifetime thanks to the new champions of Europe.
Here to recount their experiences of Liverpool's historic night from various locations around the world are Chris Williams (@Chris78Williams), Alex Malone, Joanna Durkan (@JoannaDurkan_) and Joel Rabinowitz (@joel_archie).
Where were you for Liverpool's historic night?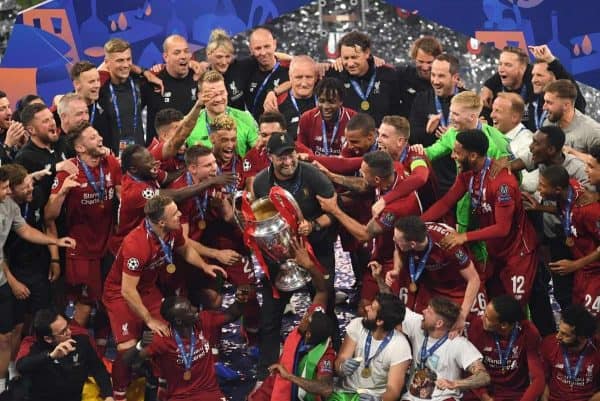 Chris: This was the first European final I'd watched in the UK since 2005. For Athens, I got stuck in Cyprus; Basel and Kyiv I was in the stadium.
You'll no doubt know that we lost all those three so, for this one (due to the price of travelling and the fact I was aware I might be a jinx), I stayed at home!
I spent it with friends I've known for over 25 years, we had a BBQ and a 'few' drinks. It was very strange not being there but it was magical in every way.
The buzz around the city was amazing all week in the build-up to the game. The match itself was forgettable from the second minute to the 85th—outside of that, it was wonderful.
I had ambitions to take flares and smoke bombs, but I thought it was too presumptuous; I didn't even take a scarf or flag with me.
It obviously worked, and I think I should just stay at home for any future European finals from now on. I'm evidently a jinx in the stadium!
Alex: It was the first-ever KOPCON fans convention in Las Vegas from Thursday to Sunday and it was a phenomenal success.
Fans from an array of countries came together to celebrate our great club.
Thursday's 'pub night' set the stage for an incredible three days, with star-struck fans getting to meet Roy Evans, Davie 'Doc' Johnson and Howard Gayle in the flesh.
Marc Kenny was simply brilliant on stage with every Liverpool chant, song and anthem sending the audience into a frenzy.
The game itself was shown at McMullan's Irish Pub—the Liverpool Pub of Las Vegas—to a full house of over 600 fans.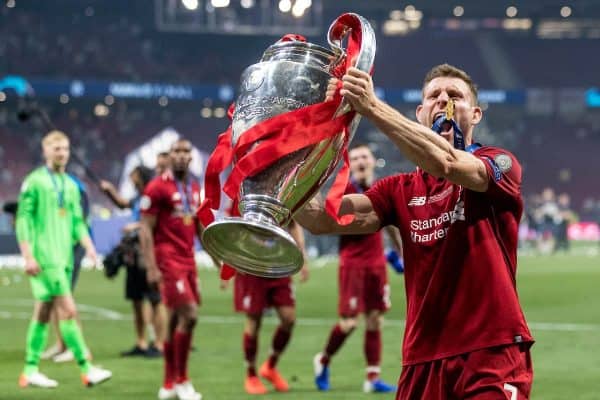 The atmosphere was stupendous. Roy Evans gave a pre-game speech to the crowd on his thoughts about the team selection. The legends also provided half-time analysis over the loudspeakers.
The Las Vegas newspaper showed up for interviews with the legends and the local radio station interviewed us for their podcast. Marc Kenny's pre-game performance roused an already raucous crowd to new levels.
Joanna: With Madrid off the table, I wanted to be in Liverpool to watch the game with people who were just as invested in it as I was.
I had watched at Anfield last year and wanted a similar experience so I, along with my mum, watched the game in the auditorium at the M&S Arena.
It was probably a little tamer than other places, but it was still amazing. To be able to live that moment with other fans and see up close how much it means to each and every one of them was incredible.
And to be able to walk out of the arena singing "we are the champions, the champions of Europe" with thousands of other Reds only validated that that was where I was meant to be.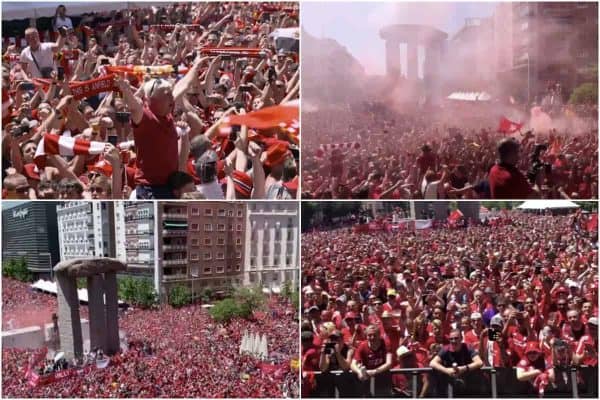 Joel: I was in Madrid with my mates and we got down to the fan park quite early and spent the whole day there, which was an incredible experience.
The sheer number of Reds congregating and just celebrating this amazing team was a special thing to be a part of and the atmosphere was just electric all afternoon.
Huge credit to the club for getting the likes of TAW and Boss Night on stage to put on a brilliant show. We were ticketless so went back to the centre and found a packed bar to watch it with a mix of fellow Reds and a few locals.
How did you celebrate the momentous occasion?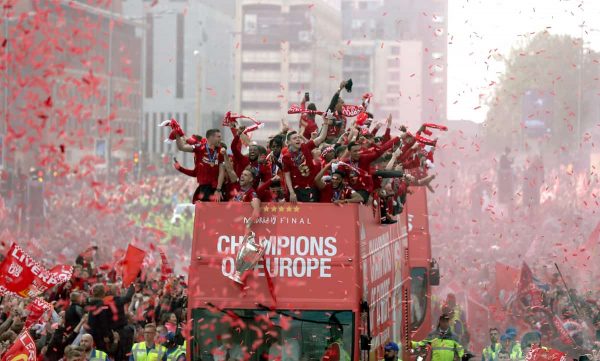 Chris: The final whistle brought relief, I just wanted to see us win after the run of bad luck in finals that we've had.
The champagne was popped open at full time but to be honest, it was only on the parade that the relief gave way to absolute joy and emotion.
Alex: The place went literally berserk when Divock Origi buried that second goal. It was an explosion of joy I have rarely witnessed to be honest.
When Jordan Henderson lifted old big ears, the roar of the crowd was, honestly, the loudest sound I have ever heard at any pub in my life.
Not since Istanbul have I seen so many tears of joy and such an outpouring of pure, unbridled emotion.
No one left…three more hours of singing, celebrating and spilled drinks followed.
I can speak with great confidence, that for everyone in attendance, it was an experience never-to-be-forgotten.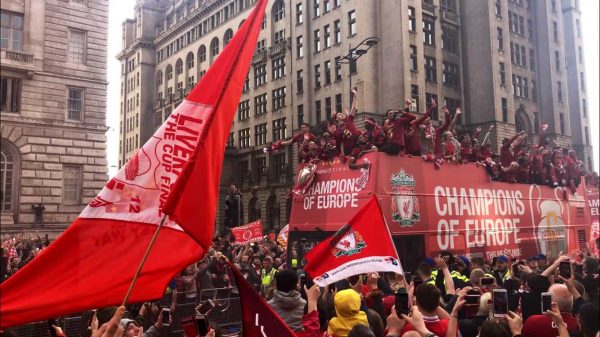 Joanna: From the 88th minute until just after the final whistle it was hugging people you'd never seen before like you'd known them for years, with tears and shouts of celebration mixed with each one.
'We Are the Champions' and 'You'll Never Walk Alone' were blasted through the speakers at the arena and we sang like our lives depended on it as we watched the celebrations taking place in Madrid.
And I will admit to shedding a tear or two when Hendo lifted that glorious cup.
It still didn't feel real, however, until I made it to The Strand for the parade the next day. An experience which was truly mind-blowing as the enormity of Liverpool being the champions of Europe, again, started to sink in.
Joel: I've never seen anything quite like it. The celebrations for the goals and full-time whistle were like some sort of religious experience.
Just everyone delirious with joy, hugging strangers, singing until we'd lost our voices and a few tears as well.
We've all been longing for this moment for so long, not just for ourselves but for this manager and the players who deserved it so much after giving us such a memorable season.
I wasn't old enough to fully appreciate Istanbul at the time, so this was the happiest night of my life as a Liverpool supporter without a doubt.
What does Liverpool's triumph mean to you?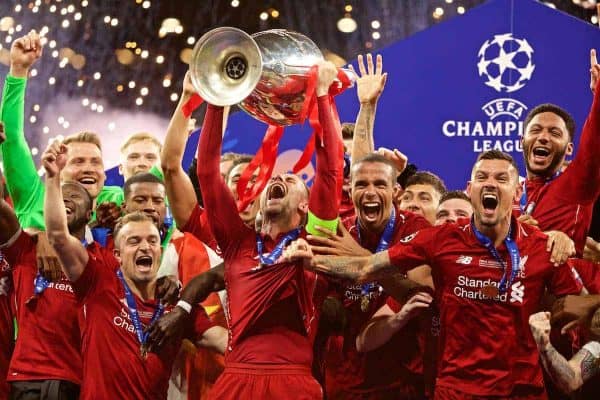 Chris: It underlines that this season was special; to miss out on the league by such a fine margin was gutting, to do it with the highest number of points just made it worse.
"When's the parade?" opposition fans taunted; well, it was Sunday, so…
Personally, it means a lot to see your team win the biggest prize in club football, but this one I could share with my son and daughter. He was two in 2005 and my daughter wasn't even born.
To watch the game with them and then to see the trophy come home was wonderful. It also means my grandad has seen it, my dad has seen it, now both me and my kids have seen it. Football brings people together, it's wonderful.
Alex: The world. After so many near misses, we didn't just land a trophy, we landed the biggest trophy in club football.
Jurgen Klopp's brilliant management finally got its just rewards, and Liverpool are once again the Kings of Europe.
The tidal wave of optimism brought about by our manager shows no signs of abating any time soon.
Liverpool FC are well and truly back as one of the great teams in world football.
We moved into third place in the all-time winners' list, and you can rest assured that essential players in world football will be sneaking a glance in the direction of Anfield for their next career move.
If you want a European Cup winners medal on your mantelpiece, Liverpool FC is the team you want to join…not one you want to leave; right Philippe, right Louis?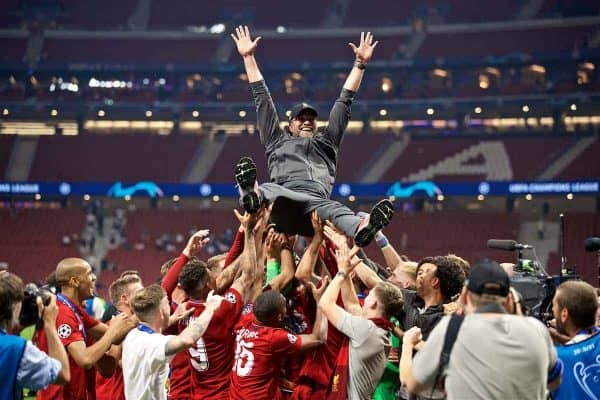 Joanna: It's hard to put into words, but it means everything. These are the moments you live for and ones you dream of, and for it to have become a reality is indescribable.
I was too young to appreciate Istanbul at the time and so this was the first major trophy I've been able to celebrate and be a part of from start to finish; and what a journey it has been!
And that journey is not necessarily from PSG to Tottenham, it's the years and years of heartbreak and coming close but not quite getting there.
But this time we did, and it meant I got to share one of the best nights of my life with those closest to me and make memories which will last a lifetime, and that is priceless.
This team and this manager are writing their own history and we get to watch it all unfold.
How could you support any other club?
Joel: It means everything. Even to be in Madrid without a ticket and soak up all the build-up was something I'm so grateful for and will never forget.
It makes you realise just how special a club this is—you have that shared bond with thousands of other Reds and to go through all the pain of Kyiv last year and losing the league on 97 points just made it even sweeter.
It's the monkey off Klopp's back and no matter what happens with this team now they've written themselves into folklore as legends of the club.