Liverpool's victory in the Champions League final ensures they are in Pot 1 for next season's group stage draw, which could present some interesting matchups.
The Reds had already moved up to Pot 2 by virtue of their rise in UEFA's club coefficient rankings ahead of the semi-finals, but triumph in Madrid has improved this.
With top seeding reserved for champions, the 2-0 win over Tottenham through goals from Mohamed Salah and Divock Origi has earned their marquee status.
Next season's draw will take place in Monaco on August 29, with Liverpool learning their group stage opponents ahead of the first round of fixtures on September 17/18.
They join Europa League winners Chelsea and domestic champions Barcelona, Man City, Juventus, Bayern Munich, PSG and Zenit Saint-Petersburg in Pot 1—three of those title-winners defeated on the Reds' road to the final.
Spurs are among the six teams already confirmed for Pot 2, though Liverpool cannot be drawn against another side from the Premier League.
Another six sides have booked their places in Pots 3 and 4, and another 12 await the results of next season's qualifiers to determine their seeding.
Here's how the Champions League group stage draw looks, including the most likely outcome from the qualifiers:
Provisional Champions League Draw Pots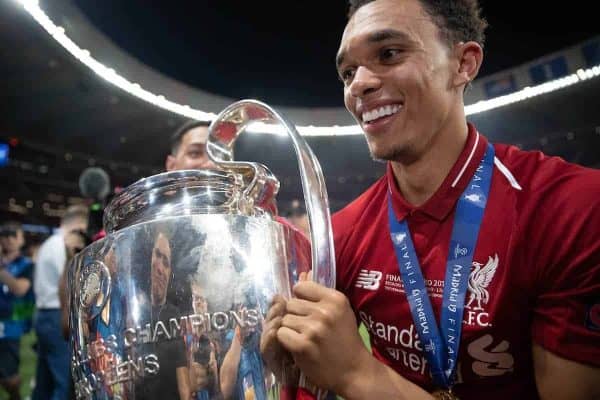 Pot 1: Liverpool, Chelsea, Barcelona, Man City, Juventus, Bayern Munich, PSG, Zenit St Petersburg
Pot 2: Real Madrid, Atletico Madrid, FC Porto*, Tottenham, Borussia Dortmund, Napoli, Shakhtar Donetsk, Ajax*
Pot 3: Benfica**, Dynamo Kiev*, Lyon**, Bayer Leverkusen, Salzburg, Valencia, Inter Milan, Celtic*
Pot 4: FC Copenhagen*, Dinamo Zagreb*, Lokomotiv Moscow**, Genk**, Galatasaray**, RB Leipzig**, Atalanta, Lille
* Must still qualify.
** Could be in Pot 3 or 4.
There is potential for a Group of Death scenario if Liverpool get drawn the likes of Real Madrid, Bayer Leverkusen and Lille, for example, though their top seeding certainly improves their chances.
Regardless, Jurgen Klopp's side should fear no one heading into the new campaign, as their performances on the way to a sixth European Cup proved.
The first round of qualifiers begin on July 9/10, with Celtic the most high-profile club required to compete.