Liverpool have yet to splash the cash in the transfer window, and fans are expecting a quiet but targeted approach to the summer.
A lot of Liverpool's work to transform into a team capable of competing for silverware was completed last summer, with the additions of Alisson, Fabinho and Naby Keita.
It ensures the Reds are not expected to make sweeping changes to the team this summer after a successful season domestically and in Europe.
Instead, Jurgen Klopp will be looking to add to the depth of his squad as an assault on several competitions await.
With Alberto Moreno and Daniel Sturridge having already left through the exit door at Anfield and Simon Mignolet expected to follow, Liverpool will need to find adequate cover to their respective first-choice counterparts.
Furthermore, Liverpool used just 26 players throughout their 53-game campaign last season and with that figure set to rise it begs the question as to how many players the Reds need to add to the fold in the summer.
This Is Anfield asked supporters on Facebook and Twitter how many signings Liverpool need to make this summer, and the results were conclusive.

From the 27,200 fans to vote on Facebook, 72 percent were of the mind that less than four new faces needed to be added to the squad.
The consensus was largely that Liverpool need only focus on adding quality cover for the starting XI in order to keep on Man City's toes.
"Just a couple of quality signings to add a bit more strength and depth. That will keep the lads on their toes to try and go one better in the league," Edward Crump explained.
Peter Windever agreed: "The bench needs to be very strong to challenge City for the league again…"
Meanwhile, Brian Finnegan pinpointed the areas which he feels need addressing: "We need a left-back, a goalkeeper, a playmaker in the middle of the park and a striker, if we are to compete for all competitions.
"And that includes all the players coming through. We need to improve the side and not stand still."
A common view was that the current atmosphere and harmony at the club should not be disrupted by a stream of new players.
"Signing too many would be a huge mistake. We have a great squad with togetherness and a strong bond. Disrupting that too much would be crazy," David Bourton argued.
Stuart Brown supported the view, writing: "We have such a unique culture at the club now that we have to be careful not to sign anyone that thinks they are bigger than the club.
Conversely, Martin Andrews felt three signings was an absolute minimum considering the outgoing players.
He wrote: "Not sure how people can say less than four.
"Sturridge and Moreno have left the club and need replacing. Mignolet is going to push for a move for first-team football. That's three signings before we look at adding depth."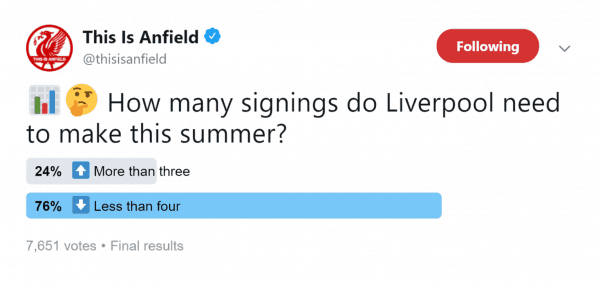 Twitter yielded a similar result as of the 7,651 fans who voted, 76 percent shared the view that no more than four signings were needed.
"Never thought I'd be saying we need less than four transfers in a summer window," @ConSan96 exclaimed.
Moreover, similar positional requirements were also voiced in line with their Facebook counterparts, as @lfctomo84 argued: "Three for me. LB, AM, ST.
"For me, Sessegnon, Ziyech and Werner would be perfect and not too expensive."
It was a view also shared by @ogochuwuku: "Depends on who will leave the club besides Sturridge and Moreno. So far, it won't be more than three (left-back, forward and maybe a midfielder)."
The bid to outdo Man City was again not far from the mind as @haggisjoseph supported the view of Crump and Windever: "We need another quality attacker and another quality defender, at least.
"The target is City and they're relentless."
And for @VV01vaVV0nka, it is all about "quality over quantity this year."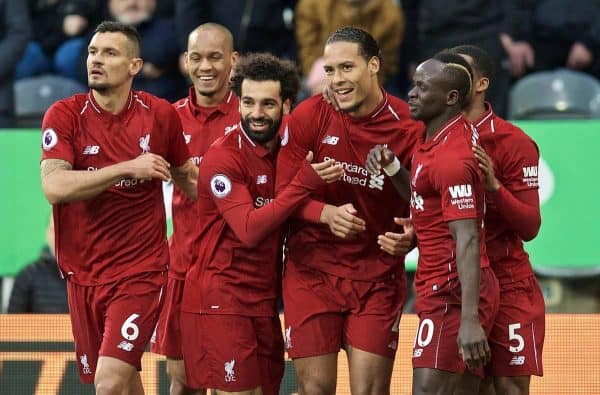 The fact that fans are content with a targeted and methodical approach to adding only a handful of new faces to the team only shows how far Liverpool have come under Klopp.
The Reds' current squad is one of the strongest in recent memory and with further depth the team will undoubtedly be ready for a prolonged assault on silverware throughout season 2019/20 and beyond.