Liverpool are set to play eight friendlies as part of their pre-season preparations this summer, with tickets for some games reaching ridiculous prices.
The Reds will return for training next month, with short trips to Tranmere Rovers (July 11) and Bradford City (July 14) coming ahead of their tour of United States.
There, they will take on Borussia Dortmund (July 19), Sevilla (July 21) and Sporting CP (July 24), before returning via Edinburgh, where they will face Napoli at Murrayfield (July 28).
After that, Jurgen Klopp will take his squad to France for a training camp, which will also see them head to Geneva for a high-profile friendly against Lyon (July 31).
Next will be the Community Shield against Man City at Wembley (August 4), before rounding off pre-season by facing David Wagner's Schalke (August 6).
Visits to the US, Scotland and Switzerland will provide fans outside of England with an opportunity to see the European champions in action on their home soil, but it will clearly come at a price.
Tickets for the clash with Dortmund in Notre Dame are being sold for as much as $423 including fees, with the friendlies against Sevilla in Boston (up to $167 inc. fees) and Sporting CP in New York (up to $186 inc. fees) also heavily priced.
And with the pre-sale for the Reds' meeting with Napoli in Edinburgh going live on Monday morning, supporter Matt Purchase took to Twitter to express his frustration at the cost:
Up to £67 for a pre-season friendly :O Taking the piss… pic.twitter.com/c0kD2s2h3Y

— Matt Purchase (@kopitesaint91) 10 June 2019
Though the cheapest ticket for an adult at Murrayfield is £28, that Ticketmaster have capped the most expensive at £67.20 before any further fees is, as Purchase writes, "taking the piss."
The Football Supporters' Federation responded by describing a charge of "£67 for a 'home' friendly hosted in Scotland" as "not a good look" for Liverpool.
And Purchase elaborated further that he "could get two away league matches for less than that, or pay an extra £10 and get two home league games in the Kop."
Liverpool Ticket Prices, Pre-Season 2019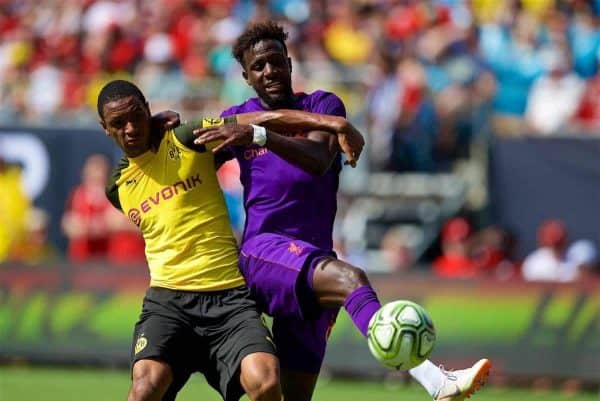 Dortmund in Notre Dame – From $70.20 to $423.34 inc. fees
Sevilla in Boston – From $48.50 to $167 inc. fees
Sporting CP in New York – From $56.35 to $186 inc. fees
Napoli in Edinburgh – From £28 to £67.20 not inc. fees
* Tickets for Tranmere, Bradford, Lyon and Schalke yet to go on sale.
The lowest adult ticket prices for last summer's pre-season friendlies ranged from £10 to £21 for those held in England, with the highest at £33 for the meeting with Torino at Anfield.
The clash with Man United at Michigan Stadium was the most costly overseas, at up to $225.