Jordan Henderson has divided opinion throughout his Liverpool career, but secured his place in history as he captained the club to a sixth European Cup.
Since joining the club in 2011, Henderson has faced a constant battle to win over his critics and in recent years has come under even more scrutiny after taking over from Steven Gerrard as captain.
While fans have long been split over Henderson's credentials, his team-mates and coaches have only ever spoken very highly of him, both in terms of his leadership qualities and his ability as a footballer.
Throughout the majority of Jurgen Klopp's tenure he has played the No. 6 role, in which he has performed admirably at times, but it has often highlighted his limitations and restricted him from using his best natural attributes.
A conversation with the manager in the second half of this season saw Henderson given the opportunity to return to his more advanced, box-to-box role of old.
It immediately saw his influence grow dramatically as he looked far more comfortable driving forward with greater freedom.
The season ended with the immensely satisfying image of Henderson lifting the Champions League trophy.
After the journey he has been on during his eight seasons at the club, and the never-say-die attitude he has shown, no one was more deserving of him than having that iconic moment.
Jordan Henderson, 2018/19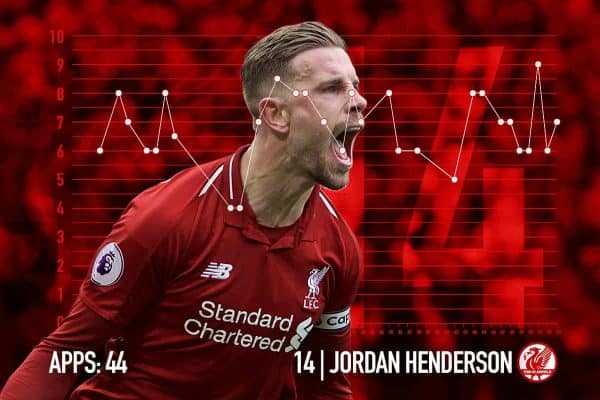 Started: 29 (All competitions)
On as a substitute: 15
Unused sub: 1
Goals: 1
Assists: 4
Our Overall Season Rating: 8
Average TIA Player Rating: 6.8  (Rank: 11th)
Last year's average TIA Player Rating: 6.11 
Released from His Shackles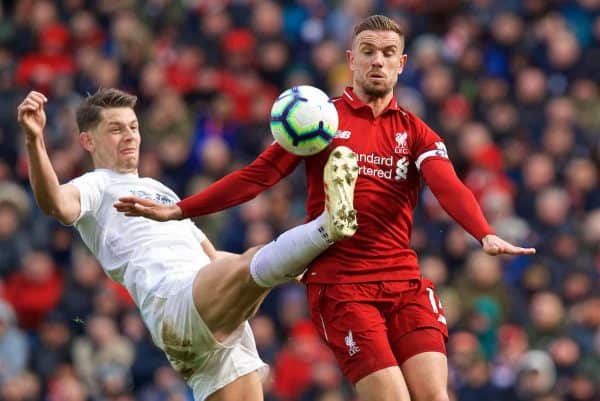 After initially taking a while to settle in after arriving, Henderson began to grow in stature in a midfield role which allowed him to use his natural energy, drive and athleticism to maximum effect.
In Liverpool's 2013/14 title challenge, Henderson became an integral component of Brendan Rodgers' side and his absence through suspension against Chelsea and Crystal Palace proved costly.
In 2014/15, despite Liverpool enduring a highly forgettable season on the whole, Henderson continued to perform at a high level, scoring seven goals and providing 14 assists from midfield in an underperforming side.
Injury troubles with plantar fasciitis hindered him significantly in the following two campaigns, while he also had to adjust to a drastically different tactical role as Klopp opted to convert him into a defensive midfielder.
His role was all about protecting the back four, breaking up play, shifting the ball quickly and providing a solid foundation at the base of the midfield to allow the more attacking players to play with freedom ahead of him.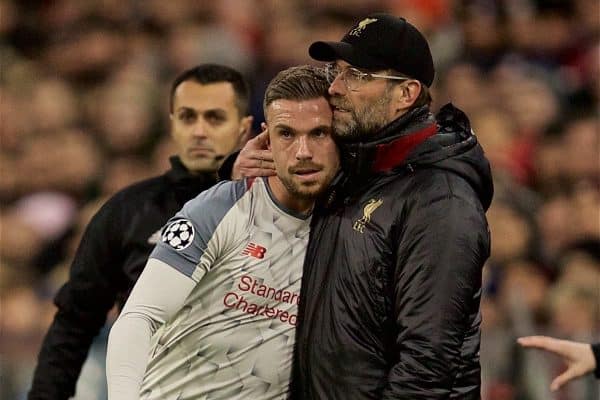 To Henderson's great credit, he never once complained about the shift in role even if it never fully looked natural for him, and he performed impressively for large periods for the greater good of the team.
However, common criticisms about Henderson's lack of risk-taking on the ball and the fact he isn't a naturally defensive-minded player meant that his limitations in the role were coming under greater scrutiny.
And with the arrival of Fabinho as a specialist in that position, Henderson's place in the side was under greater threat than ever.
While far from being the only player to underperform, it was the 0-0 draws against Man United and Everton, of which Henderson started both, which caused particular frustration about Liverpool's lack of incisiveness and creativity from midfield.
It later emerged that Henderson had had a conversation with Klopp about a positional change, suggesting that he could offer much more to the team in a more advanced role, after having sacrificed himself for the manager over the past two years.
The watershed moment came as Henderson came off the bench to score and assist in Liverpool's 3-1 comeback victory at Southampton in April, as he proved to be an inspiration in his brief cameo as a box-to-box midfielder.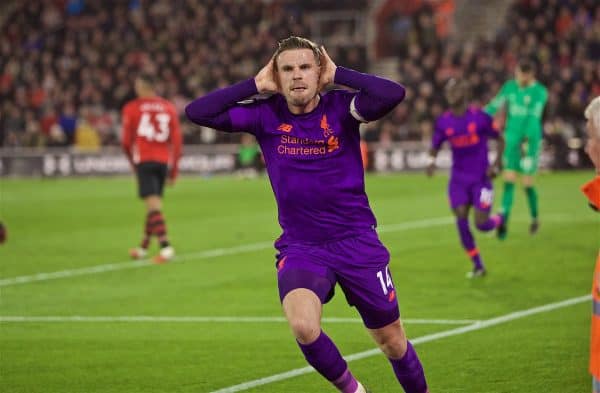 Proving this was no one-off, he then followed this up with further assists against Chelsea, Porto and Huddersfield, demonstrating the superb delivery and vision in advanced areas which he simply wasn't able to produced with any regularity from his deeper duty.
In the sensational 4-0 victory against Barcelona in the second leg of the Champions League semi-final at Anfield, it was Henderson who kickstarted the comeback with his run into the box and shot which led to Divock Origi's opening goal.
And the captain was magnificent throughout as he played through the pain barrier to drive his team towards a second successive Champions League final.
That positional shift not only transformed Henderson's season, but it was pivotal for Liverpool in the final stages of the campaign as the captain was revitalised once released from his shackles.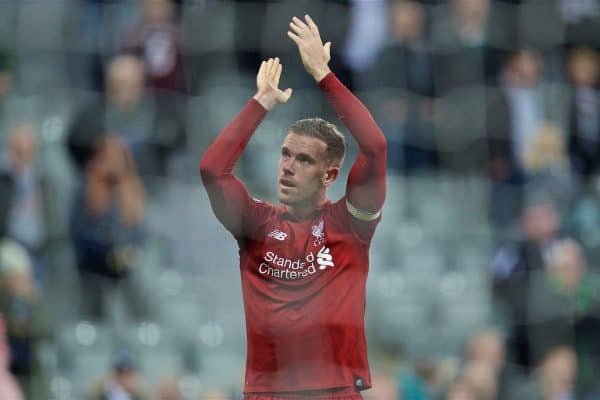 One of the very few weaknesses of this Liverpool side throughout the season was a lack of dynamism and attacking contribution from the midfield at times.
This was particularly evident when Klopp lined up with Henderson behind James Milner and Gini Wijnaldum away from home in the Champions League.
While Henderson is by no means a classic No. 10 with supreme dribbling ability and flair, he has shown he can still offer a great deal to Liverpool with his driving runs from midfield, arriving late in the box and unlocking defences with his excellent crossing ability, while Fabinho is a far more natural fit for the holding role.
From Outcast to Club Icon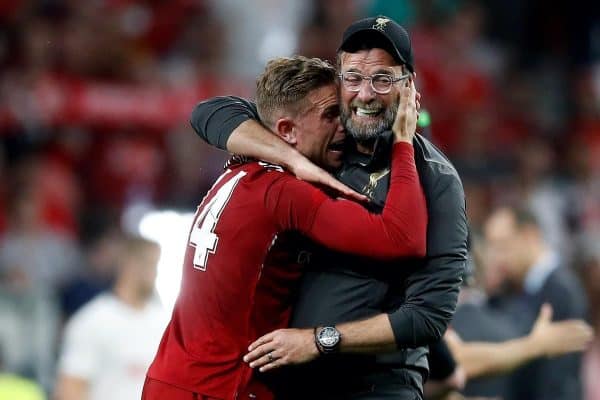 Famously, back in 2012, Rodgers told Henderson he could leave the club as part of a swap deal for Fulham's Clint Dempsey, if he wanted to do so in order to secure more regular playing time after a difficult first season.
Henderson, of course, refused, and vowed to fight for his long-term place in the team at Liverpool.
He hadn't made such a big move from Sunderland to give up after just one season, after all.
It seems laughable to look back at the situation now, seven years on, after Henderson lifted Liverpool's sixth European Cup and completed the ultimate redemption story after years of being written off, ridiculed and questioned by fans, both of Liverpool and from other clubs.
This was the perfect answer to all of that, and Klopp went out of his way to specifically highlight how "satisfying" it was to be able to say Henderson was the captain of the European champions.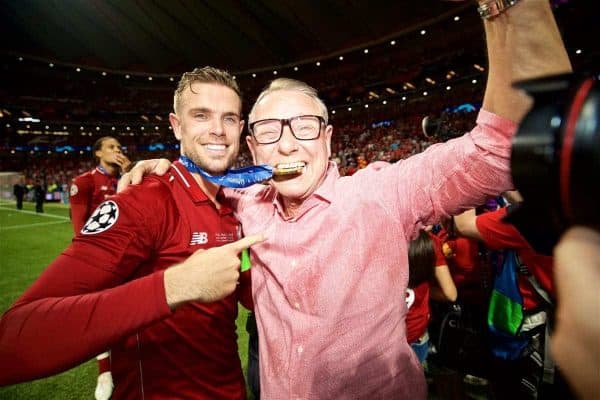 The image of him collapsing into his father's arms after the final whistle was incredibly heartwarming, and the words of his team-mates show just how much he is respected as captain of this remarkable Liverpool side.
The likes of Gerrard, Virgil van Dijk and Trent Alexander-Arnold all singled Henderson out for special praise after Liverpool won the Champions League, with Gerrard describing him as the perfect role model for younger players to aspire to.
Henderson, in typically humble fashion, was quick to shift the attention and the plaudits away from himself towards the team and the manager, and reportedly even asked Klopp and Milner to lift the trophy with him.
They both refused, saying Henderson deserved to have that moment as captain to lift the trophy himself, having led his side to glory and earned this phenomenal achievement after years of graft and stubborn determination to serve the club as best he could.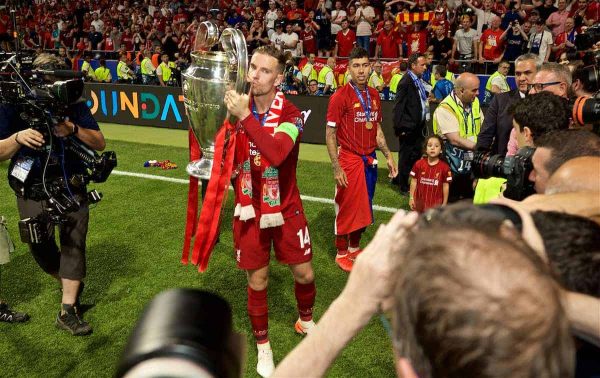 There will always be an open debate about what defines a Liverpool 'legend'.
It's probably a combination of factors including longevity at the club, trophy haul, iconic moments and connection with the fans and the city.
Whether Henderson has earned himself legend status after captaining Liverpool to the European Cup is down to personal interpretation, but there's certainly a strong case to be made.
Regardless, he can now certainly lay claim to being an iconic figure in the club's history.
Not just as a player and a leader, but also in the way he clearly appreciates and buys into the values of the club and the city, and always puts the best interests of Liverpool above his own.
The Future Role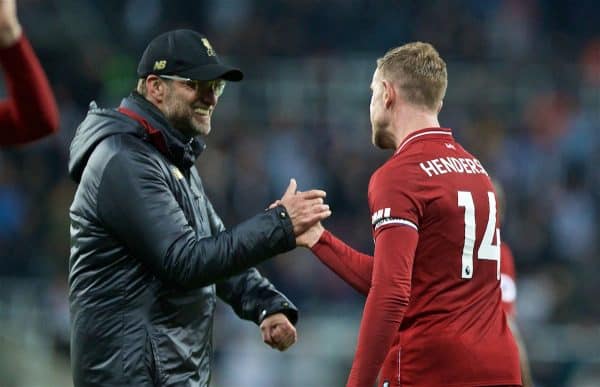 Henderson turns 29 this summer and along with Milner is one of the most experienced, senior members of this relatively youthful Liverpool squad.
He's been there longer than anyone else and clearly has the utmost respect of everyone at the club.
While his place as an automatic starter is no longer guaranteed, he still made 32 appearances in the league this season, and 29 starts in all competitions, so Henderson can expect a significant amount of game time again in 2019/20.
The fact he has made the switch back to the box-to-box role—which seems likely to be a long-term change—means he will be competing with the likes of Naby Keita and Alex Oxlade-Chamberlain, who will be hoping to make a big impact.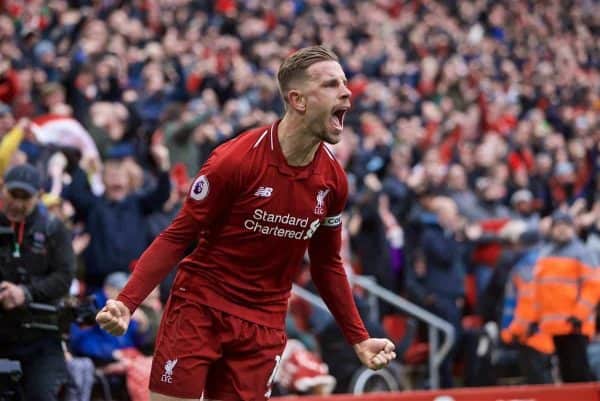 Competition for places is strong, therefore, but given the sheer volume and intensity of games Liverpool will have to cope with, Klopp needs plentiful options in midfield and Henderson will no doubt be prominent among them once more.
It will be a case of picking the right midfield combination according to the type of opponents, and factors relating to form and fitness.
And while Henderson may have to spend more time on the bench than he'd ideally like, he will still be heavily involved and his influence needed both on and off the pitch.
When not starting, he has shown several times this season how effective he can be as a substitute in the final half-hour of games, either to help close out a victory or to chase a late winner and crank up the pressure.
That's a role we can expect to see plenty more of next season.
---
Best moment: Lifting the European Cup in Madrid. He definitely practised that one!
Worst moment: The 1-1 draw against Leicester. Henderson struggled as a makeshift right-back as Liverpool failed to capitalise on Man City's defeat to Newcastle.
Role next season: Important midfield option. Plenty of starts and substitute appearances.