Nathaniel Clyne's future at Anfield remains up in the air as the new season draws closer, but should the right-back stay as backup or leave for pastures new?
After making just five appearances under Jurgen Klopp in the first half of last season, Clyne spent the remainder of the 2018/19 campaign on loan with Bournemouth.
Liverpool's No. 2 had gone in search of regular first-team football elsewhere after Trent Alexander-Arnold made the position his own and Joe Gomez was appointed as his deputy alongside his duties at centre-back.
There had been uproar over the decision to loan him out mid-campaign as a brief injury crisis forced James Milner to fill in.
But now that he is back at the club having reported for pre-season, a debate has arisen over the right-back's future after reports suggested he could remain on Merseyside next season.
Clyne, whose contract at Anfield expires next summer, is valued at £15 million and has been linked with the likes of West Ham, Leicester, Crystal Palace and the Cherries throughout the summer so far.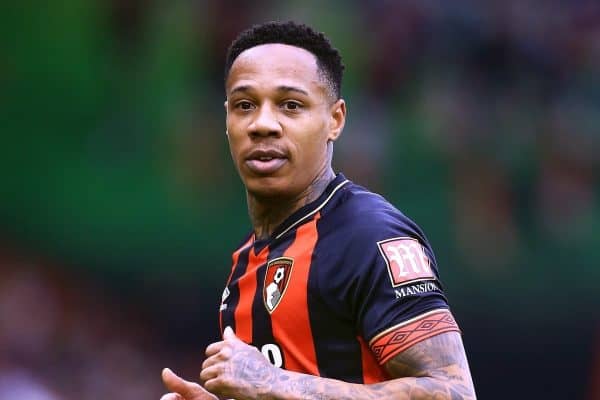 But with the Reds not expected to splash the cash and not having been strongly linked with a full-back there is a case and argument for a player of Clyne's experience to prove valuable to the squad, should he choose to stay.
He's shown his ability to play on either flank and his presence would no doubt prove useful at times when either Alexander-Arnold or Andy Robertson needed rotating.
But on the flip side, while Clyne is defensively astute he lacks the forward impetus and influence in the final third which has become key to the Reds' success.
This Is Anfield posed the question of whether Clyne should stay or go this summer to fans on Facebook and Twitter, and the result was the same across the board.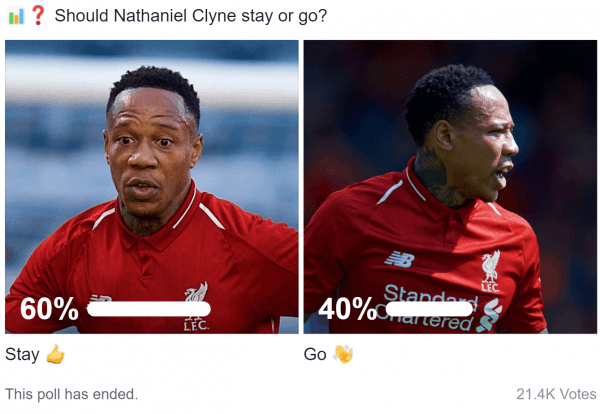 Of the 21,400 fans who voted on Facebook, 60 percent were of the mind that Liverpool should keep hold of Clyne for the 2019/20 season.
The majority shared the view that the England international, despite his flaws, is more than qualified for a backup role in what is set to be a congested season.
"Stay! As much as I love Gomez as a defender, he's terrible in the right-back position. Keep Clyne as TAA's backup," Adriano De Souza argued.
"Liverpool are going try to win every competition so there's going be a good rotation to rest players. Everyone will play."
For Robert Lawlor, the decision is simple, writing: "Keep him IF he's happy to be a squad player. A no brainer in my opinion."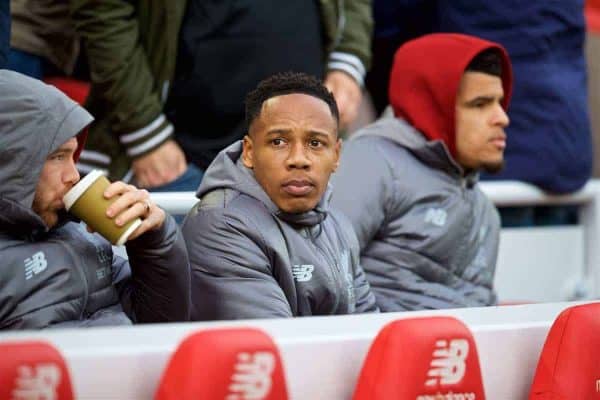 "I would rather have a second-choice right-back who struggles more going forward than can't defend," Tom Ruijterman explained.
"He's solid, better going forward and a better option at right-back than Gomez."
This is a view echoed by Andrew Milburn, who wrote: "Good defender and would be decent backup. Not good enough going forward to work in Klopp's system."
Conversely, for Brian Lynsdale, Clyne's ability or lack thereof in the final third was enough to rule him out of the backup discussion: "He's not good enough I'm afraid, Milly and Gomez can cover for Trent."
It is a position shared by Will Johnswood: "Gomez then Milner would be preferred if TAA gets injured. Clyne still looks too uncomfortable on the ball."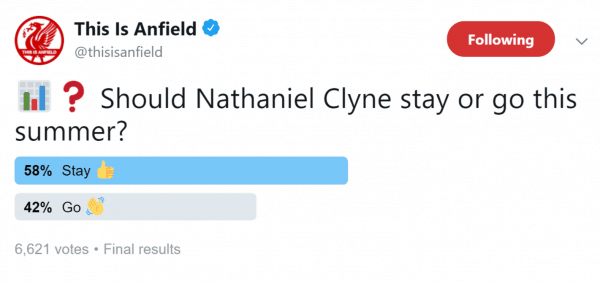 Meanwhile, of the 6,621 fans who cast their vote on Twitter, 58 percent thought the Reds' No. 2 should stay at Anfield.
Like those on Facebook, many feel Clyne will act as adequate cover for both flanks and that his presence will also ensure Gomez features only as a centre-back.
"He should stay so we have someone to cover injuries and so that we don't need to look for someone in Clyne's position," @anthony49723353 wrote.
"Better off keeping him, gives decent cover to Trent and means Gomez can play consistently at centre-back," @hitmanharj explained.
For @ashwa08 the decision is one which is influenced by the transfer market, writing: "Depends how much we can get for him and if we can get a replacement in."
@leathemsaan1892 shared the views of Ruijterman and Milburn, writing: "Could do a job at left- or right-back if needed. Doesn't fit Klopp's style that well but could do worse than have him come in for 10-15 games."
"If we'd get a decent fee for him might be good to sell," @im_a_kop added. "If not, he wouldn't be a bad backup at all. Win-win really."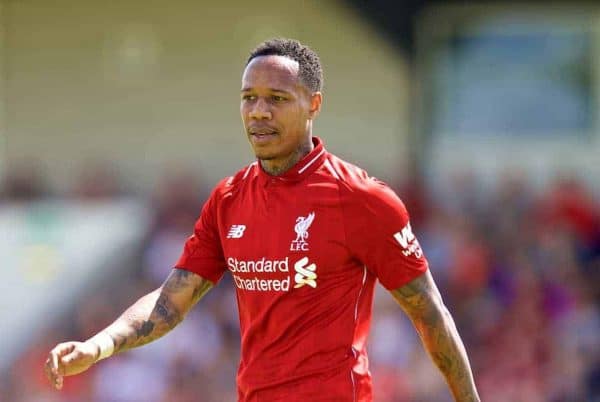 With over 230 games at the top level to his name, it is easy to see why the majority of fans who voted felt that Clyne is a valuable option to have in the squad ahead of the new season.
Clyne's lack of threat in the attacking half is his downfall, but his defensive capabilities coupled with his versatility make him a reliable backup and an inexpensive option.
And if Liverpool choose to keep hold of Clyne it suggests that Gomez is likely to feature solely at centre-back in 2019/20, which will come as welcome news for a significant number of fans.