Liverpool recently enjoyed a three-stop tour of the United States and were greeted with a sea of American Reds oozing with passion for the club.
The Reds' summer plans included a trip to the US for the second successive year where they took in the sights of South Bend, Indiana, Boston and New York as they faced off against Borussia Dortmund, Sevilla and Sporting CP respectively.
And everywhere Jurgen Klopp's side travelled there were tens of thousands of Liverpool supporters anxiously awaiting their arrival.
While the trip formed part of an intense period of training for the season ahead, importantly for fans on the other side of the world it posed as a rare chance to see their team in action.
It allowed scores of fans to congregate and share their passion with like-minded people all the while creating memories which will last a lifetime.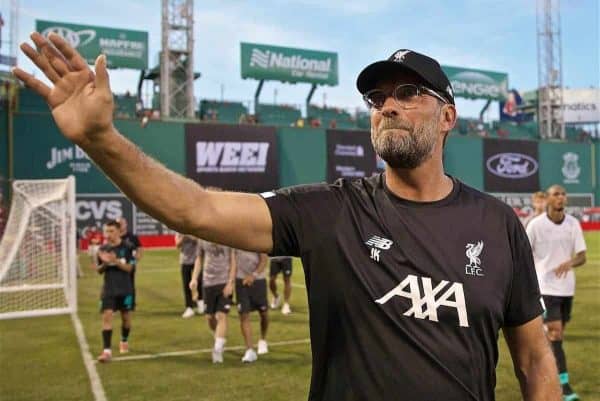 And that thought is not far from Klopp's mind as he spoke to Liverpool.com of his appreciation for American fans:
"We have to show up from time to time to our fans in America because they rarely have a chance to see us live. And if they want to watch us on the television, they usually have to be up really early.

"So it's good that we can show up for them.

[…]

"We've heard some funny stories. A couple from Toronto, who were pretty busy, have flown over to see us. That's nice. Elvis Presley was there at training in Boston! All kinds of people. I like that, it's no problem."
Despite enduring scorching temperatures, fans were more than willing to sing, dance, release pyros and celebrate at any opportune moment – and it earned them the appreciation of the Liverpool squad.
And although Liverpool failed to register a win during their time across the Atlantic, the result did not determine the levels of enjoyment as scenes across social media showed.
South Bend, Notre Dame
The first stop of Liverpool's tour saw them make their way to Indiana as they faced off against familiar foe in Borussia Dortmund.
Prior to kick-off fans had scarves aloft and pyros at the ready as they belted out 'Allez Allez Allez', led by none other than Jamie Webster:
Liverpool Notre Dame stadium pic.twitter.com/ixaoey7CrG

— Amy Fields (@AmyFiel90438489) July 21, 2019
'Allez Allez Allez' at South Bend with Jamie Webster. Thanks @aBOSSNight and @LFC pic.twitter.com/K0fWRYD7rH

— Mari Lewis ? (@MariCLewis) July 19, 2019
While both Harry Wilson and Rhian Brewster found themselves on the scoresheet, the Reds ultimately fell to a 3-2 defeat, but it did not stop this pair from enjoying the occasion:
One of my favorite pictures from Friday's @LFC match in South Bend. Heading back to our car on the shuttle. Hours in the oppressive heat did not diminish the little guy's enthusiasm. #YNWA pic.twitter.com/LCRyt9qYQm

— Dan Skinner (@soccerhaus) July 22, 2019
Boston, Fenway Park
Next for Klopp's side was a trip to Boston, the home of the club's owners, and home to the House of Blues which saw fans spill onto the streets to continue the party atmosphere the night before Sevilla game.
'You'll Never Walk Alone' and 'Allez Allez Allez' rung out and the experience helped make it the "best pre-season tour" for one fan:
Amazing BossTON night in the House of Blues (Reds)..Jamie Webster…YNWA pic.twitter.com/qekt1CjxY5

— LFC Las Vegas (@LFC_Vegas) July 26, 2019
This was at midnight after the House of Blues party in Boston! The security staff tried to get us off the streets but they failed to shut us down for about 20 minutes! ? Best preseason tour ever! #LFC #YNWA pic.twitter.com/aUr33GPOL2

— Kerry???? (@KerrySomewhere) July 25, 2019
The game itself at Fenway Park saw people of all ages get in on the action:
Jamie Webster brought the house down this tour ?? pic.twitter.com/AgsRIb6pcf

— LFC USA (@LFCUSA) July 25, 2019
Atmosphere is incredible! Fenway is literally 99% Liverpool fans. #YNWA pic.twitter.com/ohwNNoTujl

— Matt ?? (@SexyMatt988) July 21, 2019
Fenway is red tonight!!!
Liverpool RED!!! pic.twitter.com/Rt3Gl3x8Uo

— Charlie Cajdric (@cajdric) July 21, 2019
New York, Yankee Stadium
The last of stop on the tour saw Reds descend on the 'Big Apple' and despite being packed like sardines in a hot subway station, fans were still in fine voice:
A very VERY hot subway station filled with none other than the amazing supporters of @LFC singing loud and proud??? #newyork pic.twitter.com/Tzfv4oLruz

— Maeve O'Haire? (@MaeveOHaire) July 25, 2019
Others found a different mode of transportation to the game in the form of an open-top bus where any passerby on the way to the stadium was left in no doubt as to who was the club of choice.
While Carragher's Bar was also the point of destination for a party:
Liverpool ?? tour
Indiana ?
Boston ?
New York ?
Completed our tour the best way with @CarrasNYC bus tour pic.twitter.com/vDu4mRiA1Y

— Gerardo Reyes (@GerrardR8M) July 25, 2019
Jamie Webster singing We love you Liverpool at Carragher's bar in New York, boss this! pic.twitter.com/EeeoAf0vRl

— Forever Red (@ForeverRedUK) July 25, 2019
The Reds broke their mini pre-season losing streak with a 2-2 draw against Sporting CP, and fans were overjoyed when Divock Origi – who proved to be a popular figure throughout the tour, no surprises why – found the net:
Liverpool playing at Yankee Stadium is a good buzz #LFC pic.twitter.com/DWSxVkpGvE

— Kyle (@Kyledriver_) July 25, 2019
The scenes throughout Liverpool's US tour again highlights the role the club plays in so many lives and how, regardless of where you live, the level of passion holds true.