Hertha Berlin are reportedly keen to sign Marko Grujic on a permanent basis at the conclusion of his second successive season-long loan spell next summer.
Since arriving at the club as Jurgen Klopp's first signing in January 2016, Grujic has spent the majority of his Liverpool career out on loan.
The 23-year-old closed his 2016/17 season with Red Star Belgrade before spending the second half of the 2017/18 campaign with Cardiff City.
But his time in the Bundesliga for the entirety of last season saw him become an integral member of Hertha Berlin's side, until injury struck.
Grujic made 23 appearances with a return of five goals and one assist, but it was his all-around game which earned him high praise from manager Pal Dardai, who said he was the "best midfielder" he's seen during his time with the Berlin side.
It led the two clubs to agree to a second successive loan spell worth £2 million, with a potential £500,000 in add-on bonuses.
Kicker, via Manuel Veth, have claimed that the Bundesliga side want to negotiate a deal with Liverpool to buy Grujic outright next summer should the Reds no longer require his services.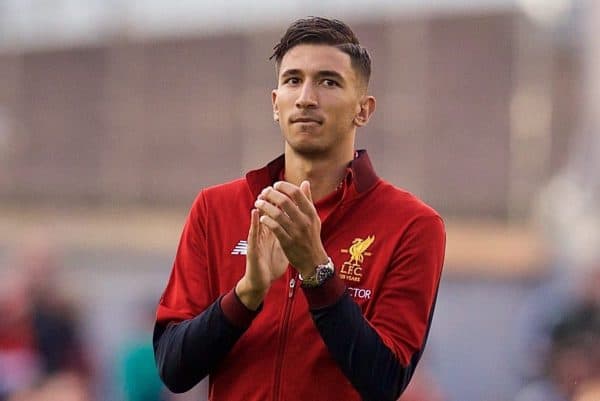 The Bundesliga side recently secured the largest investment deal in German football history by selling a 37.5 percent stake of the club in a deal worth €125 million.
The sizeable investment is to be injected back into the club and would mean the German outfit would not be short on money to secure a deal for a player Liverpool will no doubt value highly.
With Adam Lallana and James Milner both set to see their contracts expire at the end of next summer, the opening is there for Grujic to stake a claim for a regular spot in Klopp's squad.
Thus, another season of first-team football will prove vital to Grujic's continued development and could see him become a ready-made option for season 2020/21 and beyond.
Ultimately, if the reports are true it would be a win-win situation for the Reds as he either returns to the club as a more experienced player ready for first team action, or he's cashed in for a lofty sum which is in line with the club's 'buy low, sell high' philosophy.