Author Daniel Fieldsend's new book looks back at an incredible campaign for the Reds; here he discusses the build-up around Liverpool's Champions League semi-final in Local: a club and its city—Liverpool's social history.
Former players, dedicated fans and civic leaders explain the relationship between the club they support and the city of their birth, exploring the events and moments in time that moulded their unique identity. This is the story of Liverpool, a club and its city.
ON the Friday night before their game against Burnley, stalls outside Goodison Park sold scarves with Lionel Messi's name on. Inside, hanging over the side of an advertisement board in the Lower Bullens, a fan had draped a Barcelona flag, framing his or her contemporary view of fandom and what it meant to be an Evertonian.
In recent years, according to several Reds, the greatest joy many Blues had felt had been whenever Liverpool came close to winning a trophy and then lost. As Rookwood points out, that's part of tribalism (Liverpool fans had backed Bayern Munich in 1999), but it stung the nuanced on either side.
It mattered not however (or was not admitted to) that the Reds were more than 40 points ahead of Everton by this point. They were 26 points ahead of Manchester United and some 21 points ahead of Tottenham in 3rd.
But crucially, with only a number of games left, Manchester City had 92 points and Liverpool had 91. In a hard-fought game against Newcastle in which Salah and Chamberlain picked up knocks (and with Firmino already injured), Liverpool somehow won 3-2, courtesy of a late goal from Divock Origi, taking the league campaign right down to the final day.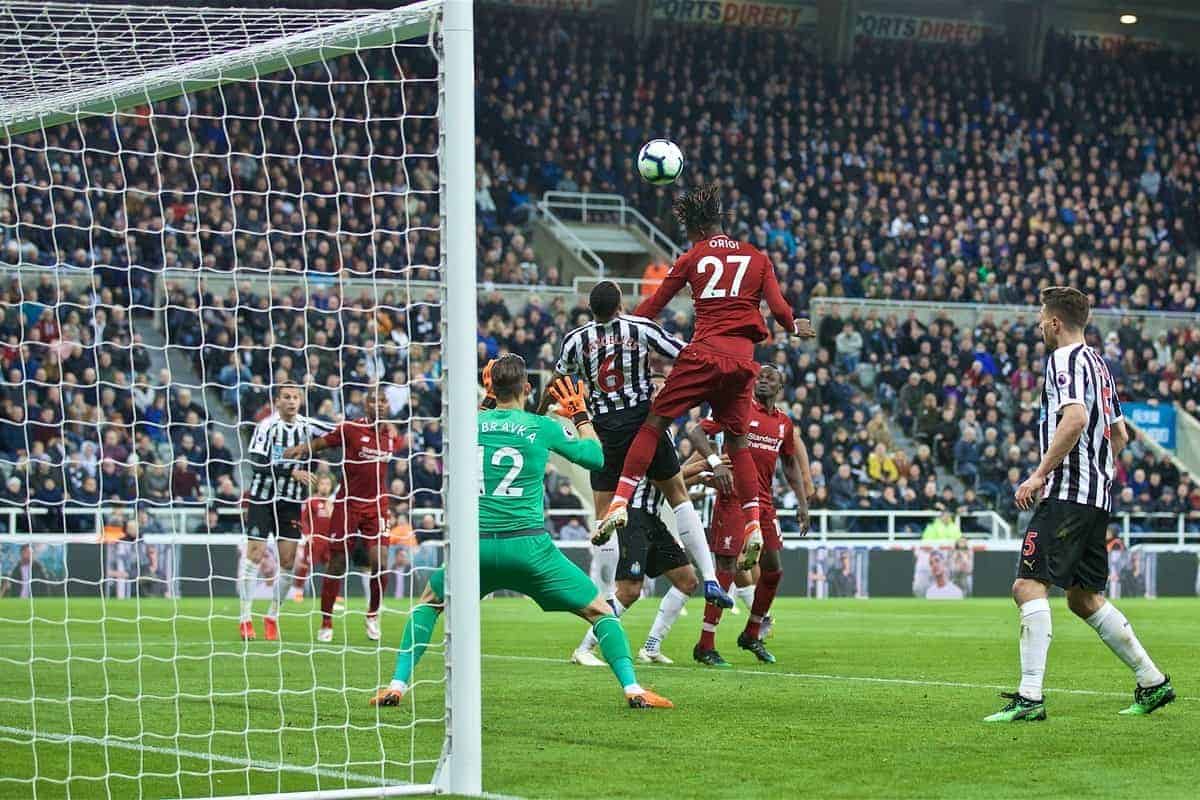 The young Belgian had been considered for years by many in football to be too conscientious to every be a truly prolific finisher. He'd been third-choice behind Daniel Sturridge for over a year and was loaned out to Wolfsburg in 2017 to regain some confidence.
But Klopp had always admired Origi and had tried to sign him for Dortmund in his final year there. In 2015, not long after having joined Liverpool, Klopp smiled and told reporters "We're going to have fun with Origi."
On the 7th May, he was proved correct.
Vincent Kompany, in one of his last ever games, scored late on to secure the league for Manchester City against Leicester. With Liverpool 3-0 down in the first leg of the Champions League against the greatest football team in modern history, they were dubbed 'beautiful failures' by the press.
Then, at the lowest possible point, the rumours began.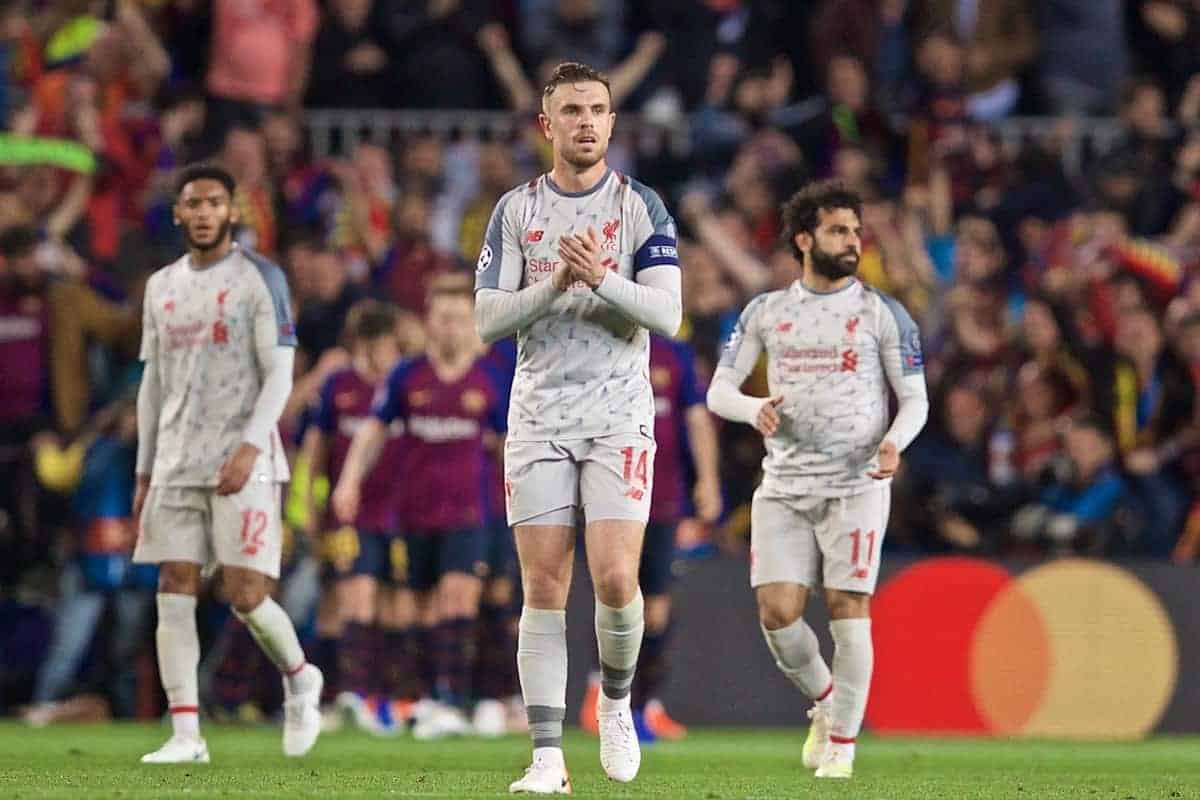 Back in 2014 when the Reds had last competed for the league title, there had been whispers of Liverpool fans congregating outside Manchester City's residence at Formby Hall, causing disruptions and keeping them awake. It wasn't true, but it planted a seed.
On the Monday evening before the Barça game, around 7pm, rumours began to spread again on social media, that the Barcelona team bus had been stolen by a group of Scallys outside the Hilton Liverpool One and was being driven down Long Lane.
People gossiped that its windows had been bricked outside the Leg Iron pub and that it was later on its side behind the Showcase Cinema. The reports, again, were little more than fibs.
The following morning people whispered once more that, at 2am, somebody had sneaked quietly beneath the windows of the Hilton Hotel and, with everybody sleeping, set off fireworks to wake up the Barcelona team, disrupting their preparations for that evenings' match. This time, the rumour was true.
It probably had little impact on the result and was certainly nowhere near as influential as Liverpool's meticulous analytic preparation for the game, which sought to find weaknesses in Barça's reactions to set-pieces, but the fireworks ignited an excitement for fans and provided a nugget of belief going into Anfield.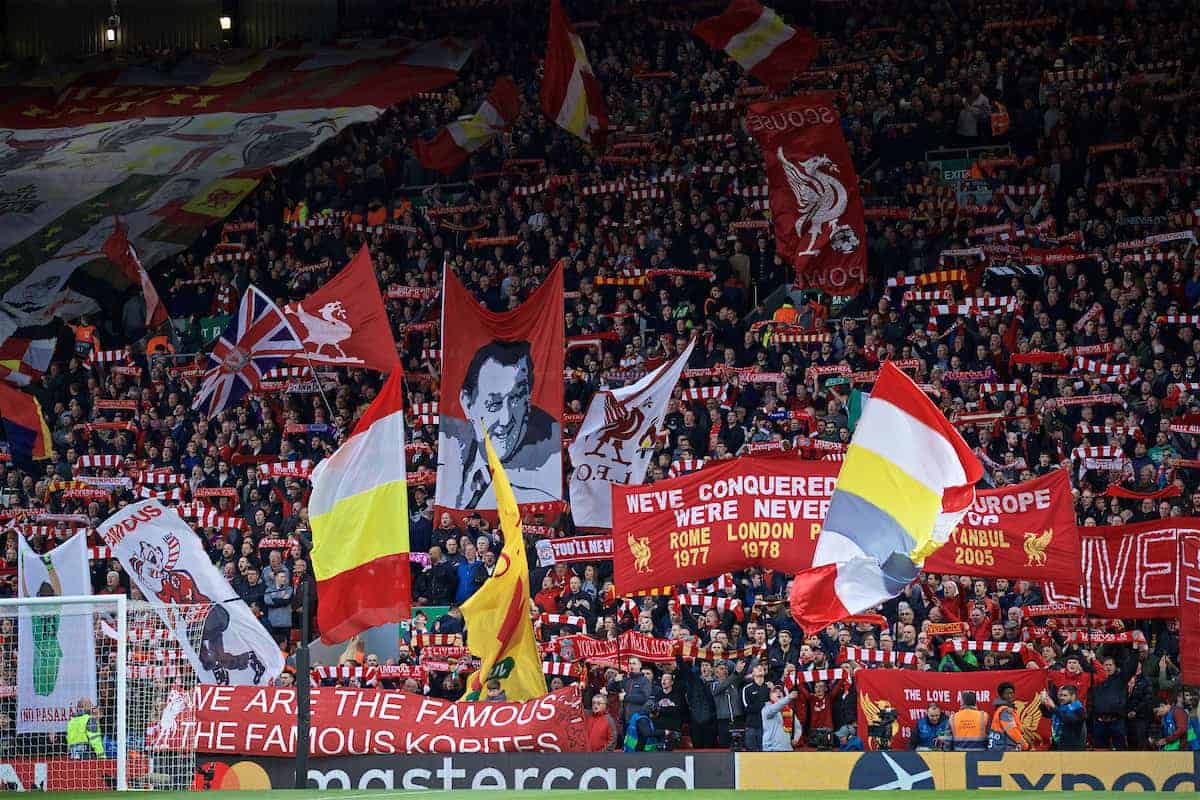 Nobody before the match had given Liverpool a chance.
Jurgen Klopp gathered his squad together and asked them whether they wanted to talk about Manchester City's win over Leicester, whether anybody had anything to say? Not really, they responded, they just wanted to win their remaining matches.
So they focussed on Barça. Before he spoke about the finer points of Liverpool's presentation, Klopp told the players that whatever people believed, that the season was finished and they wouldn't progress, it was nonsense: "Because it's you," he said, "it might be possible. You are all giants."
Klopp reinforced that sense of belief to the optimistic fans before the game in his programme notes, writing: "There is one thing everyone inside Anfield knows, including our opponents. This Liverpool never stops. This Liverpool never quits. This Liverpool gives everything at all times. Whatever happens this Liverpool leaves it all on the pitch. We don't do 'If only'."
Having lost to Roma in incredible circumstances the season before, Lionel Messi, in his first season as captain – a role he was born to occupy – had taken a microphone and told the socios in Camp Nou at the start of the season that Barcelona would do everything in their power to bring the European Cup back home.
He was the greatest footballer to ever play the game in the eyes of many, but in the first half at Anfield he was anonymous, and his promise to the socios looked unlikely.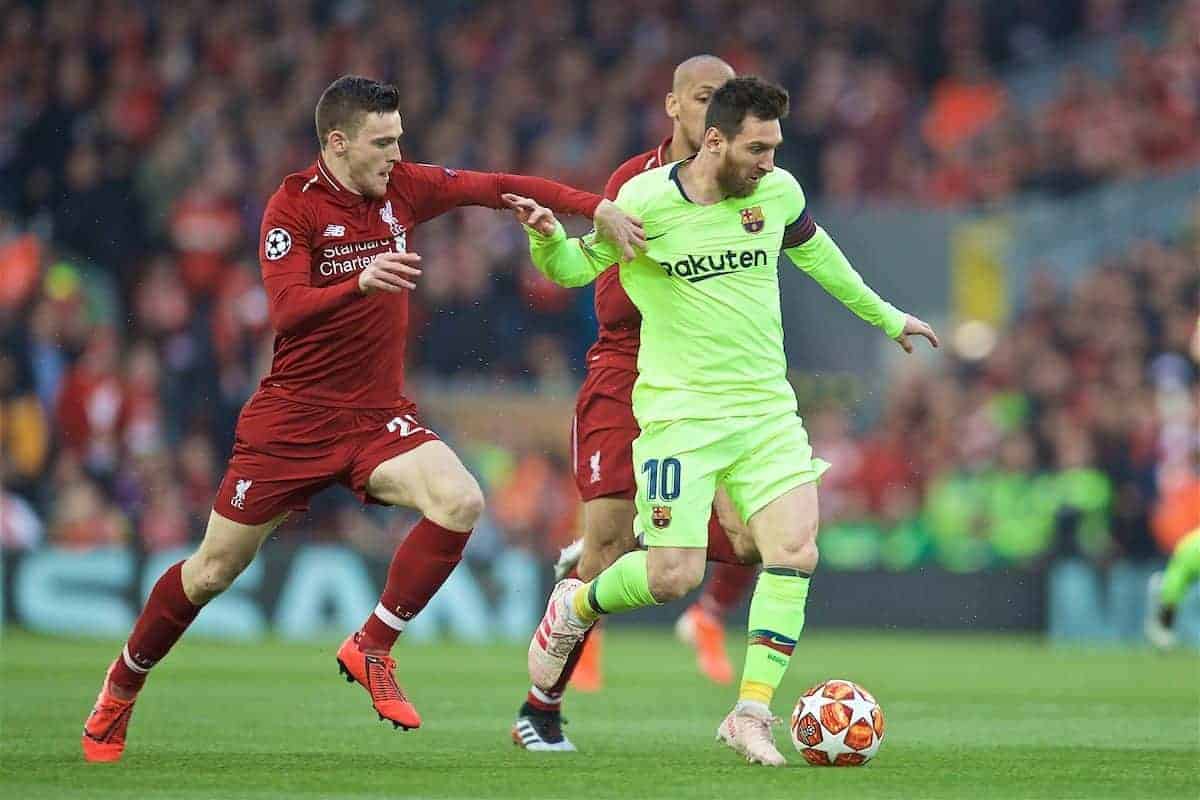 Andy Robertson – a lad whose origins could not have been humbler – had dominated Messi and at had one point clipped him on the back of the head when nobody was looking.
There had been a personal feud between the two of them ever since the Nou Camp tie.
In that first leg, Jordan Henderson ran some 30 yards to intervene when the Scotsman and the Argentine were arguing before a corner.
Liverpool had rattled Barcelona then, despite losing the game, with Messi calling Milner a 'donkey', and with Mane putting his hands on Vidal's face, prompting Suarez to shout in Robertson direction after Messi's first goal.
In that first half, Robertson and Lionel Messi, and Robertson and Suarez, were two different stories altogether. The Glaswegian called Suarez a fat so-and-so off camera and the three players pulled and kicked each other whenever possible. The Catalans weren't used to teams getting at them, in both respects of the term, and their inability to lose matches with grace became evident early on at Anfield when Divock Origi tapped in Henderson's shot.
The stadium had been sizzling beforehand but now it caught fire. Every newspaper in the world was about to cover the happenings, with reporters in disbelief: Origi scored first – Wijnaldum hit one in after coming off the bench – Wijnaldum again with a header – Trent's corner – Origi again – had it been given? – yes!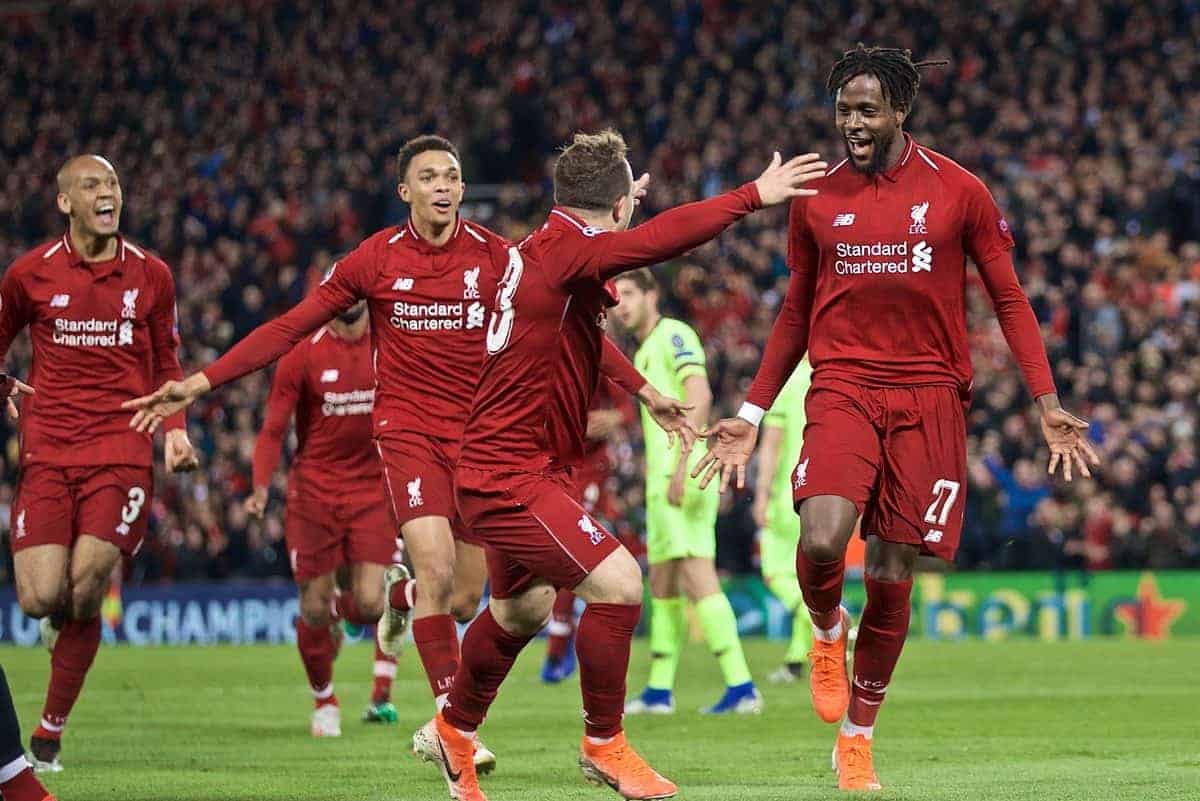 When the Belgian scored in the box with nobody marking him, Kopites fell everywhere, running forwards in a state of ecstasy.
Had Anfield ever heard such noise? There had been Internazionale in '65, Saint Etienne in '77, Chelsea in '05 and now this. Some fortunate souls had felt all three; some had experienced one or two. A lot of them, though, when the final whistle blew, credited this as the mountaintop of emotion. It had been a night on par with the very best.
At the sound of the whistle people lost all restraint.
A ball boy – an academy prospect – ran onto the pitch and gave Messi the middle finger, chased awkwardly by two confused stewards. In those scenes of uncontrolled elation, with headlocks and limbs and backs twatted on rows of chairs – few people noticed him, but he was a portrait of the exuberance that probably allowed for such occasions to happen, an example of fans who bought into the mythology of Anfield, who kept the wheel turning.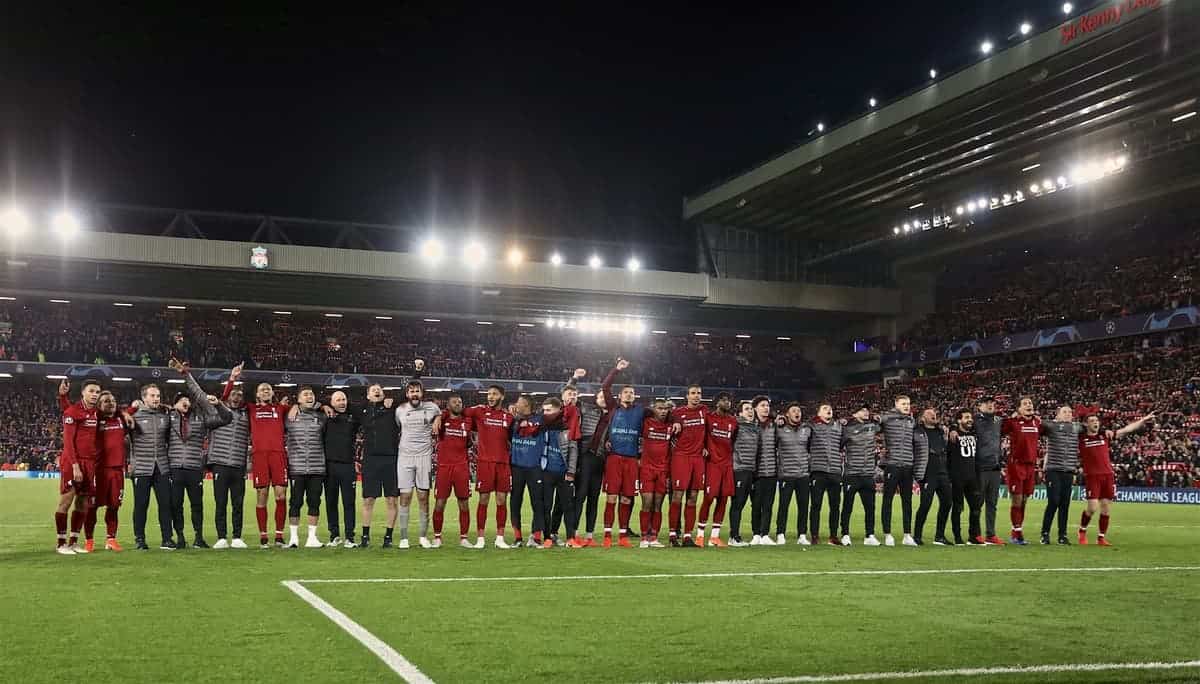 There had been a symbolic moment just after the whistle when Luis Suarez – the old hero with a dubious nature – walked off the pitch, passing Mohamed Salah – the new hero – on the way, who beamed positivity wearing a t-shirt with the words 'Never Give Up' printed on. Its symbolism reflected the direction Liverpool were heading in as a club, or rather had already reached.
But the hero on the night was, again, Divock Origi. He'd scored the decisive goal that would forever be shown again and again.
If, at the end of it all, a career is not actually judged on numbers, like games played and goals scored, but is rather judged on the amount of 'moments' fans were able to enjoy, then the quiet young Belgian was already on his way to having a fabled career.
What was happening? Liverpool, the city of solidarity, had showed again that success was about teamwork and not individualism.
Salah's 'Never Give Up' t-shirt had condensed the club's hymn into an equally fine message, which somehow explained the spirit that had, against all odds, gotten Liverpool to Madrid.
---
* This is an excerpt from Local: a club and its city—Liverpool's social history, by Daniel Fieldsend, available on Amazon here.