Stephanie Frappart makes history tonight as the first woman to referee a major European men's game, with Liverpool taking on Chelsea in the UEFA Super Cup.
The cult of celebrity is an ever-growing one among referees in the men's game, with the appointment of officials in, for example, every Premier League clash scrutinised by fans.
But tonight brings a genuinely historical moment as Frappart takes charge of the final of the UEFA Super Cup, pitting the European champions against the winners of the Europa League.
The 35-year-old has worked her way up through the ranks formerly reserved for her male counterparts in her native France since 2011, from the Championnat National to Ligue 2 and, in April of this year, Ligue 1.
That 0-0 draw between Amiens and Strasbourg was followed by another outing in the top tier as OGC Nice were held by Nantes in May, and then the summer saw her head to the Women's World Cup.
Frappart, along with Manuela Nicolosi and Michelle O'Neill, oversaw the final between the United States and the Netherlands, and she will be joined by the same assistants in Istanbul.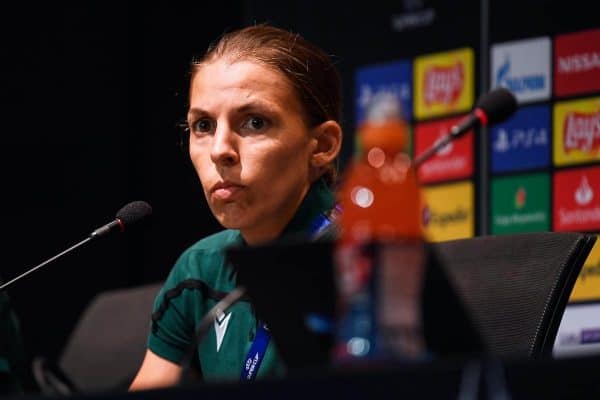 "I know the feeling, I know the strategy, and my emotions, I know how to keep [them], and I also know how I train for that," she told reporters on Tuesday.
"I don't think there is a lot of difference, because football is the same. We are not afraid of this game, because we are always ready for all the games."
The Frenchwoman's appointment was welcomed by Jurgen Klopp as he spoke during his pre-match press conference, with the Liverpool manager described it as a "very smart decision."
"Finally! I think it's time that it happens, that's how it is. I don't have a lot of experience with women referees," he reflected.
"In Germany, Bibi Steinhaus is doing it and it took a while until she was considered—not by the professionals, more by the referees—to be ready. Meanwhile she's settled, so that's really good.
"I'm really happy that we can be part of that historical moment.
"I think there's so many things in the world out there that we are obviously not smart enough to make the right decision [over].
"[But] that's a very, very smart decision that we can finally bring a woman in to be a referee of a very, very important game.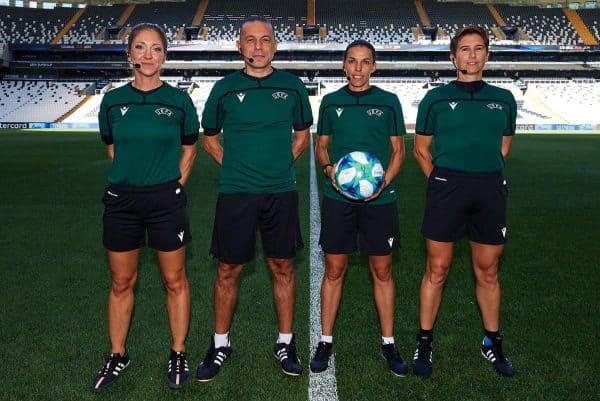 "[It's] a big game, in front of millions of people.
"And I'm pretty sure, with all the emotions involved and stuff like this, in the moment I can say I'm really sure we all try to help tomorrow night not to make it more difficult than the game itself is anyway.
"So I will show my best face if possible, otherwise my mum will be angry about that!
"It's the first one, so maybe it makes it a bit more special, but I hope it's not the last one, that's all I can say."
Frappart is not the first female referee to officiate the men's game, and it is important to note that as Steinhaus and others have helped to pioneer the shift, but it is certainly a defining moment.
Not that the players are concerned with the gender of the person blowing the whistle, with both Virgil van Dijk and Sadio Mane dismissing suggestions Frappart's appointment could affect their approach to the game.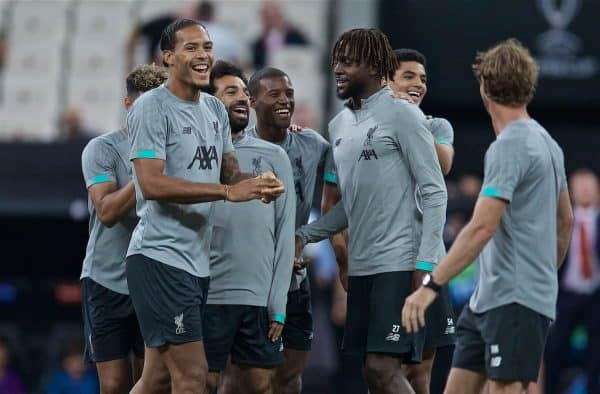 "I think gender is irrelevant. If the quality is there—and it is there because otherwise she wouldn't get appointed for this game—then it doesn't really matter," Van Dijk said.
"If you look at her CV as well, I think she has been doing so many good games and they probably made the right decision.
"Like I said before, gender doesn't matter at all."
Mane added: "She deserves to be here, for sure. She will make the right decisions.
"For us, I think it's important to just be on the pitch and concentrate on ourselves, give everything and, especially, win the trophy."
Klopp's opposite number, Frank Lampard, echoed the sentiment that this is a historical night, explaining that "the game has come on a long way, in many ways."
"I think we were very slow, everywhere," he said.
"Now we are trying to make strides, and it's a long way to go but in terms of tomorrow I think it's a huge moment. It should be very well addressed.
"We're all very pleased. It's a historical moment, it's one more step in the right direction, I would say."