Trent Alexander-Arnold has revealed how Arsenal's setup "surprised" Liverpool, but noted how half-time words from Jurgen Klopp helped Liverpool to a 3-1 win.
The manager spoke in the buildup to the game of the benefits of a full week of training, allowing the Reds to spend three days at Melwood working on tactics.
Liverpool took the fight to Arsenal from the first whistle on Saturday evening, but it took time for them to break down a very deep, rigid defensive line.
Their opener came from a set-piece as Joel Matip headed in Alexander-Arnold's corner, with that delivery one of 24 crosses the hosts attempted throughout the first half.
Only three more came after the break, with Liverpool adopting a different outlook with slicker passing play and more movement in tight spaces, which led to Mohamed Salah's first after he was brought down by David Luiz.
Speaking after the game, Alexander-Arnold detailed the Reds' preparations and how Klopp and his backroom staff had anticipated a more ambitious Arsenal side.
"We prepared for them to go with another system," the right-back said, with the Gunners fielding a 4-4-2 diamond.
"They were really narrow and it allowed me and Robbo a lot of space and freedom, and [we] were allowed to cross the ball as much as possible."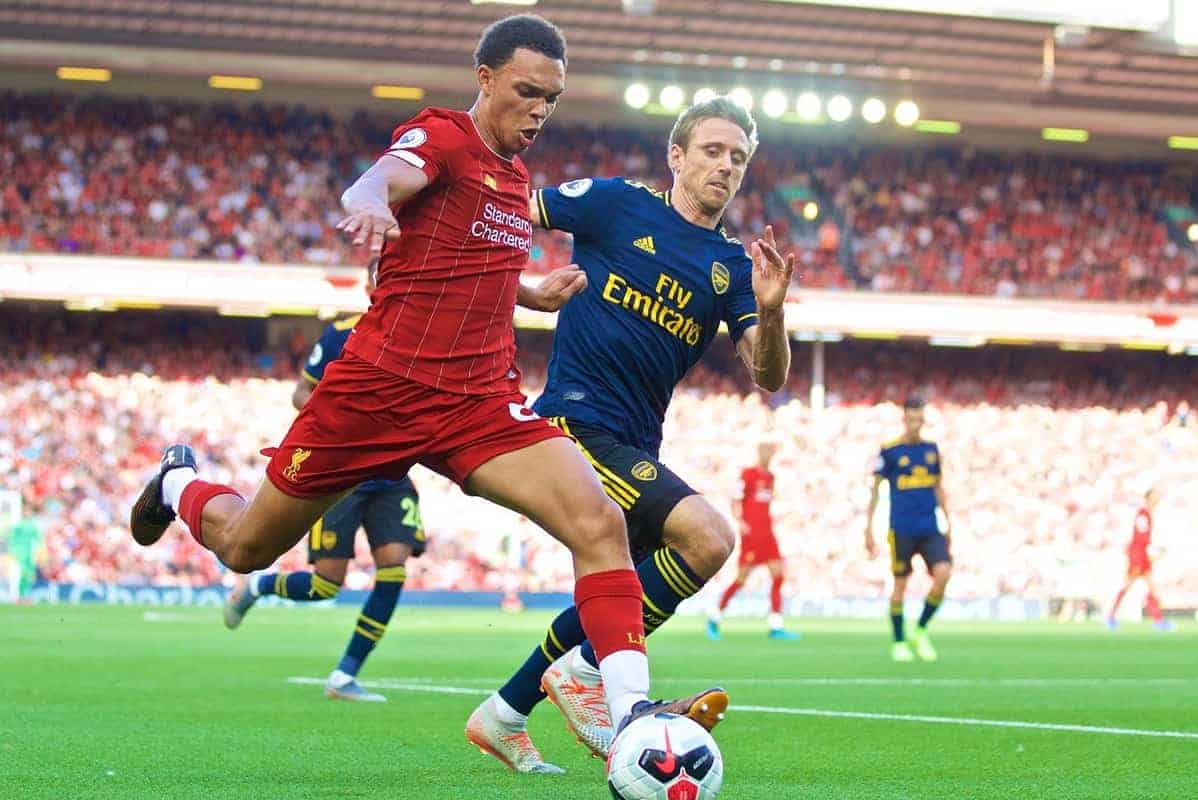 Alexander-Arnold added that Liverpool were "surprised to have that much space," and that made it "tough" as they took a repetitive approach throughout the opening 45 minutes.
"We worked all week in breaking that midfield line, and we though we'd have to really stretch the pitch out," he explained.
"It was a case of them tucking really narrow and us two getting the ball and trying to find people in the box.
"It was tough because the two centre-halves were really in the middle."
Though the Reds went into half-time with a one-goal lead, Klopp prompted a change of tack after the break, using video analysis and tactical nous to thwart Arsenal's low block.
"The gaffer showed us a bit of [footage] at half-time and we could stretch them, with Mo, Bobby and Sadio, and get it into feet," Alexander-Arnold continued.

"They probably set up knowing that we were going to cross it, they were ready.
"[Against] other teams we try to create the yard and cross it from in front. The gaffer said to us at half-time, if we get a runner down we can get the ball down the outside.
"[For Salah's first], Hendo takes the ball out the way and I'm able to play it into Bobby and we got the pen.
"That was the idea, to drag a centre-half out and not allow them to stay in and head the ball away."
This attacking shift may not have been possible without forwards of the quality of Salah, Sadio Mane and Roberto Firmino, and Alexander-Arnold hailed the trio as "a defender's worst nightmare."
"Whether you're playing in behind or playing into feet they'll do their best with it, turning it into a good ball," he continued.
"Most defenders are probably going to bring him down and take the yellow card [for Salah's second], it just shows how dangerous they all are.

"Even with Bobby and Sadio we've got the height as well to flick balls on.
"They're literally a defender's worst nightmare and we're lucky to have them on our team."
As with Matip in his post-match interview with Sky Sports, Alexander-Arnold was not getting carried away after a third straight victory kept the Reds at the top of the league, three games in.
"We've still got 35 games left, it's a long season," he insisted.
"It's good to get off to a good start and we need to keep up that momentum.
"We've won so many games in a row, hopefully next week we can do the same and after the internationals as well."