Liverpool received a thunderous welcome back to action as they clinched a 4-1 win over Norwich on Friday, and a new video provides a brilliant glimpse behind-the-scenes on the opening day.
The Reds kick-started their 2019/20 season in emphatic fashion after dispatching newly-promoted Norwich City to the tune of 4-1, much to the Anfield faithful's delight.
After a little over two months without competitive action, Liverpool wasted no time in picking up from where they left off last season as Mohamed Salah, Virgil van Dijk and Divock Origi all found themselves on the scoreboard to see the Reds clinch all three points.
Jurgen Klopp's side received rapturous applause from all four corners of Anfield on Friday as fans welcomed the team back onto home soil for the first time since their European Cup triumph in June.
And the latest edition of Liverpool FC's Inside Anfield took fans behind the scenes of the opening day of the season under the Friday night lights.
From owner John W. Henry greeting Klopp with a firm "boss" and nod of the head to Jamie Carragher wishing summer addition Harvey Elliott the best of luck and the customary pre-game Klopp and Salah hug, the video has it all.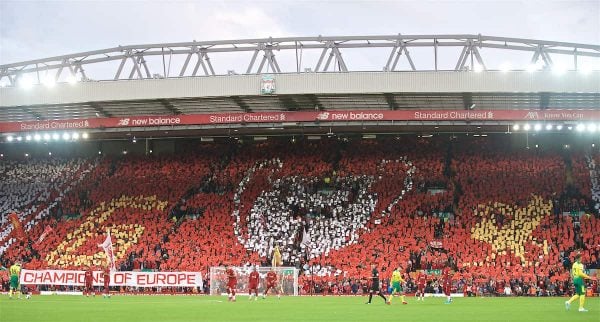 There was brilliant vision of the Reds being serenaded with chants of: "We are the champions, champions of Europe" in accompaniment with a mosaic in tribute to their success pre-game.
And a specific highlight has to be a fan grinning with glee as the camera moved his way as he held up six fingers.
Notably, despite being given the green light to do so in the wake of clinching their first piece of silverware, only Gini Wijnaldum joined Jordan Henderson in touching the 'This Is Anfield' sign.
You can't read too much into it, but it's seemingly a sign that this team is not stopping at one piece of silverware.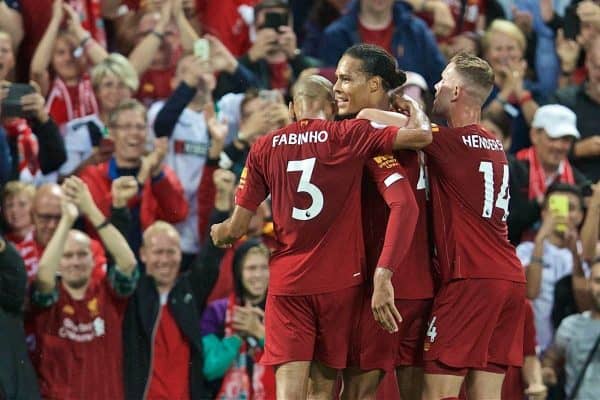 As was the case on the night, the vision of Alisson being assisted off the field and down the tunnel was an unwelcome sight, but Adrian's enthusiasm to take to the field for his debut helped ease the gloom over the situation.
Particular highlights also included each goal-scorer having their chant sung from the Kop, again highlighting the close relationship which exists between the fans and the players.
The power of Anfield will be crucial to the success many hope to see Liverpool achieve come May, as the Reds' have yet to fall to defeat at home in the Premier since April 2017.
With three points in the bank, all attention now turns to the UEFA Super Cup in Istanbul where Liverpool have the chance of adding another piece of silverware to the cabinet.