Liverpool secured a 2-1 win at Chelsea in what was a game of two halves, and the manner of the performance presented various points for discussion.
Jurgen Klopp's Reds secured their sixth successive league victory at Stamford Bridge, but it was not all smooth sailing.
They took a two-goal lead into the interval thanks to a well-executed free-kick finished by Trent Alexander-Arnold and a headed finish from Roberto Firmino in what was a bright first half.
But the second 45 saw Liverpool struggle to maintain possession as Chelsea piled on the pressure, and it ultimately cost a clean sheet as N'Golo Kante converted to set up a tense finish.
Here to break down the highs and lows from the clash and discuss Adrian's impressive displays is This Is Anfield's Joanna Durkan (@JoannaDurkan_), who was joined by Guy Drinkel (@guydrinkel) and Aaron Cutler (@aaron_cutler).
The good…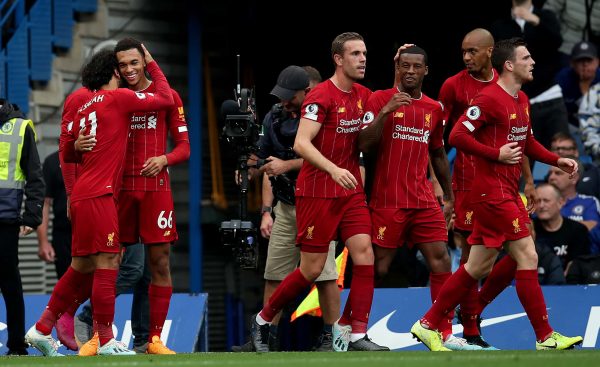 AARON: I thought Liverpool started the game brilliantly and showed real authority in possession.
Our midfield won the majority of second balls and ensured the first 30 minutes or so were played predominantly in Chelsea's half.
Going to Stamford Bridge and asserting such dominance is no mean feat and a sign of confidence borne from recording 15 straight victories.
Of course, the tide eventually turned, only for our two centre-backs and goalkeeper to stand firm in the face of mounting pressure.
Andy Robertson's lung-busting surge in deep into stoppage time meanwhile not only alleviated pressure but showed incredible fitness levels.
GUY: I thought it was quite a strange game really, and almost difficult to pick out a positive from a 2-1 win over a top-six rival (if that's still a thing).
But having watched the game on delay without the emotion, it was almost pleasing how boring the game was, which might sound strange, but one of the stories going into the game was Klopp's away record vs. those teams and we bored our way through it.
It wasn't really a game for 10/10 performances but the continued form of Joel Matip is great to see.
Players with previously patchy times at Liverpool are almost worrying as they may go back to that previous level, but Matip has seemingly broken through and established himself as one of the top few centre-backs in the league, if not the world.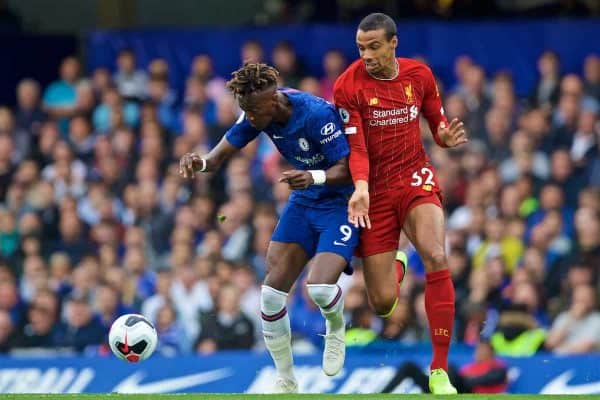 JOANNA: It was not pretty at the end so simply walking away from the Bridge with the three points and maintaining our 100 percent start was massive.
But beyond that the finishes for both Trent and Bobby were sensational and the fact both were from set-pieces was a welcome sight
Yesteryear it felt we were incapable of posing a threat from dead-ball situations but now we're utterly dominant and to have various avenues to goal will prove vital.
While the second half flattered few, I wholeheartedly agree with Guy, Matip was at his barnstorming best which is the case more often than not these days and it is a sight to behold.
The bad…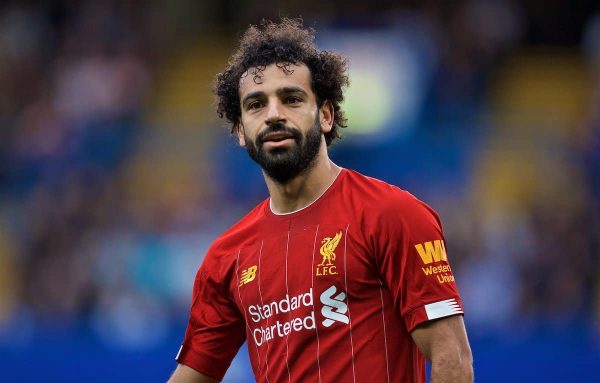 AARON: There's no denying our level dropped dramatically after the break.
I've no doubt tiredness played a part in that given midweek exertions, but credit has to go to Chelsea who were far sharper and exploited space left on both flanks.
Our defending for Kante's goal meanwhile left a lot to be desired. Granted few are expecting him to find the top corner from 20 yards but to allow him to tip-toe unchallenged to the edge of the box in the first instance was poor.
Finally, the front three are not above criticism.
This was the second time in a week where their final ball was largely lacking. Mo Salah, in particular, had a wasteful afternoon.
GUY: Although a boring game as mentioned above, I thought the midfield lost control of the game at the end of both halves which could've been costly.
Their main outlet was seemingly Marcos Alonso and we weren't doing too much to counter him, Henderson and Gini at different times in the game simply left Trent exposed as he was dealing with Mason Mount.
The front three had a bad day at the office in open play which I think is both a positive and a negative as they had poor games to their gargantuan standards…but we beat Chelsea with our front three not firing on all cylinders.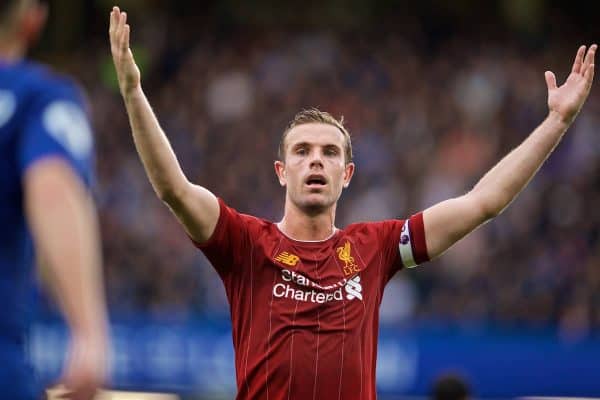 JOANNA: It's hard to disagree with anything the guys have said, notably the apparent fatigue which plagued the side as the contest neared its end.
It was most obvious in midfield as Chelsea were allowed to bypass them with ease, ensuring we lacked any control and it put enormous pressure on the defence—hopefully a break midweek for the majority of the starting XI will prevent the same from occurring against Sheffield United.
We could, and should, have put the game out of sight in the first half but the front three were off the pace and the wrong option was picked out more often than not.
And Adam Lallana as a late substitution? Sorry Jurgen, but I'm not having that.
And how impressed have you been with Adrian's ability to step up in Alisson's absence?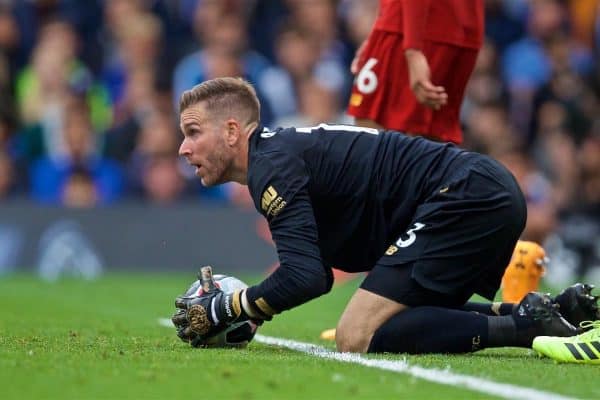 AARON: Adrian's performances deserve huge credit.
The Spaniard probably expected to be making his debut this coming week in the League Cup; instead, he's been thrown into the heart of the action with no pre-season to fall back on.
He'll also have realised there's simply no margin for error, such are the standards set by Man City. The back line are noticeably trusting of the goalkeeper at this point too.
I think initial reservations about his kicking game have been overcome. Having reduced the number of back passes played in the wake of his Southampton error, we're seemingly confident of bringing him into the game ourselves.
I'm sure we're all eager to see Alisson return but perhaps his comeback is now not quite as urgent.
GUY: It's weird isn't it? We go all summer with seemingly little to no intention of signing anyone, then all of a sudden Migs is gone and Adrian comes in in what was probably the least exciting move of the summer.
Then in the space of a half vs. Norwich, he's now probably one of our most important players, and he's performing like that too.
He's obviously never going to be as good as Alisson (because who can?) but that is simply not affecting us that much, and we may be still clicking as a defence collectively, but with each game, he's growing in confidence and familiarity.
Ultimately we've got a backup goalkeeper who'd get in a lot of Premier League teams like the Ev, Leicester and a good few more.
To finish, that save vs. Napoli last week was one of the best I've ever seen.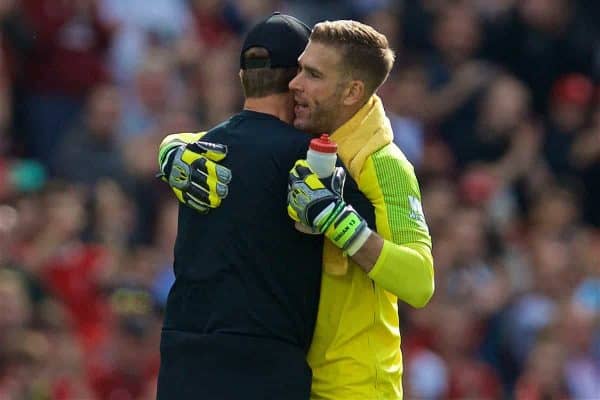 JOANNA: I didn't have any real expectations of Adrian upon his arrival having been safe in the knowledge that Alisson was the undisputed first choice.
And while the Brazilian's injury was not a welcome sight, for me it came as somewhat of a blessing in disguise for Adrian.
He didn't have time to ponder or build up any expectations or pressure for his debut, instead, he was thrown straight into the mix, quickly establishing himself as a valued member of the team—most notably in the Super Cup.
It means his confidence has grown week by week, and while he's had a few hairy moments I've been nothing but impressed.
His save against Tammy Abraham was sensational, as was his effort against Napoli in midweek.
As Aaron noted, Alisson is the undisputed first choice and will walk straight back into the side when fit, but now I feel comfortable in the knowledge that we can safely turn to him again down the line if needs be.