Liverpool were made to fight for their 1-0 win at Sheffield United and it was a performance which conjured up a number of discussion points.
Jurgen Klopp's Reds made the trek to Yorkshire in the knowledge that the newly-promoted outfit would give them a run for their money.
And it was ultimately an afternoon whereby Liverpool got the job done without being at their best, as a piece of good fortune, in the way of Man United loanee Dean Henderson spilling Gini Wijnaldum's effort on goal, was enough to seal victory.
The win sees Liverpool stretch their winning streak in the league to 16 and maintain their five-point buffer at the top of the table after seven games.
Here, This Is Anfield's Joanna Durkan (@JoannaDurkan_) is joined by Jonathan Higgings (@Jhiggins3) and Steven Scragg (@Scraggy_74) to break down the highs and lows from the clash and discuss Klopp's use of the 4-2-3-1 system.
The good…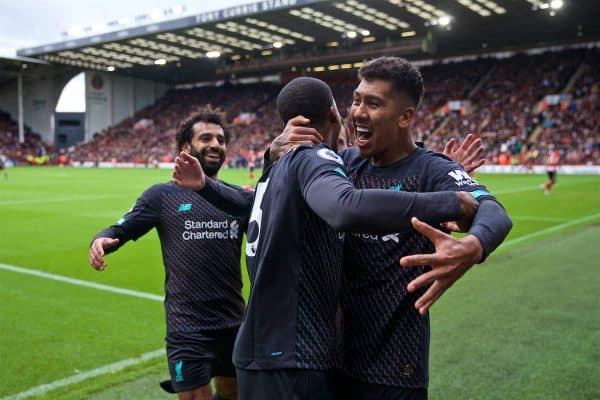 Jonathan: Ultimately the good from today was simply another three valuable points.
It's a victory that collects even more records for Klopp's team: 16th league win in a row, eight league away wins in succession and a seventh straight league win this season. I could go on and on.
You have to dig deep into the football cliches to describe the positives of today's victory. I'll save you the misery, but while it was far from a memorable game it was a vital win.
Not the type of victory you want every week, but one that is imperative occasionally over the course of the season.
An inaccurate accusation towards Klopp for some time was that his team could only play one way, had no plan B, etc. While the goal was very much of the fortunate type, Liverpool's performance improved immensely after both a personnel and tactical change.
The result aside, this was probably the most pleasing aspect of the game.
Oh, and that colossus at the back wasn't bad either! In a complete roll-up-your-sleeves display, it was no surprise that Joel Matip and Fabinho were instrumental in keeping our second clean sheet of in the league.

Steven: Our perseverance was our finest asset in this one.
To suggest we were 'in the zone' for much more than a 10-minute span from around the 70th minute would be taking the rise really.
We can't play perfectly in every game, so to walk away from Bramall Lane with three points is very grown-up of this team.
Adrian was strong once again while Andy Robertson showed his immense defensive talents.
Joanna: Seeing as you guys noted three of the back five, I'm going to have to firstly throw the colossus that is Virgil van Dijk into the mix for praise.
He was immovable with the ball on the ground and aerially, and to quote one of my favourite movies, he simply told the Blades "you shall not pass."
Sheffield United deserve credit for nullifying the Reds and they, and the Bramall Lane faithful, will certainly cause other teams a whole host of problems this season.
It was far from the prettiest win and one you would certainly not rush back to relive, but such is Liverpool's innate ability to win they refused to panic and as Steven noted, they kept chipping away with a mental fortitude which has become a hallmark for this side.
The bad…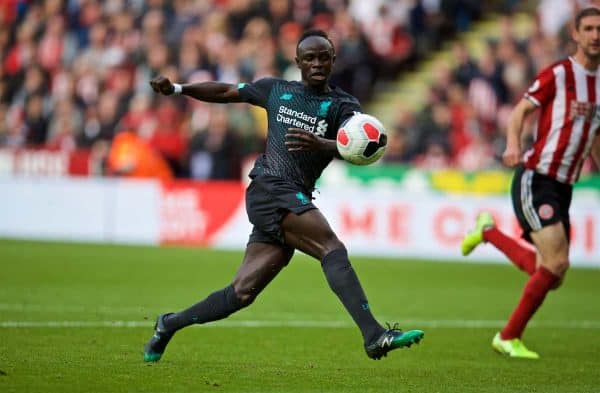 Jonathan: The Liverpool attack was unusually quiet today and struggled to get their usual stranglehold of the game.
In truth, the problems for me stemmed from a lack of attacking energy in midfield. With the way Sheffield United were set up pretty much man-marking our front three, the game was crying out for line-breaking attacking runs from midfield.
Unusually, both full-backs had off days as well which stifled Liverpool's attacking threat even further.
Special mention to the officials as well, for not awarding a stonewall penalty. How it wasn't given after a VAR check is beyond me!
Steven: We didn't play like a team that had been afforded a week's rest.
You can't go into a game like this one, against what will be highly organised and massively motivated opponents, in third gear, no matter how good a team you are.
Denied a shot on target until deep into the second half, we had a surprising lack of incision in the final third, while Sheffield United worked hard to restrict the amount of rampaging Trent Alexander-Arnold and Robertson were allowed to do.
We were undeniably profligate upon occasion: Sadio Mane—twice—and Mohamed Salah should have both found the net.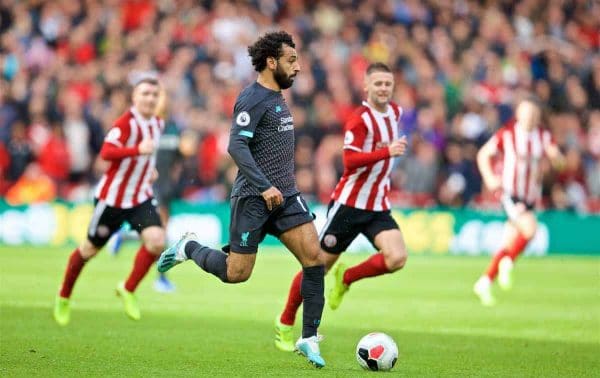 Joanna: Hard to disagree with anything that's already been said.
The industrious midfield of Jordan Henderson, Fabinho and Wijnaldum struggle to break the lines in games such as these, and it's not the first time we've had this issue.
With the front three not firing and putting away the few clear-cut chances we had, it compounds the issue as the onus was on them to create and convert as the midfield were unable to do so while the full-backs were largely stifled.
Away from the Reds, I was incensed at the referee's performance and the penalty decision aside, how can he deem it okay for an opposition player to stand significantly closer than the 10-yard limit to close down Trent's free-kick—and that's only one example from the game.
And should Klopp look to employ the 4-2-3-1 system more often, especially against the likes of Sheffield United?

Jonathan: Liverpool's performance definitely improved a lot after the tactical change. It asked Sheffield United backline more examining questions.
As I touched on earlier the existing setup pretty much allowed them to man-mark our front three.
Origi was very impressive after his introduction and his direct running from the left wing finally started to get their defence turned and facing their own goal. Bobby looked assured in a deeper role and you definitely felt a change in momentum of the game.
Looking forward, it a system which you feel will maximise Xherdan Shaqiri's qualities, particularly in games where we are chasing a winner against a deep-lying defence.
Steven: I think Liverpool should cut their formation cloth to suit themselves, rather than to combat the opposition.
Klopp will know the condition of his players, who is fit, who is in form and who isn't.
Compare and contrast these permutations to the opposition—are they on an upward curve or downward slide? And then settle on a formation that best suits the 11 players selected to play in a Liverpool shirt.
Every opponent and game is different and you can play two very different versions of the same team in one season.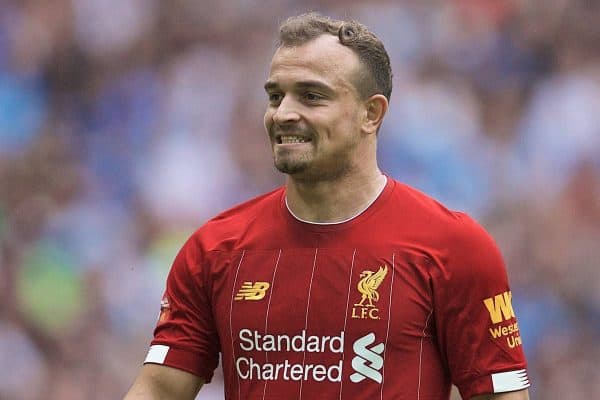 Joanna: For me, the change in systems should have come earlier than it did in this one as we simply were not asking enough of the Sheffield United defenders—playing in front of them and simply moving from side to side was far too easy.
I feel, especially, away from home against a well-drilled and organised team block, the system should be used more frequently than it currently is and, as Jonathan noted, it would also enable Shaqiri to be utilised effectively.
It provides a greater level of impetus moving forward and lends itself to posing a different question to the opposition as alternate angles in attack open up, as well as the opportunity to overload the defence.