Jurgen Klopp insists he has "pretty high" expectations for Alex Oxlade-Chamberlain, but conceded consistency can force him into his Liverpool XI.
Oxlade-Chamberlain scored twice on his return to the Champions League on Wednesday night, following an influential cameo at Man United the previous weekend.
A year-and-a-half on from his crippling knee injury in the 5-2 win over Roma in April 2018, there are signs that the No. 15 can recapture the form that made him a first-choice starter under Klopp.
Reflecting on Oxlade-Chamberlain's performances in recent games, the manager rejected the suggestion he has been given a selection "headache," simply having "more players to choose from."
"If good games of players would give me a headache, then my life would be really sad," he told reporters on Friday.
"It's just nice that now he had a big game in the United game, obviously, and a big impact now in that game as well. So that's how a player should act.
"I think it's no secret how much I like Oxlade as a person and as a player. But in the end, it's about being ready for the specific moments.
"The goals were incredible, absolutely incredible. The second one I didn't see one like this for a long, long, long, long time, if ever, because it really was a very special moment.
"The first one is then something that Ox is obviously able to do, the unexpected shot—unfortunately he doesn't shoot so often that it will always be unexpected!
"No it's good, no headache. Just a bigger selection, more players to choose from, that's what I do.
"We decided for that game because of fresh legs that we would try to find the best lineup for the Tottenham game as well, and of course the last game is always important information, but not the only one. So let's see."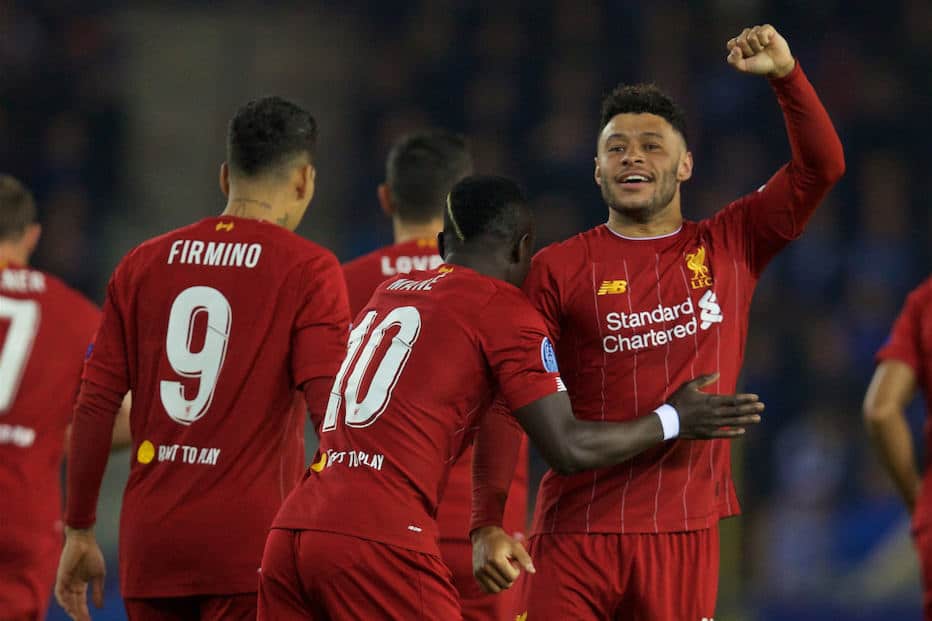 Klopp was clearly keeping his cards close regarding Oxlade-Chamberlain's place in the side on Sunday against Tottenham, a week after mind games from Ole Gunnar Solskjaer.
But if the 26-year-old does make the lineup, it would be only the second time he has made consecutive starts since returning from injury in April—and would mark another milestone.
"[It was a] very, very serious [injury], but he's now a long time back," Klopp continued.
"But the longer you are out, the longer you need to get back. That's the problem.
"In the best moment in your career, you don't think too much; you just do.
"It's not that it's always 'what do we have today?', blah blah blah, all that stuff, it's really about just feeling the game and doing the right stuff, using your skills.
"And that's a main thing you lose in rehab. You get fit again, but your flow and rhythm, that's not too easy.

"Sometimes, it happens coincidentally in a specific situation by scoring a goal, having a wonderful dribble, a sensational cross, whatever.
"But to be really reliable again, and that we can really rely on these things again, that needs time. That's why we never lost patience—why should we?
"For players it's more difficult not to lose patience in yourself, because you still remember what you could do but it's not so easy do it now.
"So it needs time, and now he made big steps in the last couple of weeks, really big steps.
"My expectations for Ox are pretty high, so I'm not too [impressed]—I'm impressed about the goals, but there is still more to come.
"That's how it is: he knows that, I know that, so all good."

Both Gini Wijnaldum and Jordan Henderson were rested in midweek, with Naby Keita also impressing as a start in Genk after he, Oxlade-Chamberlain and Adam Lallana came off the bench to turn the tide against United.
With those along with Fabinho and James Milner, Klopp considers himself to have seven strong options in the middle of the park, and explained that he plans to tailor these to the specific challenge.
"It depends on the game we play, it depends on the situation they are in, it depends on the sessions they have, how they show up, stuff like that," he said.
"There are plenty of reasons in how I make decisions.
"That's it, but it was really nice see against United how well they did, and how big the impact was in this specific game.
"That was one of the reasons why we thought 'yes Genk, we will have similar situations, so we should try exactly that'.

"Hendo and Gini are obviously two of the players who play most, played both games for Holland, both for England [in the international break], so it was clear that they needed the break.
"All the players can only play their best football when they are kind of fresh, and that was now the perfect moment for Hendo and Gini to rest.
"Now we will see how we line up against Tottenham. There's not a 'perfect' lineup, there's only the best possible for us, and then we still in the good situation you have the opportunity to make decisive changes if possible.
"That was, [at] United, really important, and I think a lot of subs we brought on [this season] had an impact.
"That's really massive for us, and it's a big key to being kind of successful, because otherwise we don't have chance. So I was really pleased.
"For Adam, it was so close to start [at Genk] as well; he didn't play at all, that's how life is sometimes.

"But we respect these kinds of signs, of course. If you show up like this in training it's important, but if you can turn up like this in a game, then it makes it more likely.
"Because then you are just in a different part of the brain of the manager, that's how it is.
"If everything is working well with the first XI, it's not that you then constantly [think] 'now we can bring him in'. But if they show up like this it really changes the world for the players."