Liverpool threw away a three-goal lead at Anfield against Salzburg—but fought back to win the match 4-3 in a crazy Champions League encounter.
Liverpool 4-3 Salzburg
Champions League Group Stage (2), Anfield
October 2, 2019
Goals: Mane 9′, Robertson 25′, Salah 36′, 69′; Hwang 39′, Minamino 56′, Haaland 60′
---
Magnificent, Marauding Full-Backs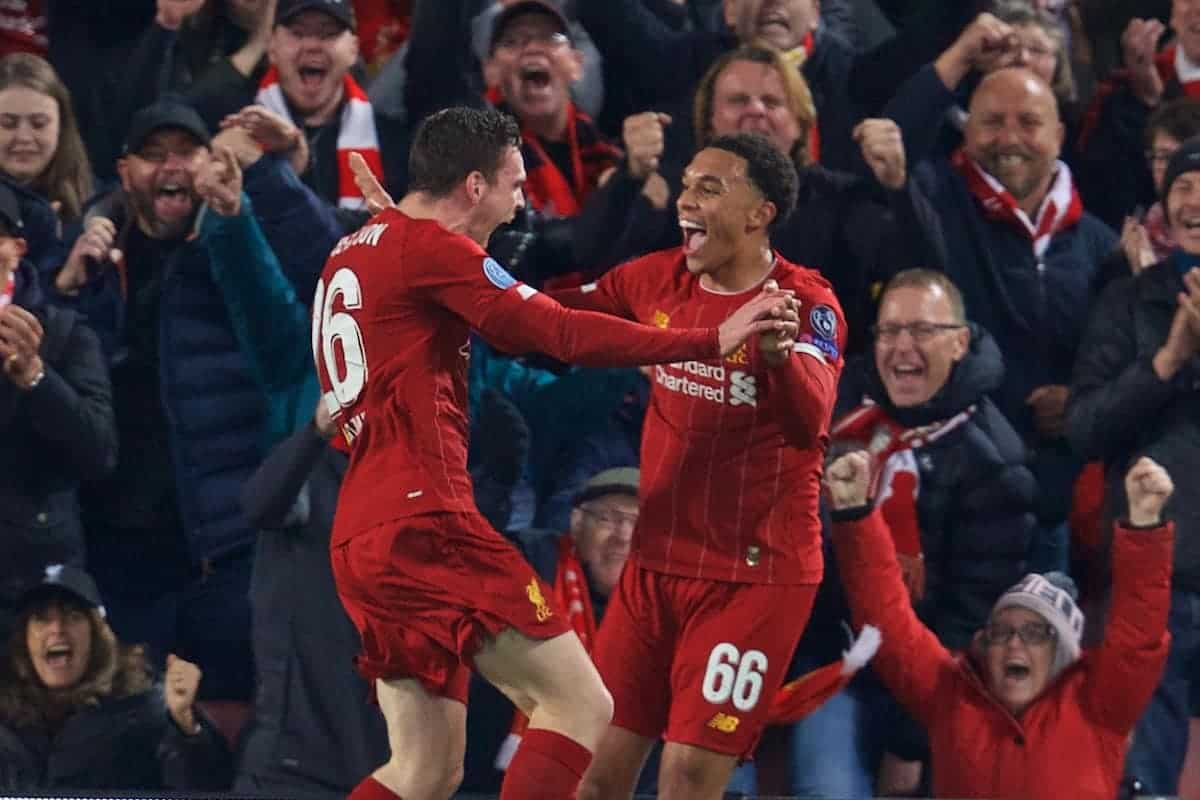 So key to our play, so good with their delivery—and both among the goals in recent games now, too.
Andy Robertson finished like a 30-a-season striker, opening his body to sidefoot home after running across the defender, but he started the move as much as he finished it.
Those powerful surges into space help Liverpool open teams up on a regular basis, and the fact it was one full-back to another for this goal was symbolic (as well as a literal example) of their twin threat down the flanks.
From a defensive perspective, it was good to see both Robertson and Alexander-Arnold looking solid the majority of the time, though a few lofted, switched passes caused problems for the Reds—as that tactic has done all season, in truth.
Good Gomez Return to Action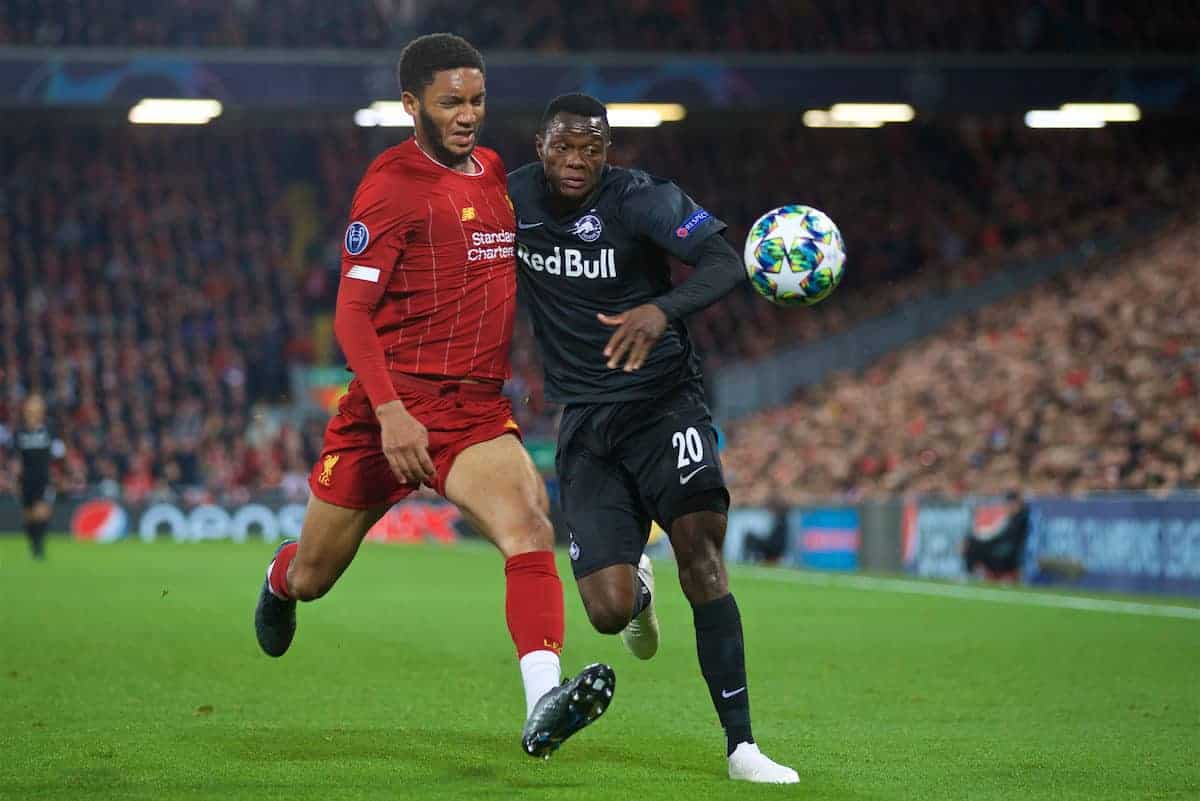 A few nice recoveries, some strong one-on-one situations and mostly good use of the ball.
Joe Gomez, recalled for his second appearance in a week after playing second-fiddle to Joel Matip for most of the season, did well on his first return to action against, with respect to MK Dons, a decent attack.
It wasn't a perfect outing, with a few moments of rustiness on show and one or two instances where he stepped up while others dropped deep. Those occasions are to be expected after so long on the bench.
Those aside, though, he was pretty much excellent for 50-odd minutes.
More than once he covered for an unusually floundering Virgil van Dijk, while his pace saw him get back for at least three challenges which otherwise might have resulted in a goal.
Salzburg's comeback early in the second half, though, saw him beaten a couple of times and completely lose his runner for the equaliser: a sharp reminder of the difference between great and costly in such a vital position.
Throwing Away Three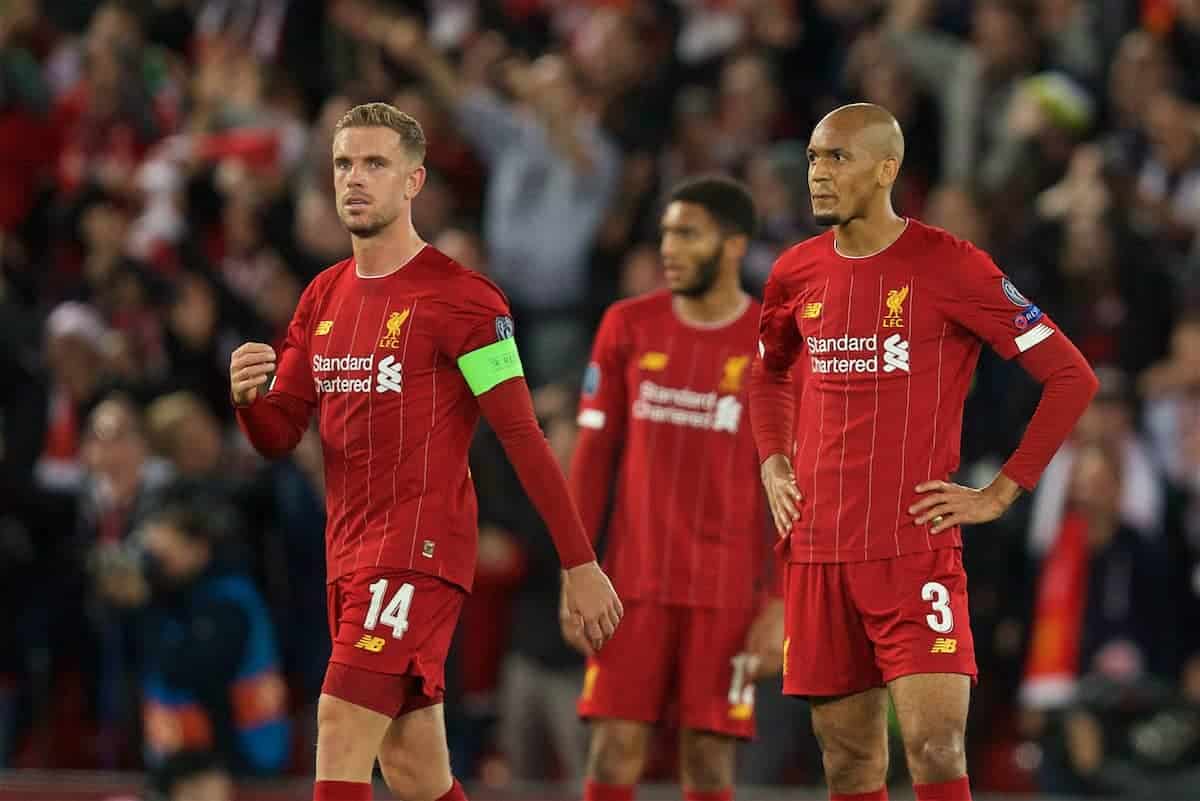 A little over half an hour into the game the plaudits were flowing, the Kop was settled in for an evening of low-key entertainment and no doubt plenty of headlines were already being written.
By the hour mark, everything had changed, as Salzburg had clawed themselves back into the game—though that makes it sound as though they had to scrap, fight and furiously battle for every inch of their lives in the contest.
They didn't, really; from Adrian's slack work on a clearance being closed down to missed tackles in midfield, the Reds gifted Salzburg way too many openings.
Jordan Henderson's absurd attempts to dribble down the wing didn't just lose possession, it left the Reds entirely open down the channel, and the captain was similarly loose on the ball and out of place in subsequent Salzburg attacks.
As noted above, Gomez could have prevented the third, but really this was a team-wide malaise that lasted about 25 minutes either side of the break.
Credit, this time, to Jurgen Klopp, who acted quickly with his substitutions on this occasion to remove the two biggest culprits in Henderson and Gini Wijnaldum, to turn the tide back in the Reds' favour.
Return to Form for Front Three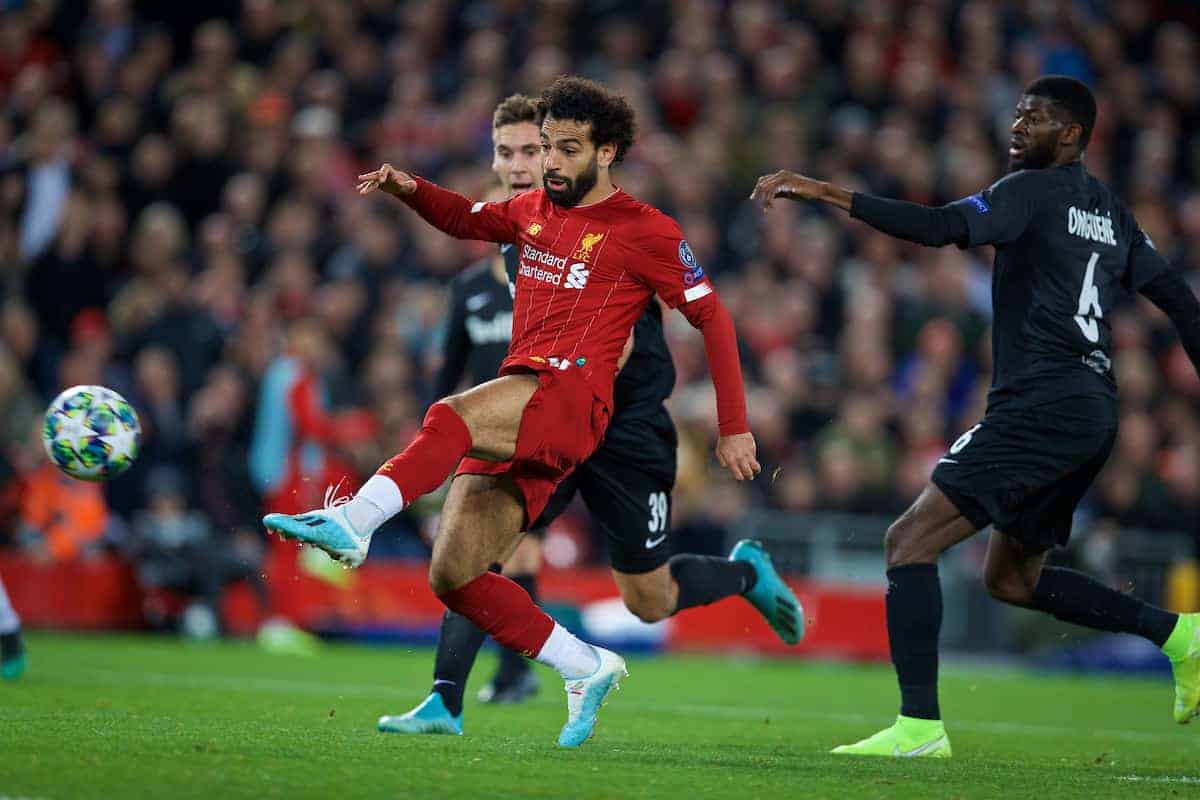 Goal for Mane, two goals for Salah, two assists for Firmino. And even a good cameo from Origi, a second in as many games.
After a few matches in succession where the front line had been well below-par, it was pleasing to see the trio functioning in tandem, working hard to create space and chances for each other—and, most importantly, taking them.
It could have been more: Mane missed a header from two yards out, Firmino was blocked a few times and Salah sent a fizzing shot just wide in the first half.
But let's not get greedy; we shouldn't need four goals to win, that's not the habit we're accustomed to seeing under this Klopp side.
The Reds will need to be better in one half of the pitch at the weekend, but a repeat performance of this attacking display would be extremely welcome.
Another Home Game Before a Chance to Reassess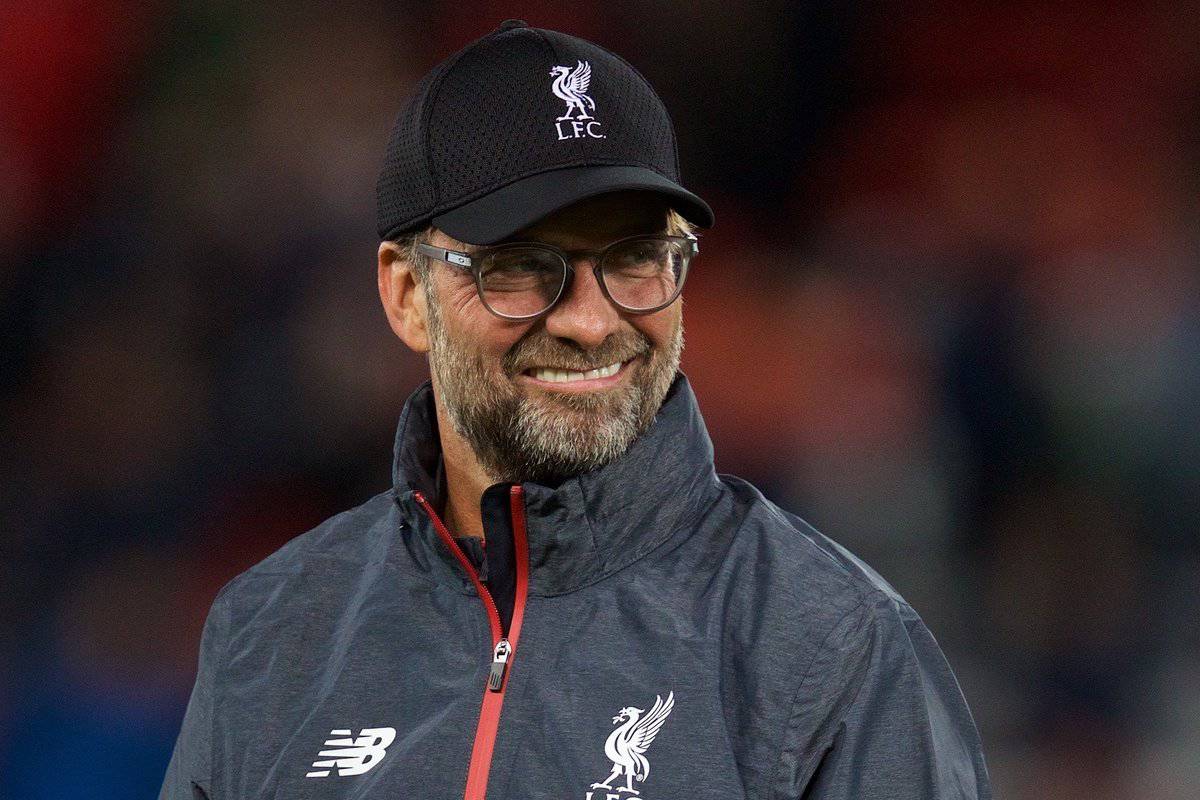 Leicester it is next, then, with the Premier League's current third-placed side visiting Anfield on Saturday afternoon.
Following that, it's another international break, making it doubly important that the Reds take another three points.
After such a long winning run, it would be dreadful to have to wait two weeks after finally falling short.
Back-to-back games against Genk lie ahead in the Champions League, away then home, and with the first three points of the group on the board now there will be optimism that the Reds can take big steps toward qualification very quickly once we return from the upcoming break.
We go again first, though, and hope that the current Liverpool manager gets the better of the last one.