Liverpool have six games in 16 days, in three different competitions, on their return to action after this latest international break. The squad will be required.
Though it received little attention on Merseyside anyway, the international break has drawn to a close. Now the nerves may resume.
Back to business. And it's business like never before for Liverpool.
While last season the Reds were forced to wait for a gap to open, as an irrepressible Man City juggernaut thudded on, now things are much different.
Eight points the margin. Eight. While anything can happen in a season of Premier League football, eight is quite a margin.
Margins, of course, now become the most important of things. Fine margins, little margin for error, no margin for defeat. Margins left, right and centre.
And so now the Reds return to domestic affairs with a testing stretch of fixtures, including league responsibilities along with cup and European commitments. The next five Premier League contests: Man United (A), Tottenham (H), Aston Villa (A), Man City (H), Crystal Palace (A).
Tweaks, alterations and amendments can be expected. Whether immediate, or carefully drawn out, here we take a look at what the coming weeks may hold.
Midfield sequencing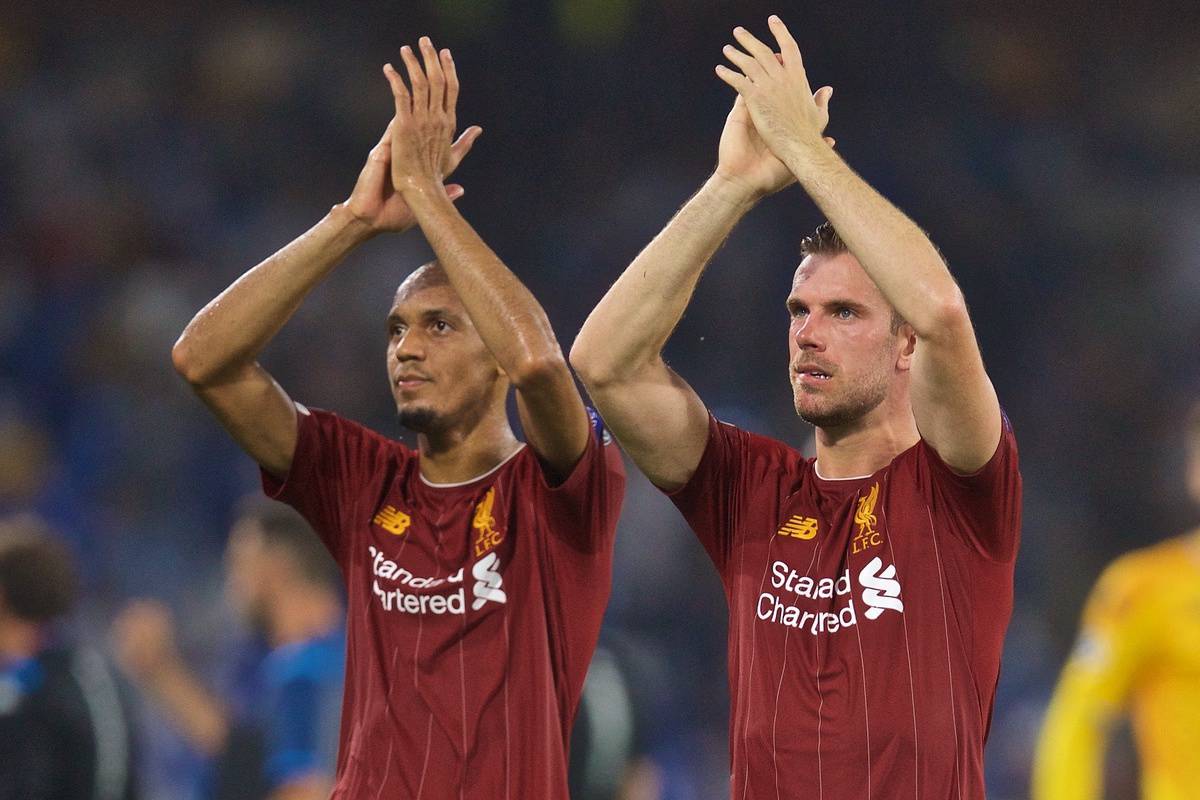 Any squad going for the ultimate honour must be stocked with variety and surplus, and Jurgen Klopp's side finally boast exactly that.
Gone are the days where Liverpool are simply pigeon-holed into being a side knowing only one way. The calvary can now be called, providing a welcome relief at a pivotal time of the campaign. Titles cannot be won in the run-up to Christmas, but they can certainly be lost.
Last season, Liverpool were shackled by a number of football's many realities. One of them being injury, another being transition.
Entering the winter months, Klopp found himself playing a game of patience with the adaption of Fabinho, while regularly reporting to club medics to check on the recovery status of an unfortunate Naby Keita.
As the Brazilian knuckled down to work out the rigours of the Premier League, his fellow summer arrival was fast learning the stresses which the English game can bring to the body. Alex Oxlade-Chamberlain, meanwhile, faced a long and dark road of rehabilitation.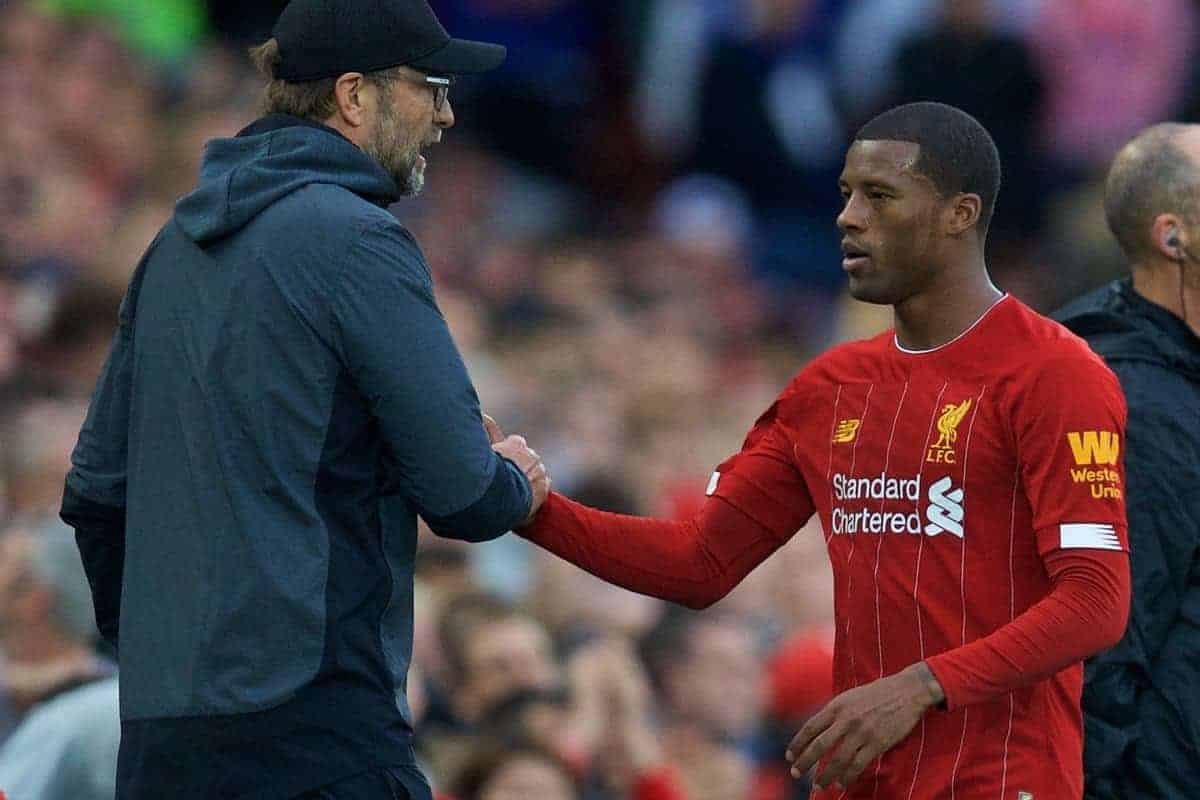 Jordan Henderson, Gini Wijnaldum and James Milner became ever-presents, getting a worrying amount of football in their legs during an action-packed run.
This time around, things are much different. Fabinho's cocooning process worked so well he's blossomed into one of, if not the, finest defensive midfielders in the division. Most importantly, the Reds return to domestic duty with a fully fit midfield, and expect it soon to be utilsed.
Though Klopp's current favoured midfield trio of Fabinho, Henderson and Wijnaldum could remain for the trip to Old Trafford, clashes against an uncertain Tottenham and newly promoted Aston Villa may bring about alterations.
The return of Keita appears imminent, given the additional hours of fitness work the Guinean has been putting in at the Reds' Melwood base. Sandwiched either side of the Spurs and Villa games, a League Cup clash with Arsenal and a European away trip to Genk means the midfield sequence needs to remain fresh.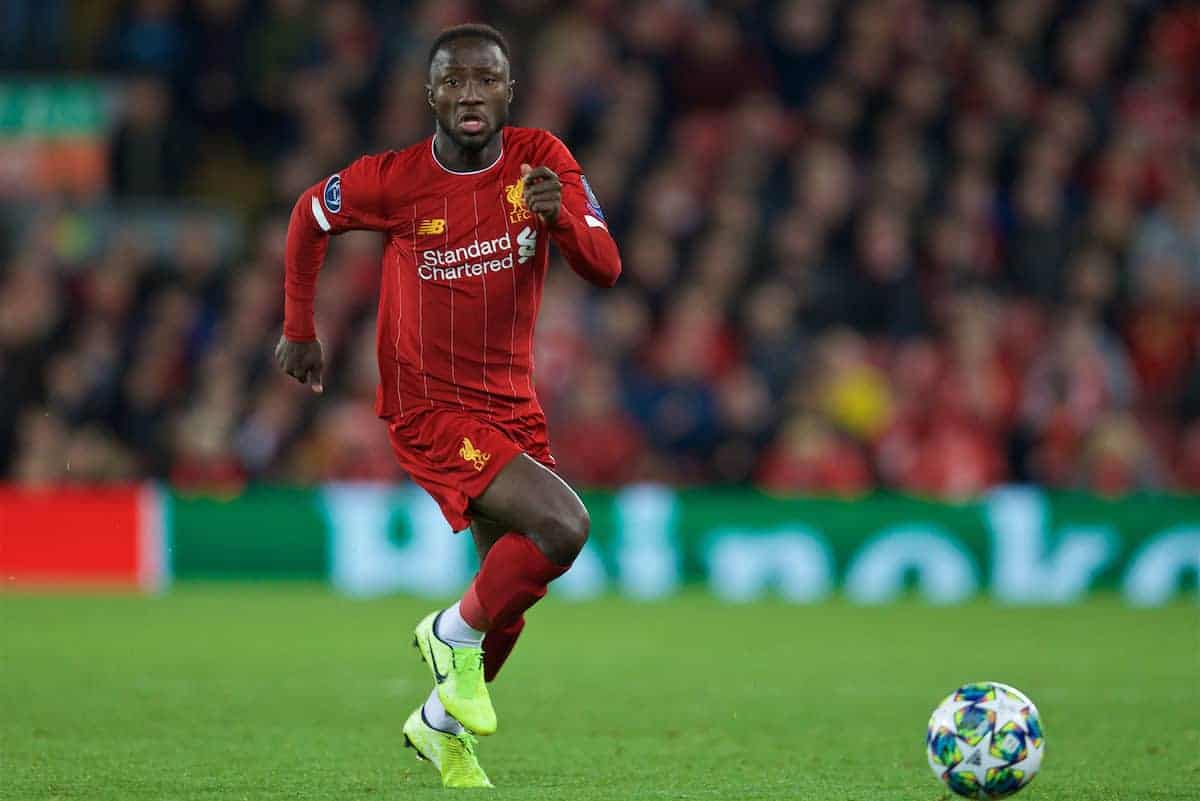 While it is likely to be business as usual in Manchester on Sunday, the introduction of Keita and/or Oxlade-Chamberlain for the visit of a porous and confidence-shorn Spurs will provide Liverpool with additional verve and movement between the lines.
The fixture list here provides the option for Klopp to alter the midfield for the cup game against the Gunners, before keeping some of the tweaks in place for both Spurs and Villa. This opportunity to hand out an element of consistency to players coming back into the side rarely occurs, but the Reds have the depth to take full advantage.
Possession retention, as always, will be the holy grail for Klopp's men. However, how they go about achieving this leads us nicely into a second point of change.
Defensive transitions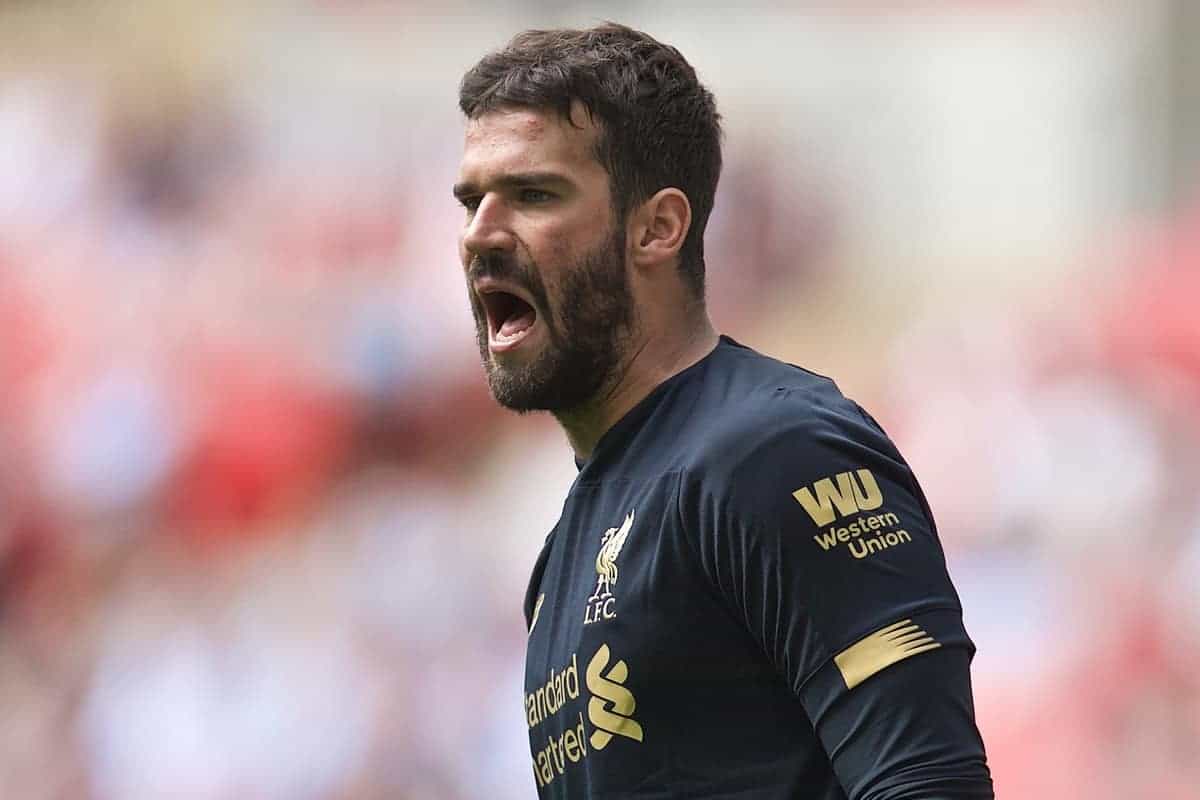 He's back, alas. The man with the beautiful beard and twinkly eyes. You don't know what you've got until it's gone, and it's fair to say Liverpool have missed Alisson Becker.
Not to do Adrian a disservice, at all.
The Spanish stopper literally could not have achieved a better run of results, playing a pivotal role in the Reds continuing their 100 per cent start to the campaign.
When the pressure was on, Adrian delivered. He deserves endless praise, it goes without question. However, stylistically, the change in flow with the omission of Alisson was all too apparent.
It's testament to how good a goalkeeper is when they're withdrawn from the team and their absence is felt, even when the wins are still pouring in. This is simply down to the Brazilian being completely different from Adrian and, quite frankly, completely different than any stopper the Reds have had for many years.
Matchgoers may have noticed, during Adrian's spell in goal, a constant dialogue between Virgil van Dijk and the Spaniard. With Liverpool's defensive line playing a notch higher this season, by choice, a larger than usual gap had sprung between the man between the sticks and his closest protectors.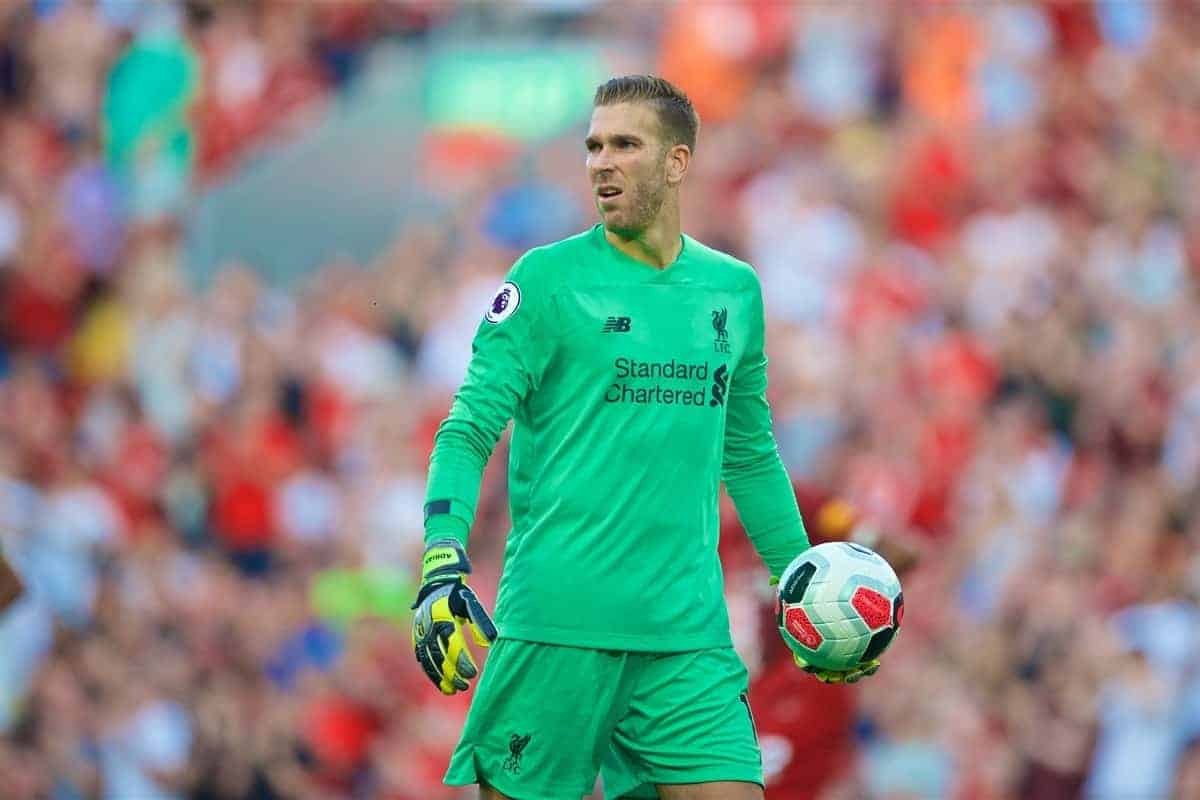 Numerous occasions in recent weeks have seen Van Dijk allow the ball to run behind, expecting Adrian's presence, only to double-take. It has never been prominent enough to lead to error, or even concern, but it shows how the muscle memory of a solid defence sets in.
The Reds boasted the best back-line in the country last season, and Alisson was the bedrock of that. A clearance from a "sweeper position" was provided in almost one in every two games by the Brazilian last season, according to official Premier League statistics.
While the Reds haven't exactly reverted to route one clearances with Adrian, the strengths of the former West Ham man have been played to, and rightly so.
Liverpool have benefitted, of course, as seen with Sadio Mane's recent finish against Leicester. Quickly out from the 'keeper, James Milner exchanged the ball at the full-back before slicing the Foxes' defence apart with a measured pass.
With Alisson back, however, Liverpool will again emerge as an entire team playing all but on the half-way line. Expect build-ups from the back to become more measured, with increases of touches which, in turn, unlock spaces high up and wide for advancing full-backs. The clean sheets, likewise, will be a welcome return.
Only Ederson took more touches in and around his area than Alisson last season, This time around, Brazil's official No. 1 has some catching up to do.
Brewster's big chance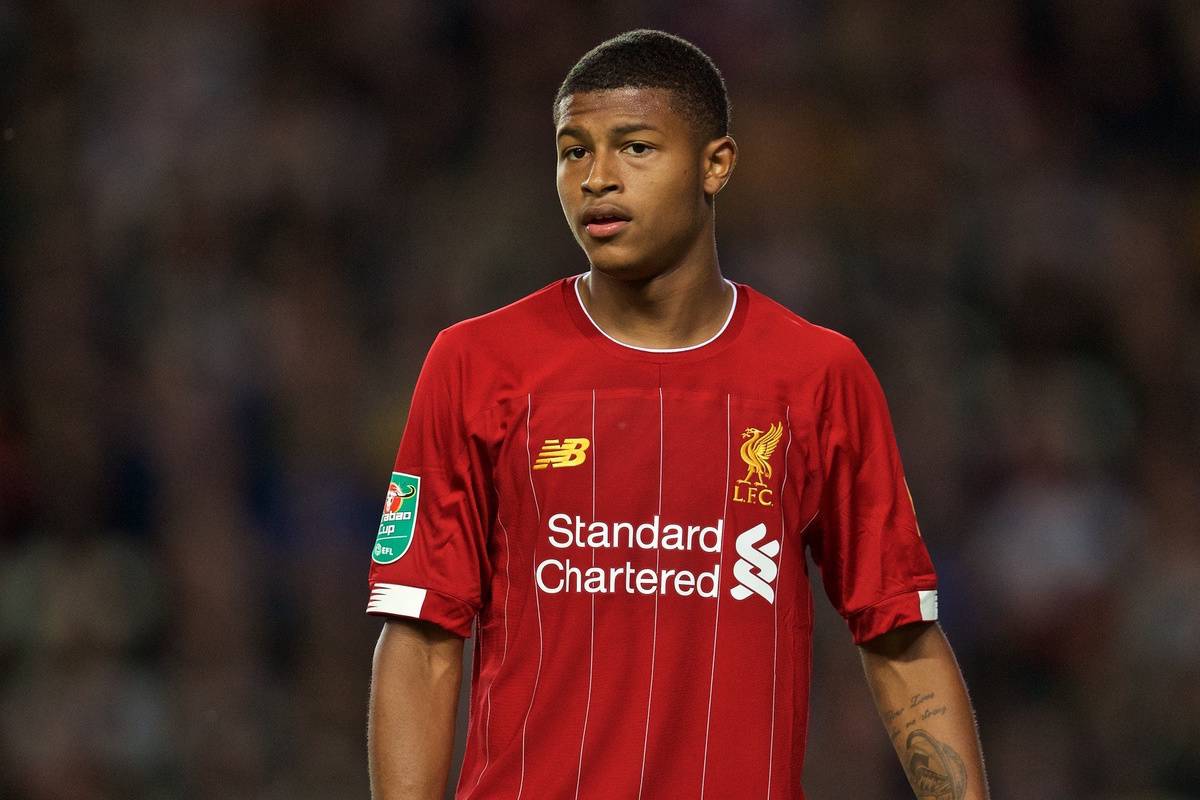 At the end of last season, many fans expected Rhian Brewster to make his grand entrance against Barcelona in the Champions League. The tie was all but over, wasn't it?
Thankfully, the outcome of that glorious night needs no explaining. Unfortunately for Brewster, however, the wait goes on for meaningful match experience.
Frighteningly talented and highly rated by Klopp, the 19-year-old knows his time is coming. As with the midfield shuffling, Brewster is tipped to be handed his chance against Arsenal in the cup, as it was against MK Dons.
More an audition than an opportunity, the youngster is set to be trusted as an impact sub in Premier League matches as the season reaches its most congested stage thereafter.
So far, Klopp has stuck with Madrid hero Divock Origi as his difference-maker. This works, as the Belgian has showed maturity and a whole new level of composure. Most importantly, however, is his willingness to do the business out wide.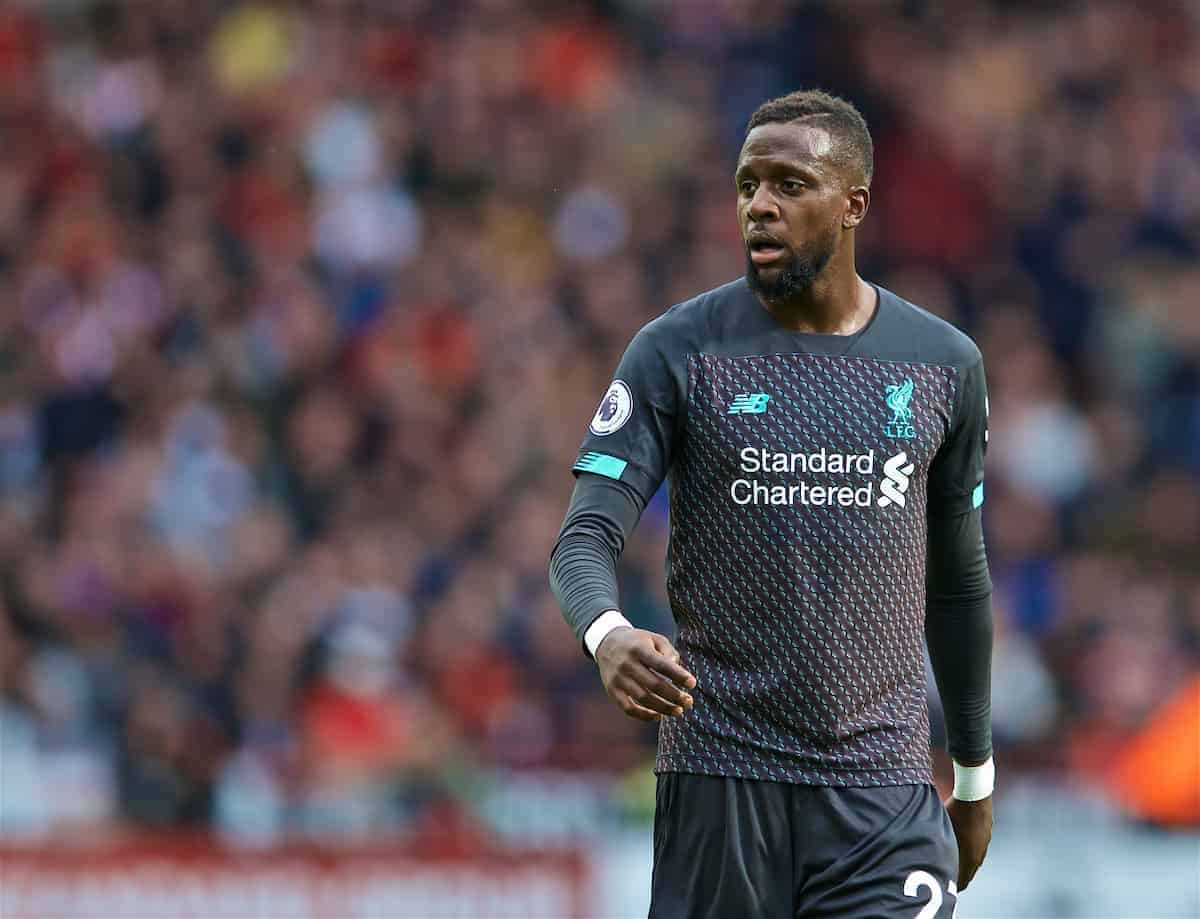 Because of this, Klopp is yet to be placed in a position to put on a like-for-like switch with Roberto Firmino. Should the Brazilian tire, Mohamed Salah moves central and Origi enters the fray. A rinse and repeat strategy is also possible with Sadio Mane.
Once legs get heavy and winter winds bite with a vengeance, each man must be replaceable without too much alteration to a well-oiled system. This is where Brewster comes into play.
Right now, every training session, every bench-warming episode, is all a learning process for what is to come. The Reds did not buy a striker in the summer, and they did so for good reason. Brewster is Klopp's man and the big German fully intends to give him a fair crack of the whip.
While the lengthy bedding-in processes of Andy Robertson, Oxlade-Chamberlain or Fabinho were overtly apparent because they were new signings, Brewster is going through one of his own. The next couple of months are likely to be the biggest of the youngster's career.
It's a case of one step at a time now for the reigning European champions. Come through these next five unscathed, however, and some really exciting questions will begin getting asked.