Chris McLoughlin is a senior writer for the Liverpool matchday programme and official magazine; a lifelong Red with a story or two to tell!
We've gone all Michael Aspel to share with you stories from colourful Liverpool supporters' lives.
First up in the hot seat is Liverpool journalist and This Is Anfield contributor Chris McLoughlin.
---
I started supporting Liverpool because…
Like most kids brought up on Merseyside, I come from a split football family – Red on my mum's side, blue on my dad's.
My granddad, a Red, used to stand on the Kop. But so did my dad, a Blue, on Merseyside derby day.
I could've easily gone either way, but what tipped the balance in Liverpool's favour was a 2-0 Anfield defeat to Sheffield Wednesday in 1984, a month before my seventh birthday. Yes, a defeat.
Early in the first half Bruce Grobbelaar, wearing a red cap, came flying out of his goal to make a clearance but only passed the ball to Imre Varadi, who slotted it into the empty net from an acute outside the box.
Brucie was at fault for the second goal too, but the six-year-old me was fascinated at this crazy keeper running out of his penalty area. From that day on I wanted to be a goalie, I wanted to be Bruce Grobbelaar and I was only ever going to be red.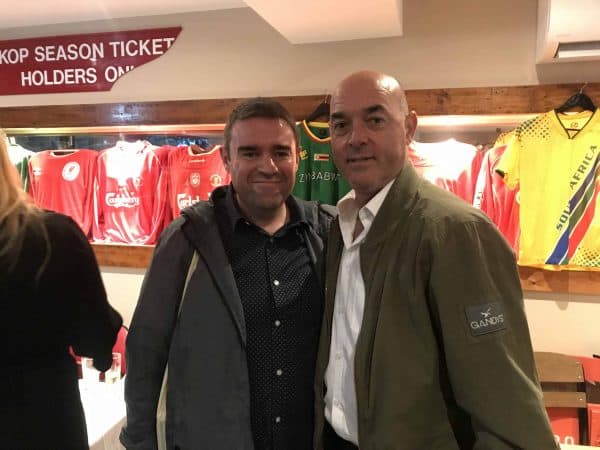 My first game was…
Liverpool 2 Newcastle United 0 in January 1987
Paul Walsh scored the first goal I ever saw at Anfield – although he couldn't have been less arsed when I mentioned this to him during his autobiography launch a few years back – and Ian Rush the second.
After years of mithering my dad was finally persuaded to take myself and my younger brother to a game at Anfield, but only if we agreed to also attend a game at Goodison Park later that season.
He was still hoping to turn us blue, but after going to Anfield once I was hooked. We were in the Annie Road end, on the side the away fans now use, in the colourful seats that used to be there. I can vividly remember the green turf, the red nets, the awesome size of the Spion Kop at the other end and the distinctive colours of Liverpool in red, Newcastle in black and white. A 2-0 win made the day even better.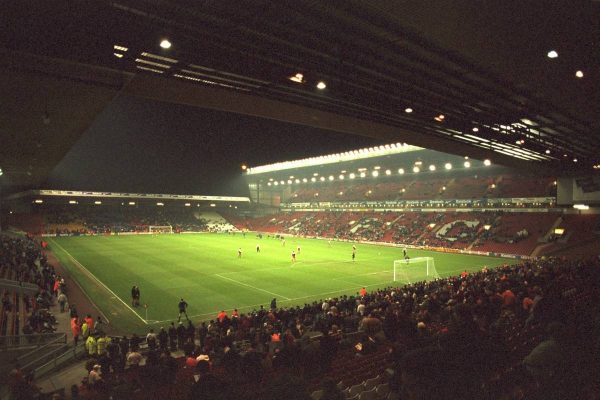 Later that season my dad did take us to Goodison to see Everton beat West Ham 4-0, but it was a major parenting error. At full-time it was announced that Liverpool had lost 2-1 at Norwich – a big result in the title race. The Everton fans celebrated wildly, I felt gutted. I wasn't going back there again.
Even though the Blues went on to win the league that season (honestly!), picking Liverpool over Everton will forever be the best decision of my life.
My favourite season supporting the Reds was…
My first full season as a match-going red was 1987/88. I saw Liverpool win the league playing a style of thrilling football not matched until now. Barnes, Beardsley, Aldridge, McMahon, Houghton, Nicol, Hansen – gives me goosebumps thinking about it.
I was 10-years-old at the time, though, and it's easy to get misty-eyed about that 'Better than the Brazilians' side so I'm going to say that last season, 2018/19, was the best of my Liverpool supporting life.
Yes, we didn't win the league, but 97 points and only one defeat was exceptional. And then there was winning the Champions League. Being in Madrid was truly fantastic, but I was lucky enough to have been in Istanbul too and that night can surely never be surpassed.
However, I can honestly say Liverpool 4 Barcelona 0 was THE best night I've ever had at Anfield. For that to lead to us becoming Champions of Europe again makes 2018/19 my favourite season. So far…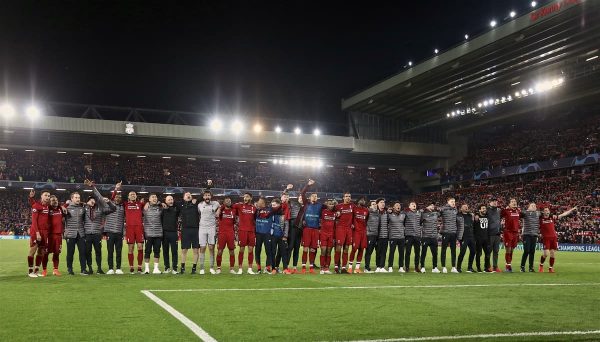 Nowadays, I follow the club…
I've had my season ticket since in the Paddock, now the Main Stand lower, since 1993, but for the last 19 years I've also been covering LFC as a journalist.
I spent two years on the Liverpool ECHO, writing the Football Echo match reports from 2000-2002, wrote and edited The Kop Magazine for 15 years and have written for the official matchday programme, the old LFC weekly magazine and current monthly magazine since 2002.
I've done a fair few books too. So I follow the club both as a profession and as a passion, something I never take for granted.
Liverpool is a unique club because of…
Liverpool supporters. No explanation needed because if you're reading this you are one.
My best story involving the Reds is…
I've probably got enough to write a book some day, but I was partly responsible for injuring Didi Hamann in early 2001.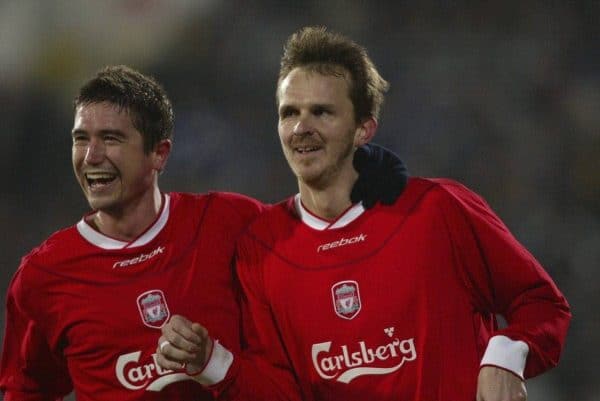 I'd been at the (sadly missed) Liverpool Echo Sports Personality of the Year do at the old Moat House Hotel and, long story short, ended up in The Grafton afterwards with work colleagues plus Didi, Jamie Carragher and Stephane Henchoz.
We were all dressed in dinner jackets and it was a free bar. Carnage ensued. At one point Didi ended up on the stage throwing out a few shapes. I'm not sure why this seemed a good idea at the time, but I offered to attempt to catch him on my back if he took a running jump off the stage. Didi, being Didi, did exactly that, landed on my back and sent us both crashing to the dancefloor. He picked me back up seconds later while Carra stood there pissing himself laughing.
Anyhow, that was a Monday night and a few days later it emerged in the Liverpool Echo that Hamann had missed training and been ruled out of Liverpool's next game with 'a knock'. How he got that knock wasn't mentioned, funnily enough…
I once met…
Rafa Benitez in a lift.
It was at the Reebok Stadium, Bolton, after a 1-0 defeat shortly after his appointment in 2004, and he was really, really, really pissed off with Mark Clattenburg. Welcome to England, Rafa.
I got involved with This Is Anfield…
in 2015 after The Kop Magazine closed down, for two reasons. The first was because I was asked to as my, er, opinionated style of writing adds something different to the variety of excellent content on the site.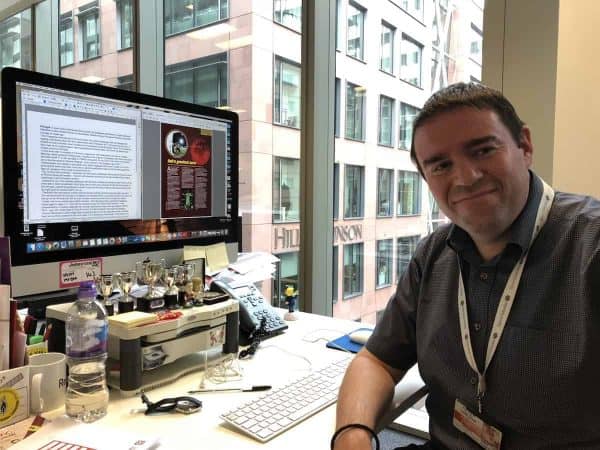 And secondly, because if I don't promote the Reach Sport products I work on and nobody buys them, I won't have a job. People assume matchday programmes will always exist – they won't if they don't pay their way. * cough * …
If I could have dinner with three people from Liverpool's history I'd choose…
Bill Shankly, Bob Paisley and Joe Fagan.
I never met any of them, but the thought of sitting around a table and just listening to Shankly, Paisley and Fagan talk football is beyond comprehension.
Plus Shanks would make us eat steak and the three of them would have plenty of Bell's Scotch Whisky to go round given how many giant bottles of the stuff they won back in the day.
---
* Thanks to Chris for sharing his 'Liverpool life' – look out for more from this series on This Is Anfield. Follow Chris on Twitter @thekopmagazine.