In the modern age everyone is an expert on issues such as team selection and formations but we don't always have the full story such are the complexities and intricacies of team management.
Let's start with a simple statement. Football is a team game dependent on collective responsibilities.
Now we're safely on the same side, I'll tiptoe warily towards more controversial territory.
Assessing performances in isolation is a near pointless exercise. As futile as lauding individuals with awards in a sport where, thankfully, splendid isolation will never thrive.
I lost you with that suggestion, didn't I? Still a few there at the back?
Ah, you're only hanging around to add abusive comments at the end. I'll press on in the hope that my efforts, while less forceful, prove persuasive akin to Tommy Shelby with an icy, blue-eyed stare and Newsboy cap in hand.
This isn't quite a rant but does partially derive from the exhausting, near-weekly debates over which one of Liverpool's magnificent forward troika is more important. Or why Klopp persists with certain players when there are, seemingly, superior options only a bank transaction away from the Melwood lean.
A riddle, wrapped in a mystery, inside an enigma

Ignore the adage that football is a simple game. Like most of life, it's deceptively complex. That complexity is built in from the moment you have a dependency on the most complicated of systems.
People.
We remain a highly unpredictable, inconsistent and difficult species to corral, cajole and control in any meaningful manner.
Consider the cocktail in question. A squad of players varying in age, nationality, culture, language and ability on the pitch, playing to the instructions of a coaching team that may or may not want them now or in the near future.
The players' commitment ranking on a phlegm fuelled scale, El Hadji Diouf to Jamie Carragher, according to ambition; profile; health; domestic serenity and the darkest of malevolent influences otherwise known as agents. Then there are the intangibles of form, confidence and that most elusive ingredient of good old fashioned luck.
The coaches have to consider team shape, style, strategy, performances in training and how all of this translates into individual and group match ups on the pitch. Each and every strength or weakness considered as part of a coherent battle plan for 'When Saturday Comes'.
And not one aspect of this is ever fixed in time. Even the fortunes of the club are, invariably, in a state of flux.
The vibrant, resplendent red kits; the sumptuous emerald grass of Anfield and the cacophony of noise cascading down the stands from a fervent, febrile support are the closest we see to constants.
Behind the Iron Curtain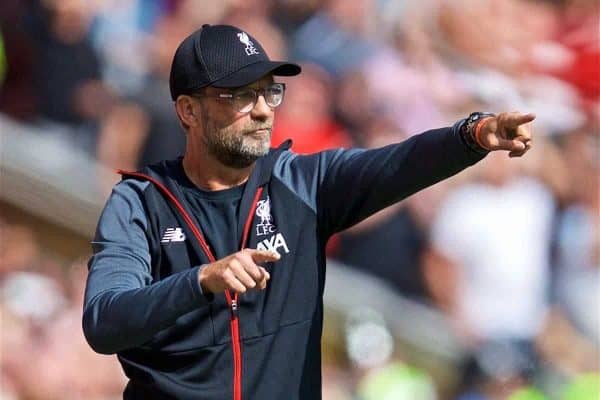 So, there are layers of intricacy to the game but it's equally reasonable to acknowledge fans have access to more information in this era.
Every hour of every day there is a relentless stream of online content, data and in-depth analysis literally at our fingertips.
Open access on a scale no other generation has previously enjoyed, and if you so desire you could realistically watch a game every day of the week when not being cruelly tortured by international breaks – which I'm currently ranking as worse than getting your eyebrows violently plucked by an alarmingly feral girlfriend – not that I've ever experienced such a scenario…
It's also impossible to ignore the seismic influence of the gaming industry; FIFA, Pro Evolution, Football Manager and a host of challengers haven't appeared overnight to warp young peoples' perceptions. They've been an invasive, integral part of our culture for over 30 years.
These games are as likely to have impacted your thoughts, to an extent, as much as any kid armed with a Twitter account in 2019. They simply have less experience to counter their virtual learnings.
We all have our own ideas on the game and how a team should be structured. Whether through playing, coaching or watching a lifetime of matches, it's ok to have a view.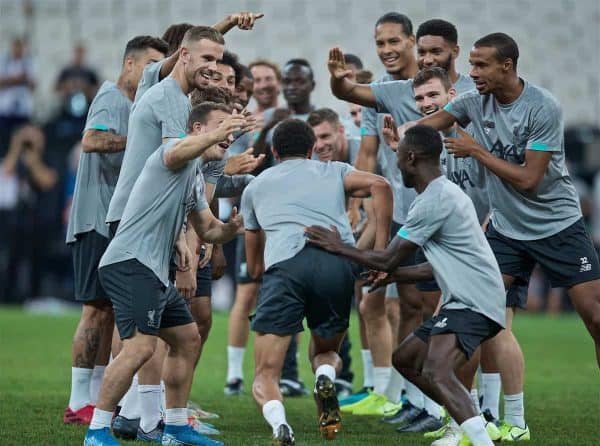 Armed with these tools, it's easy to pick holes in the decisions and performance of clubs, directors of football and, that perennial favourite target, managers. We're all guilty of second-guessing decisions despite not being privy to some of the most critical data.
For the most part, fans and, to a lesser extent, the media don't have every critical insight.
Relationships within the squad; personalities and character; how players perform in training; what's been tried and failed; what's been tried and worked; which players interact most effectively to form a strong unit; are players inhibited by injury, instructions or lack of aptitude. What about the players' mental state and personal circumstances?
The litany of unknowns is endless.
One undeniable fact is the coaching staff have more knowledge than anyone else specific to their squads. Add to this their own experience, qualifications and talents then it seems reasonable to suggest they're better placed to decide how to shape their side.
Granted there's a counter-argument that this closeness could, on occasion, cloud judgement at times.
Boss I can't make training today, my boiler's getting serviced!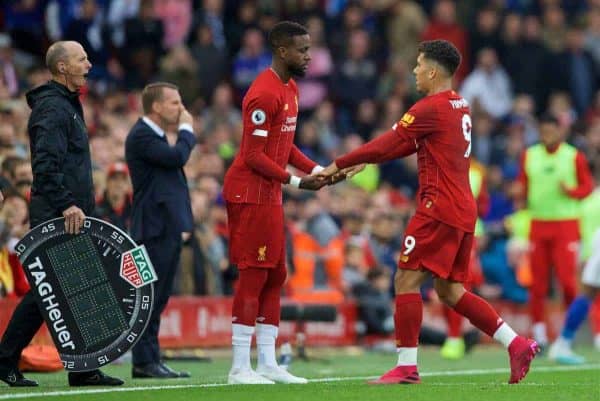 Tactics, team selection and dissecting the best way to beat the opposition keeps us enthralled. On loop, week after week.
Why didn't Klopp bring on Shaqiri? There's no creativity in that midfield, what was he thinking? Why is Henderson still captain? What's wrong with the Reds' defence (genuine segment on Sky last week despite them having the lowest goals against in the league so far)? Is a 'Condiment Station' a step too far in the gentrification of football!?
Yet we're asking questions we can never truly have the answers too. It's a guessing game. Up there with trying to understand Danny Mills' policy on headwear indoors.
One definition states management is 'the process of dealing with or controlling things or people'.
We, as fans, consistently overlook or fail to sufficiently acknowledge the reality of managing real people with real-world problems in the context of football.
It does a disservice to the remarkable work good coaches undertake each day managing not only the talents, tactics, personalities and aspirations of elite athletes but also the most mundane issues life throws up: school runs, illness, issues at home, bad attitudes, disagreements, dentist appointments (again Bobby, really?!) and every other inherently dull duty you can imagine.
All done under intense scrutiny with the quirky contradiction that nobody is interested in how personal lives can impact professional performance unless "it's……….Rebekah Vardy's account."
A Cruyff Turn…of Phrase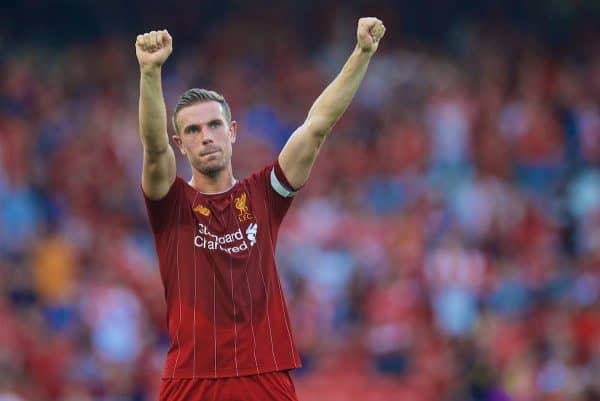 Johan Cruyff wasn't exactly shy with an opinion and equally wasn't averse to questionable comments. That said, he was wonderfully quotable.
"Choose the best player for every position and you'll end up not with a strong eleven but with eleven strong ones."
Too often our focus is on throwing the best eleven players onto the field rather than the most effective units. It's the fuel for so many of 'player X (normally Henderson) isn't good enough' debates. These arguments very rarely factor in what players bring to the team, instead solely considering deficiencies.
Furthermore, it doesn't allow for the evolution of a squad and player development.
Liverpool's various midfield combinations perfectly illustrate the point. The common criticism is that they don't provide enough goals or assists. This rather misses their function and how they are instructed to play in Klopp's set up. It also fails to understand that their roles aren't rigid and are adaptable, reactive to opposition tactics.
Roles and Responsibilities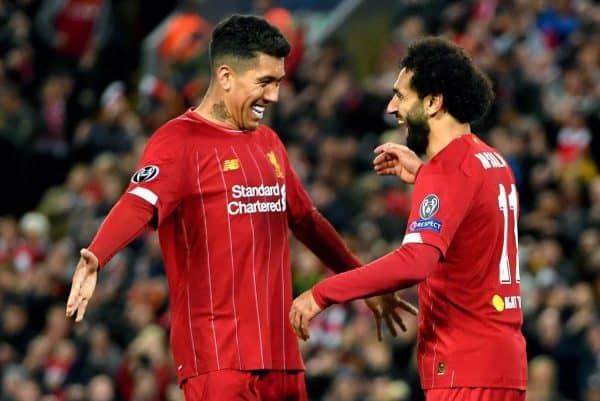 Consider the growth of Klopp's side from the point the fabled front three were put together. They were devastating from the off, beautifully balanced and exhilaratingly effective.
A key feature was they played very narrow to aid the rapid, rapier link-up play that regularly opened up the opposition. However, they were criticised for struggling to break sides playing a low block, the midfield in particular damned for a lack of guile.
Klopp perfectly understood the solution. Unfortunately, he was hampered early on by the tools at his disposal. Clyne, a very good defender, lacked the required ability to consistently deliver the requisite service (Wan-Bissaka anyone?) while Moreno was suspect defensively and similarly lacked on the delivery front.
Step forward Andrew Robertson, Trent Alexander-Arnold aided by Virgil Van Dijk. Game changers, all enhanced by Brazilian supplements that would follow. Fabinho and Alisson, Klopp's very own shot of EPO.
The standard of creativity and defending has improved exponentially in the full-back positions. Both able to launch attack after attack from the flanks in the knowledge there's defensive stability plugging the gaps they leave.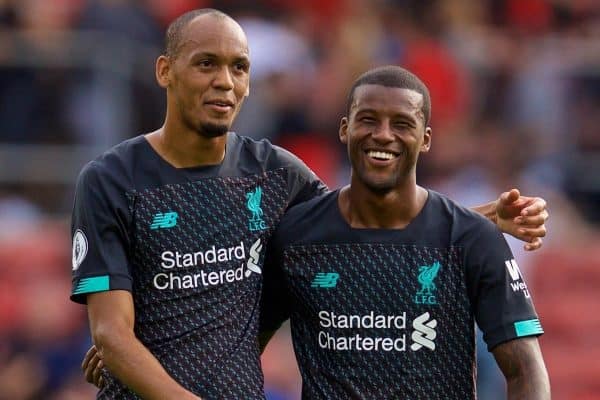 Vitally this isn't all about Van Dijk, Matip and Allison. Equally important are those indefatigable midfielders who frequently drop into covering positions. The increased width, crucially carrying genuine threat, stretches the pitch more than ever for an already strained opposition and, as we've seen, the front three have become hugely adept at taking advantage, finding space that wasn't granted previously.
Regardless of the variation on Klopp's formation, his system places a heavy workload on the midfield unit. A selfless role that doesn't guarantee the deserved praise. Industry is the most basic requirement but it has to be augmented with tactical discipline, speed of thought, vision and the ability to execute.
This group's primary purpose isn't necessarily to break down defences with dribbling and killer final third passes.
This isn't to suggest Henderson, Gini or Fabinho can't provide assists and goals. Simply that it's not their key function.
Rather they're the fulcrum, designed to provide a platform for the team's most potent weapons. Able to not only win the ball back but to shuttle it quickly, with precision, to the players who inflict maximum damage whilst avoiding defensive compromise.
In their current guise, Liverpool don't desperately need a ball playing, pirouetting number 10 with a nose for an assist in the red zone.
Evolution: Time for Keita and Ox?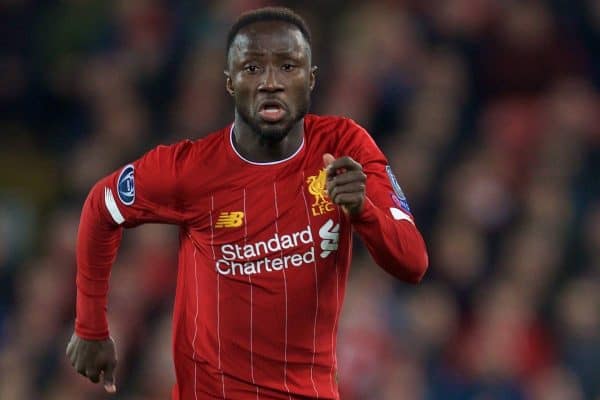 However, we know the opposition constantly adapt and find new ways to reduce the effectiveness of systems and players.
Increasingly it's noticeable, particularly away from Anfield, that teams are trying to restrict Alexander-Arnold and Robertson's space. Not with complete success but it's perceptible and Klopp will already be considering the next evolution of his side to counter this block.
This should offer hope to Alex Oxlade-Chamberlain and Naby Keita.
Their driving dribbling ability, close control and capability to break lines offers something different without entirely sacrificing work rate and defensive coverage. It might be we see the full-backs holding back more than usual with increased attacking license afforded to one of Ox and Keita.
Whether they can seize the chance will owe to their own endeavours and an element of fortune. Unfortunate injuries have held both back to date, despite flashes of promise.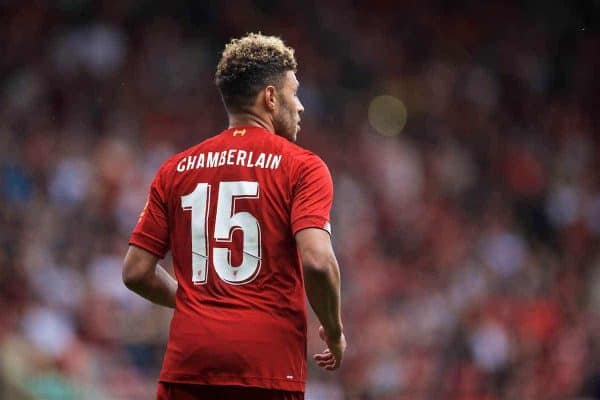 If they can't, you may yet see a new creative attacking midfielder leaning on the wall at Melwood.
Another interesting development to track is the increasing inverted attacks from the full-backs evidenced by Robertson's sublime goal against RB Salzburg.
The pair appear to be attacking more frequently with runs inside their opposing defenders, adding another string to their arsenal and a fresh headache for rivals to consider. It's early days but this could explain why Mane and Salah seem to be holding wider initial positions so far this season.
Despite this conjecture, the most important factor is Klopp has depth and options to vary his approach as he sees fit. This variety has forged a formidable, head-scratching puzzle that challengers are struggling to overcome.
If they can't anytime soon, then the celebrations next summer could exceed even those inspiring post-Champions League final scenes.
Alright, who's got Jurgen's harness? You know he can't be trusted on an open-top bus!