Liverpool were able to rescue a point at Old Trafford to maintain their unbeaten start, but the performance left plenty to discuss after the final whistle.
Jurgen Klopp's Reds were far from their best as they secured a 1-1 draw with Man United on Sunday.
Liverpool failed to get out of the blocks and were off the pace for the majority of proceedings, with Marcus Rashford on hand to punish them and steer the home side into the lead prior to the break.
Tactical tweaks in the second saw Liverpool gain a foothold and Adam Lallana would strike late in the game to salvage a point and ensure the Reds' unbeaten start to the league season remained intact.
Here, This Is Anfield's Joanna Durkan (@JoannaDurkan_) is joined by Liverpool writers Cameron Hogwood (@CameronHogwood) and Leanne Prescott (@_lfcleanne) to delve into the highs and lows from the clash.
The good…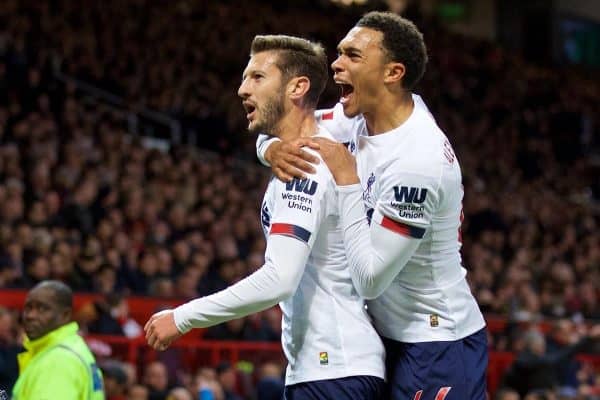 CAMERON: Other than salvaging a draw, Klopp's second-half substitutes were probably the standout positives for me.
Oxlade-Chamberlain looked as sharp as he has on his comeback trail so far, Keita added a welcomed composure to a team that had been frantic prior to his introduction, and of course Lallana cropped up with a vital goal.
I didn't leap from my chair to celebrate a Liverpool goal as I usually would. It was more a huge cheer of relief that we were going to avoid defeat against perhaps the weakest United side I've seen in my lifetime.
It wasn't a stellar Liverpool performance, far from it in fact, and yet we still had our opponents hanging on somewhat at the end.
If there was any positive to scrape, it's that even amid a lifeless, nervous and frustrating performance this Liverpool team will still cause game-changing problems.
Oh, and we're still unbeaten in the Premier League this season.

LEANNE: Even with City's recent growth to the top of the pack, United-Liverpool remains the biggest game in England and although the games rarely seem to live up to their pre-match billing, it's as much about what goes on off the pitch as on it.
The sea of '6s' in the crowd and the balloons of the European Cup being held aloft to cheers throughout the match was the perfect opportunity to be 'the Unbearables', rubbing salt in the wounds of a stuttering United side.
While this is arguably the best Liverpool side in many years, United have fallen off their perch and the jeers and added intensity from such a huge game always make it a great atmosphere.
Few, if any, Liverpool fans would've taken a draw before the match, but the manner of the performance and circumstances left you accepting of a point.
I'm in agreement that all three substitutes deserve praise for the way they came on and made a real difference.
It's two points dropped rather than one point gained, but the Reds remain six points clear at the summit and still unbeaten.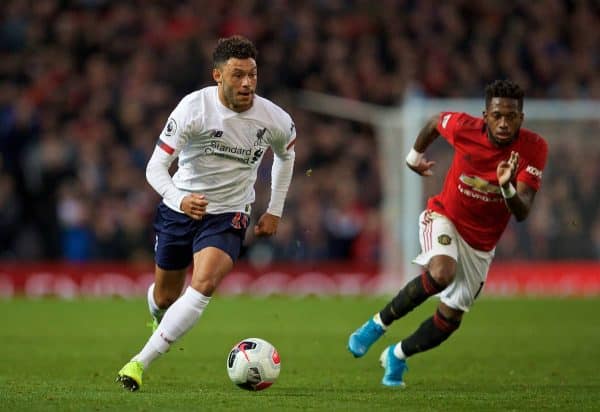 JOANNA: Weirdly, I wasn't as nervous in the buildup to this one as I usually am and in some way that's due to Liverpool's incredible success rate of late.
But as the minutes ticked by that certainly changed as the Old Trafford woes struck once more.
And so unlike Cameron, I did, in fact, jump around in my living room when that goal went in, mostly out of relief having prayed to the footballing gods that we would salvage something from the game.
While he did not have a whole lot to do, Alisson being back in the fold was a welcome sight as was Keita's bright cameo off the bench—would certainly like to see more of him in the near future.
The actual game aside, my mum's commentary of how shit United's players, manager and referee were throughout was a particular highlight. I've trained her well.
The bad…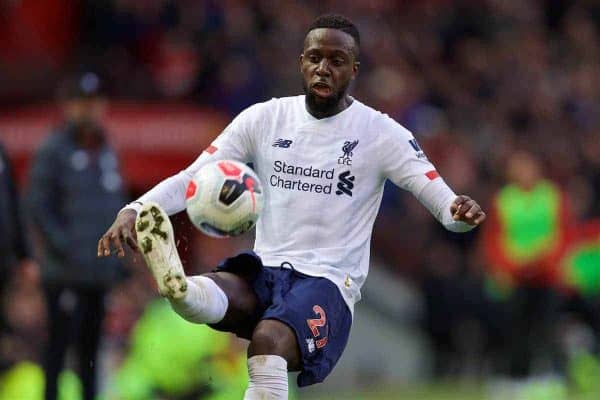 CAMERON: It was probably the worst Liverpool display I've seen since Napoli away in the Champions League last season.
Firmino's first touch was unusually sloppy, Trent's delivery was unusually inaccurate, Fabinho was unusually ineffective. It was a really strange performance, actually.
It's been a long, long time since I've seen a Klopp-led Liverpool look nervous and for it to come against United at Old Trafford was disappointing.
With regards to the officiating, it's still beyond me how Origi was not awarded a free-kick in the buildup to the opener.
It wasn't so much a case of me raging, it was almost like I expected it given the way VAR has been used so far this season.
LEANNE: It's been a long, long time since this Liverpool side have played so poorly.
Sunday was in many ways the definition of a post-international break performance: the Reds were slow in possession, there was a distinct lack of creativity and guile and the absence of Salah left a huge hole.
When all that comes in conjunction with poor refereeing and the veritable absence of VAR, it's always going to be a tough afternoon.
The biggest issue will be the lack of creativity from midfield going forward—a hole that has been apparent on more than one occasion now—with United's targeted marking of Mane and Firmino leaving little options elsewhere.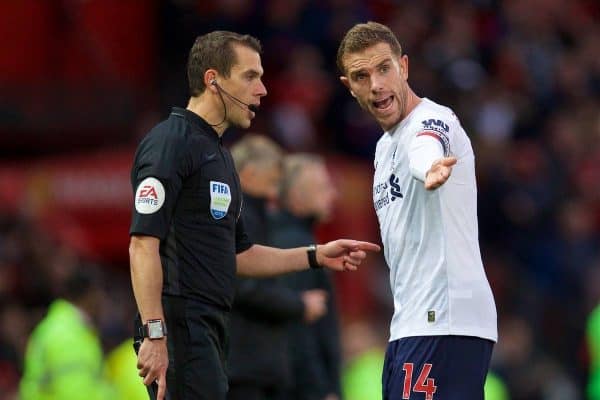 JOANNA: Performance: worst I've seen in a considerably long time, far too many players not up to scratch—you can always carry a handful through a game but it's a bit hard when it's nearly the whole XI.
Referee: simply put, atrocious from start to finish and while I had no expectation of VAR overturning the decision, the process needs looking into as Klopp commented on post-match, in its current state it's not proving too effective.
Attacking impetus: I'm sorry but Origi is most certainly not the answer when Salah or any of the usual front three are unavailable.
And although a point was rescued, was the performance a needed wake-up call?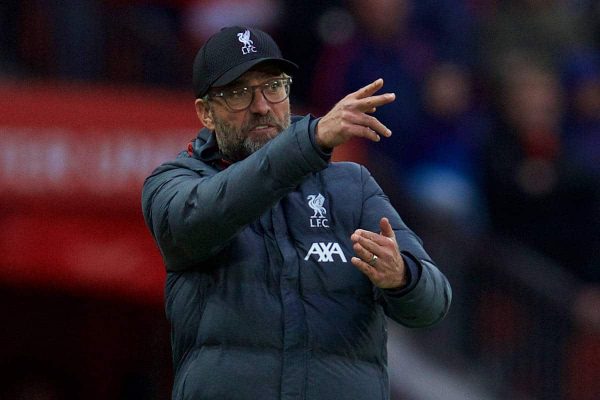 CAMERON: I don't think I'd view it as a wake-up call, I honestly believe it was just a bizarre blip for a team that had been flying until now.
All the talk over that poor Old Trafford record played a part, for sure, not to mention discussion of Liverpool entering the game as huge favourites.
If anything, it was the biggest introduction yet to these players this season of the pressure they must handle if they want to win the Premier League.
I think it did show that Liverpool would do well to bring in another forward in January, providing the players are available.
I love Origi, but I think we could certainly do with another alternative for Klopp to make use of if needed, especially with Shaqiri seemingly out of the frame even when fit.
LEANNE: Klopp will know Liverpool can't afford to play that badly too many times this season and the players will be the first to address their performance, but I think it's important not to overreact.
We remain unbeaten and are still in a brilliant position in October.
City have shown huge weaknesses so far this season—at least the Reds managed to come away with something the first time they showed theirs.

JOANNA: I think it was, not necessarily in a negative sense but in one that it's a timely reminder that you cannot afford to drop your performance levels so drastically—even against the likes of United.
We saw last season that draws proved decisive, and for the most part they each came after lacklustre performances, but this time it was coupled with having to overturn a deficit.
The team certainly deserves credit for finding their way back, but it's the little things like Matip kicking the ball out of play when James went down which we need to be wiser about.
But I have to disagree with Cameron, I don't think it was quite a blip as we haven't truly hit our stride consistently this season and we were threatening to put in a performance like this.
No need for an overreaction, as Leanne mentioned, but it should no doubt prove to be another lesson learned for the weeks and months ahead.