Liverpool left it late to secure their eighth win of the league season as they emerged as 2-1 victors over Leicester, leaving plenty to discuss post-match.
The clash at Anfield was tipped to be one of the greatest tests thus far for the Reds and, while wayward finishing ensured it was a tight finish, Jurgen Klopp's side rightfully maintained their 100 per cent start to the season.
Sadio Mane, who was electric throughout, proved instrumental in the win, having first etched his name on the scoresheet with a poised finish late in the first half, before earning a penalty in stoppage time which James Milner converted.
A James Maddison goal sandwiched in-between was almost enough to consign Liverpool to their first dropped points of the season, but as has become customary for this side, they found a way to win.
Here, This Is Anfield's Joanna Durkan (@JoannaDurkan_) is joined by Jack Gill (@jacklfcgill) and Liverpool writer Chris McLoughlin (@TheKopMagazine) to break down the highs and lows from the win and discuss the challenges which lie in wait following the international break.
The good…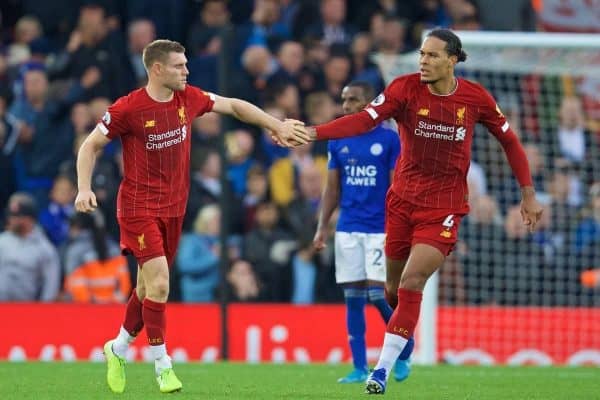 Jack: Firstly, it was a massive result to collect another three points before the international break.
That's 17 league wins in a row now and still 100 per cent for this season.
I think a special mention has to go to Milner and Lovren. A lot of people slated them at the start of the game and questioned Klopp's decision to start them, but they were both excellent.
Mane was once again on the scoresheet; he is so important for us right now and always seems to be the man that scores to kick-start us.
Cesc Fabregas said he was in the top three best players in the world during the Salzburg game and he most certainly is up there with the best, a remarkable player that we are lucky to have.
The atmosphere at the end was incredible because everyone knew how important that win was for us—and everybody loves a last-minute winner!
Shout-out to Milner for his celebration too; basically confirms we are signing Mbappe, right?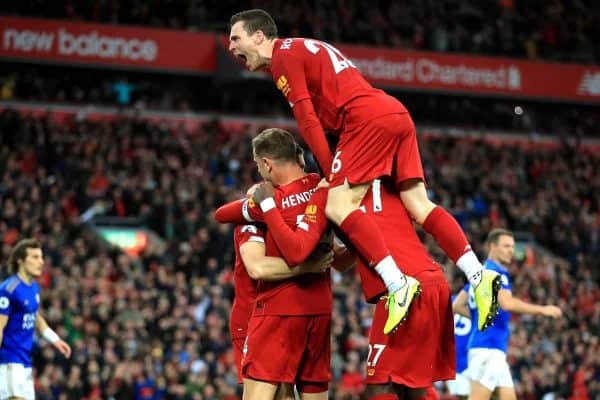 Chris: Leicester gave Liverpool a game. A proper game.
So the fact the Reds came through it, after a Champions League midweek game, to take all three points, says a lot about their character and ability to win, even when it looked like the visitors had nicked a point.
Mane was brilliant, the best player on the pitch, but there were big performances throughout the team, not least from Lovren.
Whether he should have started ahead of Joe Gomez was subject to much pre-match debate, but he came in from the cold and played like a regular. Which is what you need squad players to do to challenge for the title.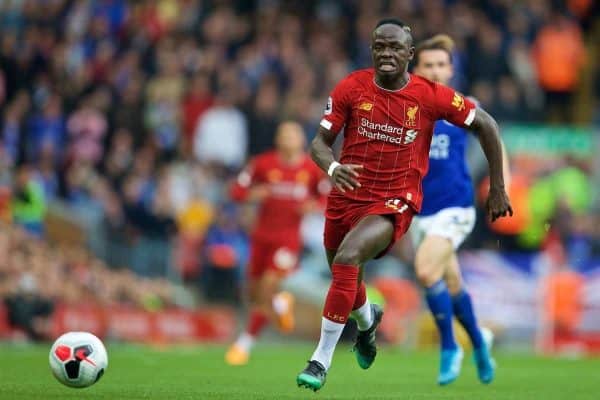 Joanna: The mental fortitude displayed from this team on a consistent basis cannot be spoken of enough.
It should never have got to the point where we needed the late winner, but Milner was ice-cold and calmness personified; the win felt safe when you knew he was the man to step up to the plate.
And you had to love not only his celebration but Klopp's as well, the eruption of emotion we haven't seen that much of this season and it instantly gets you revved up—and now we have to wait two weeks to be back in action!
I'll echo both Jack and Chris' words on Mane, he's grown enormously and is undoubtedly set for his best season in red. Throw in some praise for Lovren, too, who I was hesitant to see in the starting XI.
That makes 17 league wins in a row and a 100 per cent start to the season; simply astonishing—have we ever seen a Liverpool team like it?
The bad…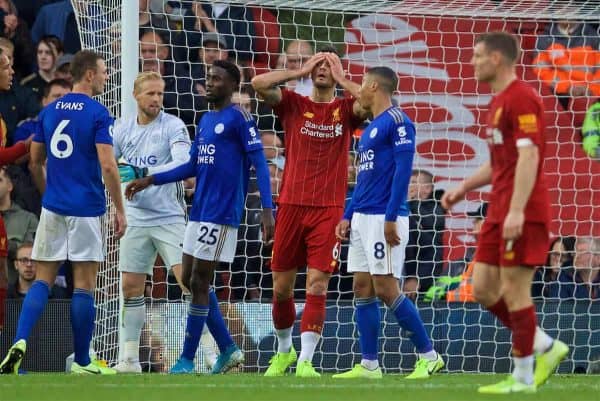 Jack: Leicester were poor today and we had so many chances to kill the game before they equalised.
Prior to the penalty, it seemed like it was just going be one of those days and it was absolutely typical that Leicester scored with their only shot on target as well!
I hope Salah recovers, it was a nasty nasty challenge by Choudhury, who is a horrible player, so fingers crossed his injury is not too serious.
Chris: It wasn't Mo Salah's finest afternoon. He didn't have a stinker by any means, but his touch, his control and his final pass just weren't on the money.
It feels like nit-picking after such a good win to have a niggle at any of the players, but the Reds need Salah to be flying after the international break with some big games coming up.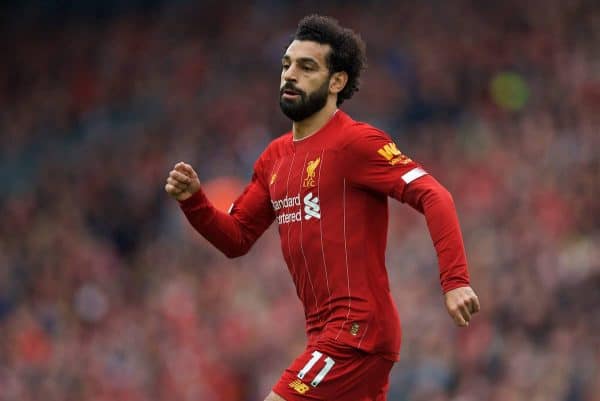 Joanna: We made it so much harder than it had to be, didn't we?
As Jack noted, the Reds had an abundance of chances to tie up the game and we paid the price for it, but thankfully it did not come at a cost of all three points.
It's yet another game without a clean sheet though and that's something I'd like to see change following the break.
And while we got a rare penalty decision at Anfield, I thought the referee, on the whole, was inconsistent with his decisions and even from the comfort of my own home I could feel the discontentment emanating from the stands.
And with a number of tough fixtures after the break, how many points do you expect the Reds to take from the next four league games?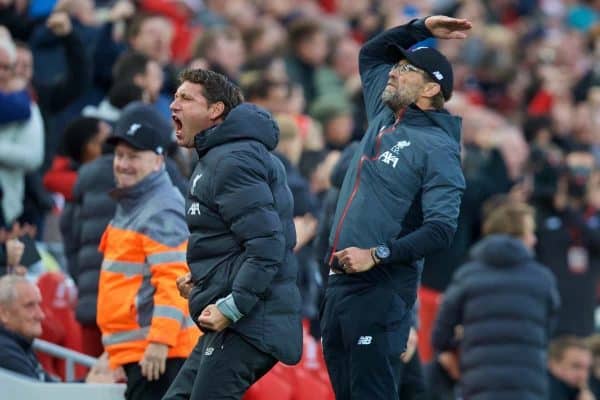 Jack: The run after the international break is going to be tough but I'm looking forward to it and think we will win every game during that run, I really do.
That will start with hammering Man United at Old Trafford in a fortnight. That run of games though is going to be very important come the end of the season.
The most important and difficult game will, of course, be City, but the crowd will be up for it and they'll fall apart at Anfield once again.
The levels between us, City and the rest of the league is quite crazy, and the league is looking very weird at the minute.
Chris: If Liverpool can take 12 points from the next 12 then we're on course to win the Premier League. There's no other way of looking at it.
But United away, even in their current state, Spurs at home, even in their current state, and Man City at home are all difficult matches. Aston Villa away is no gimme either.
I suspect we'll drop points during this run, but not many. Three wins and a draw would be great—especially if the draw was at Villa…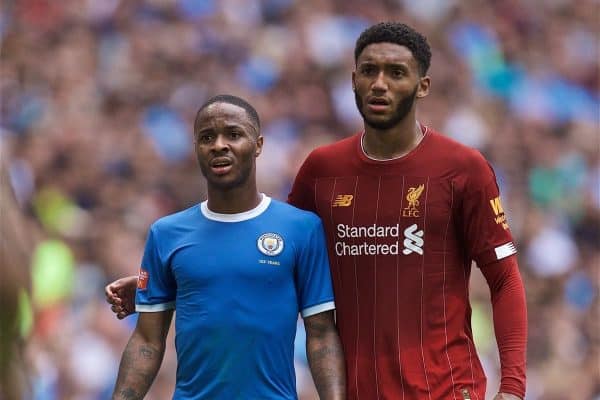 Joanna: It's easily going to be our toughest run of games yet when you also consider our involvement in the Champions League and League Cup in-between each game in the top flight.
But I'm loving Jack's positivity and after eight wins to start the season it's certainly hard to disagree with him; I wouldn't be surprised if we finished with all 12, but like Chris, I could cope with 10.
We've struggled to walk away from Old Trafford with all three points in recent times but in the form they're in, you would expect that to change. Similarly, Spurs have an abundance of issues of their own and you'd expect another three points to come our way at Anfield.
The trip to Aston Villa will be tricky but we're likely to see our regular XI come into the game with fresh legs after rotation in the mid-week clash against Arsenal.
But the biggest question mark is, of course, when Man City come to town.
The fact of the matter is we took only one point from our two meetings against them last season and as we can only dictate their results twice, we need to make the most of our opportunity, especially when we have the home advantage.