Liverpool notched a welcome 4-1 victory on the road against Genk in the Champions League in a match which left much to discuss.
The Reds have struggled on their European travels in recent times, but that was not the case when they made the trip to Belgium on Wednesday.
Jurgen Klopp's side got off to a flyer as Alex Oxlade-Chamberlain's first of the evening saw him etch his name on the scoresheet for the first time since April 2018 inside two minutes.
His second effort was a sublime finish off the outside of his boot to double Liverpool's lead, a tally which would be added to by both Sadio Mane and Mohamed Salah before the night was out.
While Genk would secure a late consolation for their efforts, the result ensured Liverpool are nicely poised in second place with six points in Group E.
Here, This Is Anfield's Joanna Durkan (@JoannaDurkan_) and Matt Ladson (@mattladson) are joined by Josh Feehily (@jpflfc) to delve into the positives and negatives from the clash and discuss the potential starting XI against Spurs.
The good…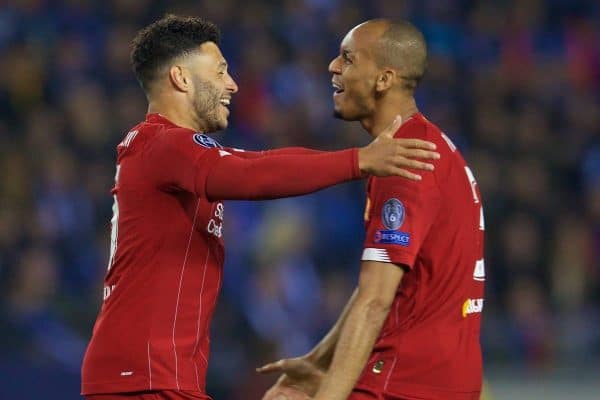 Josh: We won away in the group stages! The first one since October 2017 and as the reigning champions it was becoming a slightly embarrassing distraction.
On the pitch, Ox will obviously get a lot of the plaudits, but I think Keita also deserves a lot of praise for helping control the midfield, especially in the second half.
Chamberlain's second was a goal that gets you off your seat, simply world-class and something we've sorely lacked recently, and it's great for him personally to contribute as he did.
Mane and Firmino were their usual electric selves, and Bobby could well have added the sexiest assist of his collection if Mane had finished his first-half chance!
It was good to see Mane and Mo get a goal each, both were beautifully taken and sum up what they offer to the team.
As always, the travelling Kop deserve a special mention for their constant presence throughout the game.
Matt: The waffles here in Belgium, the beer, the people and the city of Genk, all very good. A lovely little away trip.
And it was much the same for the Reds on the pitch. A massive confidence boost for Ox with those two goals and great for Keita to start and get the full 90.
I also thought Milner did well, given we were all probably surprised he started instead of Gomez – who was good when he came on.
I'd have perhaps liked to have seen Brewster get a late cameo, but it was nice for Origi to get a nice reception from the home fans.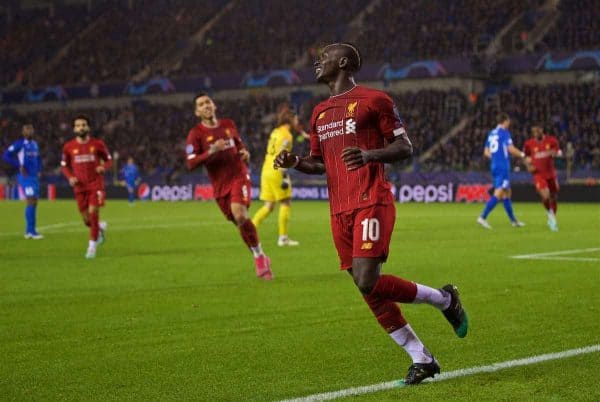 Joanna: It truly was a joy to see Ox back out there and starting to show the quality he imparted on the team before his injury, and likewise Keita was another standout.
The pair have always been discussed as members of a dream midfield if you like, and they certainly showed they can add value and options to a part of the field which has been the biggest source of debate under Klopp.
It was also nice to see Robbo get the hook with over half an hour left as he was starting to look weary and his game management will become key over the next few weeks and months.
I had expected us to emerge with all three points and while we did just that, the performance was far from perfect and to hear the players say as much post-match was welcome news as they clearly recognise that they still have gears to move up to.
The bad…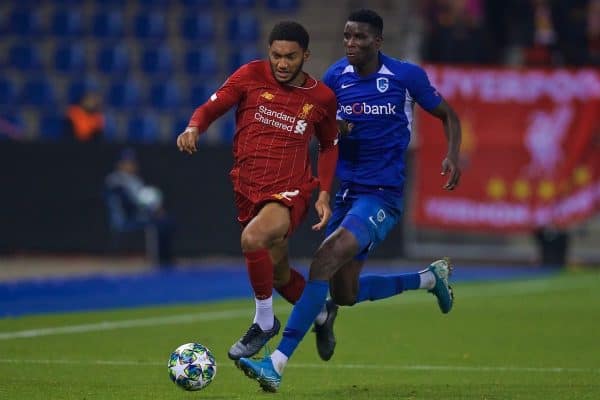 Josh: Defence: plain and simple.
Genk had a game plan and stuck to it and caused us a whole host of problems. Lovren's mistake for the goal is comical and was a throwback to mistakes in years gone by, fortunately, it was 4-0 by the time it happened.
Mo Salah also looked incredibly rusty but at least seemed to shake off his funk towards the end of the game.
Being injured over the international break obviously didn't help so it may well benefit us on Sunday that he had such a poor showing for a majority of the game.
Other than the general openness and Salah's dodgy link-up play, there wasn't much wrong with the performance, so it was a good three points that keeps us well in the hunt for qualification.
Matt: Perhaps we have massively high expectations of Salah so I'll forgive any rustiness. I'm still bemused that he takes free kicks though (pointing this out on my Twitter seems to have caused a stir!).
The high line is an ongoing worry, Genk played 4-4-2 and changed their system, and they got in behind a few times in the first half in particular.
The other 'bad' was the VAR – nobody in the stadium had any clue why it was being given. It's a bit farcical at the moment.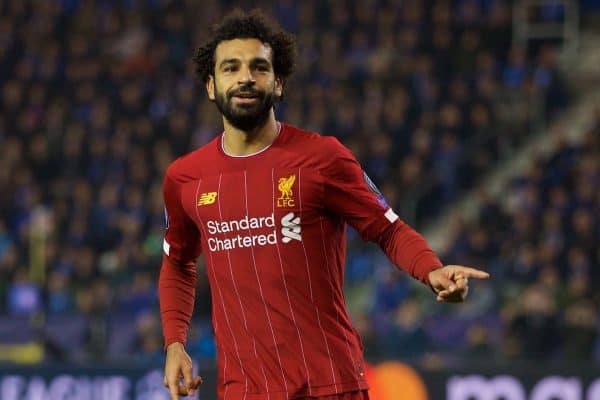 Joanna: Aside from agreeing with Josh over Salah's form, the major bugbear which came out of the game for me was the lack of yet another clean sheet, meaning we have just three in 14 games across all competitions.
It was a sloppy and preventable goal and after coming through the first half unscathed, where they asked the most questions, it proved to be a highly frustrating moment and synonymous of our defence so far this season.
And simply put, that banner for Origi, that was rightfully taken down, was distasteful to say the least.
And what should Liverpool's starting XI be against Spurs?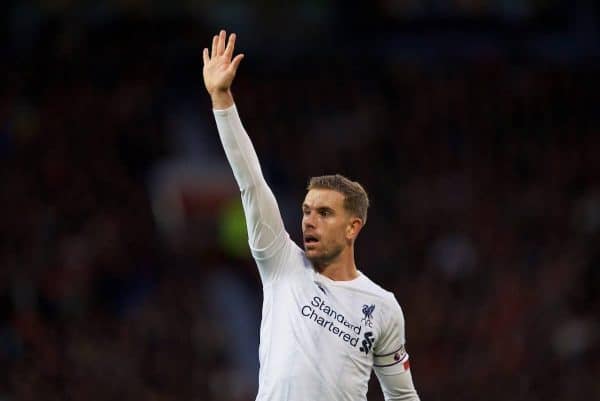 Josh: Presuming Trent recovers from his illness and Matip recovers from injury I'd assume they'd slot straight back in, but Gomez could well get the nod in place of Matip.
The issue with supporting Liverpool is that everything is so obvious! 90 percent of the team picks itself and there is maybe only one contentious issue, and that's Henderson or Chamberlain/Keita?
Wijnaldum will definitely play as it's the type of game he thrives on. Henderson has been poor, and Chamberlain has certainly given Klopp a decision to make after tonight.
But due to his dynamism and willingness to impact the game going forward, I'd pick Chamberlain.
Alisson, Trent, Matip, Van Dijk, Robertson; Fabinho, Wijnaldum, Chamberlain; Salah, Mane, Firmino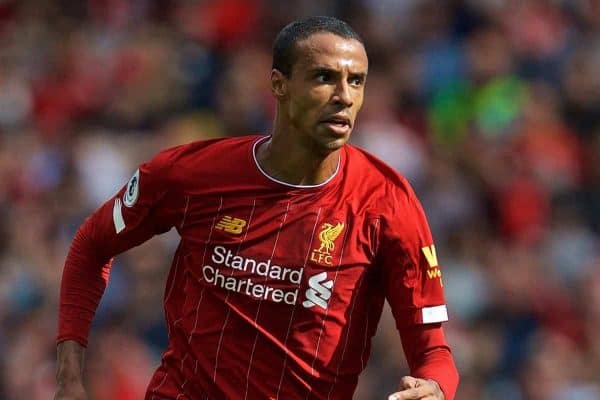 Matt: I think the team picks itself if Matip is fit, which I imagine is the only doubt.
I can't see Keita keeping his place just yet, so the usual three midfield will start with it being a big game. Perhaps as the season develops we'll see Ox and Keita starting more often.
I imagine some of the off the ball movements Klopp will want improving from them two before they're starting games such as Sunday's.
Alisson, Trent, Matip, Van Dijk, Robertson; Fabinho, Henderson, Wijnaldum; Salah, Mane, Firmino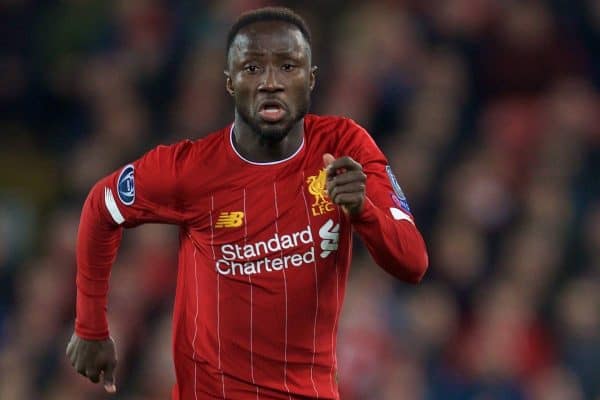 Joanna: The usual suspects in defence and attack will take to the field, unless, as the guys mentioned, both Trent and Matip are forced out of the equation.
Should that be the case Gomez has to be the one at centre-back this time round.
As ever, it leaves only the midfield and with Fabinho the undisputed starter I've gone for Gini and Keita as his partners.
While Klopp is likely to think otherwise and deploy his 'usual' midfield trio, I would prefer to see Liverpool's No. 8 given the nod ahead of Hendo who has gone off the boil a touch in recent weeks.
Keita, as we've seen, will add that extra dimension to our play we've been searching for and although Spurs also won in midweek, they've been wobbling all season and we can certainly look to take advantage of that.
Alisson, Trent, Matip, Van Dijk, Robertson; Fabinho, Wijnaldum, Keita; Salah, Mane, Firmino