Andy Robertson is eager to see Liverpool's defensive record improve following their narrow win at Crystal Palace, another game which saw the left-back play through the pain barrier.
The Scot was considered a major doubt for Liverpool's trip to Selhurst Park as he continued to be hampered by an ongoing ankle injury which forced his withdrawal from international duty.
The injury prevented Robertson from partaking in training until the day before a game as he looked to lighten his workload to aid in his recovery.
And while he was handed 13 days to rest between the win over Man City and the trip to Palace, Robertson has conceded he is still very much feeling the effects of an injury which Mohamed Salah is similarly facing.
The pair are integral members of Jurgen Klopp's side and the left-back conceded all parties involved "need to be a bit clever" to ensure neither injury is aggravated further.
"It is still painful but, you know, it is something that I gave time for it to improve," he said.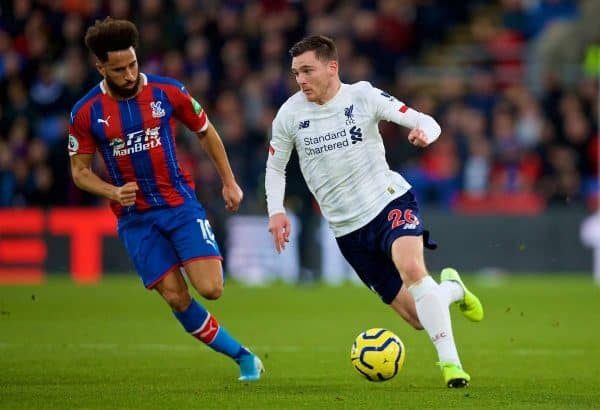 "Keeping it moving will help it. Hopefully, in time it will be better.
"I was desperate to play and the gaffer asked me if I was okay, I believed I was and luckily I got through the game.
"Me and Mo were in the same position. Mo was desperate to play as well and the manager made the decision and Mo was fine and accepted it.
"You don't want to miss any games but if it means him missing one game rather than six, this is a big difference.
"Sometimes you need to be a bit clever. I have come through, Mo was not needed although he was stripped when Bobby scored and sat back down. Hopefully, that will give him more time to settle and hopefully he will be fine for midweek [against Napoli in the Champions League]."
The Reds are now set to head into a fixture pile-up which will see 12 games played in 36 days between November 27 and January 2, leaving limited time for rest and recovery.
And while Robertson is a key contributor in both directions, as he alluded to it is better for him, and Salah, to miss a game sporadically than be forced to sit on the sidelines for a prolonged period of time through a mismanagement of his injury.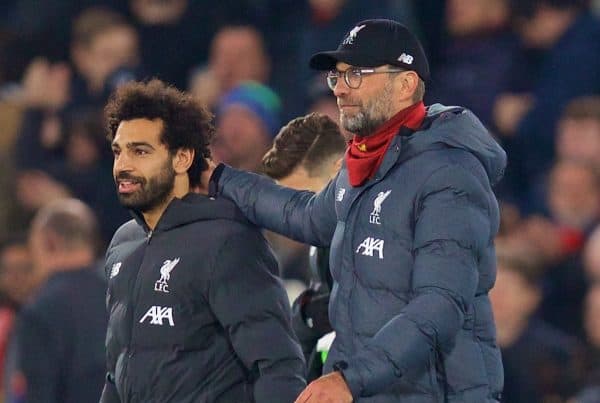 Moreover, while the assists tally next to Robertson's name is continuing to thrive, at the other end of the field the number of clean sheets is not reaping the same level of return.
At this stage last season Liverpool had 33 points on the board in the Premier League and sat in second position with eight clean sheets, whereas this time around the Reds sit atop of the ladder with 37 points but have only twice shut out the opposition.
While Liverpool have only one blemish on their results to date, clean sheets are a facet of their game which Robertson and his fellow defenders know needs improving.
"We have 37 points out 39 so to say anything negative is harsh but we are out to win games," he continued.
"The defence and Ali and Adrian want to keep more clean sheets, of course we do, and Palace would have been a good one to get.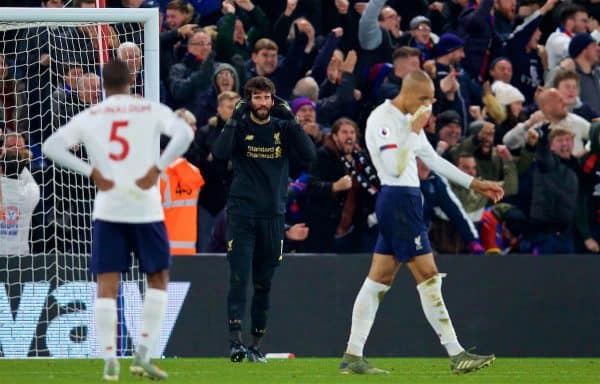 "Unfortunately it wasn't but if we don't keep clean sheets we need to be winning. We want to get back to clean sheets and hopefully, we can do that in our next game.
"Hopefully we can do that and still score goals. Last season we had a better defensive record but did not have as many points, so we need to put it into perspective.
"Scoring late is good and enjoyable but we would much rather be 2-0 or 3-0 up and see out the game. We cannot keep relying on it but it is good we have that mentality and we did not panic because we have been in this position so many times.
"I think that is why we took control of the game and scored the winner."