Whilst far from their best, Liverpool secured a 2-1 win at Crystal Palace on Saturday to leave plenty to discuss post-match.
Jurgen Klopp's Reds made their long-awaited return to domestic action after the squad jetted off around the world for international duty.
It was far from a pretty performance, however, as Liverpool had to wait until the second half to land a shot on target, one which reaped an immediate reward through Sadio Mane.
Wilfried Zaha, however, would look to spoil the Reds' push for all three points after levelling the scores late in the piece, only for Roberto Firmino to come up trumps moments later.
It was another show of Liverpool's never-say-die attitude and one which ensures they maintain an eight point buffer at the summit.
Here, This Is Anfield's Joanna Durkan (@JoannaDurkan_) is joined by Sebastian Palmer (@Tino_LFC) and Kerry Macuska (@KerrySomewhere) to delve into the positives and negatives from the clash and discuss the unbeaten streak.
The good…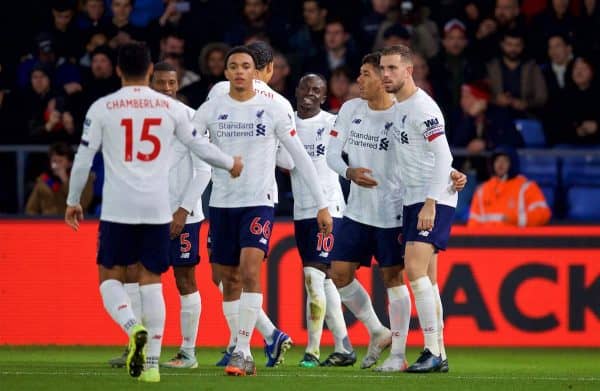 Sebastian: VAR seems to have got it right for us… for once! I hope this is a sign of them making progress with the system!
Talking about VAR, Pep Guardiola's favourite "fall guy" Sadio Mane was excellent as usual; he has really fine-tuned the details in his game to surpass last year's high level.
Mane has already managed to amass eight goals so far and, for me, he was comfortably our best player today. He was constantly a threat with his runs in-behind the Palace defence, he never gave up and got the goal he deserved.
Another positive is Dejan Lovren, he seems to have settled into the team's rhythm. Although not completely free of errors, he appears to be getting back to the Lovren of old that was solid and reliable.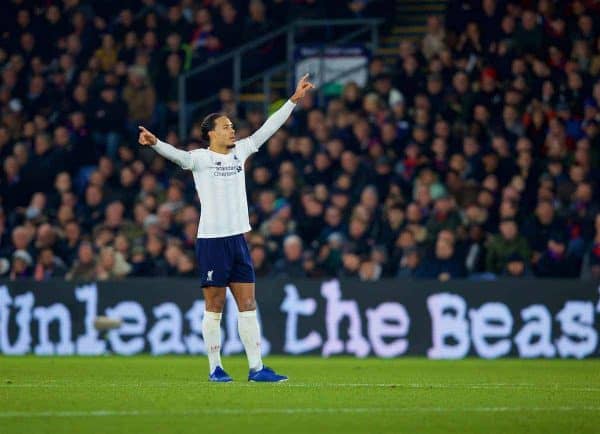 Kerry: I had a great seat at Selhurst Park as I was in the fourth row at the edge of the away section, so it meant I had a great view of the pitch.
I sat with a group of my closest friends and we enjoyed the incredible atmosphere in the away end during the second half, as well some of the banter with the home fans.
Both Mane and Van Dijk put in a fantastic performance and Firmino's late goal certainly created a party atmosphere in the away section at the end of the game.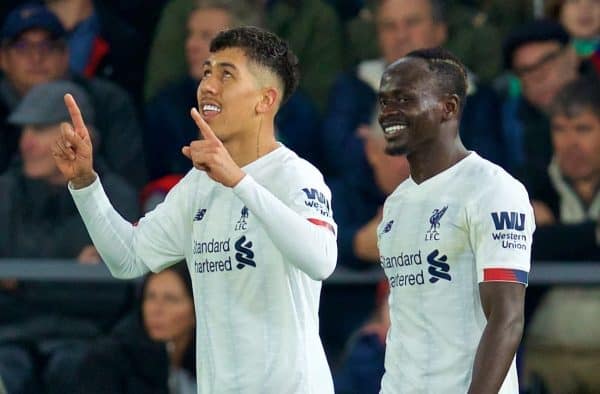 Joanna: Well, I can hardly wipe the smile off my face as the Liverpool juggernaut took down another team – although my heart could do with a bit of a rest.
It was not the prettiest game by any sense of the word but as always they found a way to get the job done, but with the international breaks now over for a few months, I expect us to start finding our rhythm and stride on a more consistent basis.
While we did concede, I thought both Virgil van Dijk and Lovren were exceptional and hardly gave Palace a look-in from the air – an area they have previously reaped rewards from.
And 37 points in 13 games, 30 unbeaten in total – utter madness.
The bad…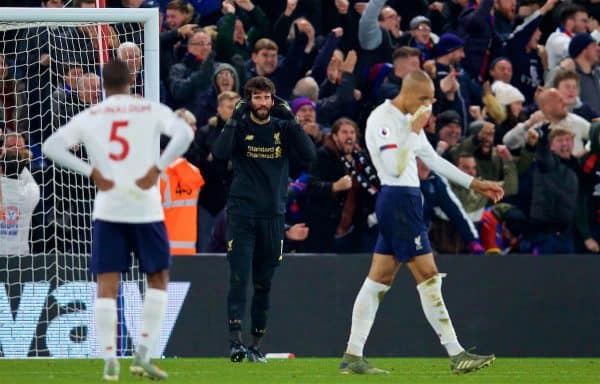 Sebastian: Most people know Selhurst Park is a difficult place to play, partly due down to the atmosphere the home fans generate, however, this atmosphere didn't produce a spectacular performance from either team in the first half.
It was a frustrating half to watch. As Liverpool fans, we have to accept that to win a league title we sometimes need to win ugly and, personally I'm happy with that if it means we win the Premier League title.
Once we get the next title under our belt, maybe we can win future ones with a little more style.
And I could go on and on about our inability to keep clean sheets as of late (two in 13 league games), or the lack of creativity from the midfield in this game; however, the most annoying aspect has to be Fabinho's yellow card.
As a result, he will be unavailable for the Brighton game. It was inevitable given the way he plays, fully committed to tackles, but he's been such a vital cog in the machine that is Liverpool FC, and we will certainly miss him.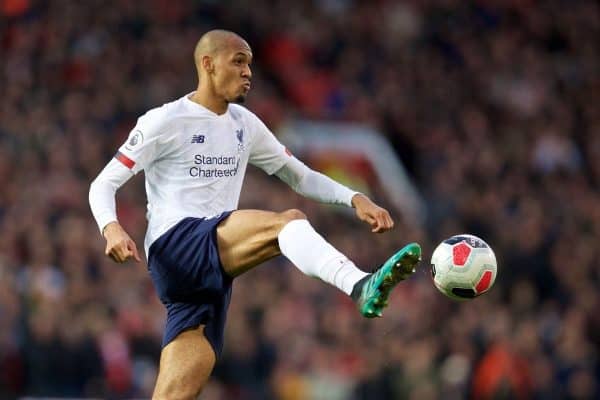 Kerry: Well, the atmosphere during the first half in the away end was very underwhelming and so was the team's performance.
The atmosphere was much better in the second, and most Liverpool supporters sang and clapped for Jordan Henderson when he was subbed off the pitch.
However, a few behind me were vocal about their disappointment of his performance during the match and were expressing that he's not fit to be captain.
It was disappointing to hear some supporters still continue to not back Henderson even though he's clearly good enough to be captain by Klopp's standards, and Liverpool are currently at the top of the Premier League and are the champions of Europe.
I was disappointed with Trent as he struggled against Zaha and, although he looked better in the second half, he provided a weak overall performance.
Moreover, Chamberlain, Fabinho, Origi, Wijnaldum, Henderson, and Robertson were all lacking during much of the game yesterday.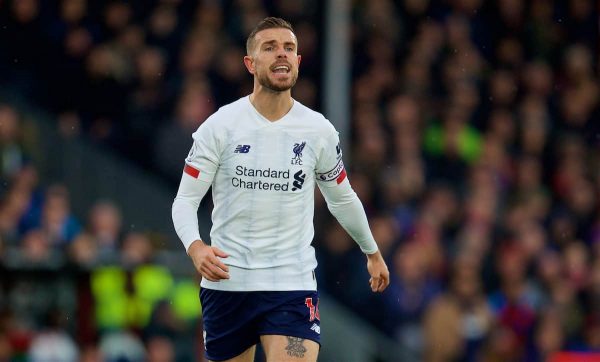 Joanna: Unlike Sebastian, I'm content with Fabinho picking up the card against Palace as we should be able to handle Brighton at home without him.
There's no way he would have escaped without another before the reset at the end of the year, and if anything it'll offer him a timely rest as the games start to come thick and fast.
The defence is still a major issue for me, what do I have to do for us to keep a clean sheet? So far it has not proven too costly, but the Reds need to rectify the ease in which the opposition create such openings before it does.
Away from the game itself, my stream was lagging far too much for my liking and Twitter spoiled Firmino's winner but, really, who am I to complain as I'd take it every day of the week if it meant Liverpool kept winning.
And the unbeaten streak continues, what do you make of the feat so far this season?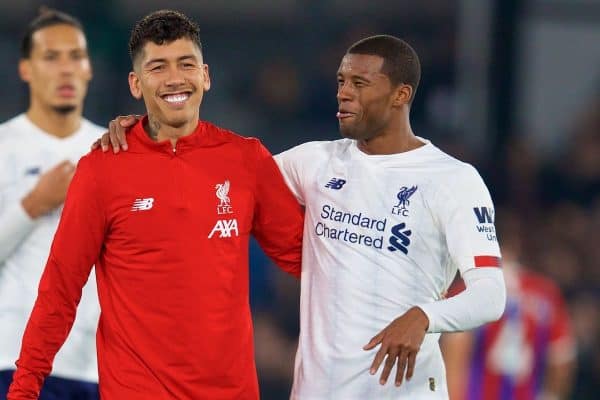 Sebastian: I'm ecstatic, delighted, thrilled and, honestly, I've ran out of superlatives to describe my emotions!
This is a team that never gives in when they've had setbacks or struggled to break through a defence.
That never-say-die attitude has allowed us to score last-minute goals snatch late winners.
We know how important this is to stay focused and keep this run going as there are plenty of teams with enough quality to take our place at the top if we falter.
There are a lot of games left to play, and as fans, we simply have to be patient and keep believing.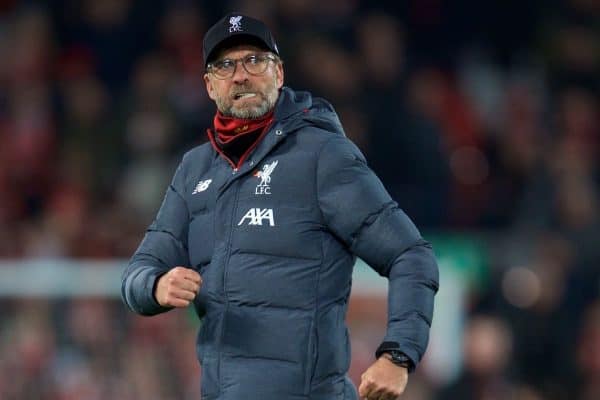 Kerry: We're now been unbeaten in 30 Premier League matches and the team is sitting eight points above Leicester and nine points clear above Manchester City.
And after our sixth European win, this is an incredible time to be a Liverpool supporter!
As much as I have a lot of hope to once again win something this season I don't want to get ahead of myself, but it is impressive to see Liverpool grind out the ugly wins.
In my opinion, the tough wins like what we saw at Selhurst Park yesterday are the ones that give me the most hope that Liverpool can finally win the Premier League this season.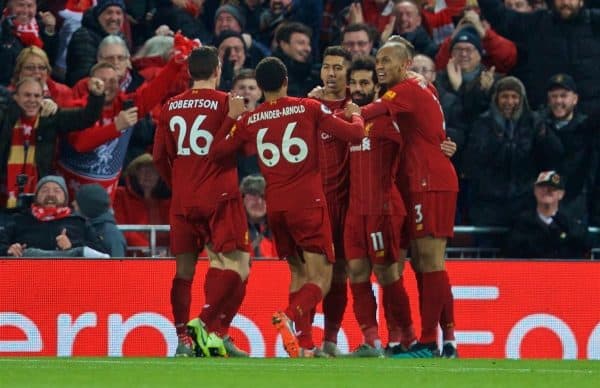 Joanna: It's astonishing. More so in the fact that it now feels normal to win week in and week out, and that in itself shows how far Liverpool have come under Klopp.
As Sebastian noted, it's the perseverance and utter defiance to respond to any setback which has seen us go 13 league games unbeaten this season and 30 in total.
The closest I've come to resigning myself to the fact that the streak might end was against Villa, and yet we still came through unscathed – and it leaves me questioning who has the ability to topple this Liverpool side.
And frighteningly for the other 19 clubs, I don't think Liverpool have even come close to hitting their stride so far this season.