Jurgen Klopp has all but confirmed the arrival of Salzburg's Takumi Minamino during his pre-match press conference on Friday.
Liverpool are set to land the Japan international in January, with the Reds to trigger his £7.25m release clause.
Minamino's rise in Austria has seen him earn interest from across Europe and Liverpool have acted swiftly to land the attacking midfielder in what is yet another example of their exemplary business in the transfer market.
The 24-year-old has played with Salzburg for over three seasons and duly impressed in his two outings against the Reds in the group stages of the Champions League.
And as expected, the boss was asked about his arrival in his pre-Watford press conference and initially remained tightlipped before a Japanese reporter made his presence known.
"Why are you here?! Maybe we will see you more often now…" Klopp coyly said.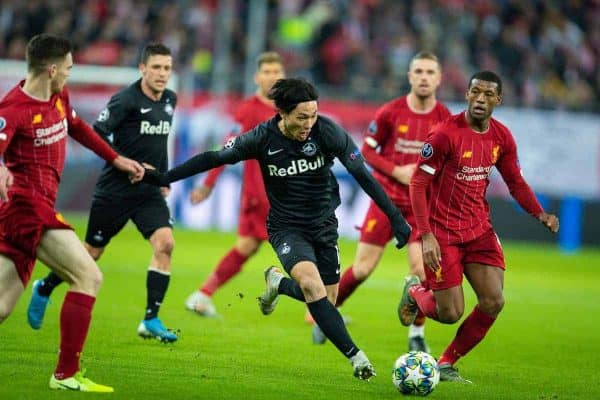 The reporter would go on to ask about Japan's Shinji Kagawa, who Klopp managed at Borussia Dortmund over a two year period, and while the boss conceded he "had no idea about Japanese football" before he watched and met Kagawa, he was full of praise for the talent the country produces.
"The attitude of Japanese players is outstanding, work-rate outstanding, technical wise very good – and the players I've seen are very dynamic and just really nice people," he continued.
Earlier, however, Klopp remained bullish about Minamino as he continued with his stance of remaining quiet on potential transfers until they are complete.
"There's nothing to say about it. We speak about it in the moment like we do with all potential transfers in the moment when it's sorted so there's nothing really to say.
"A very good player, I can say that, but I saw a lot of good players in the Salzburg team, to be honest – much more than I wanted, especially in the first half [on Tuesday]!"
The news of Minamino's deal came 24-hours prior to Klopp's contract extension until 2024, a deal which the German hinted was also key to ensuring prospective new signings were confident in the knowledge that Liverpool's future remains with him.
"The club was asking for a while already if we could talk about an extension and I thought it made sense before things got intense, not now – it's calm, but maybe in the summer we would have started talking about bringing new players and they ask 'how long the manager is here?' Klopp added.
As long as Minamino passes his medical, he is expected to be a Liverpool player at the turn of the new year and could make his debut for the club as early as the FA Cup meeting with Everton on January 5 – and with Klopp's comments in mind, he could be the first of a few big names to land at Anfield in the near future.