Jurgen Klopp and his Liverpool team made their annual Christmas visit to Alder Hey Children's Hospital, providing moments to cherish for the kids and their loved ones.
As they do so often throughout the year, Liverpool entrenched themselves within the community the club exists to spread some joy.
Any time spent in the hospital is a difficult one let alone during the festive season, and the Reds were on hand to pay a visit to Alder Hey Children's Hospital and meet their young patients – with a number of gifts in tow.
It is a small act but one which goes a long way, with Klopp and members of the first team surprising a host of children and their families on Thursday.
And while Liverpool's visit led to widespread smiles, tears and utter joy, the team and manager themselves were left with a sizeable impression and renewed perspective.
"We met so many wonderful kids and they really touch your heart," Klopp said.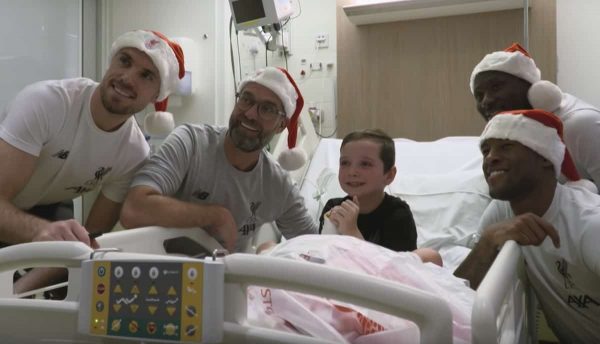 "The boy has both legs in a brace [but] is super positive and he says to me 'I love you', and I think 'oh my god' how can you stand that.
"We have that room after room after room, it's unbelievable.
"Maybe people think we give a lot to the kids when we come here but actually it's an energiser for us, emotional energiser – it's great, I love it."
In the video released by the club, the players are seen singing Happy Birthday to a young girl who is overawed, while the young boy Klopp referred to is left in shock when the boss invites him to Melwood.
It's heartwarming to see how far a simple act of kindness can stretch and for Andy Robertson the visit was one which came as a "massive inspiration."
"It shows what we're fighting for in the Premier League and Champions League, it puts it into perspective that some of them are fighting to be healthy and they just want to be home for Christmas," Robertson said.
"For us, it's a massive inspiration."
As abovementioned, the club regularly make visits to Alder Hey with both the first team and members of the academy, and this level of care and attention is what makes Liverpool Football Club as special as it is.
And a number of the players took to Instagram following their touching visit as they shared how "inspired" and "amazed" they were by the bravery of the kids and their parents.
Virgil van Dijk, James Milner and Jordan Henderson also commended the "amazing" work the staff do on a daily basis:
It's a touching and welcome reminder of how incredible the NHS, the patients and their families are and that the Reds could spread some joy is brilliant to see.
---
* And if you wish to donate to Alder Hey's Children's Charity you can do so here.