Liverpool edged past Watford courtesy of two excellent goals from Mohamed Salah, with the 2-0 victory ensuring spirits remain high for Qatar.
The Reds made it hard for themselves on Saturday, with blustery conditions leading to a nervous display against a Watford side boosted by the arrival of Nigel Pearson.
But the hosts' quality shone through as Salah struck once in each half and Alisson produced some excellent saves at the other end to earn a 16th win in 17 league games.
Liverpool boarded their flight to Qatar on Sunday morning as they prepare for a Club World Cup semi-final against Monterrey on Wednesday evening.
This ensures little time to debrief following the win over Watford, but there are key areas to focus on regardless.
Here, This Is Anfield's Jack Lusby (@jacklusby_) and Matt Ladson (@mattladson) were joined by The Redmen TV's Ste Hoare (@stehoare) to discuss the Reds' latest victory.
The good…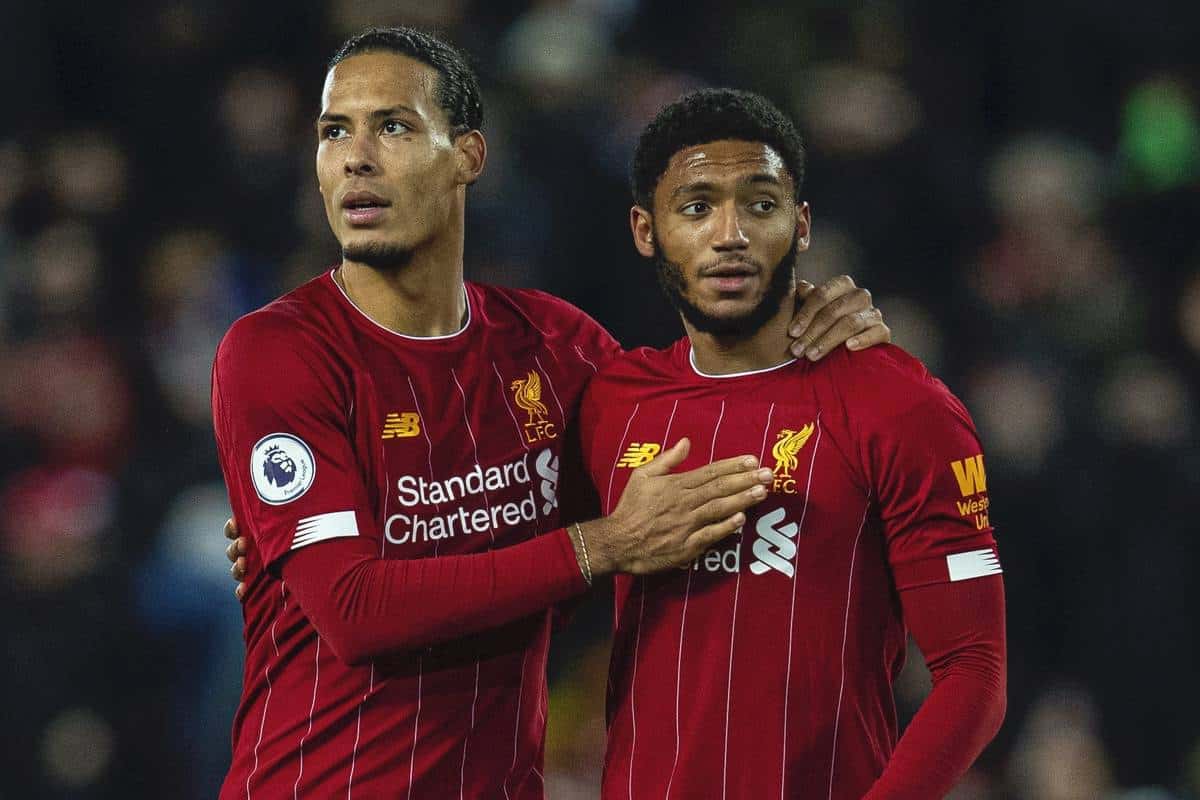 MATT: Getting the job done despite being far from our best.
I thought Gomez had his best game of the season, which is important given the current centre-back situation, while Alisson was arguably man of the match with some very important and underrated saves.
Salah looking a lot sharper in the last week has been a massive positive so hopefully the effects of his ankle issue are now in the past.
Has to be said that Watford were quite good for their part, given their position in the table and a first game under a new manager.
They caused us some problems (and we created some problems of our own) and with better finishing it might have been a different story.
STE: I've seen Liverpool sides of the past stumble in games like that so often.
Early kickoff, poor weather, playing after a European clash in midweek, a time-wasting opposition and a rubbish referee; all of the excuses are there for a side if they want to use them.
However, this side aren't interested in excuses, they're just interested in winning the title.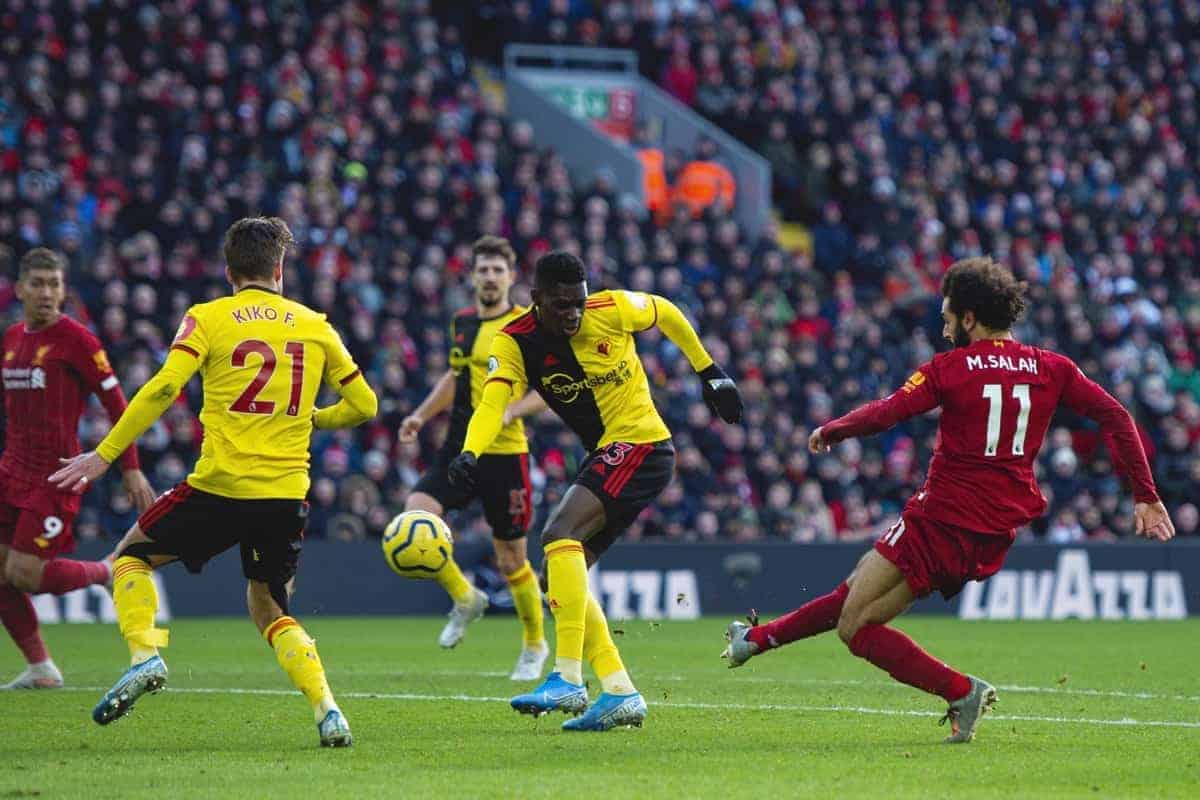 Liverpool's huge strength at the moment is that, even when they play poorly, they've got star players who can produce one or two moments that win games and they never look for an excuse.
The front three did so well for the first goal, culminating in a wonderful finish from Salah. We also had the best goalkeeper in the world making good saves, and making them look very straightforward even though they were anything but.
Then we have the outrageous skill from Salah for the second goal. Just little moments of magic that win right games.
A shoutout to Gomez too who, the odd moment aside, looked much more like the player he was at the start of last season and less like the shaky version of himself we've seen at times this year.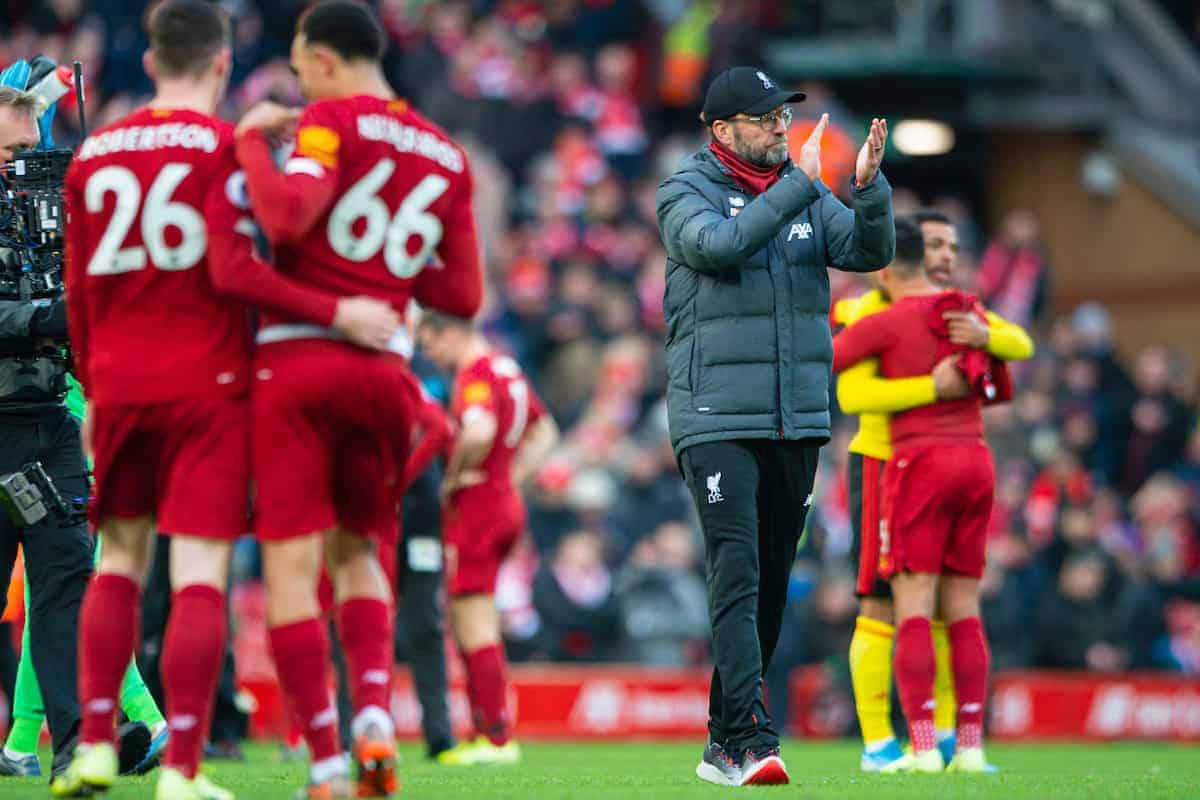 JACK: I think the ability to grind out this victory despite tough conditions—both weather and otherwise—after a testing trip to Salzburg in midweek is testament to the character in this squad.
It was pleasing to see Klopp make three more changes, albeit with one enforced, and for the Reds to ultimately keep the momentum going.
Anything other than a win in this game—against the Premier League's bottom side, no less—would have been wind in the sails of those chasing in the distance, and avoiding that was vital.
Of those that came in, I agree with Matt and Ste that Gomez was the standout; it's great to see him taking his chance in the absence of Lovren and Matip, as he still has the most potential of the three as Van Dijk's partner.
Salah, of course, deserves credit, and he just edged Hendo for my Man of the Match award. I thought the captain was excellent in the No. 6.
The bad…

MATT: Nothing was majorly bad, it was just one of those games were we looked disjointed and off the pace, it happens.
In previous seasons we don't win that game, and yet we got the professional scoreline of 2-0.
This is a new breed of Liverpool FC.
That said, Firmino left the pitch with the look of somebody who knew he hadn't played well.
I'd have been tempted to have rested him against Watford and started Origi—I imagine that will happen on Wednesday against Monterrey.
STE: There was plenty of things that were a bit rubbish from the Reds to be quite honest!
The passing looked really poor at times, I don't know if the conditions were to blame but, at times, Liverpool looked like they couldn't even do the basics right.
There were plenty of sloppy errors and if we were playing a better team, I think we'd have been punished. Thankfully, Watford look like they can't buy a goal at the moment so they didn't capitalise.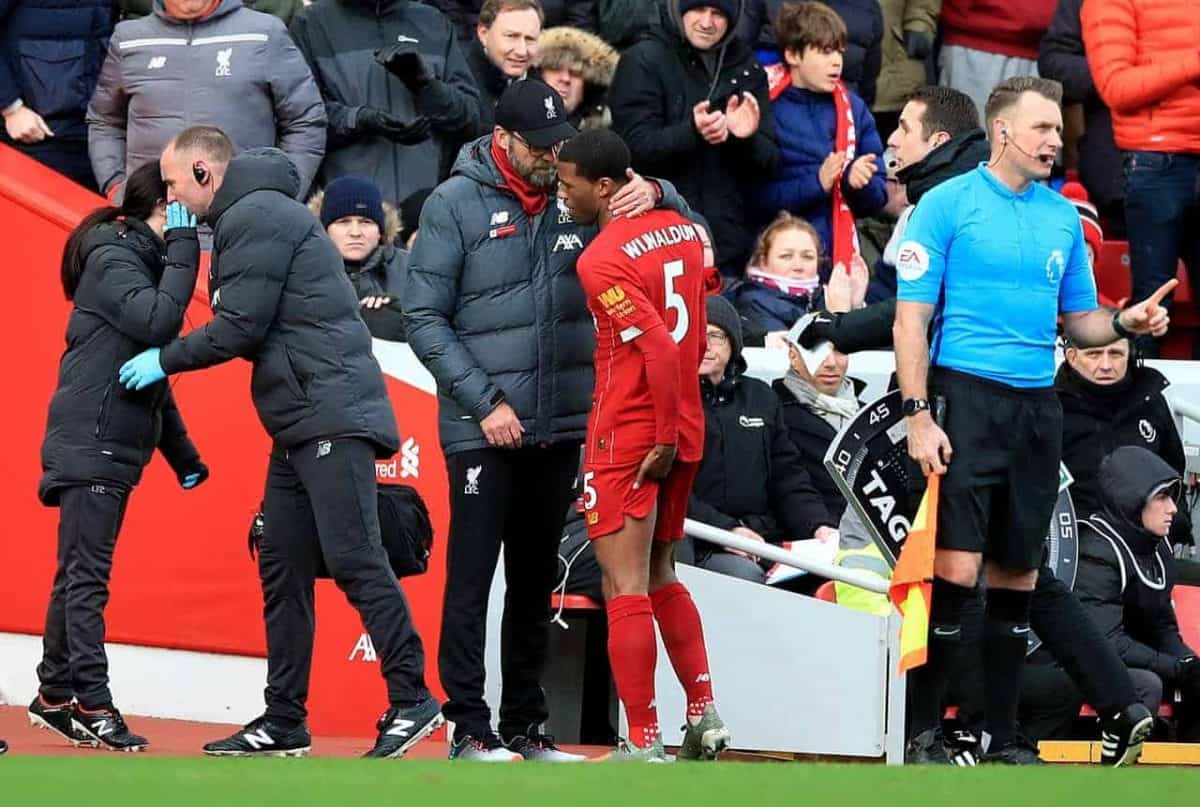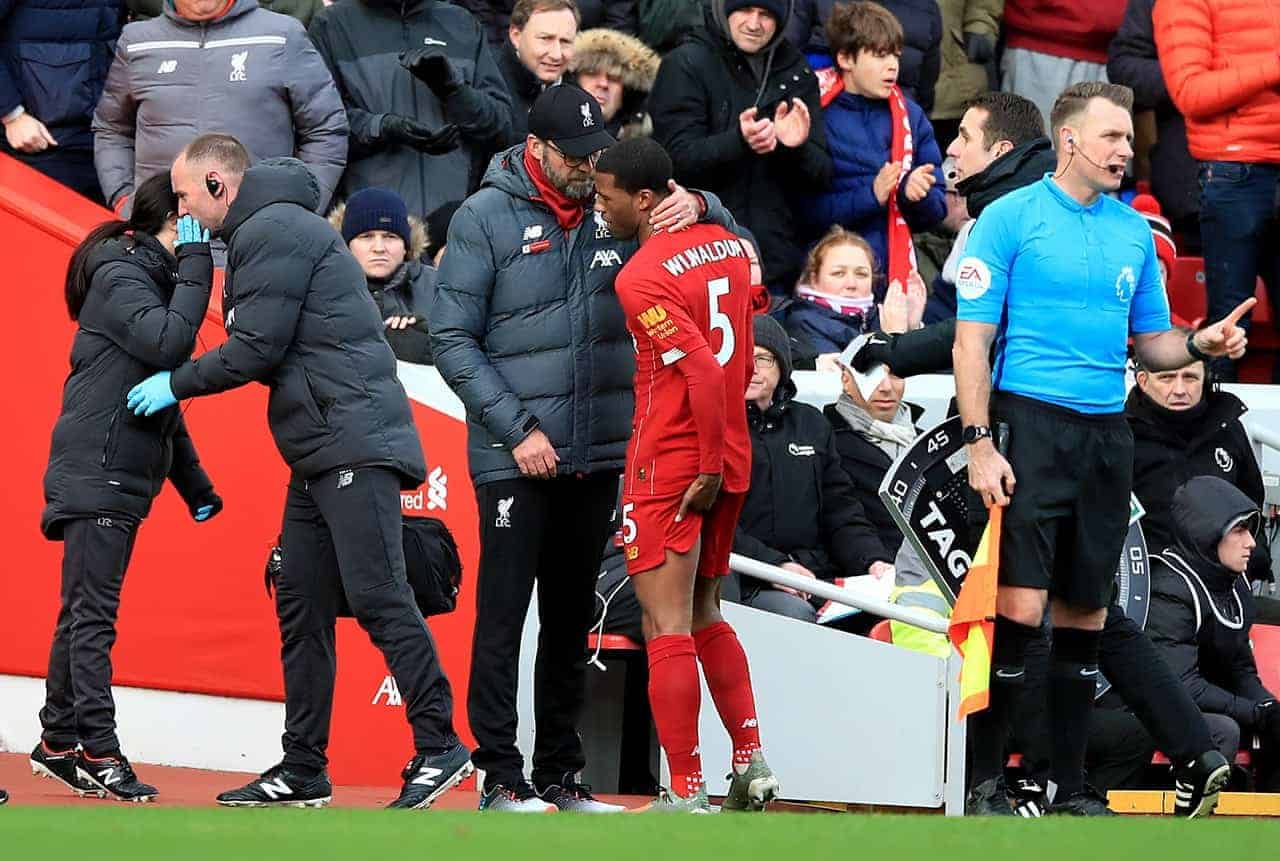 The injury to Wijnaldum was a blow too, but with him now travelling to Qatar it looks like it's nothing too serious.
I find it tough to criticise crowds at games when I'm not part of them but it must be said that it came across on TV like there were a lot of nerves in the stadium near the end of the game, and Salah even referenced that in his post-match interview.
I find that baffling to be honest. If we aren't going to trust this Liverpool side, we'll never trust any Liverpool side ever!
Sure, they were having an off-day but still, that should be where the crowd does their bit to boost the players, creating a nervous tension inside the stadium is the exact opposite of what's needed in those situations.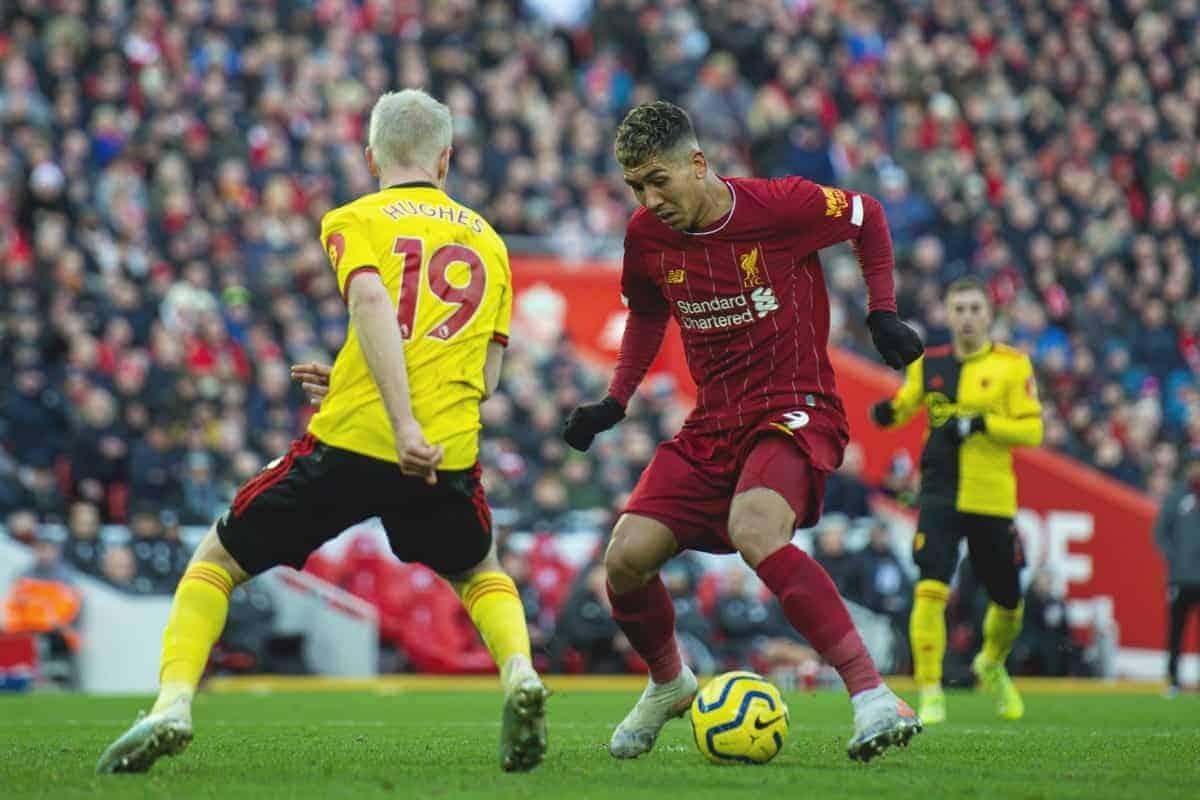 JACK: As Matt and Ste have mentioned, two of the key negatives were an off-colour Firmino and the injury to Gini.
But Bobby has earned leeway, and there's no doubt he'll be back to his best—like Salah is now—while Gini's involvement in Qatar suggests he doesn't have any long-term issues, as flying would have exacerbated the problem.
And I agree with Ste in that, having not been there, it is difficult to admonish the Anfield crowd for their role in the game, but there was little need for that anxiety.
It effectively stemmed from a passage of unforced errors as Van Dijk, Robbo and Gomez passed between themselves at the back, but as Salah acknowledged after the game, Liverpool are now able to work through those mistakes far better.
And the Club World Cup: good chance for silverware, or unwanted distraction in the title race?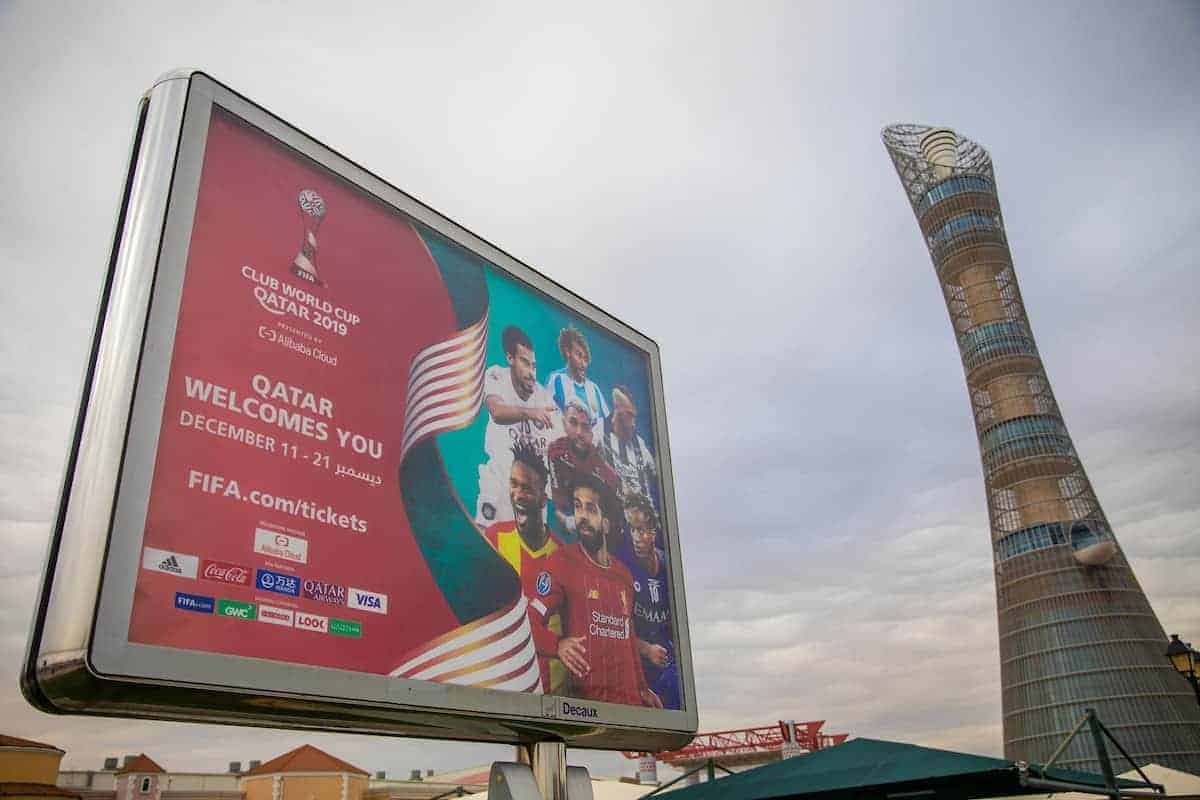 MATT: Were we not 10 points clear at the top of the table and 17 ahead of Man City (at the time of writing), we'd probably be seeing this as more of a distraction.
But as things stand, bring it on. The only piece of silverware this club has never won. Get it done.
The only issue with the CWC is the fear of more injuries. Klopp spoke of his dismay at FIFA's (dis)organisation that means matches will all now be played at the same stadium this week and with rain forecast there, it could make for a problematic pitch.
It's a shame that these injuries have coincided with the CWC, because with Fabinho, Matip and Lovren fit it would have allowed Curtis Jones and Neco Williams to play in a League Cup quarter-final in front of 40,000, which would have been a good experience for them.
STE: If you think about it, it's only really one extra game as had we not been at the Club World Cup, we'd be playing a semi-decent side against Aston Villa in the League Cup instead of sending the youngsters to Villa Park.
I'm of a belief that winning is a habit and if you have a chance at winning a final that's not a bad thing, especially if it's only two games.

Also, being named as the best side in the world has a nice ring to it and It'd be nice to see Henderson doing his tap-dancing celebration again too!
However, the travel isn't exactly ideal and coming back to face Leicester won't be easy but I don't think it's a huge worry now, but when it might be an issue is around the rescheduled West Ham game as other teams will be getting a bit of a rest when we have to play the game.
Still, this is what happens when you're a good team. Man City were crowned champions whilst winning the other domestic competitions and getting to a Champions League quarter-final.
Good teams end up playing more games, hence why it's been so important for Klopp to rotate his side over the last few weeks and for Liverpool to win having made so many changes.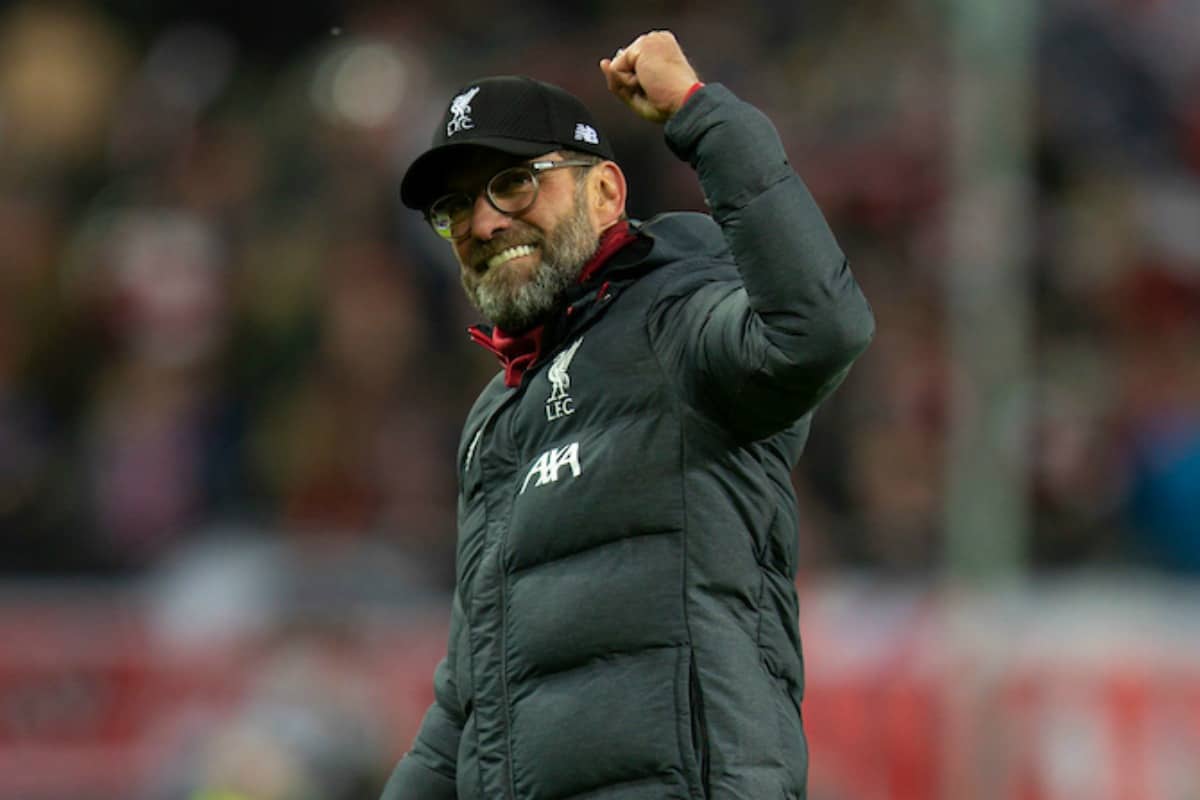 JACK: I agree, previously I saw it as a distraction but now with Liverpool in such a commanding lead it may prove a timely break.
The pressure is now on Leicester and City to pick up points in our absence, and given they are playing each other the intensity is magnified further; that could be one of the biggest games of their season.
Provided no further injuries are sustained in Qatar, this is a great opportunity to lift a second trophy of the campaign at the midway point.
Returning to the King Power will be tough, but fortunately despite the travel the festive schedule has been kind to us.
Bring it on.