Takumi Minamino's performances of late have shown he's ready to prove his worth, while a first goal for Liverpool was a reward for his tough time until now.
That's the view of Jurgen Klopp, who saw his No. 18 net the equaliser at Wembley in the Community Shield on Saturday.
It wasn't enough for the Reds to seal another piece of silverware, but his impact off the bench, first strike for the Reds and well-struck penalty were all positive moments for Minamino who, the boss said after the game, is now playing at the expected level.
While it's not easy to break into a title-winning team, the Japanese forward is showing his ability to offer something different in the final third and his strike could be a key moment in his Anfield career.
"It was big for him and big for us because it was the only thing he lacked since he is with us," Klopp said to reporters.
"He didn't score a goal [before], but had situations and was close in plenty of moments. That helped of course.
"The shape he is in is obviously good, I think everybody could see when he came on. Then, the goal is more or less the logical step after performing on the level he performs now, especially in the pre-season."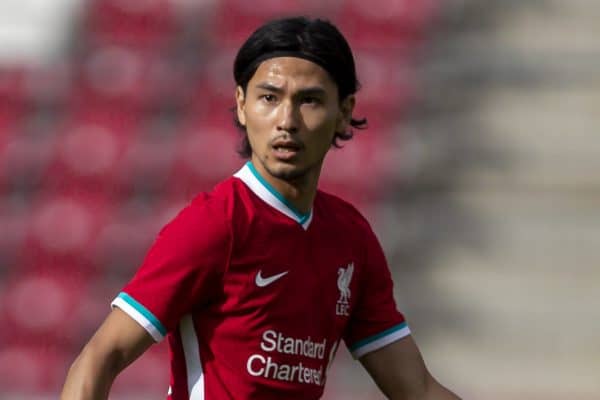 Klopp explained further exactly where Minamino can have a big impact for the Reds, pointing to his excellent technical ability in tight areas and his quick-thinking approach in the final third.
Without tying the Japanese forward down to a specific role, it's quite clear how and when the boss will look to utilise him.
The Reds' manager also pointed out that Minamino has had an introduction to life in England like few before him, barely having time to settle into the squad before being separated from everyone and everything due to the coronavirus pandemic.
"He can have an impact, that's why we signed him. That's easily said. I don't want to put, after one or two really good performances in the pre-season, massive pressure on his shoulders that there's absolutely no need for.

"We have a good football team and it's difficult to come into the team anyway. But he is a player who is really useful for us, let me say it like this.

"It was not only the goal today. He is in between, he is really good in small spaces, his first touch is exceptional, then his decision-making between the lines is really quick. That helps as well.

"So, yes, he can be a real player for us – that was always clear. He came in in the most difficult period of all our lives, I would say, and had to adapt to different things, being alone in England in the lockdown and all that stuff. That's all not something that's nice. But he dealt really well with it because he's a super professional.

"So I'm really pleased for him that he could score the goal today and that's another big step for him."
Klopp wasn't the only one who noticed that Minamino has taken steps forward.
His performance level even at the back end of last season was improving, even if chances on the pitch were sporadic.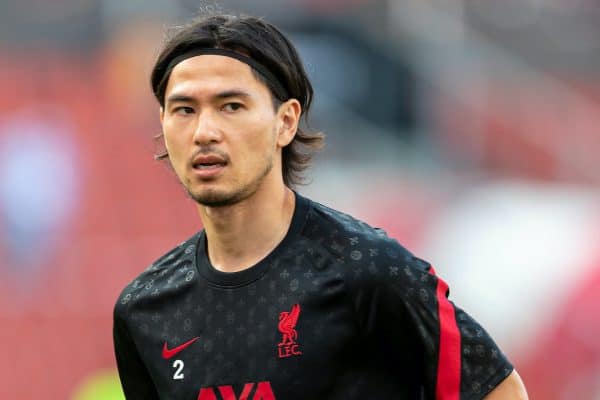 At the start of pre-season now, his work rate and touch have been even more apparent, as Virgil van Dijk noted.
"I think Taki has been very good. After lockdown he has been the Taki that we all saw when we played against him at Salzburg.
"He is very, very energetic and he is a fantastic player. It's good for him that he's coming out of his shell and for us as well."
The Reds really lacked attacking alternatives last season. Outside the front three, there was only Divock Origi, who scored six times, then it was the midfielders such as Gini Wijnaldum and Alex Oxlade-Chamberlain who provided more thrust from deep.
Minamino has the potential to be a player right in between those two lines of the pitch, both in terms of his positioning and his goal tally, someone who can be a regular contributor and a vital addition this season.