With just 12 months left on his existing contract, Alex Oxlade-Chamberlain is reaching a crossroads in his Liverpool career. Does he still have a future at Anfield?
Oxlade-Chamberlain was heavily tipped to move on in search of a new challenge this summer, but reports now suggest the club are not actively looking to sell him.
That could be something to do with the fact the Reds have seemingly shelved their plans to sign a new midfielder until next summer.
However, with Curtis Jones and Harvey Elliott in need of minutes to aid their development, and new signing Fabio Carvalho also adding to the competition, Oxlade-Chamberlain is likely to find himself on the periphery again this season.
Having not played a single minute since the FA Cup visit to Nottingham Forest in March, is now the time for Liverpool and Oxlade-Chamberlain to part ways?
? With one year left on his contract, what should LFC do with Alex Oxlade-Chamberlain? pic.twitter.com/OQ8AHbUVd8

— This Is Anfield (@thisisanfield) July 1, 2022
This week, This Is Anfield asked fans what they would do about Oxlade-Chamberlain's future.
Here are the answers we picked out from Twitter, Instagram and Facebook.
"Capable of being great" – Keep him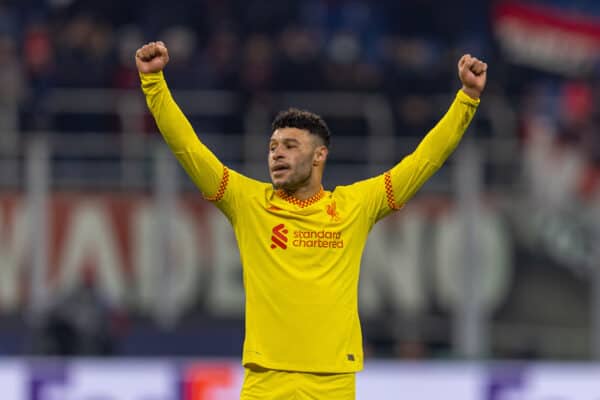 "To be honest, with his current record we wouldn't get much if we sold him. He was looking like a good player before his injuries, so I'd say give him another year and see how he goes. Our English quota is very low."

– Alan Oram on Facebook
"Keep him and give him more game time when he was playing regularly he scored goals."

– @JohnGil67588961 on Twitter
"Since we not buying any other midfielder, he stays for me. Still good on his day."

– @iburniton96 on Twitter
"Give him some game time to get some fluidity back in his game. Still capable of being great, just isn't getting the chances."

– happychazzy on Instagram
"Writing on the wall" – Sell him now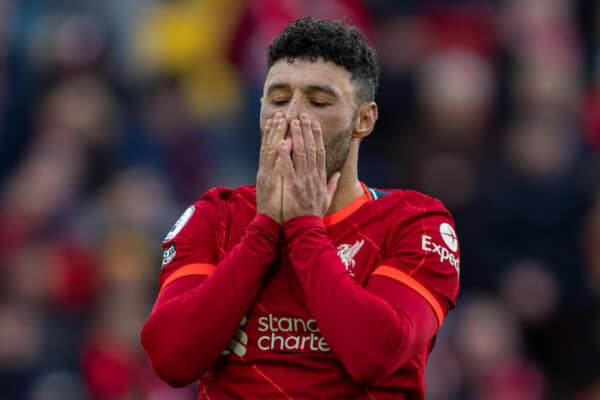 "Sell him and get a new midfielder this summer. We all know what it's like when Thiago is injured, the drop off in midfield is massive, and I'm tired of constantly losing out on the league to Man City because we're lacking."

– jasonjamie1998 on Instagram
"Sell. Love Ox, but he's more in the way of Elliott/Carvalho/Jones. At his age, get something back now."

– @BrandonMATP on Twitter
"Get what you can for him now. Sadly injury and much more younger exciting players in the team leaves him surplus."

– @john_britland on Twitter
"Sell I think. The fact that he could not make the team when Jurgen Klopp made nine changes against Southampton suggested to me the writing was on the wall."

– jmcfadden2345 on Instagram
"Great squad player" – Let him go for free next summer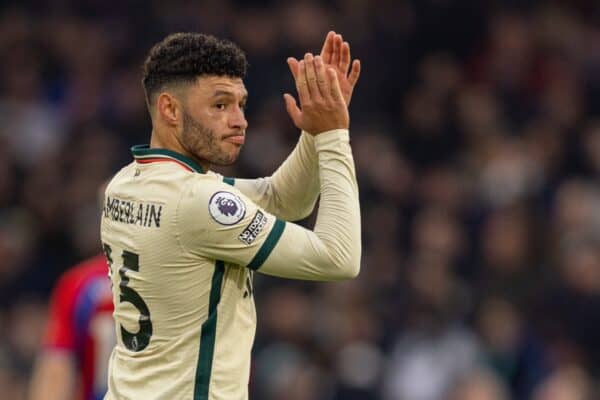 "Keep him. Great squad player and a very popular team mate. Let him go on a free next season."

– Adam James Urwin on Facebook
"It's a World Cup year. He's been training through the short summer break. If he can stay fit Ox will have enough belief in his own ability to gatecrash that England squad, just like I think Curtis and Harvey will believe the same thing. I would keep him and see how he goes."

– Gerard Walsh on Facebook
"Keep for this year and sell him."

– desaifaheema on Instagram
"Keep him for depth sake. League Cup, FA cup run in. Then he goes free."

– @possibilities86 on Twitter
---
What do you think Liverpool should do about Oxlade-Chamberlain's future? Let us know in the comments!