While a move for the Dortmund midfielder this summer is highly unlikely, Liverpool are "very interested" in Jude Bellingham, who could switch clubs in 2023.
Bellingham is emerging as the most talked-about target among Liverpool supporters, with the addition of a new midfielder considered the next priority.
However, it is widely reported that the club will not make any further signings this summer – unless, that is, an exceptional opportunity arises.
With Dortmund having already parted ways with Erling Haaland, as well as seeing Axel Witsel departed on the expiry of his contract, there is an expectation that Bellingham stays for another season.
But The Athletic's James Pearce has reaffirmed Liverpool's desire to bring the 19-year-old to Anfield, describing the club as "very interested" in a deal.
Real Madrid, Chelsea and Man United are named as other suitors, with it almost certain that most of Europe's top sides will be exploring the possibility, and the Reds face "serious competition."
For a long time, the prospect of a club-record deal worth over £100 million – at least according to reports in Germany – would have seen Liverpool ruled out, particularly as, as Pearce notes, Bellingham has a long-term contract with no release clause.
But following the ambitious signing of Darwin Nunez for £85 million, it is clear that the club would not baulk at such a fee for the right player.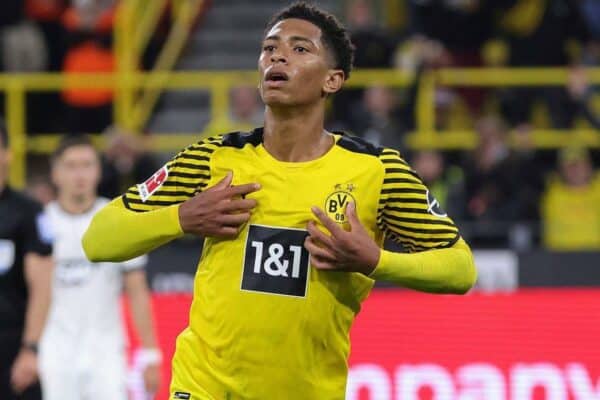 Pearce does add, however, that "the wage demands could be a potential stumbling block."
It is unclear the size of the wage packet that Bellingham and his representatives would be seeking, but he could feasibly command a top-level salary given his status.
Liverpool made a big financial step in agreeing a new £350,000-a-week contract with Mohamed Salah last week, with the Egyptian's earnings potentially rising closer to £400,000 a week if certain targets are met.
That would also suggest that there is an understanding that in order to continue to challenge, the Reds will need to be flexible with their existing structure.
Whether Bellingham fits the bill in that respect will be a matter for Fenway Sports Group and the club's recruitment team, but it is encouraging to hear that Liverpool "will certainly be in the conversation."