After Liverpool were beaten 3-1 by Brentford in their first match of 2023 of Monday, fans are now asking whether the Reds' problems go beyond the need for new midfielders.
Brentford were without talisman Ivan Toney but were still able to bully a Liverpool backline that were in disarray throughout.
An Ibrahima Konate own goal put Thomas Frank's side in front, before Yoane Wissa doubled their lead before the break. Alex Oxlade-Chamberlain halved the deficit early in the second half, only for Bryan Mbuemo to secure the points for the home side late on.
Here, This Is Anfield's Jack Sear (@JackSear) is joined by Adam Beattie (@Beatts94) and Jack Gill (@jacklfcgill) to discuss Liverpool's ongoing issues, as well as links to Wolves' Matheus Nunes.
Plenty of talk about the need for new midfielders, but Liverpool have so many other issues right now, don't they?

ADAM: As much as I fully understand and agree with the calls for bodies in midfield, I don't remotely believe that there's currently a midfielder in the land who could come in and magically right the multitude of wrongs, certainly not in January.
We've got major issues all across the park and it feels like there's a bit of an identity crisis going on, I wish I could put my finger on one thing that would immediately solve it but unfortunately this feels like something which only time can untangle.
JACK G: Agreed. There are lots of problems that I don't think are a quick fix. The defending was woeful and once again the lack of midfield options are hurting us.
Darwin Nunez can't seem to buy a goal at the minute and Mo Salah isn't anywhere near his best.
Ultimately, though, this team is a shadow of the brilliant Jurgen Klopp side that has been such a joy to watch over the last few years. Right now we're lacking fight, desire and spirit.
It's extremely clear that there is work to do both on the training ground and in the transfer market. In my opinion, a midfielder is a necessity in January, but we need a whole lot more than that.
JACK S: I do think a lot of our issues stem from the fact our midfield is offering so little, but the general lack of cohesion is obviously a real concern.
I think Jamie Carragher hit the nail on the head with some of his points after the game. Liverpool have never replaced Gini Wijnaldum and they're really missing a combative midfield player of that mould.
What has happened to Liverpool's defence?!

JACK G: It's difficult to pinpoint one issue. I think it's an accumulation of different things, but I really dread to think what situation we'd be in if it wasn't for Alisson.
I think Virgil van Dijk was struggling with that muscle problem for the majority of the first half and that was clear from the moment Mbuemo raced away from him, where I thought he looked uncharacteristically slow.
As a team though we have been very slow and predictable all season. The high line is getting exploited more and we are so vulnerable on the counter-attack.
I was hoping the Dubai training camp would help, but since Villa on Boxing Day, I think Leicester and Brentford have been two of our worst performances under Klopp, let alone this season. We rode our luck against Leicester and were fortunate to get the three points, but you can't rely on luck all the time.
ADAM: Yeah, having been at the game and not watched the goals back yet (not sure I ever will), the one for me that felt the most inexcusable was actually the one that got ruled out for offside.
It was an infuriating sequence of events that saw us get away with murder from the corner only to throw it away again minutes later with the Wissa header that Alisson almost scooped out.
The defence is a huge concern and with all the talk around the midfield and the Nunez narratives, it almost feels as though it's gone slightly under the radar.
Our habit of conceding first stretches all the way back to May if we're honest, far longer than anything that can legitimately be deemed a blip.
It's obviously a tough night for Konate in what was a tricky game to come back to, and the Van Dijk substitution was just precautionary, but Liverpool need to address the defensive issues pronto if we're going to pull together the run we need.
How do you assess our chances of a top 4 finish now?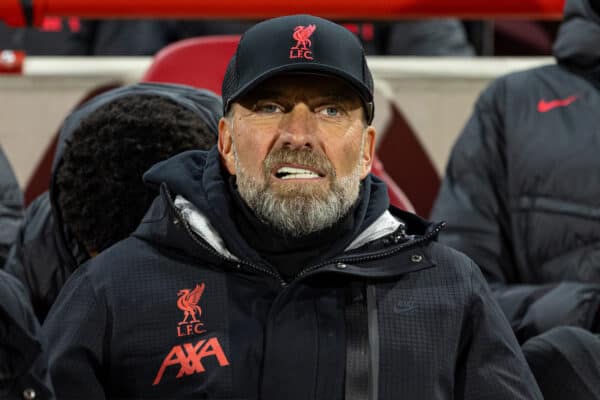 JACK S: Tricky. I think a lot depends on how well Cody Gakpo settles and when we can get the likes of Luis Diaz and Diogo Jota back to full fitness.
A midfield addition would be a real help this month but I'm not sure how likely that is.
Right now, it's hard to see us finishing above Arsenal, City, Newcastle or Man United, but there's still over half the season to be played.
ADAM: I actually still feel fairly optimistic that top four is within our reach, despite the performances since the restart.
Brentford was always going to be a tough away to an extent where I can almost excuse the dropped points, but the real concern for me is the universal lack of confidence, it appears to be contagious.
In the brief spells where Liverpool were on top last night they showed real purpose, and I thought Robertson's introduction was a catalyst for that, but the inability to sustain those levels against a far inferior side is worrying, there's no hiding from that.
As a side note to that, I thought our end was great last night given the circumstances, we stuck with the players until the hope ran out and at those rare points where Liverpool demonstrated a bit of impetus the players and supporters fed off one another's energy.
Fundamentally it was all in vain but for me it at least illustrated glimpses of the push that we can give each other, I'd like to see more of it at Anfield in the coming months, please.
Thoughts on the links to Wolves' Matheus Nunes?

ADAM: I hadn't really seen any of the Nunes reports until last night, but it is a very interesting one.
He's obviously someone ourselves and a number of top clubs looked at in the summer and, in the grand scheme of things, the fee that's being touted isn't extortionate.
Of course the long-term dream is Jude Bellingham and if we can ensure that we're still eating at the top table next season then hopefully that is something that can be visited in the summer.
Ultimately the recruitment team rarely miss when they do pull the trigger on someone with value, so if this is a player we fancy then I trust us to make the right decision on it.
JACK S: It seems like a bizarre situation, doesn't it? Jorge Mendes written all over it.
If he does end up joining in the summer, I guess Nunes will effectively have had a one-year loan spell at Wolves, but who knows why it couldn't go through before this season!
Time to give some other players an opportunity to impress in the FA Cup on Saturday?

JACK G: Yes, definitely. I'd like to see Gakpo get some game time, of course.
I think he could be an important signing for us and will hopefully add some energy and belief to a squad that clearly needs it at the moment.
I'd also like to see some of the youngsters like Ben Doak, Stefan Bajcetic and Bobby Clark involved.
ADAM: After a hectic couple of weeks post-World Cup, the schedule falls quite nicely for us between now and Brighton, so I'd personally prefer to see us go relatively strong against Wolves to try and kickstart a cup run and pick up some momentum.
Having said that, if there is a way to get them minutes it would be good to see the likes of Bajcetic and Doak continue to show what they're about, both look miles ahead of their years and could give us some exciting options moving forward.
As for the senior players, it might be a game to look at those coming back from injury and maybe even play around with the shape to see if we can get anything to click.
JACK S: I agree. Klopp will need to find a balance, here. While I would quite like to see the likes of Caoimhin Kelleher, Calvin Ramsay, Bajcetic, Clark and Doak all get minutes, Liverpool really can't afford a defeat here.
The FA Cup is surely now our best chance of silverware, and we need all the momentum we can get at the moment.
I wouldn't be surprised if it's pretty much a full strength side, especially considering we'll have had five days to prepare for it, and another week before our next game at Brighton.