Stefan Bajcetic only boosted his reputation further with a standout display against Wolves, with Jurgen Klopp saying "the door is open for everybody."
Bajcetic made his third start for Liverpool's first team as one of eight players to come into the side at Molineux, and produced a composed display as the No. 6.
The 18-year-old is emerging as a favourite among fans, and among Klopp and his coaching staff alike, which comes at a time when the likes of Fabinho and Jordan Henderson struggle.
And with the manager criticising his players for failing to win their challenges in the initial 2-2 draw with Wolves and the 3-0 loss at Brighton, his praise for Bajcetic was telling.
"Good boy, good player. Very smart in his movements," he told reporters.
"The younger you are, the more important it is that you have a good start in the game.
"He had a few situations – I'm not sure if he saw that he had space or just hoped that he had space – when he turned and there actually was space. He did really well.
"What helps then, really, is that he wins these challenges. The last few steps before he blocks the ball, that's really good.
"And having then Thiago next to him is, I think, pretty helpful.
"Thiago is talking a lot on the pitch – and Naby was really there tonight, which is obviously very helpful."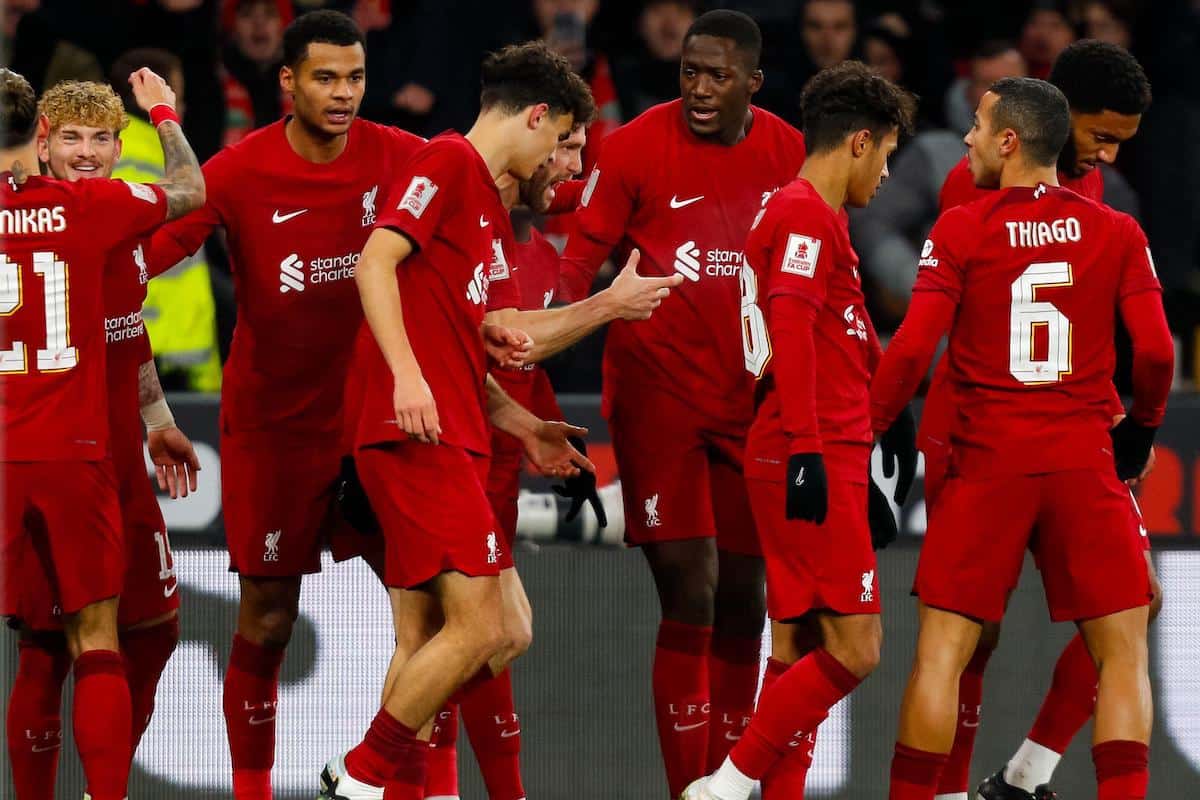 A natural centre-back converted to defensive midfield, Bajcetic's display was made all the more impressive given it was his first game back from a hip injury.
The presence of Thiago and Naby Keita alongside him certainly helped, and there is cause to argue that the trio should be retained for the visit of Chelsea on Saturday.
Asked whether any of the eight players brought into the side for Tuesday's 1-0 win had forced themselves into contention for the weekend, Klopp admitted "the door is open for everybody."
"So we have now a couple of days of training and I don't think it would be now right after one game to say 'OK now that's the team for the next eight weeks'," he said.
"Let's have a look.
"I hope that Darwin is coming back in training tomorrow or Thursday, so might be then in contention, of course.
"Kosty got a knock in the back and stuff like this, so let's see how they recover.

"But of course, we are not on a casting show, but we have now this game and then we have four days to train, and then after that I think five or six days to train until the next game.
"Training is always like this, who shows up in training.
"I'm not blind, but usually we don't train: we play every three days and then we recover, some do a little bit.
"And on top of that, in the past we won quite a lot of games, so why would you make drastic changes?
"We rotated a lot because of the players who were available, but of course, the door is open for everybody.
"We have to fight, whoever's ready to fight has a good chance to play."