Liverpool's humiliation at Brighton was the Reds' sixth defeat in the Premier League this campaign, that's four more than in the whole of last season. We react and take a look at what's going wrong…
Liverpool's worrying lack of form continued against Brighton, losing heavily to Roberto De Zerbi's team on the south coast.
A switch in formation, from 4-3-3 to 4-2-3-1, was supposed to help control the game but it had the opposite effect. Brighton broke Liverpool's press far too easily then found themselves consistently outnumbering the Reds when their attackers picked up the ball.
A first away defeat to Brighton since 1961 leaves Liverpool seven points behind Newcastle in fourth place and in desperate need of a spark that can hopefully ignite a comeback.
Here, Adam Beattie (@beatts94) and Patrick Allen (@P_Allen21) join Sam Millne (@sam_millne) to discuss the defeat and Liverpool's compounding woes…
So, what went wrong?

Adam: It would probably be quicker to dissect what didn't go wrong.
That was possibly the most lifeless Liverpool performance I've ever seen under Jurgen Klopp and his comments post-match appeared to echo that.
Losing away to a pretty impressive Brighton side like the one we saw on Saturday is a result you can occasionally throw in providing you show some fight, glimmers, basic intelligence or even just one of the above.
Sam: You're right. There was a complete lack of cohesiveness going forwards, never mind the issues out of possession which are even starker.
Adam: The manner in which we fell to that defeat is the most concerning part about the whole thing. For the first time, I honestly can't see a route out that doesn't require a rebuild, which is disastrous really given we're still only in January and have three competitions to compete in.
Klopp attempted a formation change but should the personnel have been different too?

Patrick: The personnel should have absolutely been different, we're at the point now where a change is imperative.
What's the harm in starting the likes of Doak, Carvalho, and Bajcetic? We're losing games and performing well below par with these 'seasoned professionals' that have, granted, served us well but look past their best.
Sam: I was surprised to see Keita not start given his appearances off the bench have injected something different into Liverpool's play. Thiago, Henderson and Fabinho have surely had their chance as a three now, but I can see Klopp hasn't got much to choose from.
Adam: I'm not sure there was much the manager could have done differently personnel-wise given the injuries we're suffering at the minute, but I have to admit I struggle to envisage where Keita gets his minutes if he's not starting this one.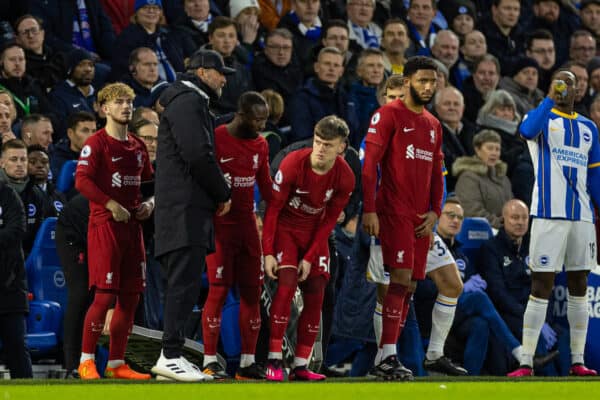 I was then even more surprised not to see him come off the bench at halftime.
We weren't actually down at that point but if it was scored in the same way as boxing, the writing was already on the wall and the referee might have been looking to step in sooner rather than later.
Almost everybody in a red shirt disgraced themselves but it is largely this set of players who have won us everything so, for me, the issues run significantly deeper than simply switching a couple round or bringing in one player from elsewhere.
7 points off Newcastle and not showing any signs of life, is there anything positive that suggests we can still make top 4?

Patrick: I genuinely can't see it and it's not even much to do with us.
Well it is, but it's the teams around us who continue to do well too. Manchester United, Brentford, Fulham and of course Brighton have won games of late and we simply haven't.
Sam: In recent years, it was always possible to envisage Liverpool going on a run of successive wins with momentum behind them.
Unless the Champions League can reinvigorate this group of players, there doesn't seem to be much hope of that.
How can we have dropped off so quickly from last season?
Patrick: Another point from me, the argument that we were only so many points behind City last season just doesn't stand. The players look finished, completely devoid of any confidence and ideas. Not good.

Adam: You'd have to say it's a really big ask now.
In terms of pure mathematics, we have overcome bigger adversity than this but the performances are just giving us absolutely nothing to cling to, as you guys have mentioned.
Naturally, there will be plenty of chat about the midfielder everyone wants but you could probably drop prime Zidane into that game and see the same outcome. The lack of activity has left us with far too much to do in one go and even if we were to move for someone in January, it might already be too late.
Adam Lallana was allowed to leave 2.5 years ago as he entered his twilight years but he still managed to run rings around our current crop.
If we are to get top four then I can't currently see what the catalyst might be. There are still another four months of football and we have got no other option but to try and find some sort of way out. It's going to be one hell of a slog otherwise.
Would you be looking to make many changes and if so, who should come in vs. Wolves?

Sam: I think Klopp has to change things up and stick with the best performers for Chelsea's visit.
Otherwise, what kind of message does it send to the players not starting if they can't break into a team that's performing as poorly as this?
Patrick: Bajcetic comes in, Doak comes in, Carvalho comes in and that's at an absolute minimum.
Let the young boys who have something to prove start instead of those who seemingly have run out of gas.
Adam: I too would maybe take another look at Doak because I'm extremely encouraged by what I've seen from him so far, but on the flip side this feels like an awful time to try and integrate such a prodigious talent while everything around him feels so flat.
At the moment, I'd prioritise the win at Wolves and trying to fork out a bit of momentum heading into Chelsea more than anything else, but, I'd also completely understand if Klopp decides to make wholesale changes.

Sam: I'd agree in the sense that there's nothing to lose by playing someone like Doak for this one. He isn't weighed down by last season's near misses and hopefully can play with freedom, even if it's not in his favoured right-wing position.
Adam: It might not be what some people want to hear but as things currently stand, the FA Cup is likely to be our best chance of silverware and frankly, another defeat on Tuesday could be catastrophic for confidence levels that already appear to be fragile.
First things first, we need to go into the Wolves game with a better plan than we did for Brighton. If we get ourselves a positive result with a performance to match, then I'd keep things relatively similar for Chelsea because at the moment absolutely no one should be immune from being taken out of the spotlight.
Patrick: In all honesty, I don't see Liverpool getting through regardless of who we start so I feel like it's time to rotate heavily or as much as we can.